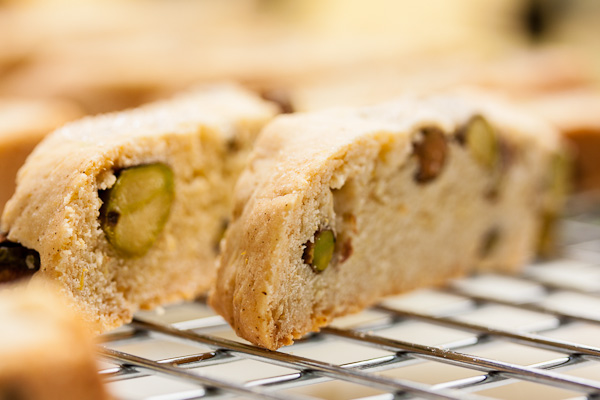 Have I mentioned my love for lemon? Years ago, I was on the search for a good lemon biscotti recipe – because lemon goes so well with coffee – but I wasn't having any luck. All the recipes I tried didn't have a pronounced enough flavour, or were turning out rock hard – I like my biscotti crisp, but not tooth-breakingly so. I found a recipe for pistachio biscotti that had gotten good reviews and decided to do a little tweaking and see if I could work lemon into the mix. I experimented with this recipe a few times until I got something I was happy with. Now I've been making this recipe for years.
When I first started experimenting, I tried adding lemon juice in addition to lemon zest. The flavour was good, but the dough was too wet and the second bake took forever, often getting too dark a colour. Lemon zest packs a lot of flavour, so I upped the amount of zest considerably and left out the lemon juice completely. The result is a delicately coloured biscotti with a perfectly crunchy texture and pronounced lemon flavour.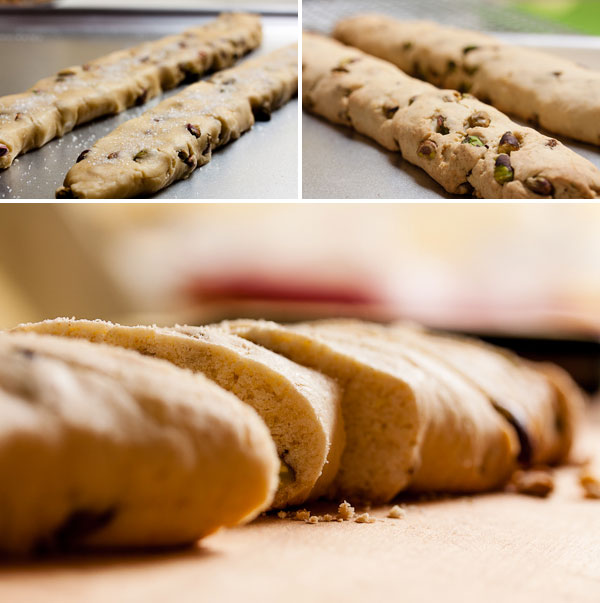 If you've never made biscotti before because you thought it was too complicated? It's SO not. All you're doing is baking the dough once in a log shape, then slicing the logs and baking again to dry them out. That's it. So simple. The trickiest part is getting the timing of the second bake right so the cookies are crispy. You don't want a chewy biscotti, but neither do you want to crack a tooth.
Many recipes will specify slicing the cookies 1″ thick, but I find getting the crispness right is easier with a thinner biscotti. I made these about 1/2″ thick.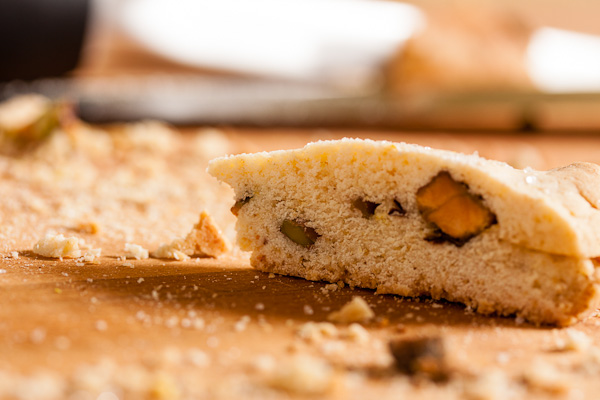 The biggest problem I have with these cookies is that I could eat them all myself. Easily. I'm so tempted right now to not take them to work tomorrow.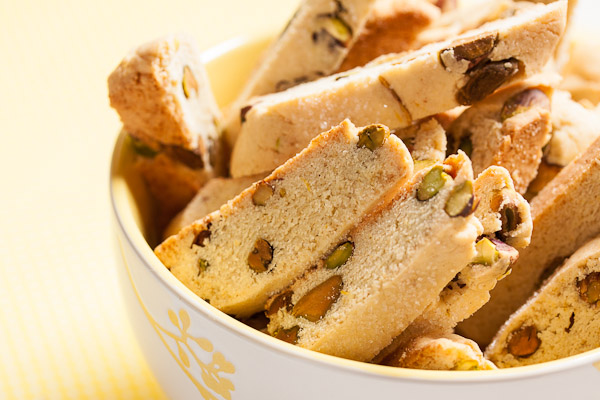 mini lemon pistachio biscotti
This recipe is based on Tyler Florence's Pistachio Biscotti recipe. I added lemon zest, modified the size of the biscotti and adjusted the baking time slightly. If you want to make full-size biscotti, refer back to the original recipe for sizing and baking times.
ingredients
1-1/2 cups pistachios
3-1/2 cups all-purpose flour
1 tsp baking powder
1/2 tsp salt
1/2 cup unsalted butter
1 cup sugar
zest from 6 lemons
3 eggs
1 tsp vanilla extract
Preheat the oven to 350ºF.
Lay the pistachios on a cookie sheet in a single layer. Bake for 10 minutes or until the nuts are lightly toasted. Remove from the oven.
In a small bowl, work the lemon zest in with the sugar. In another bowl, whisk together the flour, baking powder and salt.
In the bowl of an electric mixer with a paddle attachment, beat the butter until light and fluffy. With the mixer running, gradually add the eggs, sugar, and vanilla; beat until well creamed. Turn the mixer to low and mix in the dry ingredients gradually. I ended up with a very crumbly dough that I had to work together by hand. I added the pistachios in at this point and kneaded it together.
Put the dough on a lightly floured surface and divide the dough into four pieces. Roll each piece into a log approximately 18 inches long, and flatten to about 1" thick. Top the logs with sanding sugar if desired (optional). Place the logs on an ungreased cookie sheet and bake for about 30 minutes or until the bottoms are lightly brown. Let cool for 5 minutes and then place on a cutting board. Slice each log on a diagonal into 1/2-inch thick pieces.
Turn the oven down to 300°F. Put the cookies back on the cookie sheet and bake for about 8-10 minutes. Turn the cookies over and bake the other side for another 8-10 minutes.