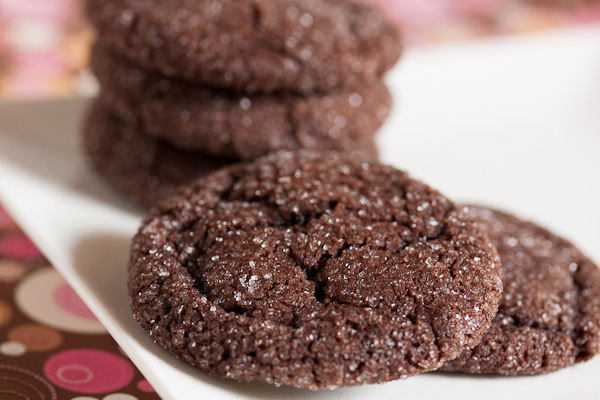 You know how sometimes you'll see a beautiful chocolate cookie at a café or bakery, and it's such a gorgeous dark brown colour you know it must be really chocolatey. And your tastebuds are all geared up for an explosion of chocolate flavour. But then you buy it and take a bite and… it's flavourless. The only thing even remotely chocolate about it is the colour. This is why I tend to never buy chocolate cookies. They're almost always a disappointment.
This is not one of those cookies. It has a beautiful dark colour and a lovely chocolate flavour. Even before baking, I knew this was going to be a good one because the dough had such a strong chocolate aroma – it reminded me of hot chocolate. I'll admit, I prefer my chocolate cookies to be more intense than this, but all my coworkers seemed happy with these.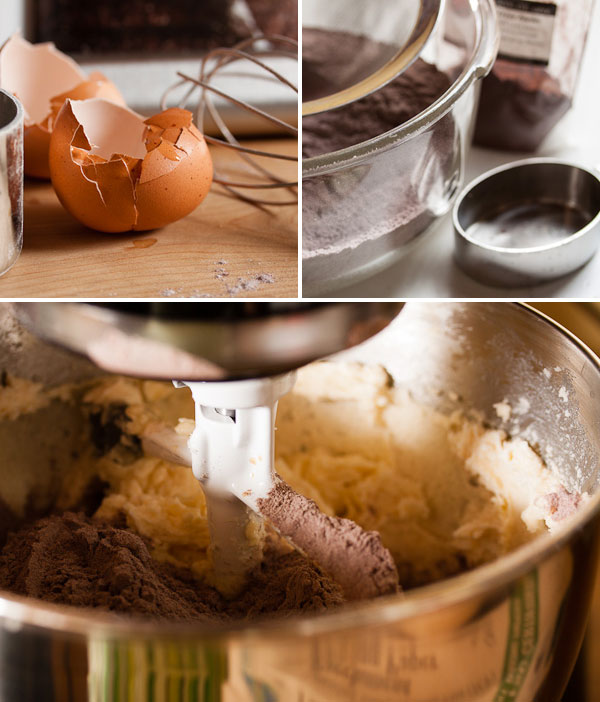 All the flavour in these cookies comes from the cocoa powder, so be sure to use a good one. I made these with Valrhona Dutched cocoa. I'm very lucky in that there's a little chocolate shop in my neighbourhood that sells smaller bags of high-quality cocoa powders and chocolates for home baking so I get to experiment with some really good ingredients.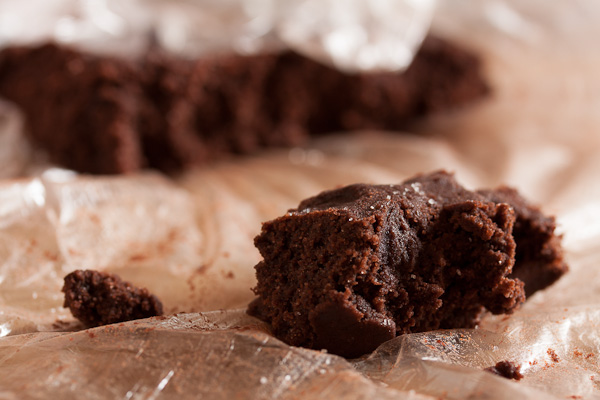 The dough starts out really sticky, but after refrigerating for an hour it's great to work with. It actually has a nice silky smooth texture and rolls into balls really cleanly.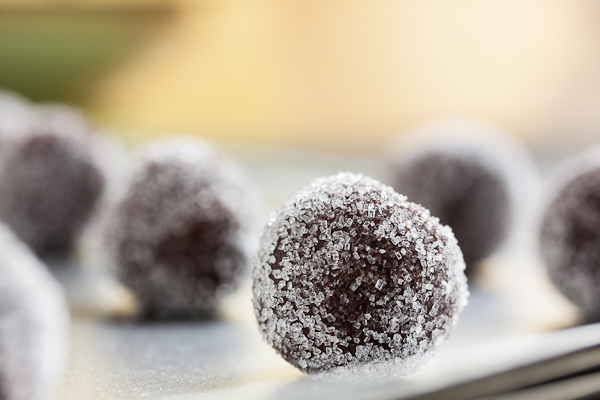 They're pretty puffy when they first come out of the oven, but they flatten out as they cool. Fresh from the oven they're crisp on the outside and gooey inside. After they cool, they're soft and chewy.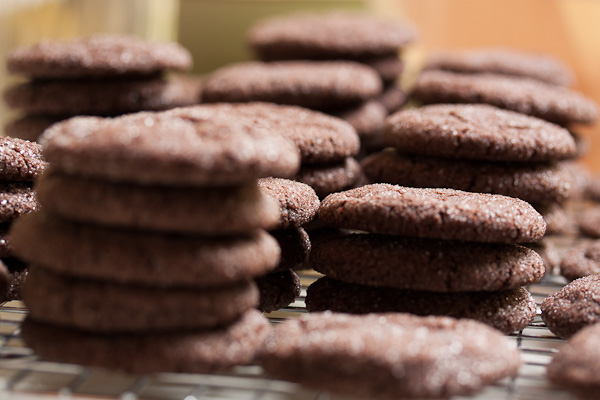 grammy's chocolate cookies
Adapted from Martha Stewart's Cookies. Originally submitted to a contest by Anne Feldman (it was her grandmother Ivyle Phinney Morrow's recipe). The recipe says it makes 3-1/2 dozen, but I rolled them a bit small and ended up with almost 90 cookies. And these are still good-sized cookies.
ingredients
2 cups plus 2 tablespoons all-purpose flour
3/4 cup unsweetened Dutch-process cocoa powder
1 teaspoon baking soda
1/2 teaspoon salt
1-1/4 cups unsalted butter, at room temperature
2 cups granulated sugar
2 large eggs
2 teaspoons vanilla extract
For Coating
about 1/2 cup sugar
Sift together flour, cocoa powder, baking soda and salt into a bowl.
In the bowl of an electric mixer fitted with the paddle attachment, cream together the butter and sugar at medium speed until light and fluffy, about 2 minutes. Add the eggs one at a time, beating well after each addition. Add vanilla. Turn mixer down to low and gradually add the dry ingredients. Mix until just combined.
Form dough into a flattened disc, wrap with plastic wrap and refrigerate for about 1 hour.
Preheat oven to 350°F. Form dough into small balls, about 1-1/4" diameter. Roll each in sugar and place about 2" apart on baking sheet. Bake for about 10-12 minutes, rotating the pan halfway through, until cookies are set. Allow to cool on wire rack before removing from the cookie sheet.