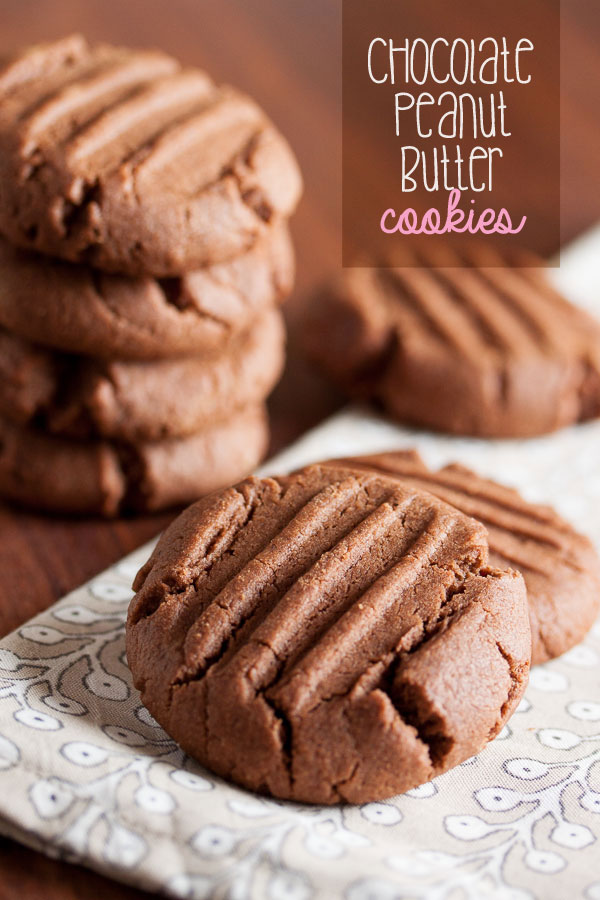 I'm not normally a peanut butter fanatic. I like it just fine, but I've never been one of those people who slather it on everything or eat it straight from the jar. Although I did just have an apple with peanut butter for dinner the other day – yum! But I found myself totally craving it this week. As I was flipping through my recipes trying to choose what to make, I kept lingering on anything peanut buttery. Yes, that's right. I'm not one of those people who has all my recipes planned out in advance. Planning? Pfft. I'm more the "hmmm, what am I craving today? and more importantly, what do I have the ingredients for?" type of gal.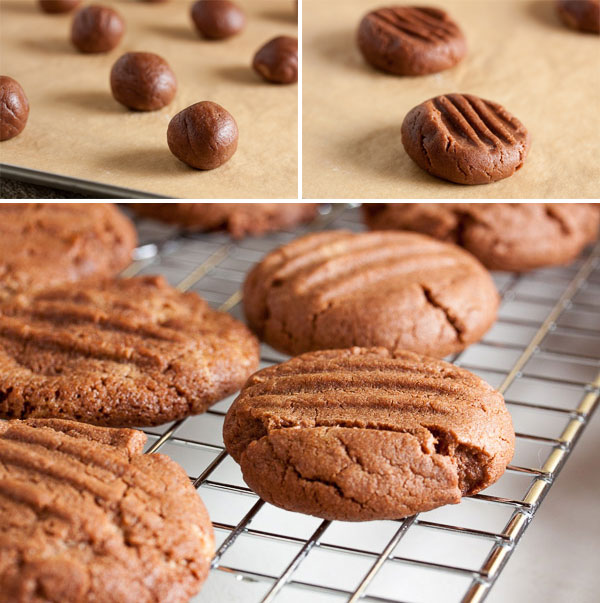 So peanut butter. Seriously, I had a stack of books set aside with peanut butter cookies flagged. Some with nothing but peanut butter, some sandwiched with nutella (I'll be revisiting that one, for sure), some with nuts and all kinds of inclusions. Of course I chose the one with chocolate.
At heart, this is basically a traditional peanut butter cookie – rolled in balls and then pressed down with fork tines for that distinctive peanut butter cookie look. It's not a soft and gooey cookie, instead more tender and crumbly like this Dorie Greenspan recipe I made last year (which has always been my favourite peanut butter cookie recipe). What makes this cookie unique, though, is the melted chocolate – both unsweetened and semisweet – that's added to the dough with the peanut butter.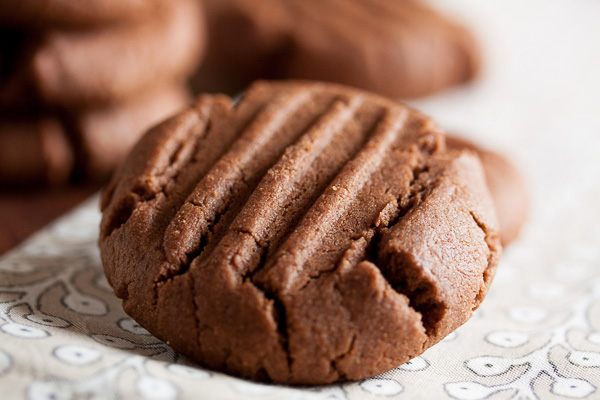 Lots of chocolate and lots of peanut butter. Neither flavour overwhelms the other, but both are undeniably present. You know what would be awesome though? Adding a mixture of mini peanut butter chips and chocolate chips to the mix. I even have both in my pantry! I'll make a note to try these again soon.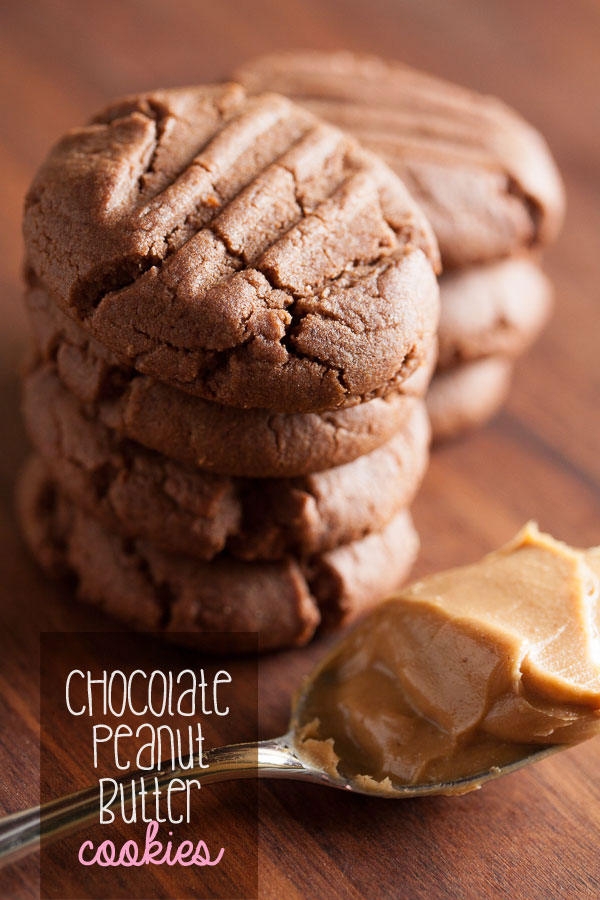 chocolate peanut butter cookies
ingredients
2 ounces unsweetened chocolate
1 ounce semisweet chocolate
1-1/2 cups all-purpose flour
3/4 teaspoon baking soda
1/2 teaspoon salt
1/2 cup unsalted butter, at room temperature
1/2 teaspoon pure vanilla extract
1/2 cup granulated sugar
1/2 cup brown sugar, firmly packed
1/2 cup smooth peanut butter
1 large egg
Preheat oven to 375°F.
Gently melt together the two types of chocolate. You can do this by combining them in a microwave-safe bowl and heating in the microwave 15-30 seconds at a time, stirring well after each burst of heat until smooth. Or in the top of a double-boiler or in a heat-proof bowl set over a pot of simmering water. I usually melt chocolate very, very carefully in a heavy saucepan over very low heat, stirring frequently until the chocolate is just melted. Chocolate can scorch really easily, so best to do this slowly and gently. Once melted, remove from the heat and set aside to cool.
In a medium bowl, whisk together the flour, baking soda, and salt. Set aside.
In the bowl of a stand mixer fitted with the paddle attachment, beat the butter, sugars, and vanilla together on medium speed until light and fluffy, about 3 or 4 minutes. Scrape down the sides of the bowl and add the peanut butter, beating until well mixed, and then the cooled chocolate, beating again until well mixed. Add the egg, beating well to incorporate.
Turn the mixer down to low and add the dry ingredients, mixing until just barely combined. Remove from the mixer.
Form the dough into small balls and place about 2" apart on a baking sheet – these cookies will spread out as they bake. Press the balls down slightly with a fork.
Bake for about 15 minutes, until the cookies have puffed up considerably and seem to be slightly set, rotating the baking sheet halfway through the baking time. Allow to cool on a wire rack for a few minutes before removing the cookies from the pan and allowing them to cool completely.