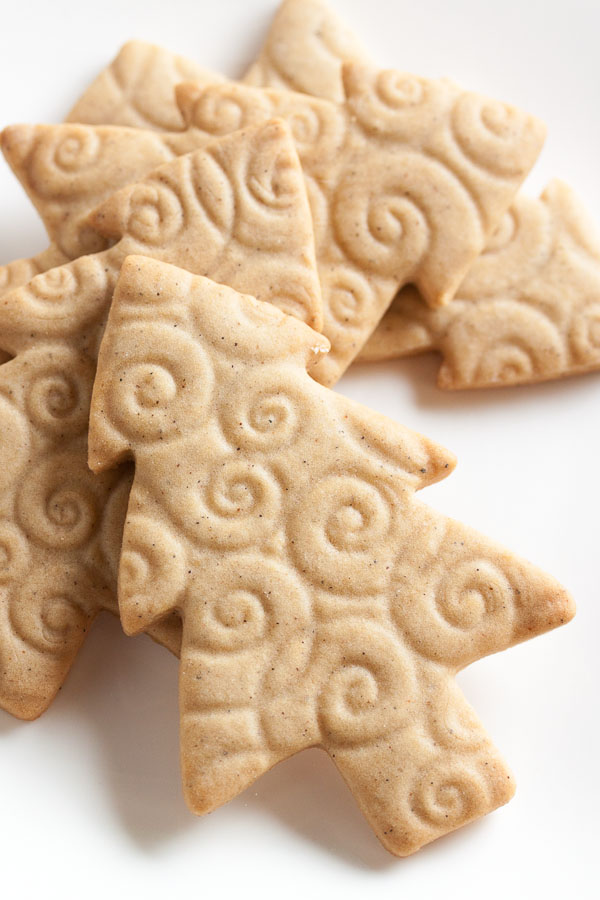 When I made my gingerbread a few weeks ago, I mentioned that I love it so much that I knew I'd have a hard time trying alternative recipes. I did manage to break away long enough to make a chocolate-ginger cookie variation last week, but this week, I swear I was this close to making it again! I can't help it. I really like that gingerbread. And it's become tradition for me to make it at Christmas. But the whole point of this blog is trying new recipes, right? So in the end, I decided to be brave and try something completely different. And I've had my eye on this recipe for awhile anyway.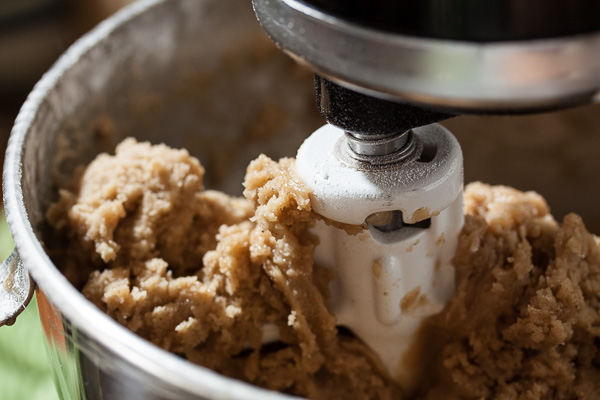 I'm also trying a new technique with this cookie, pressing a pattern impression into the dough before cutting shapes. It's a really pretty effect! And a nice alternative to icing, especially when you have a lot of little cookies and the thought of icing them all seems too daunting. Martha suggests using a faux-bois mat, but I had some texture sheets (used in chocolate making) on hand, so I decided to use one of them. I'm sure a fondant impression mat would work as well. There are a number of options on Amazon if you want to check them out.
At first, 5-3/4 cups flour seems like a ridiculously large amount, but the melted sugars and butter absorb it easily. Once finished mixing, the dough is soft and spongy and feels very much like a rising bread dough. It is a large recipe, though. I have some big tupperware containers that I use to transport the cookies to the office each week. Most of the recipes I've made filled one container, maybe one and a bit. This recipe filled well over two containers. That's a lotta cookies. Don't even ask me how many I ended up with – I completely lost track. According to the original recipe, the dough can be frozen for up to one month, so you can just bake a portion of it now and save the rest for later, and not end up with a million cookies like I did (or go for it and bake them all, I won't judge).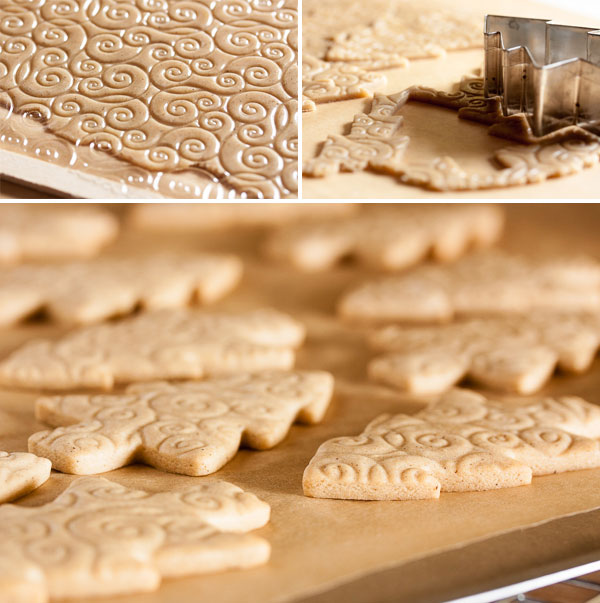 I was a little worried about how these would taste. Once everything was mixed together, the cardamom smelled really strong. But after resting overnight in the fridge, the spices had a chance to mellow out. The finished cookie has a definite flavour, but it's more subtle than I thought it would be. There's just a bit of heat from the pepper. And don't freak out about the quantity of salt in this recipe – once you divide it by the number of cookies you get, it's not really that much per cookie. I'm not sure why the recipe called for so much, but I didn't want to mess with it on my first attempt; and in the end the flavours are perfectly balanced, so I'm guessing it's there for a reason.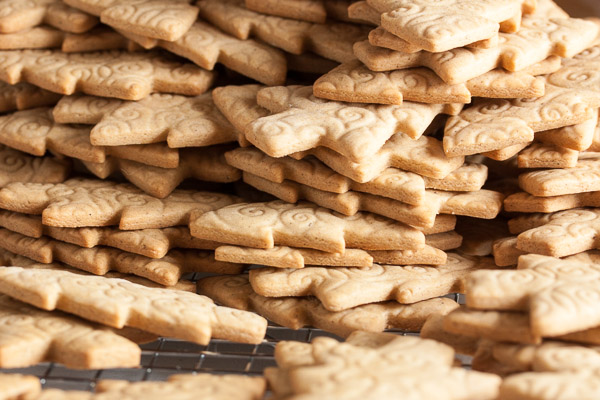 The original recipe says these cookies are a cross between a gingerbread and an animal cracker. I don't get a gingerbread vibe at all – they're a completely different set of spices, and this cookie has no molasses, which is a big part of gingerbread as far as I'm concerned. I can see the similarity to animal crackers, though, and they remind me a bit of digestive cookies too. The consensus among my coworkers is that they taste like chai. This was billed in Martha Stewart's app as a holiday cookie, but unlike cookies like gingerbread and shortbread (which automatically make me think of Christmastime), I can see this one being enjoyed year-round.
And the lack of molasses also means that this is a fairly pale cookie, so you can see all the little flecks of spices in there. So pretty.
These cookies have a little bit of crunch, but are still tender. For me, this is one of those cookies where you can't eat just one. In fact, it's way too easy to eat several. Waaay too easy. Good thing there are so many. So, so many. Not that they lasted long – this was a really popular cookie at the office. Even though I brought in marshmallows at the same time, they went quickly. This one is definitely going in my favourites.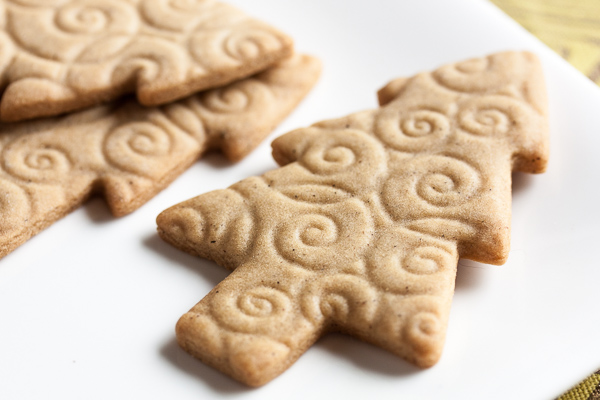 Adapted from Martha Stewart's Cookies app. The recipe is also available on Martha Stewart's site if you want to check out what the faux-bois texture looked like. The number of cookies this recipe will yield will depend on how thick you choose to roll the dough and the size of the cutter you use.
ingredients
5-3/4 cups all-purpose flour
1 teaspoon baking soda
1 tablespoon coarse salt
1 tablespoon ground cardamom
1 teaspoon ground allspice
1/4 teaspoon freshly ground pepper
1/4 teaspoon ground cloves
1 cup unsalted butter, cut into pieces and softened
1 cup dark brown sugar
1/2 cup granulated sugar
1/2 cup dark corn syrup
1/4 cup water
1/4 cup heavy cream, at room temperature
1 large egg, at room temperature
1-1/2 teaspoons pure vanilla extract
In a large bowl, whisk together the flour, baking soda, salt, and spices. Set aside.
In a small bowl or measuring cup, combine the egg, cream, and vanilla, and lightly beat together. Set aside.
Place the butter in the bowl of a stand mixer fitted with the paddle attachment.
Combine the sugars, corn syrup, and water in a medium saucepan and bring to a boil, stirring until the sugar is entirely dissolved.
Carefully pour the hot sugar mixture over the butter in the mixer bowl. Beat on low speed until the butter is melted and smooth. Add the egg mixture and beat on medium speed until smooth again. At this point, I found the mixture splashed out of the bowl a bit. If you have a splash guard? Use it. Otherwise, be prepared to wipe up some spatter.
Turn mixer to low and add the flour mixture. Continue mixing until just combined.
Remove from the mixer and divide the dough into three portions. Flatten each into a disk and wrap in plastic. Refrigerate overnight.
When ready to bake, preheat oven to 350°F.
Remove one piece of dough from the fridge (many people recommend rolling the dough out cold, but I find it easier to work with when it's warmed up a bit – this dough, especially, was quite hard to roll out when cold). On a lightly floured surface, a silpat sheet, or a sheet of wax or parchment paper (whatever your preference), roll the dough out to 1/8" thickness, or 1/16" for a crispier cookie. There's a video here that shows my preferred method, except I use a piece of plastic on top of the dough rather than parchment or wax paper.
If you'd like to use a pattern impression, place the lightly floured texture sheet on top of the dough, and use your rolling pin to gently press the pattern into the dough. I found it easier to just dust the surface of the dough instead of flouring the texture sheet. Carefully remove the sheet and transfer the dough (still on the parchment paper) to a baking sheet and refrigerate until firm, about 10 minutes. While that's chilling, you can roll out the next piece of dough.
Cut the cooled dough into desired shapes and transfer the cut pieces to your cookie sheet. Once you have a sheet full, bake the cookies for about 8-12 minutes, rotating the baking sheet halfway through, until they just begin to colour. I used a small-ish cookie cutter, and they took about 9 minutes to bake. Allow to cool on a wire rack for a few minutes before removing the cookies from the pan and allowing them to cool completely.