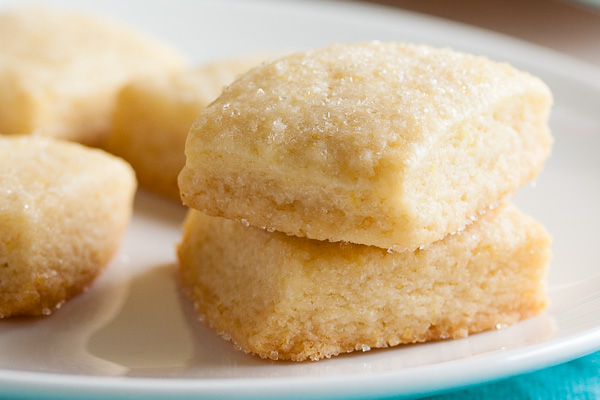 This isn't a totally new recipe to me, but it is new to the blog – does that count? I hope so, because I've got a few more older recipes up my sleeve that I'm looking forward to sharing. I've only made this cookie once before – last Christmas – and I remember it being pretty popular. If you've read my blog before, then you must be well aware how much I love lemon cookies. And based on how quickly my friends and coworkers eat them, I'm not alone in this.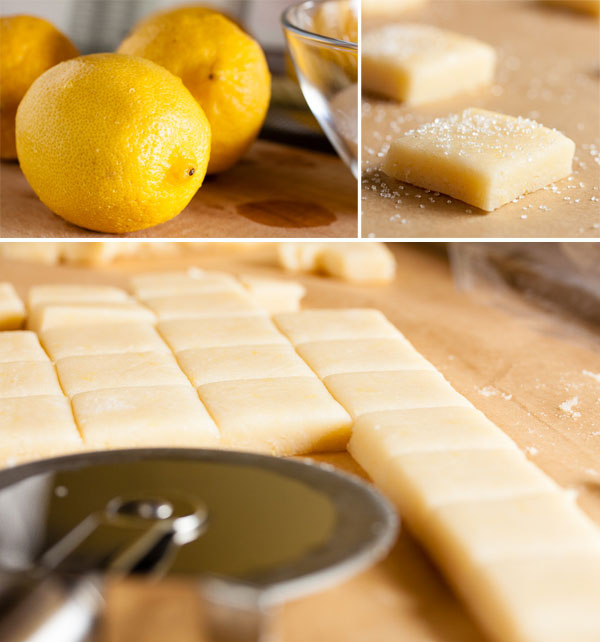 This is another recipe from the Miette cookbook. It doesn't contain a lot of cookie recipes, but they're all adorably tiny and I can't wait to make them all. When I baked these last year and again this year, I had some trouble figuring out the sizing and quantity. From what I can tell from the photo in the book, this cookie is less than 1/4″ thick. But the instruction is to roll the dough out to 1/2″. So I thought maybe that means it spreads a lot? But the recipe specifies to cut them to 1″ square, and that the final cookies will be 1-1/4″ square. That's not a lot of spreading. I tried one at 1/2″ thick just to see what would happen, and if anything it puffed up even more. So I ended up rolling them out to 1/4″ thick. And they puffed up to almost 1/2″ in the oven. *sigh*
It looks nothing like the photo in the book.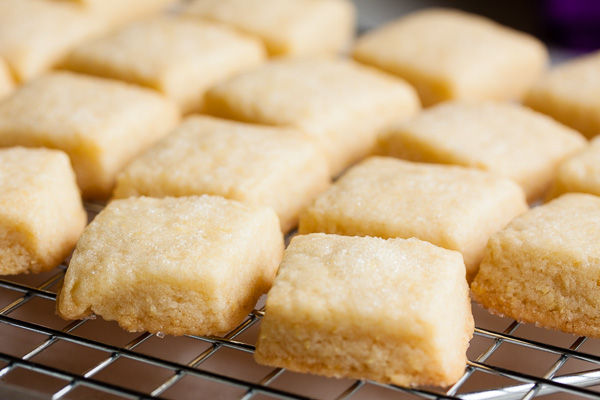 I don't really mind, though. It's a lovely little cookie. It doesn't have that crumbly melt-in-your-mouth sablé texture that I associate with shortbread, but is soft and tender. One of my coworkers asked me to bake another batch that she could give out at Christmas, so I had a busy weekend making these again, plus the two recipes I had already planned to make. I'm already out of flour again…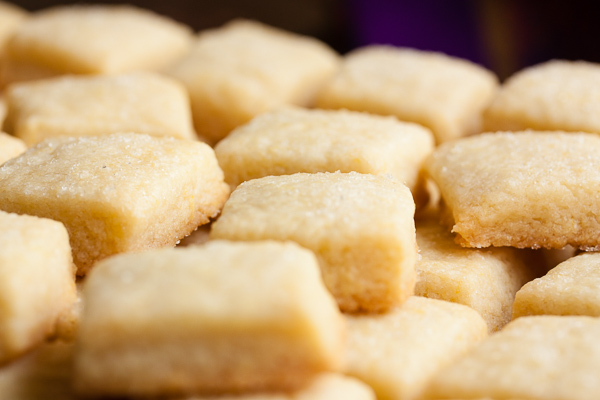 The only thing I would do differently in future is maybe roll them even thinner. And maybe mix some extra zest in with the sanding sugar that gets sprinkled on top for an extra punch of lemon.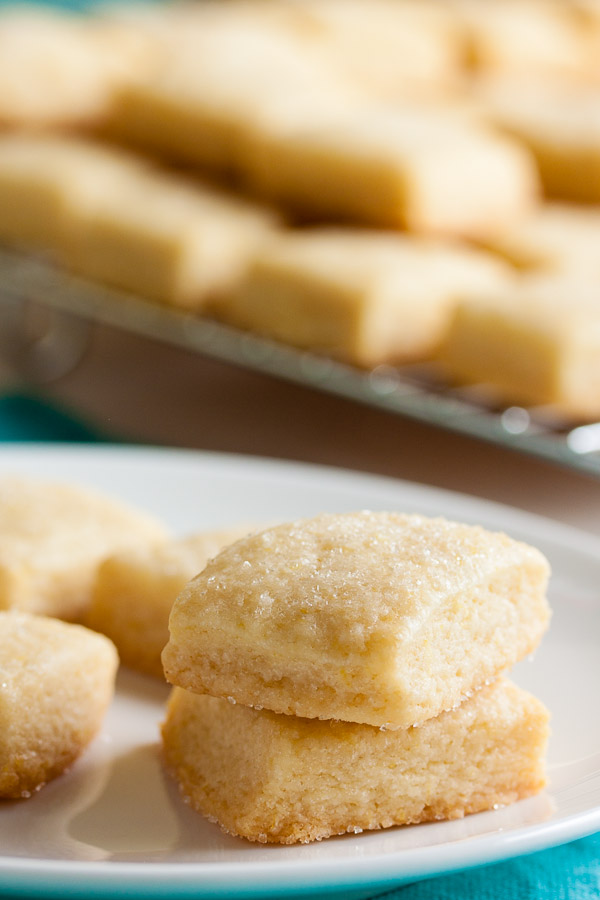 ingredients
2/3 cup sugar
2 tablespoons grated lemon zest (about 2 medium-sized lemons)
2 cups all-purpose flour
1 cup cold unsalted butter, cubed
1/2 teaspoon salt
1/4 teaspoon baking soda
6 tablespoons heavy cream
1 teaspoon pure vanilla extract
for the topping
granulated or sanding sugar
Preheat oven to 350°F.
Using a mortar & pestle or a spice grinder, combine the sugar and lemon zest together. I opted to just blend them together with my fingers until the zest was distributed and the sugar was fragrant.
In the bowl of a stand mixer fitted with the paddle attachment, combine the flour, baking soda, salt, and cold butter, and beat on low speed until the mixture is crumbly and resembles coarse cornmeal. Add the sugar/zest mixture, cream, and vanilla, and continue to mix until it clumps together and a dough is formed.
If the dough is too soft, it can be wrapped in plastic and refrigerated for about 30 minutes before continuing. Otherwise, on a lightly floured surface, a silpat sheet, or a sheet of wax or parchment paper (whatever your preference), roll the dough out to 1/4? thickness (or 1/2" if you want to try the original recipe recommendation – maybe it'll work better for you). Using a ruler as a guide, square off the edges and cut the dough into 1" squares with a sharp knife or a pizza cutter.
Transfer the squares to your baking sheet, about 2" apart, and sprinkle lightly with sanding sugar. Bake for about 10-12 minutes, until lightly golden brown, rotating the baking sheet halfway through. Allow to cool on a wire rack for a few minutes before removing the cookies from the pan and allowing them to cool completely.