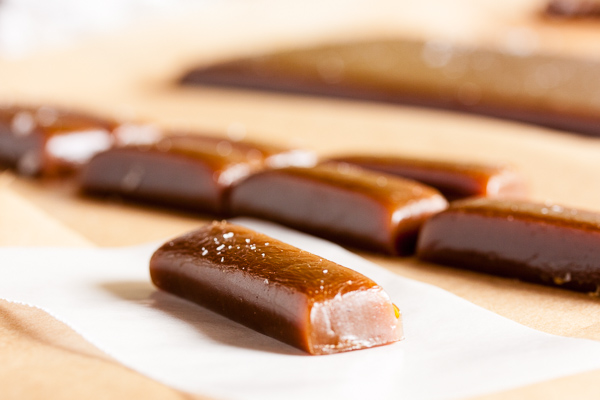 There's a little chocolate shop in my neighbourhood that I would shop at daily if I could (I'm limited both by my wallet and my waistline… although I could stand to be more careful of both as it is… ahem…). They're amazing. If you're ever in Vancouver, you should definitely check them out. Everything is made from scratch using the freshest ingredients. They do a lot of seasonal flavours that I make a point of getting while they're available. One of their recurring winter flavours is gingerbread caramel. It's amazing. I could easily spend all my money on them alone, but I decided to try to make my own instead.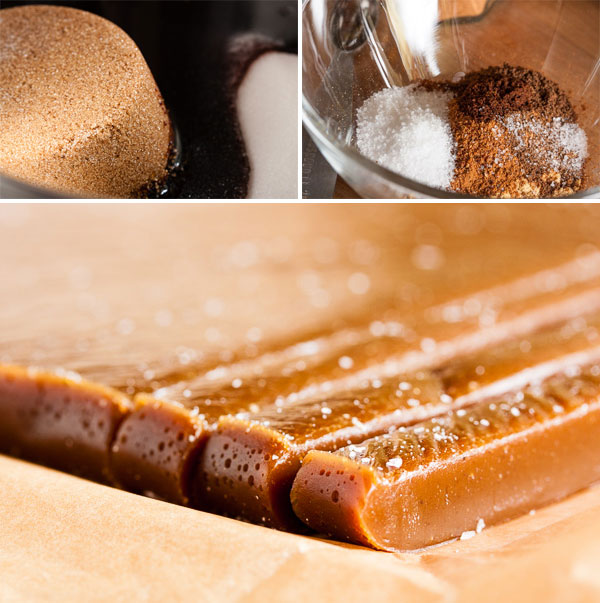 I couldn't find a recipe in any of my many many books, so I turned to google. What I found was several recipes for gingerbread caramels that seemed quite different from each other in terms of ingredients. Eventually I'll try them all, but I decided to try the one with molasses first, as to me that's one of the distinctive things about gingerbread.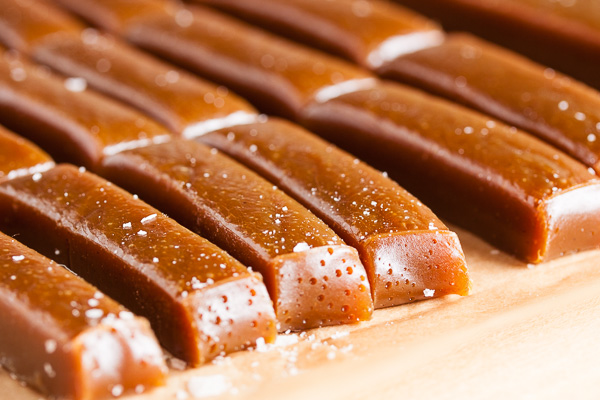 The original recipe stated to cook the sugars until it was a deep amber colour, but with the molasses and brown sugar in there, it started out already really dark. How to tell it's done? I decided to take a cue from some other recipes I've done and cooked it for about 10 minutes. In the end, I think I could have cooked it even longer for more of a caramel flavour and a little less sweetness. That's just my personal preference, though – the overall flavour of these caramels is really good and is definitely gingerbread-y.
It may be because my apartment gets so chilly in the winter, but I had no problem at all cutting and wrapping these – they held their shape beautifully – but after I took them to the office to share, they softened. Not so soft that they were difficult to unwrap and eat, but they definitely would have been a bit more of a challenge to cut like that.
Overall, I'm really happy with this recipe and will be coming back to it for sure. I may have eaten more than my share…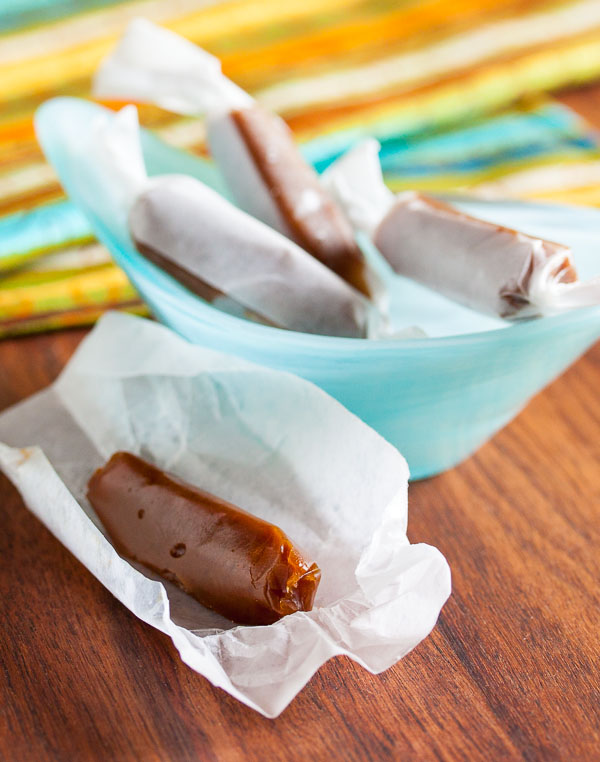 Adapted from Good Life Eats. Makes one 9" square pan of caramels. Note: when cooking sugar, subtract 2°F from the target temperature for every 1000 ft above sea level.
ingredients
1-1/2 cups heavy cream
8 tablespoons butter
1-3/4 cup granulated sugar
1/2 cup brown sugar
1/2 cup molasses
1/2 cup water
1-1/2 teaspoons vanilla extract
1/2 to 1 teaspoon ground ginger
1/4 to 1/2 teaspoon ground cinnamon
1/4 teaspoon ground nutmeg
1/8 teaspoon allspice
1/8 teaspoon cloves
1/2 teaspoon sea salt or fleur de sel (plus more for topping, if desired)
Line a 9" square baking pan with parchment paper. There's no need to oil it – the caramel should be buttery enough that it won't stick. If you want thicker caramel pieces, you could use an 8" pan instead.
Combine the spices and salt together in a small bowl. Measure the vanilla out into another small bowl, and set both aside. You'll need to add both of these quite quickly towards the end of the recipe.
Carefully heat the cream and butter in a small saucepan until it comes to a simmer. Set aside.
Choose a large (4 to 5 quart) heavy-weight saucepan to cook your caramel in – it needs to be large enough to accommodate the bubbling up that will happen (it will bubble up a lot), but deep is better than wide so your thermometer will be covered by enough volume to register an accurate temperature (most digital thermometers have a guideline indicating minimum depth).
Fit your thermometer in the saucepan; combine the sugars, molasses, and water, and cook over moderate heat (I used a setting just slightly over halfway on my stove). Bring to a boil, and continue to cook for about 10 minutes. According to other similar recipes I've worked with, you want to cook the sugar to somewhere between 250°F and 325°F at this stage. Do not stir the sugar at this point. Stirring may cause recrystalization and you'll end up with a grainy caramel. Instead, just gently swirl the pan a few times.
Add the cream/butter mixture gradually, stirring well. It will bubble up a lot. Continue to cook, stirring or whisking frequently, until the thermometer reads 248°F, about 10-15 minutes.
Remove from heat and whisk in the pre-measured spices and vanilla, then pour the caramel into your pan – carefully, it's very hot. If you'd like to sprinkle additional fleur de sel on top, allow the caramel to cool for about 10 minutes first. I let mine sit too long and very little of the fleur de sel stayed on. Boo.
Allow to sit for at least 2 hours before cutting (preferably overnight). If it's still a bit soft, try refrigerating for about an hour first. Be sure to use a very sharp knife.
If you like, you can wrap the caramels in squares of parchment paper or wax paper. If you're lazy like me, you can buy them pre-cut.