I'm a big fan of David Lebovitz. I've made several of his ice creams from The Perfect Scoop (amaaaaazing), as well as sauces and caramels, and I often refer to his website for techniques. Shortly before xmas, I stumbled upon an eGullet thread devoted to his book Ready for Dessert: My Best Recipes. How did I not know about this book?? All the photos posted in the thread looked so delicious and the reviews were very positive, so of course I went out and bought a copy. I had to have it, right? Shut up. This is the first recipe I'm trying from this book. Actually, it's the first baking recipe of his that I've ever tried.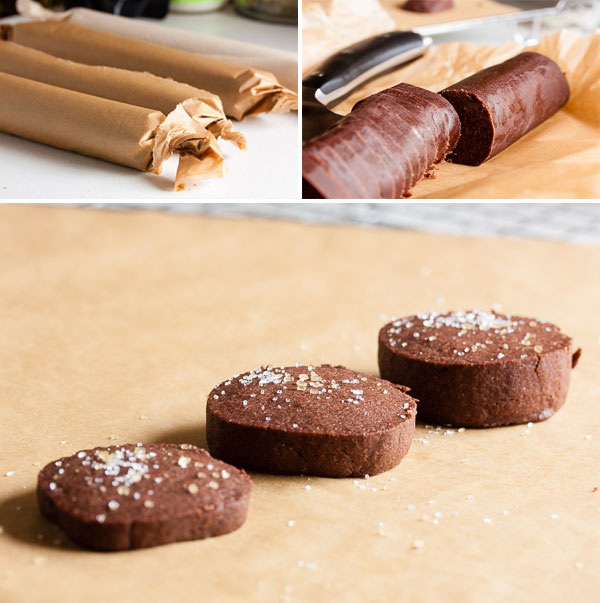 When I saw the name of the recipe and read the instructions, I was imagining that the cookies would spread out and crisp up. When I think of "snaps", I think of crunchy ginger snaps. This didn't turn out like that at all – in fact, they ended up quite thick and soft and tender. And it's apparently not just me – someone in the eGullet thread tried these cookies as well with the same result, and I also googled and found several other people who made them and their photos looked just like mine. And of course, this is one of the recipes in this book that doesn't have a photo for comparison, so I have no idea what they're supposed to look like.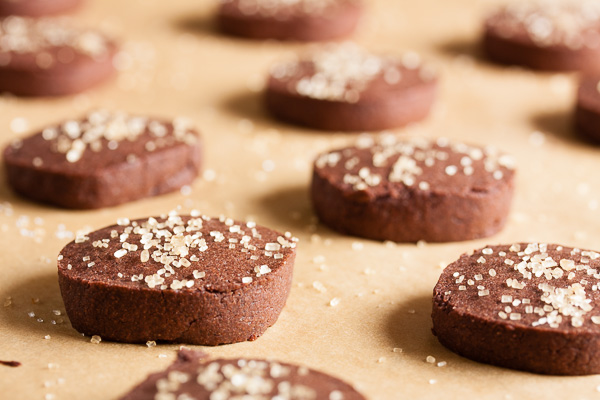 But the flavour? Oh my. This cookie has the flavour I'd expect from a cookie with melted chocolate in it. I'm shocked that cocoa powder alone can produce such intense chocolatey-ness. I've eaten way more than my share already. And the people who've tried them so far have been wowed.
The dough came out of the mixer incredibly crumbly, but came together when kneaded. It cracked a bit when I rolled it out into logs, but I was able to squeeze it back together; and once chilled it held together and sliced fine.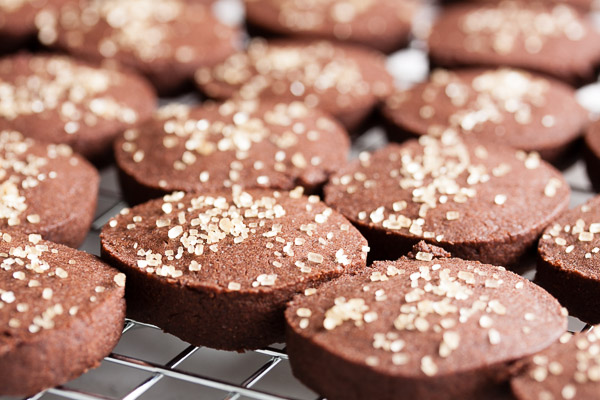 The recipe states it makes 80 cookies when rolled into 7″ long 1-1/2″ diameter logs and sliced 1/2″ thick, but that math doesn't work out. At that measurement, you'll only get 14 cookies per log, which adds up to 56 total. Huh.
I thought 1/2″ seemed like an awfully thick cookie, but it would make sense if they were going to spread out. However, based on the photos I'd seen online I wasn't so sure of that happening. So before I cut them all out, I decided to do a bit of a test and I tried one sliced 1/4″, one 1/3″ and one 1/2″ thick. None of them spread out at all. If anything, they puffed up a tiny bit (which is what the recipe says they will do). Of the three, the 1/4″ thick one was the crispest, so feel free to go with that one if you want the "snappy" cookie. I decided to go with 1/3″ because I don't mind the tender texture. My logs were pretty close to 1-1/2″, maybe a little less, and when I sliced the cookies 1/3″ I got about 75 cookies. 75 tiny cookies.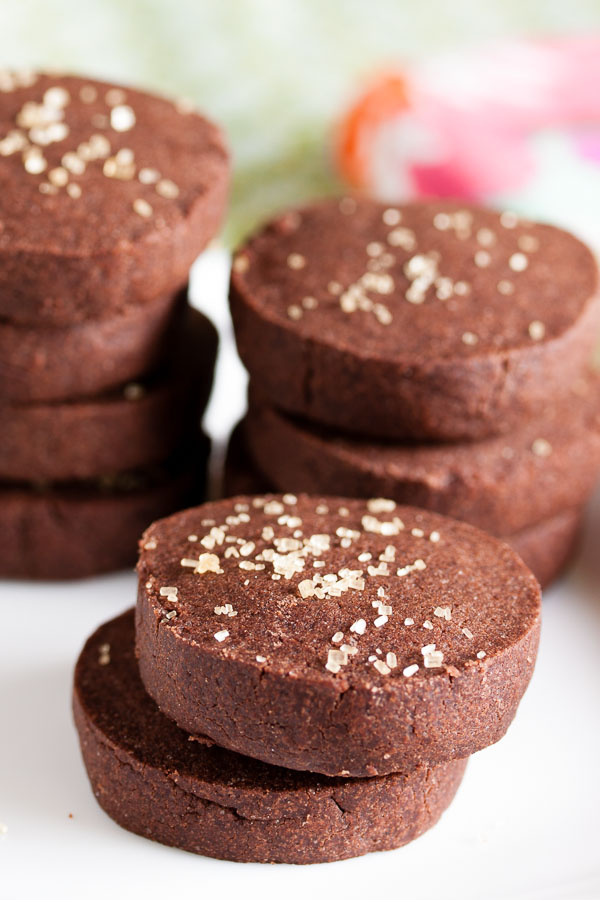 There's obviously an error in this recipe somewhere, but I'd still recommend it because this cookie is good. In fact, I just got an email from one of my coworkers with the subject line "THESE CHOCOLATE COOKIES ARE SO GOOD!" Yes, all-caps.
So there you go.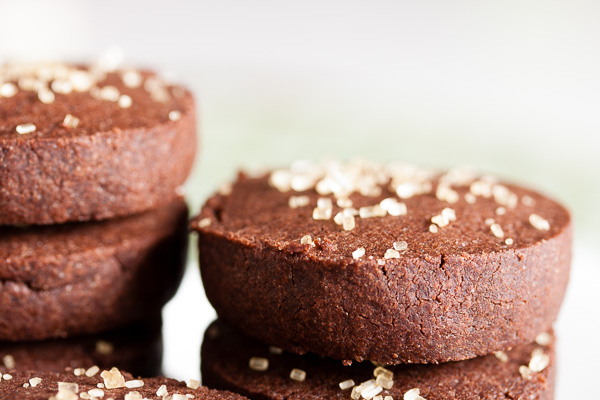 ingredients
3 cups all-purpose flour
3/4 cup unsweetened Dutch-process cocoa powder
2-1/2 teaspoons baking powder
1/4 teaspoon salt
1 cup unsalted butter, at room temperature
1-1/4 cups sugar
1/2 teaspoon pure vanilla extract
1 large egg, at room temperature
1 large egg yolk, at room temperature
for the topping
sugar, sanding sugar, or demerara sugar (optional)
In a medium bowl, whisk together the flour, cocoa, baking powder, and salt. Set aside.
In the bowl of a stand mixer fitted with the paddle attachment, beat the butter and sugar together on medium speed until light and fluffy, about 3 or 4 minutes. Scrape down the sides of the bowl and add the egg and egg yolk, one at a time, beating well after each. Add the vanilla and beat again to incorporate.
Turn the mixer down to low and add the dry ingredients, mixing until just barely combined. Remove from the mixer and knead slightly to bring the dough together (mine came out of the mixer very crumbly). Divide into four equal pieces and roll each piece into a log approximately 1-1/2" in diameter and 7" long. Wrap each log in plastic or parchment paper and refrigerate until firm, about 1 hour.
When ready to bake, preheat the oven to 350°F.
Working with one dough log at a time, remove from the fridge and slice to whatever thickness you prefer – the original recipe stated 1/2", but I chose to make mine about 1/3" (note: I was talking with someone on eGullet who'd also made this cookie, and they sliced them 1/4" thick and got a snappy cookie). You may want to do the same thing I did and do a few test cookies at different thicknesses before cutting them all. Give the log a quarter roll after each cut so it doesn't develop a flat edge from constantly pressing on the same side.
Transfer the cut slices to your prepared cookie sheets and bake for about 10-12 minutes, rotating the baking sheet halfway through, until they've puffed a bit and are slightly firm. Remove from the oven and sprinkle with sugar immediately, then allow to cool on a wire rack for a few minutes before removing the cookies from the pan and allowing them to cool completely.
According to the recipe, they will become "snappy" as they cool, but mine didn't at all. Still a good cookie though.