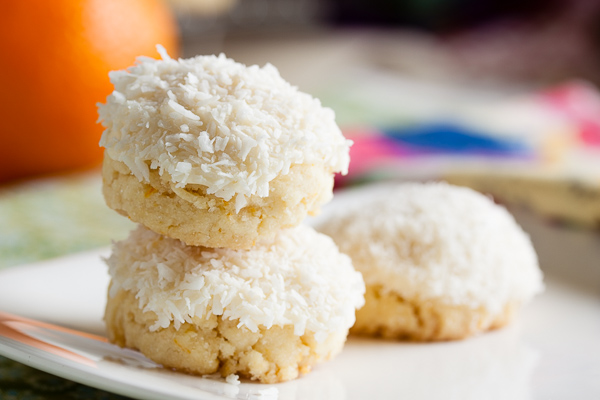 This week I had a craving for something with coconut. And I knew I'd seen some pretty little cookies dipped in coconut somewhere in one of my books and that was the recipe I wanted to make, but it took me awhile to find it again. I have a lot of books. Have I mentioned that? This particular recipe is my first endeavour from yet another cookie book that's been sitting on my shelf for awhile.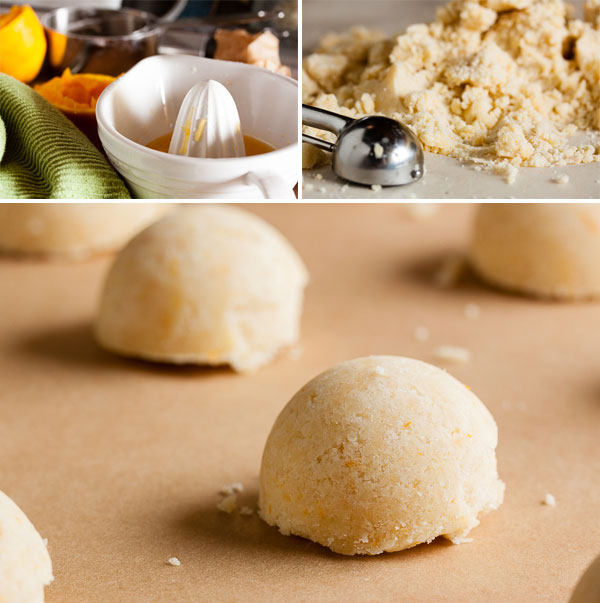 I'd never heard of One Girl Cookies before I saw this book in the store, but obviously the word "Cookies" drew me in. The lovely photography and design in the book, and of course the delicious sounding recipes (whoopie pies!) cinched the deal. I think I bought this book some time last summer, and of course I sat down and flipped through the pages immediately, and bookmarked all the recipes I wanted to try. There are a lot of post-it notes in this book.
One really sweet thing about this book is that they've named all their cookies. I don't mean the title – every recipe has a title – but they've given each cookie a name. This one, for example, is called Sadie.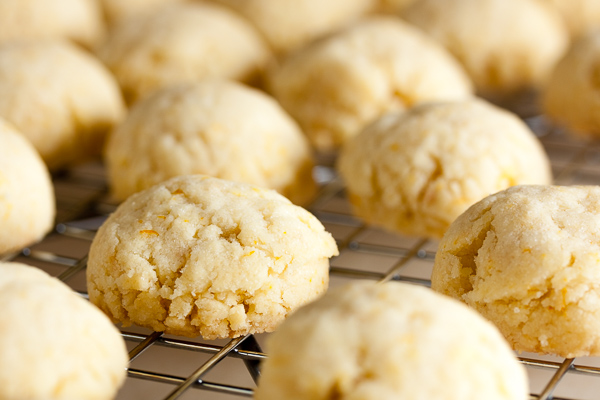 This is an orange cookie dipped in an orange glaze. And as if that weren't enough? Then it's dipped in coconut. Wow. It reminds me of the lime cookies I made last summer in that the flavour is repeated in every component (check those out if you haven't yet – they're SO good). The prevailing flavour in this cookie is definitely the orange, but the coconut pairs beautifully with it. And I haven't even mentioned the cream cheese yet! Yes, both in the cookie and the glaze, so you get that creamy texture and also a slight tangy-ness throughout.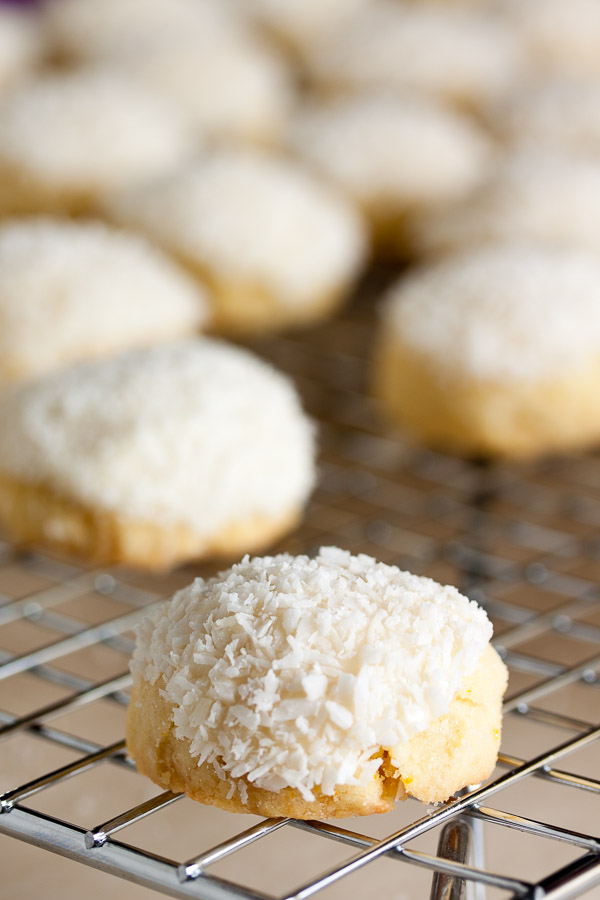 There are no liquids in this recipe (other than a teaspoon of vanilla), so be prepared for a crumbly dough. The recipe says that it will begin to clump together in the mixer, but I didn't find that at all. Even after kneading, the dough kept falling apart. I've mentioned before, but my kitchen gets really cold in the winter months, so that may have had something to do with it. In a warmer kitchen the butter probably would have softened enough to bring the dough together. As it was, I wasn't able to roll the dough into balls as instructed, but instead packed the dough into one of my cookie scoops and very carefully turned it out onto my baking sheet. It was a bit temperamental but workable, and after baking, the cookies held together perfectly.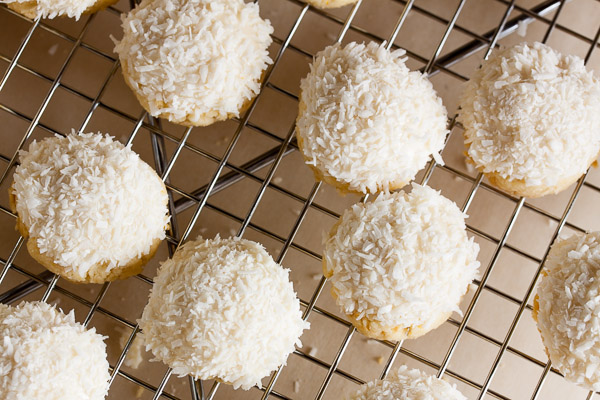 And since there are no leaveners in this recipe either, the dough pretty much holds its shape in the oven and comes out looking just like it did when it went in. The result is a dense buttery cookie with an incredibly soft, tender texture – almost creamy.
This is a very simple cookie to make, but it looks pretty enough to impress.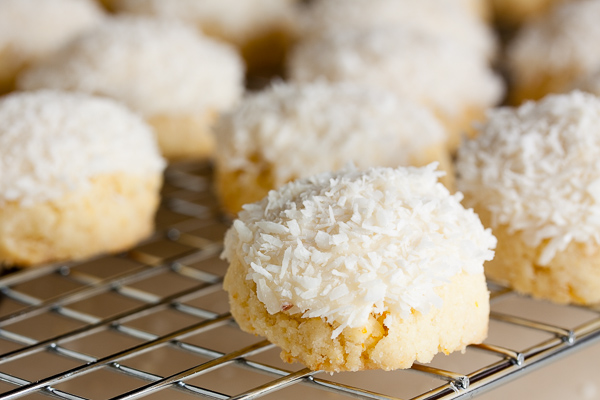 I'm getting a lot of compliments on this one. I saw one of my coworkers have one… and then immediately turn around and head back for two more. After paging through this book again, I'm looking forward to trying a few more of the recipes. I may have to make those whoopie pies soon… But first I have to find a recipe to use up the rest of this cream cheese… Any suggestions?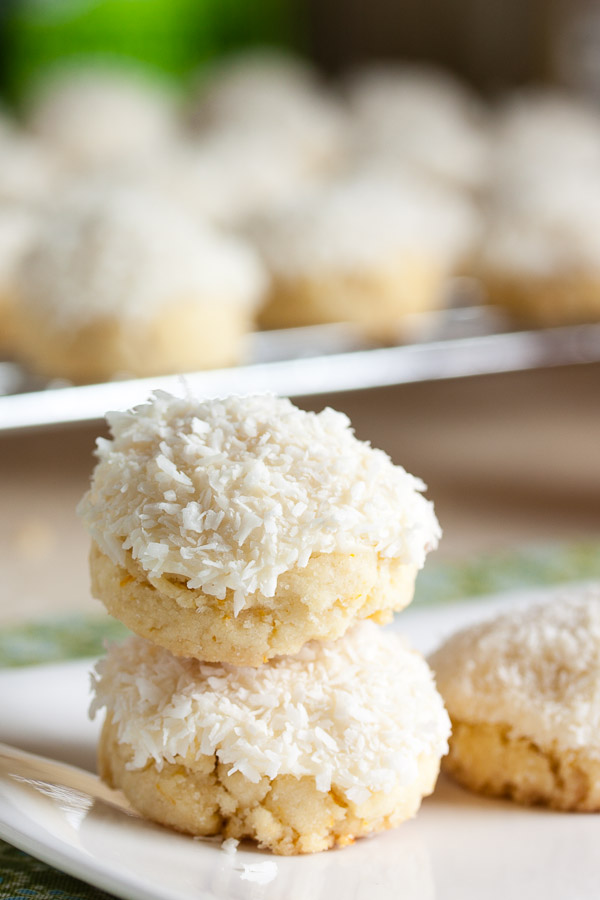 coconut orange butter cookies
Adapted from "Orange Butter Drops with Shredded Coconut" from One Girl Cookies by Dawn Casale and David Crofton. The recipe states it makes about 36 cookies, but I got 42.
ingredients
3/4 cup granulated sugar
grated zest of one orange
2-1/2 cups all-purpose flour
1/2 teaspoon salt
1 cup unsalted butter, cold, cut into cubes
1 teaspoon pure vanilla extract
2 tablespoons cream cheese, at room temperature
for the glaze
1 tablespoon cream cheese, at room temperature
2 tablespoons fresh orange juice (approximately)
1 cup confectioners' sugar (approximately)
for the topping
1/2 cup unsweetened shredded coconut
Preheat oven to 350°F.
In the bowl of a stand mixer fitted with the paddle attachment, combine the sugar and orange zest and blend them together with your fingers until the zest is distributed and the sugar is fragrant.
Add the flour and salt and mix on low speed for about 30 seconds to combine. Gradually add the pieces of cold butter and continue to blend until the mixture resembles crumbs, then add the vanilla. Gradually add the 2 tablespoons of cream cheese and continue to mix. The recipe states that the dough will begin to clump together, but that didn't happen for me.
Turn the dough out onto a lightly floured work surface and knead a few times to bring the dough together. Again, this didn't happen for me. If your dough is as crumbly as mine was, you can use a small cookie dough scoop to portion out the dough. If your dough does hold together, you can portion the dough out by tablespoonfuls and roll into balls. Place the dough onto your prepared baking sheet, about 1" apart, and press down slightly with the heel of your hand.
Bake for about 14-16 minutes, until lightly golden brown around the edges, rotating the baking sheet halfway through. Allow to cool on a wire rack for a few minutes before removing the cookies from the pan and allowing them to cool completely.
finishing the cookies
Measure the shredded coconut out into a small bowl or saucer and set aside.
In the clean bowl of a mixer fitted with the paddle attachment, combine the remaining tablespoon of cream cheese, the orange juice, and confectioners' sugar and begin mixing on low speed for about 30 seconds. Gradually increase speed to medium and continue to beat for around 2 minutes. The glaze should be about the consistency of glue. If it's too thick, add a bit more orange juice. If too thin, add a bit more confectioners' sugar.
Dip the top of each cookie in the glaze and allow any excess to drip off. Then dip into the shredded coconut. Return to your baking sheet and allow to sit at room temperature until the glaze has dried completely.