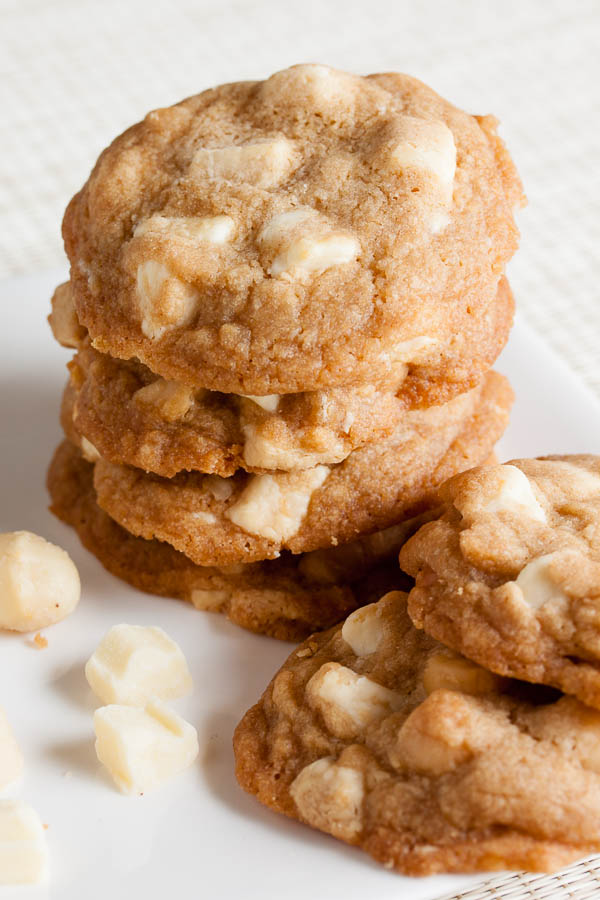 I'm going to start right off by saying don't judge this cookie by appearance. It doesn't look like much, right? Trust me, the flavour is outstanding. You definitely want to make this cookie. Each week when I choose my recipe, it's not a matter of finding one I want to bake, but rather narrowing down a very long list of cookies I want to try. This week, I waffled between three different recipes (they all sound so good!) before finally settling on this one. In the end, the thought of brown butter, macadamia nuts and white chocolate was too tempting to pass up.

This is a deceptively simple recipe. There are very few ingredients, and you don't need a mixer to make them. But the flavour will wow you.
It all starts with melted butter, to which the macadamias are added and then cooked until the butter is brown and nutty. Browning the butter adds a whole different dimension of flavour, and cooking the macadamias in there ensures their flavour permeates the entire cookie. The recipe states that once the nuts are added to the boiling butter, it will foam up and begin to brown within a minute. That didn't happen for me. When I added the nuts, the butter stopped boiling altogether. It took a couple minutes to come back to the boil, and then it started to foam up and colour. And then it smelled amazing.

After allowing the melted butter to cool for about 10 minutes (per the recipe), I then added the rest of the ingredients. Apparently the butter hadn't quite cooled enough, however, because the white chocolate chunks started to melt into the mixture. Oops? So instead of having solid chunks of white chocolate in my cookies, it's kind've swirled throughout. I don't know if that's how the recipe is supposed to turn out or not. It didn't really say and this particular recipe didn't have a photo. It did state that the butter should be warm to the touch when the rest of the ingredients are added, so… maybe? It's an interesting effect, and it ensures the white chocolate flavour is spread throughout the cookie, so it's not really a bad thing. And it didn't melt completely – there are still some chunks.
My only complaint about this recipe is that they did spread out quite a bit and get flat and crispy around the edges. Not really a surprise considering we're working with warm melted butter, but since this is the first time I've tried this recipe I wanted to follow the instructions as-is. One of my coworkers, however, says she loves that part. What do I know?
The recipe only made 42 cookies, which most weeks is enough. This cookie, however, was super popular. Normally, I'd just say "oh well, too bad we're out of cookies" or make something completely different if I was feeling ambitious (and generous), but I wanted to see what would happen if the dough had a chance to cool before baking, so I ended up making a second batch within just a couple days.

For the second batch, I allowed the melted butter to cool more before adding the rest of the ingredients, so the white chocolate chunks didn't melt into the batter. You know what? I think I prefer them a bit melty. This time, there are clearly defined chunks of white chocolate – like a burst of flavour when you bite into the cookie. In the first batch of cookies, the white chocolate blended more subtly with the other flavours. This is going to be one of those personal preference things.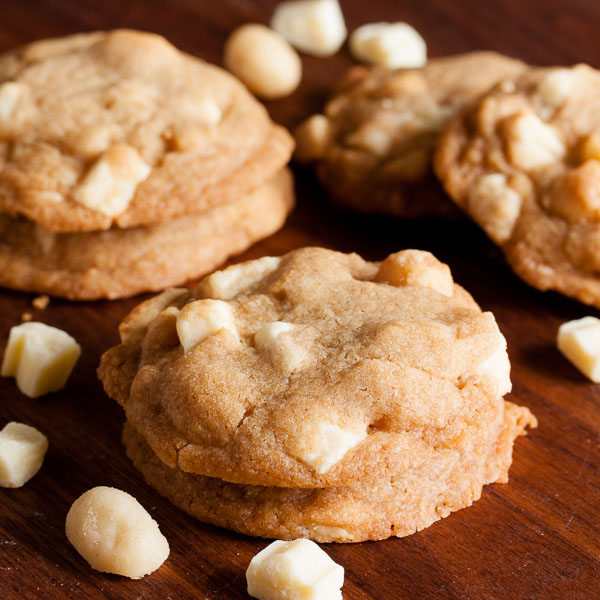 I also refrigerated the dough before baking – just for about 10 minutes. I don't have a large fridge, so I just left each tray in the fridge long enough for the previous batch to finish baking. The cookies held their shape much better this time around. You'll also notice the second batch turned out darker – not sure if that's because I browned the butter more (not on purpose) or my oven temperature was off (entirely possible – my oven is horrible).
Verdict? Next time (and yes, this is getting tagged as a "favourite"), I'll finish adding ingredients while the butter is still slightly warm, so the white chocolate melts into the dough a bit. But I'll also refrigerate the dough for a little while before baking, so they don't spread quite so much.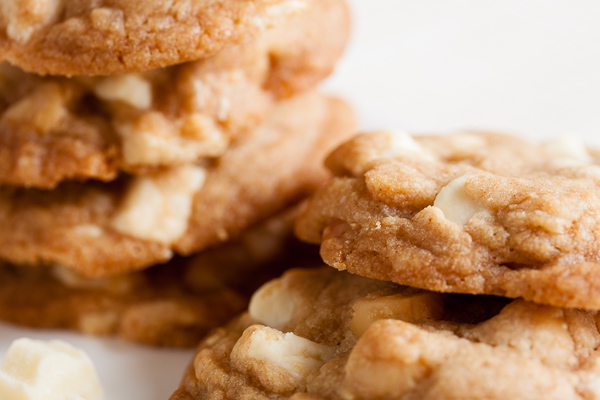 The finished cookie is soft and chewy, and the flavour is incredible. This is another one of those cookies that's just okay fresh from the oven, but fantastic the next day, after the flavours have had a chance to blend and intensify. Caramely brown sugar, nutty brown butter, macadamias & sweet white chocolate. Oh man. Comments include "these are deadly", "these are amazing", "these are absolutely lethal", and "this might be the best thing ever". So, there you go.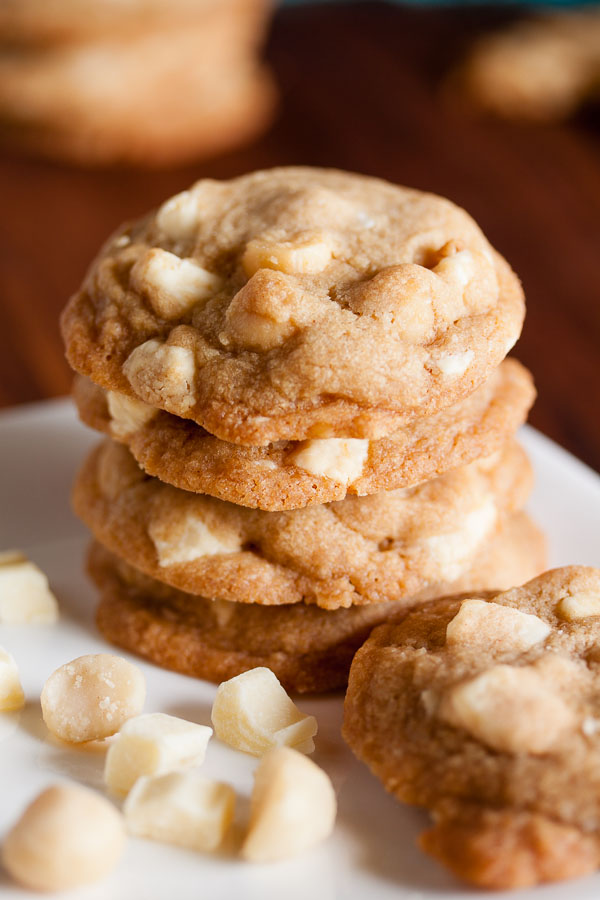 brown butter white chocolate macadamia cookies
Adapted from "Buttery White Chocolate-Macadamia Drop Cookies" from Simply Sensational Cookies by Nancy Baggett. The recipe states it makes 25-35 cookies. I got 42 using a scoop slightly larger than 1 tablespoon.
ingredients
1 cup unsalted butter, cut into chunks
1 cup coarsely chopped salted macadamia nuts
scant 1 cup packed light brown sugar (slightly less than 1 cup)
2 tablespoons corn syrup, light or dark
2 teaspoons vanilla extract
1/2 teaspoon baking soda
1/2 teaspoon salt
1 large egg, at room temperature
1-2/3 cups unbleached all-purpose flour
1-1/2 cups white chocolate chips or chunks
Preheat oven to 350°F.
In a medium-sized heavy saucepan, melt the butter over medium heat and bring to a boil. Once it reaches a boil, reduce the heat slightly until the butter is just gently bubbling, and continue to cook for 3 minutes. You may be tempted to raise the temperature to speed up this process, but it's too easy to burn the butter at a higher temperature – browning butter is best done at a medium temperature.
Add the chopped macadamias. The recipe stated the mixture would begin to foam and would finish cooking within a minute, but when I added the nuts, the butter stopped boiling altogether. It took a couple minutes to come back to the boil, and then it started to foam up. However it works for you, once it starts to foam, the mixture should also begin to colour. When the mixture is golden coloured and smells nutty, remove from the heat and pour it into a heat-proof bowl to stop the cooking process.
Allow the mixture to cool for about 10 minutes, until it's just warm to the touch.
Add the sugar, corn syrup, vanilla, baking soda, and salt, and stir to combine. Beat in the egg. Then the flour, and then the white chocolate chunks.
Using a small cookie dough scoop or a tablespoon, portion the dough onto the baking sheets about 2 inches apart to allow for spreading. You can then bake them as-is, or chill them in the fridge for about 10 minutes before baking to prevent them from spreading too much.
Bake for about 11-15 minutes, until lightly golden brown, rotating the baking sheet halfway through. Allow to cool on a wire rack for a few minutes before removing the cookies from the pan and allowing them to cool completely.