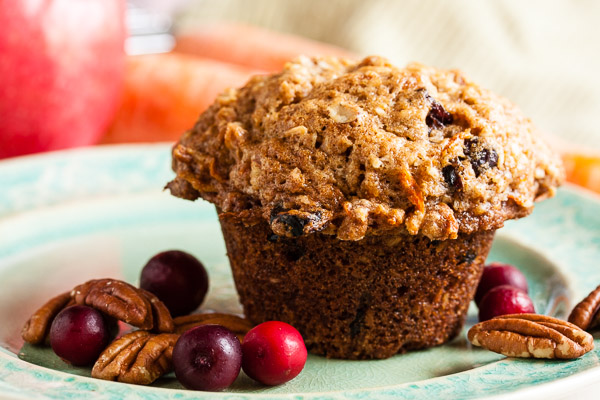 I felt so decadent having date oatmeal muffins the last couple weeks instead of my regular bran, but as much as I love those bran muffins, it was time to switch it up a bit. Plus it's getting cold here in Vancouver, and I'm craving sweet comfort foods. It's natural to want to bulk up in the winter months, right? Right. This week I decided to try a muffin from a new book that I just got (because apparently I don't have quite enough books yet – sigh).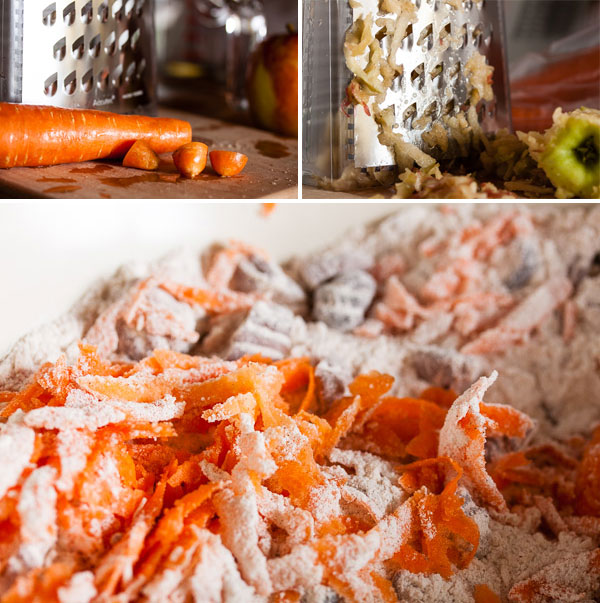 Have any of you heard of Butter Baked Goods? They're a local Vancouver bakery, best known for their handmade marshmallows. Apparently they sell their marshmallows as far away as New York in stores like Dean & Deluca, Sur la Table, and Whole Foods. So you may have seen them around. I had no idea they had even put out their own cookbook until I just happened upon it at the bookstore the other day. And there was no hesitation whatsoever – I had to have it. (This isn't the first time I've said that, is it? I may have a problem…)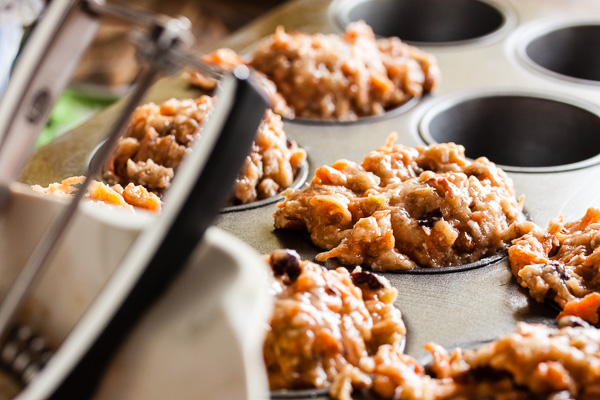 I've never actually tried their marshmallows (I've mentioned before that I'm not a big fan of purely sugary things), but I've tried several of their cookies and cakes, and they're amazing. They do not scrimp on the butter and sugar.
As evidenced by this muffin.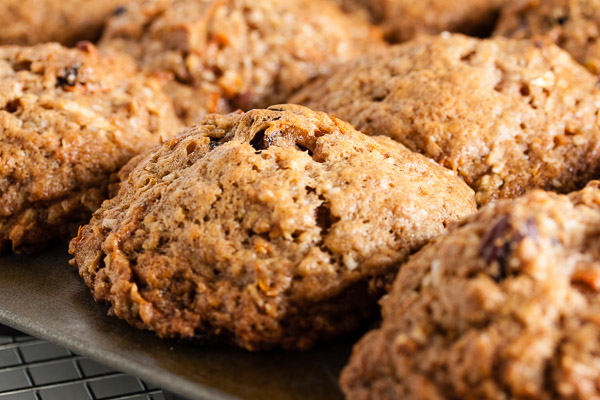 I love morning glory muffins, so when I saw it listed in the book I knew immediately what I'd be making. But as I got into prepping the ingredients I realized that this isn't even pretending to be healthy. Yes, it's got lots of grated carrots and apples and chopped nuts, but also a lot of oil, white sugar, and white flour. And the end muffin is quite sweet. Delicious! But don't kid yourself that this is a healthy breakfast muffin. (I'm eating it for breakfast anyway.)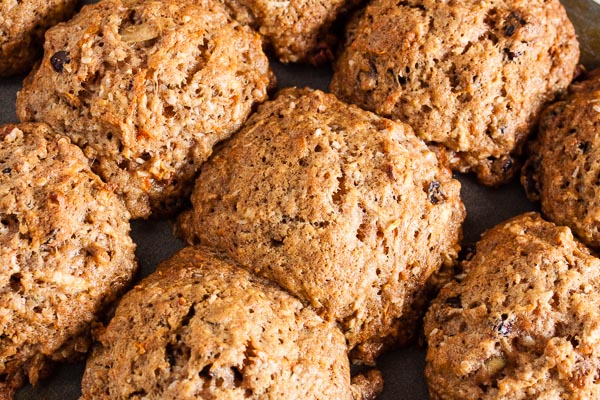 It's also a pretty big muffin. The photo in the book shows them fairly normal-sized, but I have a batter bowl that I usually use for making muffins, and as I began to add the ingredients for this recipe, it quickly filled up and I had to switch to a much larger bowl. And then when they baked, the muffins rose and spread and joined together to almost form one big muffin top! I could have easily gotten 15 muffins rather than the stated 12. Maybe more.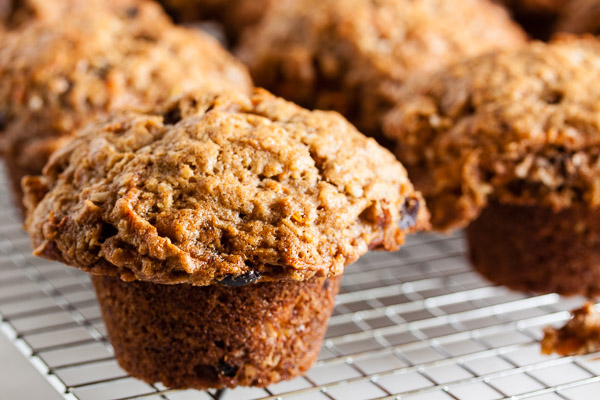 There's not a lot of liquid ingredients compared to the dry (no dairy – just eggs and oil), so I had a bit of trouble getting it all mixed while being careful not to overmix. But I managed. And once baked, the muffin is quite moist.
Adapted from "Twice-a-Week (Morning Glory) Muffins" from Butter Baked Goods by Rosie Daykin. The recipe states that it makes 12 muffins, but I found them so large you could probably try to spread that out to 15 or more. Or just go for the big muffins.
ingredients
2-1/2 cups all-purpose flour
1-3/4 cups granulated sugar
1 tablespoon cinnamon
2 teaspoons baking soda
1 cup sultana raisins (I used dried cranberries instead, because I love cranberries)
1 cup unsweetened shredded coconut
1 cup chopped pecans
2 cups grated carrots
1 large apple, peeled, cored and grated (I didn't peel mine, because I don't mind the skin)
4 large eggs
1 cup vegetable oil
1 tablespoon pure vanilla
Preheat oven to 350°F. Lightly grease your muffin tin, both inside and along the top edge. I usually use a silicone pastry brush and a bit of vegetable shortening. It just takes a few seconds. Or you could just use paper liners in your tray.
In a large mixing bowl, combine flour, sugar, cinnamon, baking soda, pecans, coconut, raisins (or cranberries), grated carrot and apple (I actually chose to add the apple to the wet ingredients instead because it was so juicy). Whisk together well.
In another bowl or a large measuring cup, lightly beat the eggs, oil, and vanilla together (and apple, if you choose to do it the same way I did).
Pour the wet ingredients over the dry, and gently stir together until just blended. It's okay if there are still some streaks of flour – with muffins, undermixing is always better than overmixing.
Using a large spoon or ice cream scoop, portion the batter into the muffin tin. Bake for about 35 minutes, rotating the pan halfway through, until a toothpick inserted in the centre of a muffin comes out clean. Allow to cool on a wire rack for about 5-10 minutes before removing from the muffin tin.