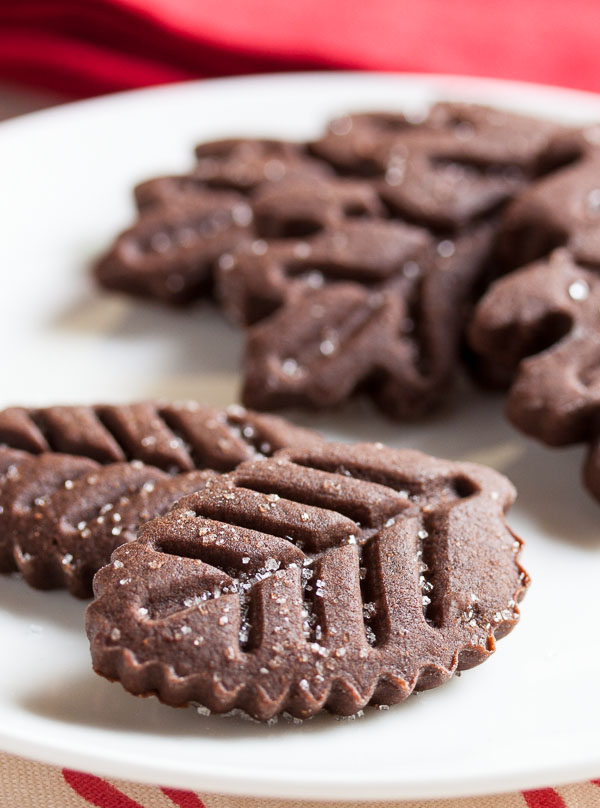 I'm sure most of you in the northern hemisphere are finished with fall and are well into winter already. Here in Vancouver, we're still in fall – or what we call wet leaf season. Although to be completely honest, it's not always wet. Sometimes it's dry and windy and the leaves are flying at you full speed so you get bits of them in your eyes. The weekend I baked these, we had a windstorm and it was raining. Wheeee! Perfect weather to stay home and bake.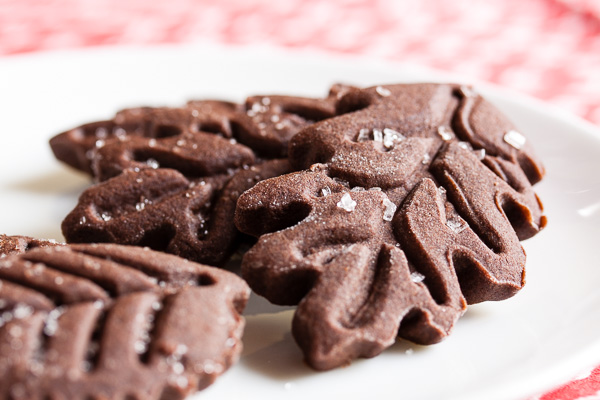 Given the season, it was obviously time to try out my new leaf cutters from Williams-Sonoma. Yes, I spend too much time at that store. On the one hand, I love that they're in my neighbourhood (walking distance!), but on the other hand, it's waaaaaaay too convenient to swing by on my way home from work.
These particular cutters are actually sold as piecrust cutters, for decorating pie tops. They have several sets in different themes, but I've always been partial to leaf shapes (I have another set of leaf cookie cutters too). And they were on sale! How could I say no?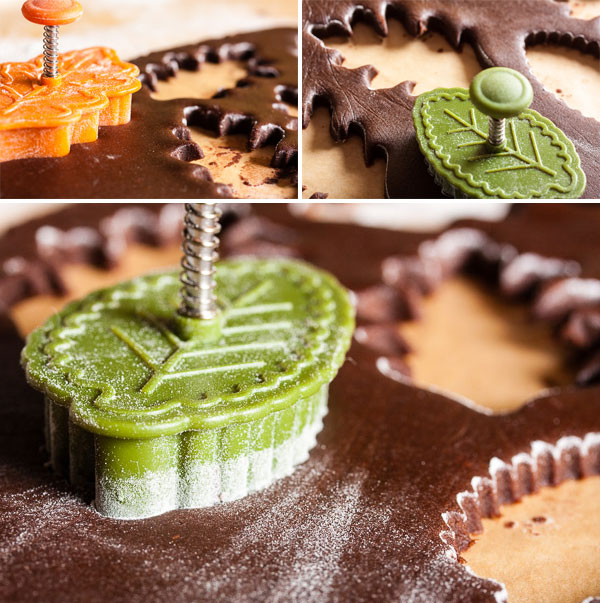 Like the Halloween cutters and the moustache cutters I used a few weeks ago, these are cookie cutters with a built-in pattern impression. I really like the plunger style of these new cutters. If the cookie sticks inside the cutter when you lift it (which it often does), you can just press the plunger to push it out. So easy! I also recommend dipping your cutters in flour or confectioners' sugar between cuts to prevent the dough from sticking. Don't worry about it showing on the cookies – it should all get absorbed into the cookie as it bakes. Some of my cookies were practically white from flour, but they came out of the oven without a trace of it.
If you have regular leaf cutters that you want to use (or any other shape) and you want to get fancy, you can etch your own pattern with a butter knife before baking the cookies if you like.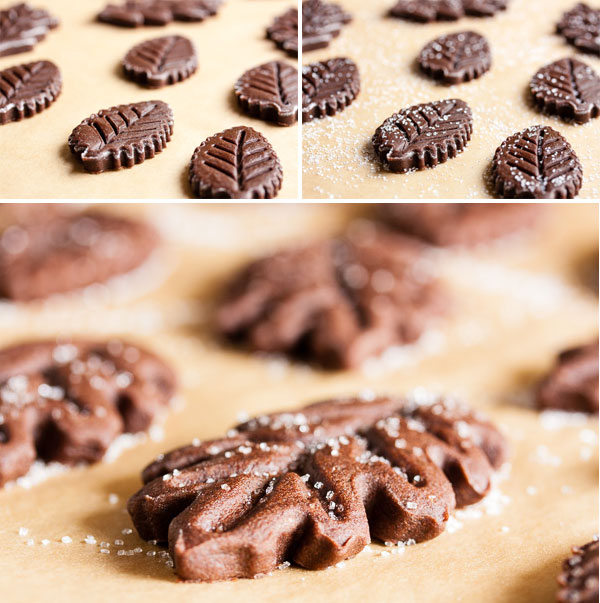 I thought this recipe sounded really good – chocolate and ginger is perfect for this season. And the original recipe was also shown in leaf shapes (and acorns), so considering I was already planning to use my leaf cutters, I was automatically drawn to it. Maybe that just shows how unimaginative I am… Hmmm…
I'm used to rolled cookie dough being fairly dry until it's kneaded together, so when this came out of the mixer quite soft and sticky, I really began to question whether I mis-measured the flour. Did I measure 2-1/2 cups? Or did I miss one and just do 1-1/2? Apparently I was on auto-pilot, because I honestly can't remember what I did. It wouldn't be the first time I mis-measured my ingredients… There was no way to check, so I just carried on and hoped for the best.
Even after refrigerating, the dough was quite sticky, so I ended up flouring my work surface (I don't usually use flour here – check out this video for my preferred method). I tried just a few cookies to start with, and they baked up fine. They held their shape well, had a nice soft texture, and a good flavour. Huh. Maybe I measured everything correctly after all. I'm still second-guessing myself on this.
Hey, if anyone tries this recipe? Please come back and post what the dough was like for you. I'd really like to know.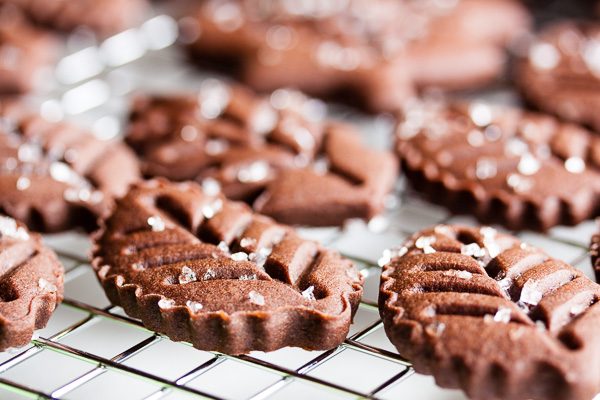 They've been getting a lot of good comments so far, and I really like them. Not quite the punch of chocolate I was hoping for though. The chocolate is subtle, but you can taste it, and there's a bit of heat from the fresh ginger. Like the gingerbread I posted a few weeks ago, these aren't overly sweet cookies – the predominant flavour is the molasses and spices. I was really hoping for a more chocolate cookie with a kick of ginger, and what I got was a good gingerbread cookie with a hint of chocolate. So, a good cookie – just not the cookie I was expecting.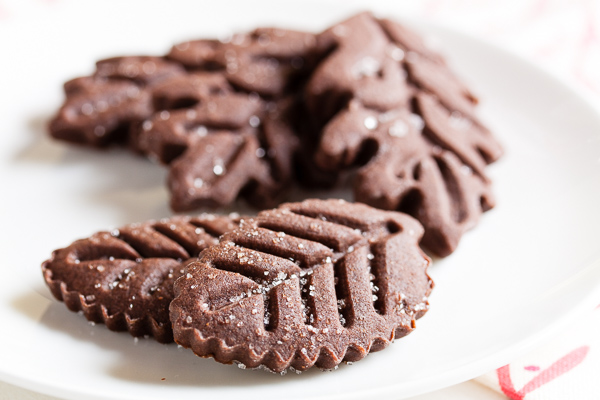 Adapted from Martha Stewart's Cookies. The number of cookies this recipe will yield will depend on how thick you choose to roll the dough and the size of the cutter you use.
ingredients
2-1/2 cups all-purpose flour
1/2 cup unsweetened Dutch-process cocoa powder
1 teaspoon ground cinnamon
1/2 teaspoon ground ginger
1/2 teaspoon ground nutmeg
1/4 teaspoon ground cloves
1/2 teaspoon coarse salt
1/2 teaspoon baking powder
1/2 teaspoon baking soda
3/4 cup unsalted butter, softened
3/4 cup packed dark brown sugar
1 large egg
1/2 cup unsulfured molasses
1 tablespoon peeled, grated fresh ginger
optional
fine sanding sugar, for sprinkling
In a medium bowl, whisk together the flour, cocoa powder, spices, baking powder, baking soda, and salt. Set aside.
In the bowl of a stand mixer fitted with the paddle attachment, beat the butter and brown sugar together on medium speed until light and fluffy, about 3 or 4 minutes. Scrape down the sides of the bowl and add the egg, molasses, and grated ginger, beating well.
Turn the mixer down to low and add the dry ingredients, mixing until just barely combined.
Remove from the mixer and divide the dough into 2 equal portions. Flatten each piece to about 1/2? and wrap each in plastic. Refrigerate for about 1 hour, until cold.
When ready to bake, preheat oven to 325°F.
Remove one of the dough pieces from the fridge. Many people recommend rolling the dough out cold, but I find it easier to work with when it's warmed up a bit. On a lightly floured surface, a silpat sheet, or a sheet of wax or parchment paper (whatever your preference), roll the dough out to 1/4? thickness.
Cut the dough into desired shapes and transfer the cut pieces to your cookie sheet. I find that dipping the cookie cutter in flour after each cut helps prevent sticking. Sprinkle the cookies with sanding sugar if desired. Once you have a sheet full, refrigerate the dough for about 20 minutes. I don't have a large fridge, so I just left each tray in the fridge until I had another tray of cookies cut and ready to go and then swapped them out.
Bake the cookies for about 11-13 minutes, rotating the baking sheet halfway through, until they're firm. Allow to cool on a wire rack for a few minutes before removing the cookies from the pan and allowing them to cool completely.