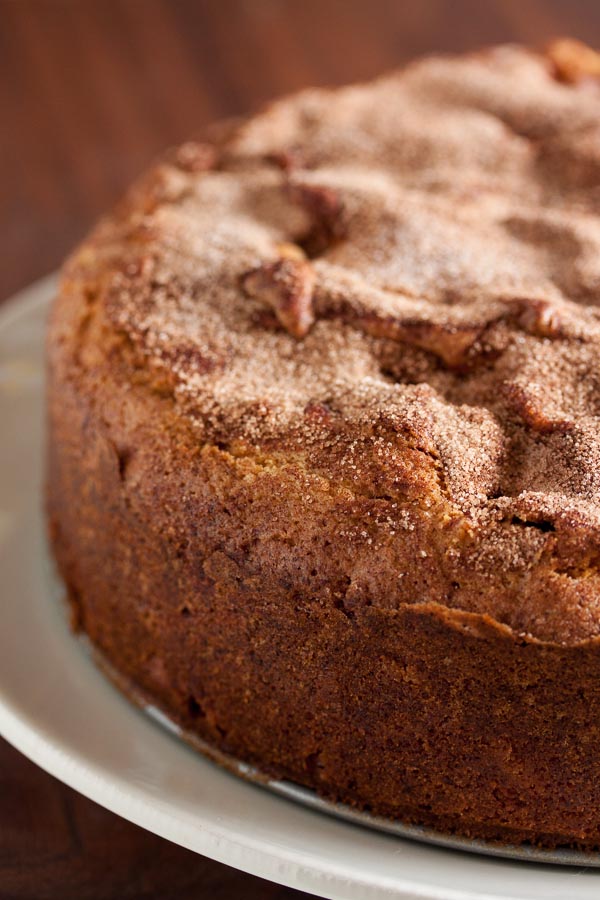 In addition to fall being pumpkin season, it's also a perfect time for anyone who loves apples. At the farmer's market, the berries and peaches of the summer are making way for so many different varieties of apples. I haven't even heard of half of them, and I want to try them all. I'm not a big fan of most fruit (gasp!), but a fresh, tart apple makes a great mid-day snack, especially with a bit of cheese or a spoonful of peanut butter. And I've mentioned before that I love fresh apples and cranberries in my oatmeal (and yes, I'm looking forward to oatmeal on the weekends again now that the weather is cooling down). And of course they're great in baking. This week I'm going to share a recipe that has become one of my favourites over the years. I've baked this for my friends several times in the past (before I'd started this blog, though), and it gets requested again and again.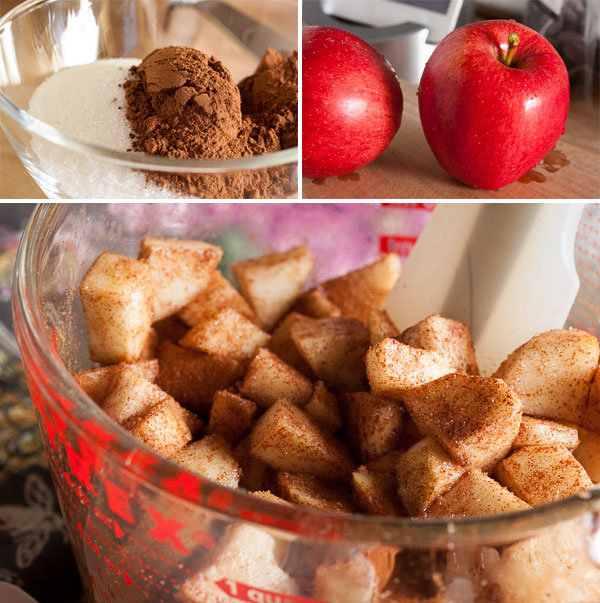 If I'd come across this recipe on my own, I probably would have glanced at it and moved on. While cinnamon and apple is a good combination (think apple sauce and apple crisp and spiced apple cider – it's definitely a flavour of the season), it just doesn't sound exciting enough to take note. But a friend of mine made this cake and shared it with me (years ago now), and wow, is it good! It's full of chunks of fresh apples, topped with a perfect combination of sugar and cinnamon, and it's oh-so-moist and rich from the cream cheese in the batter. Once tasted, this cake went from something I wouldn't look at twice to a cake I can't wait to make again.

It's great with coffee, as a snack, or even for breakfast (what? it has apples, so it's healthy right?). I brought this cake in at the same time as the pumpkin muffins, and they were both devoured in record time. The cake was gone by the end of the first day, and I think the muffins were finished off by the end of the second.
I've been really conscientious about making a new recipe each week, but this one was so popular that I had to promise to make it again – and that second one was gone within a day too!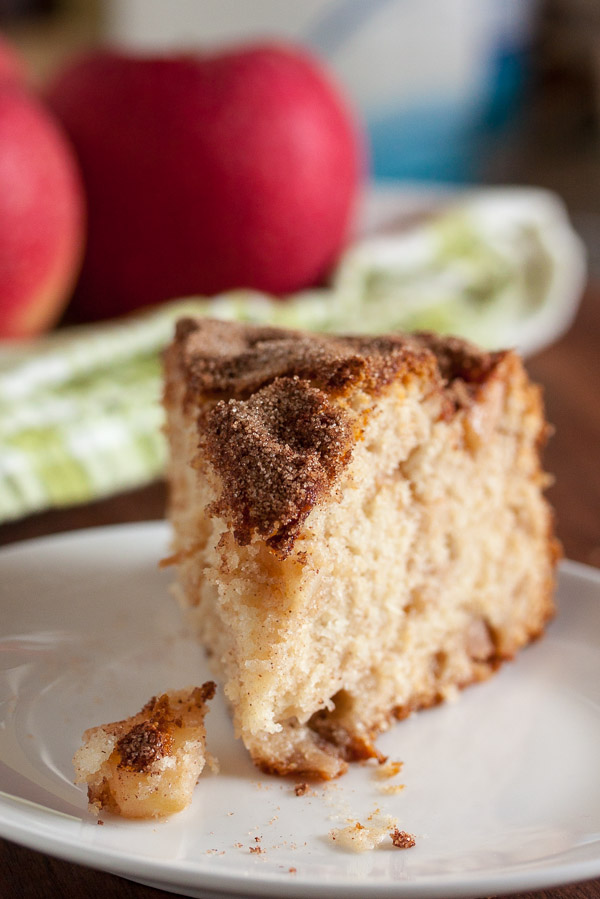 Adapted from the January 2000 issue of Cooking Light. The original recipe called for Rome apples, but I've made it with Braeburn, Gala, Honeycrisp, Pink Lady, and Granny Smith apples. I'm sure it will work fine with whatever your favourite baking apple is. The original recipe also called for margarine and fat-free cream cheese, but I took that as more of a suggestion.
ingredients
1-1/2 cups sugar
1/2 cup butter, at room temperature
3/4 cup block-style cream cheese (fat-free or regular), at room temperature
2 large eggs
1 teaspoon vanilla extract
1-1/2 cups all-purpose flour
1-1/2 teaspoons baking powder
1/4 teaspoon salt
3 cups peeled & chopped apples (about 2 large or 3 medium)
for the topping
1/4 cup sugar
2 teaspoons ground cinnamon
Preheat oven to 350°F.
Prepare your baking pan. This cake can be baked in an 8" or 9" springform pan, or a 9" square pan. If you use a 9" pan, reduce the baking time by about 5 minutes. I usually just use parchment paper. Alternately, you could grease the sides and bottom lightly.
In a medium bowl, whisk together the flour, baking powder, and salt. Set aside.
In a small bowl, stir together the 1/4 cup sugar and the cinnamon. Take 2 tablespoons of this mixture and toss together with the chopped apples. The balance of this mixture will be used to top the batter later. Set aside.
In the bowl of a stand mixer fitted with the paddle attachment, beat the butter, cream cheese, and sugar together on medium speed until light and fluffy, about 3 or 4 minutes. It will be really fluffy because of the cream cheese. Scrape down the sides of the bowl and add the eggs, one at a time, beating well after each. Add the vanilla and beat again to incorporate.
Turn the mixer down to low and add the dry ingredients, mixing until just barely combined. Remove from the mixer and fold in the apple mixture with a spatula.
Pour the batter into your prepared pan and smooth out the top. Sprinkle the top with the remaining sugar-cinnamon mixture.
Bake for about an hour and 15 minutes, until the cake begins to pull away from the sides of the pan. Remove from the oven and allow to cool on a wire rack. This is a very moist cake, and will cut easiest with a serrated knife.