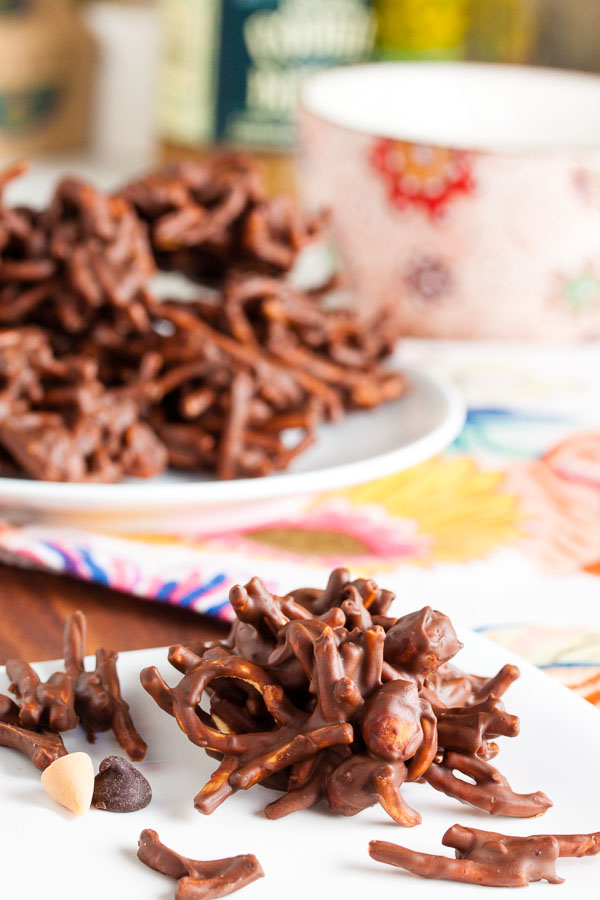 This is it – my favourite of my mom's no-bake cookie recipes from when I was a kid! She never gave us any advance warning when she was going to make these, and I never actually saw her make them (spooky!). But occasionally I'd come home from school, look in the fridge, and there'd be a container of these cookies. Yay! And every time, I'd try to stealthily sneak some and re-arrange the remaining cookies to hide my theft. Heh. Pretty sure I wasn't fooling anyone.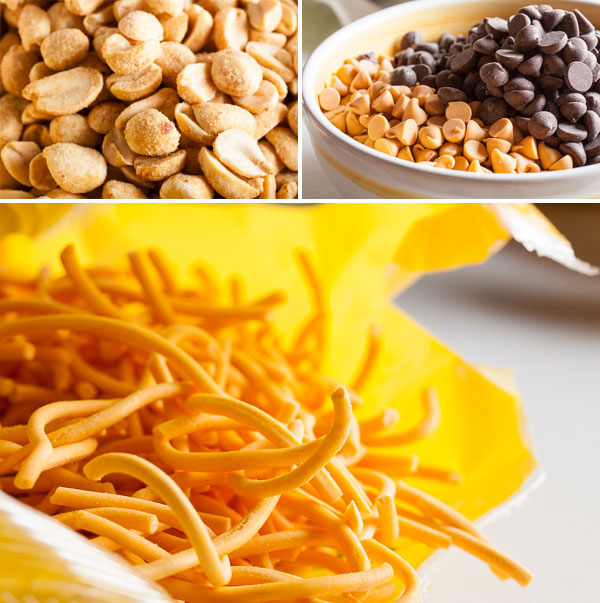 I actually made this recipe twice (oh the sacrifices I make for you guys!). The first time I made them, they totally didn't set up. At room temperature, they stayed soft and melty. If I put them in the fridge, they hardened up beautifully, but as soon as I brought them out, they softened again. Like almost immediately – I didn't even have time to finish eating one before it was falling apart. It doesn't make sense though. It's just melted chocolate chips – they should solidify again.
Well I could think of a couple possibilities. One, it's stupid hot here. But if that were the case, the chocolate chips in my cupboard would be all melty too, right? And they weren't. So obviously it's not that hot.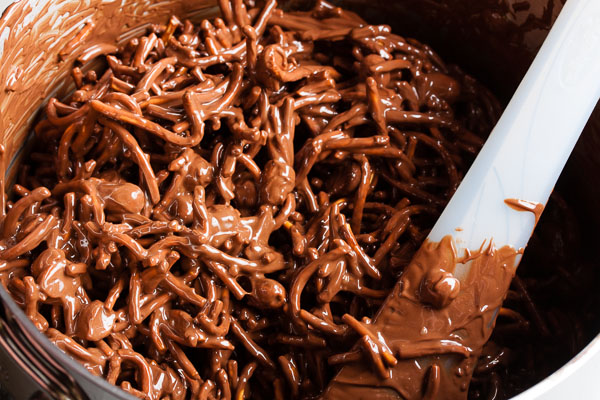 The other thought is the type of chocolate chips I used. Chocolate chips aren't just chocolate. Often they're specially formulated to be bake-stable – meaning they retain their shape after heating. This can be done by removing some of the cocoa butter and potentially adding stabilizers. So if you make a cookie with a mix of regular chocolate chips and chopped chocolate, you'll find that after they've cooled the chips will look the same as they did before baking, while the chopped chocolate will have melted into the cookie more. The chopped chocolate will also take much longer to harden.
Which brings me to my chocolate chips. They're not regular chocolate chips, but Callebaut (and no, it's not just me being fancy – although I totally am – ha!). I go through a lot of chocolate chips with all the baking I do, so I buy these humongous bags of chocolate chips at a specialty store. They're just labelled generically, but according to a person at that store, they are Callebaut. And while the bag is clearly labelled "chocolate chips", they don't even look like regular chocolate chips – they're flatter and don't have the peak or swirl that others do. So. Maybe they're not true chocolate chips, but actually couverture callets (fancy term for small discs of specialty chocolate). I can't tell from the ingredients list. They all have the same basic ingredients – the difference is in the quantity of those ingredients.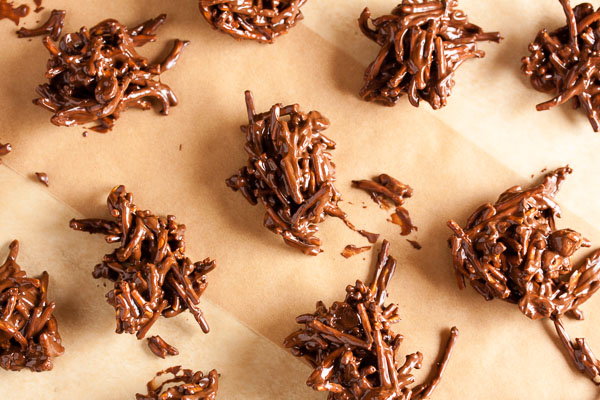 Couverture is meant to be melted and used to coat other things – like truffles or caramels. The trick is that it needs to be melted a certain way (tempered). When melted properly, it's smooth and liquid and great to work with, and then sets within minutes to form a firm clean smooth solid. If it's not tempered, it can take forever to solidify, and when it does, it will probably have streaks and spots of separated fats and sugars (bloom).
Only one way to find out, right? (okay, there are more ways to test this, but this will be the most delicious…) Obviously I was going to have to make these cookies again, using a different type of chocolate chip. Obviously.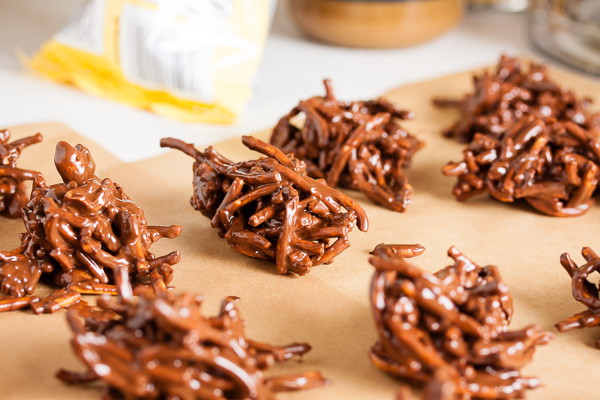 The second time around I used Chipits, and I could tell as soon as the chips melted that it was different. The first batch was really liquid, while this batch was much thicker. And yes, the finished cookies set up beautifully – I didn't even have to put them in the fridge. Yay! So now I know that my "chocolate chips" are actually couverture. Huh. Oh well. They're still great for baking!
Like the no-bake macaroons, there are a lot of copies of this recipe online that are almost identical. There are a few variations, with things like dried cranberries and other kinds of nuts added to the mix, but the basic recipe is almost always the same. Most of them use an equal quantity of each of the four ingredients, but (and I can't believe I'm saying this) that ends up being too much melted chocolate for the amount of other ingredients. So I upped the amount of chow mein noodles considerably, and cut the peanuts back a bit so they didn't overpower the other flavours.
The resulting cookie is sweet and crunchy and slightly salty. The perfect trifecta!
I brought these in to work and half the people were excitedly squealing "omg, I remember these from when I was a kid! these are awesome!", while the other half were quirking eyebrows and saying "chow mein noodles? seriously?" But everyone who tried one came back for more.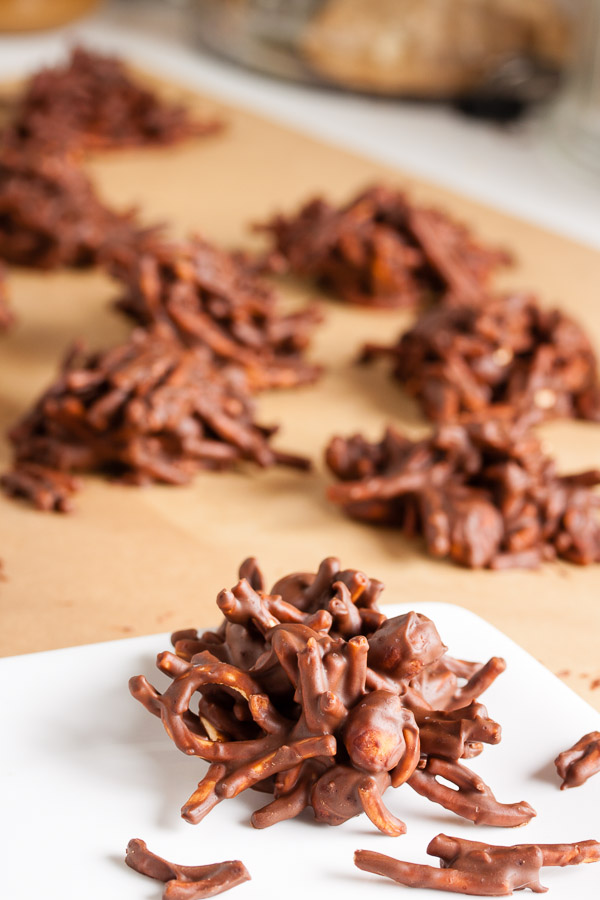 Based on one of my mother's recipes – who knows where it came from originally. A lot of the recipes I've seen online say that you can buy cans of chow mein noodles. Really?? I've only ever seen them in bags.
ingredients
1 package (about 2 cups) butterscotch chips
1 package (about 2 cups) chocolate chips
1 cup salted peanuts
2-8 cups chow mein noodles
In a large microwave-safe bowl or in a heavy saucepan over low heat, gently melt the chocolate chips and butterscotch chips together until smooth.
Remove from the heat and stir in the salted peanuts. Then add the chow mein noodles – starting with 2 cups and stirring until they're completely coated with the melted chocolate mixture. Continue adding the chow mein noodles, one handful at a time, stirring well to ensure they're all completely coated each time, until there doesn't appear to be a lot of melted chocolate leftover.
Drop the mixture by the tablespoonful onto wax paper or parchment paper. Allow to rest at room temperature until completely set.