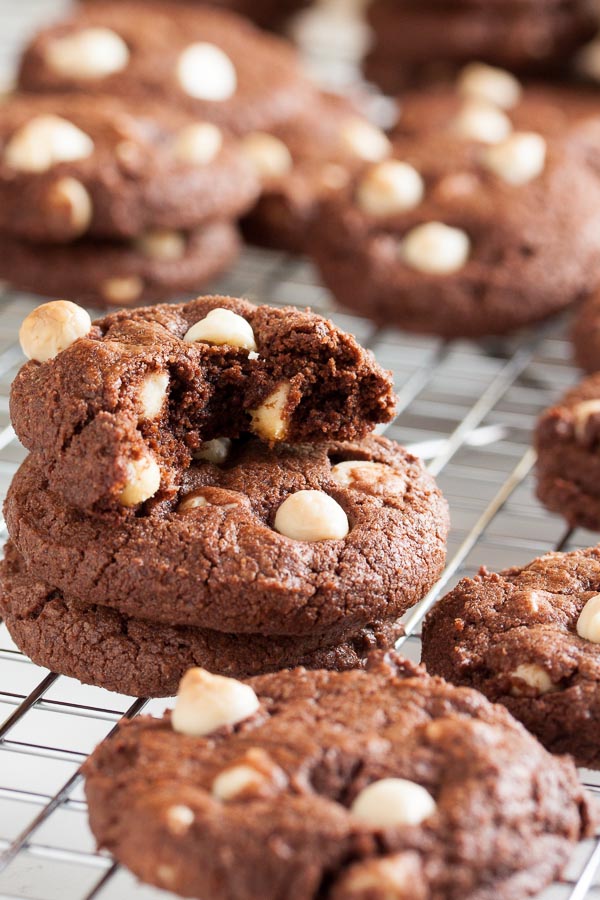 There's a lot of chocolate in these cookies – two kinds of melted chocolate, plus lots of cocoa powder. And as if that's not enough, then we add lots and lots of white chocolate chips. Normally I'm not a fan of white chocolate, but here it's a really nice counterbalance to all the dark chocolate in the cookie itself. The resulting cookie is dense and chewy, and the combination of all that chocolate plus brown sugar and molasses (did I mention there's molasses in here too?) really tastes like old-fashioned fudge. This cookie is definitely a winner.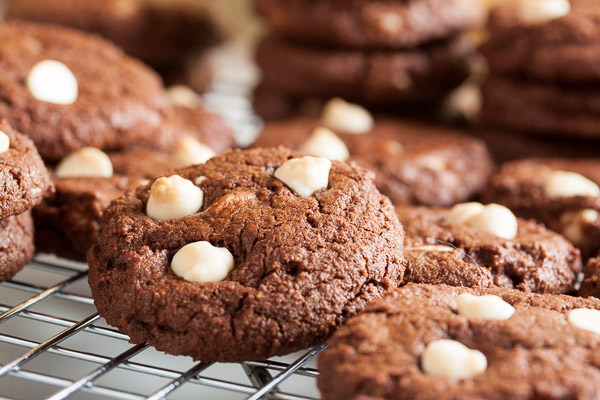 This recipe uses natural cocoa powder, rather than dutch-process. It's important you get the right one, as they'll react differently in a recipe. In this particular recipe, natural cocoa powder is the acid required to react with the baking soda. If you use dutch process cocoa, your cookies won't puff up as much as they should (if at all).
Another difference between natural and dutch process cocoas is that the natural powder is lighter in colour, and has a stronger almost fruity flavour. And it will give these cookies a lovely reddish colour. Fun fact – the chemical reaction caused by the combination of natural cocoa powder and vinegar or buttermilk is what originally gave red velvet cake its red colour. Cool, eh?
It's oddly hard to find natural cocoa powder here in Canada, but I hear it's more common in the U.S. There are lots of different types of dutch process cocoa available in the stores here (I think every store has Fry's, and I probably have 4 different types of dutch process cocoa in my cupboard right now), but the only natural one I ever see is Hershey's. So I make sure I always have a container of it on hand, just in case I can't find it again when I need it.
As I mentioned above, this cookie also gets a richness of flavour from the brown sugar and a bit of molasses, which also helps keep the cookie moist.
This is a great cookie – sweet and chewy, with a perfect balance of dark and white chocolate.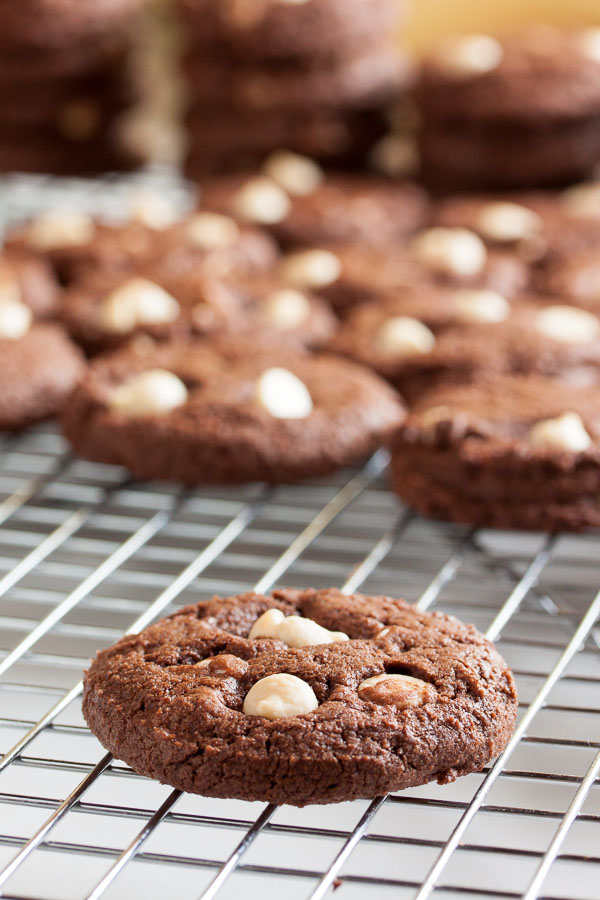 white chocolate chip fudge cookies
Adapted from "White Chocolate Chunk Fudge Cookies" from The Good Cookie by Tish Boyle. The original recipe said it would make just 36 cookies, but I got 62 cookies using my usual slightly larger than tablespoon-sized cookie scoop.
ingredients
3 ounces (85g) unsweetened chocolate, coarsely chopped
2 ounces (56g) semisweet chocolate, coarsely chopped
2 cups (250g) all-purpose flour
1/2 cup (60g) natural cocoa powder (not dutch processed), sifted
1 teaspoon baking soda
1/2 teaspoon salt
11 tablespoons (154g) unsalted butter (3/4 cup minus 1 tablespoon), at room temperature
1 cup (220g) firmly packed light brown sugar
3/4 cup plus 2 tablespoons (190g) granulated sugar
1 tablespoon unsulphured molasses
2 large eggs
1 tablespoon pure vanilla extract
1-1/2 cups (263g) white chocolate chips (or chopped white chocolate)
Preheat oven to 350°F (177°C).
Gently melt together the unsweetened and semisweet chocolate. You can do this by combining them in a microwave-safe bowl and heating in the microwave 15-30 seconds at a time, stirring well after each burst of heat until smooth. Or in the top of a double-boiler or in a heat-proof bowl set over a pot of simmering water. I usually melt chocolate very, very carefully in a heavy saucepan over very low heat, stirring frequently until the chocolate is just melted. Chocolate can scorch really easily, so best to do this slowly and gently. Once melted, remove from the heat and set aside to cool.
In a medium bowl, whisk together the flour, cocoa powder, baking soda, and salt. Set aside.
In the bowl of a stand mixer fitted with the paddle attachment, beat the butter and sugars together on medium speed until light and fluffy, about 3 or 4 minutes. Scrape down the sides of the bowl and add the molasses, then the eggs, one at a time, beating well after each. Add the vanilla and then the melted chocolate and beat to incorporate.
Turn the mixer down to low and add the dry ingredients, mixing until just barely combined. Remove from the mixer and add in the white chocolate, either with a spatula or by hand. I prefer to knead inclusions in by hand to ensure they're distributed evenly.
Using a small cookie dough scoop or a tablespoon, portion the dough onto the baking sheets about 2 inches apart to allow for spreading. Press each down slightly with the palm of your hand.
Bake for about 11-13 minutes, until the cookies are puffed up and the tops look slightly cracked, rotating the baking sheet halfway through the baking time. Allow to cool on a wire rack for a few minutes before removing the cookies from the pan and allowing them to cool completely.