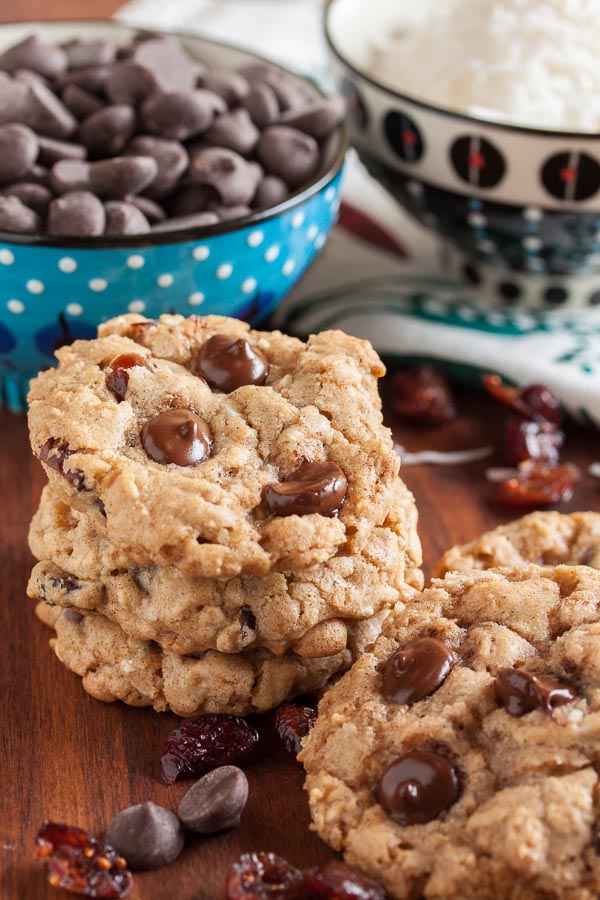 You guys, let me say right off the bat: this cookie is absolutely the most popular cookie I've made to date! There were so many people declaring it their new favourite (seriously, several people), not to mention I kept hearing people telling their friends how awesome they are and to come try one. I usually see the same faces at the cookie jar, but this week I was seeing people who usually don't partake. This is a fantastic cookie.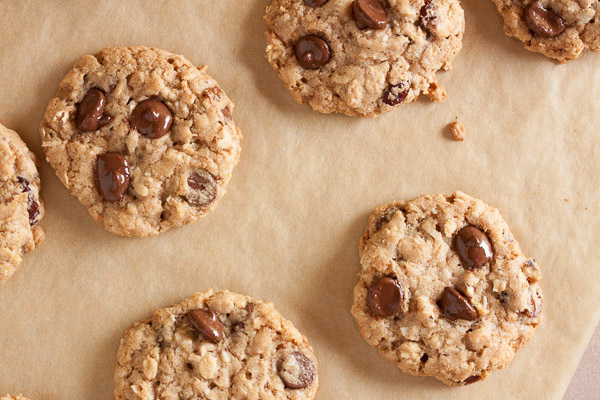 It's got a dense, chewy texture from all the oatmeal, crunch from the toasted nuts, sweetness from the coconut, tartness from the dried cranberries, and the richness of all those dark chocolate chips. All together, these flavours really work.
Funny thing though, this wasn't the cookie I really wanted to make this week. I had my heart set on some oatmeal cookies with honey roasted peanuts (stay tuned, you'll see that cookie next week). I was really looking forward to that one. Unfortunately I had some issues with ingredients, so I ended up having to settle for the recipe on the facing page. What a happy accident! Also luckily I decided to double up on the recipe because I didn't think 30 cookies would be enough. It totally wouldn't have been. Everyone was really sad to see the end of these!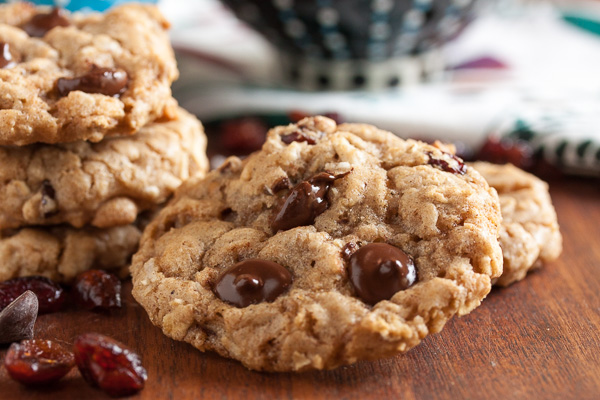 coconut, cranberry, chocolate chip oatmeal cookies
Adapted from "Coconut, Cherry, and Chocolate Oatmeal Cookies" from Better Homes & Gardens The Ultimate Cookie Book. The original recipe was half this size and said it would make 30 cookies. After doubling the ingredients, I ended up with 58 cookies using my usual slightly larger than tablespoon-sized cookie scoop. The following recipe is the doubled version.
ingredients
1-1/2 cups (188g) all-purpose flour
1-1/2 cups (150g) old-fashioned rolled oats
1 cup (75g) sweetened flaked coconut
2 teaspoons ground cinnamon
1 teaspoon baking soda
1/4 teaspoon salt
1/2 cup (113g) unsalted butter, at room temperature
1 cup (220g) packed brown sugar
2/3 cup (134g) granulated sugar
2 large eggs
2 teaspoons pure vanilla extract
1 cup (175g) semisweet chocolate chips (or chopped dark chocolate)
1/2 cup (60g) dried cranberries (or coarsely chopped tart dried cherries)
1/2 cup (60g) chopped toasted walnuts
Preheat oven to 350°F (177°C).
To toast the nuts, spread them in a single layer on a baking sheet and toast them in the oven for approximately 10 minutes, turning them every few minutes or so to cook evenly. Trust your senses – they'll start to smell fragrant when they're ready. You can do this step and then set them aside to cool while you prepare the rest of the ingredients. Once cool, chop them coarsely, or break them up into pieces by hand.
In a medium bowl, whisk together the flour, oats, coconut, cinnamon, baking soda, and salt. Set aside.
In the bowl of a stand mixer fitted with the paddle attachment, beat the butter and sugars together on medium speed until light and fluffy, about 3 or 4 minutes. Scrape down the sides of the bowl and add the eggs, one at a time, beating well after each. Add the vanilla and beat to incorporate.
Turn the mixer down to low and add the dry ingredients, mixing until just barely combined. Remove from the mixer and add in the chocolate, cranberries, and chopped nuts, either with a spatula or by hand. I prefer to knead inclusions in by hand to ensure they're distributed evenly.
Using a small cookie dough scoop or a tablespoon, portion the dough onto the baking sheets about 2 inches apart to allow for spreading. Flatten each down slightly with the palm of your hand.
Bake for about 10-13 minutes, until lightly golden brown around the edges, rotating the baking sheet halfway through the baking time. Allow to cool on a wire rack for a few minutes before removing the cookies from the pan and allowing them to cool completely.