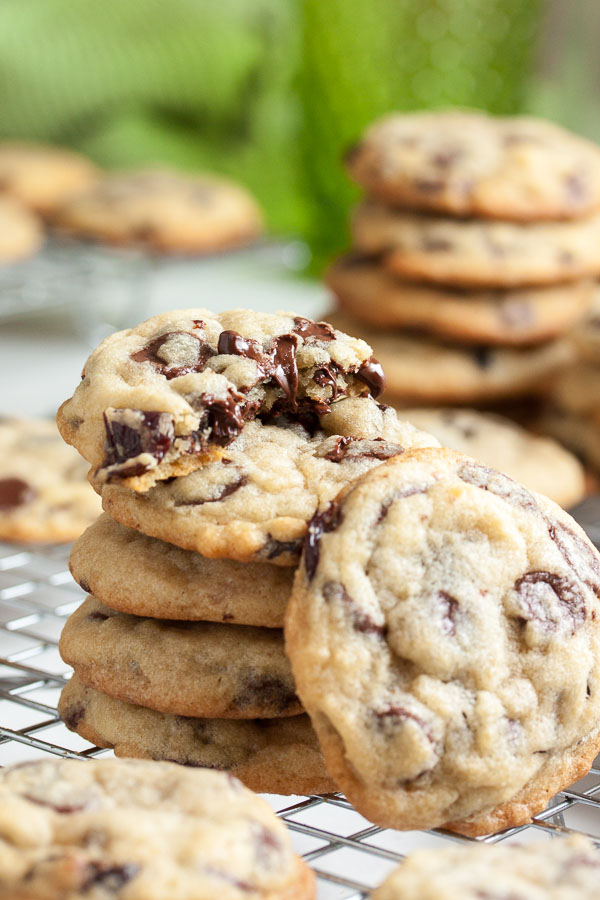 I saw this recipe while I was looking for last week's jam thumbprint cookies recipe. I was almost tempted away from making the heart cookies when I read these ingredients, but I managed to convince myself to hold off on this one for a week. Don't they sound amazing? Soft and chewy chocolate chip cookies, absolutely bursting with chocolate (3 cups!), plus tart dried cherries. Spoiler alert – they really are as good as they sound.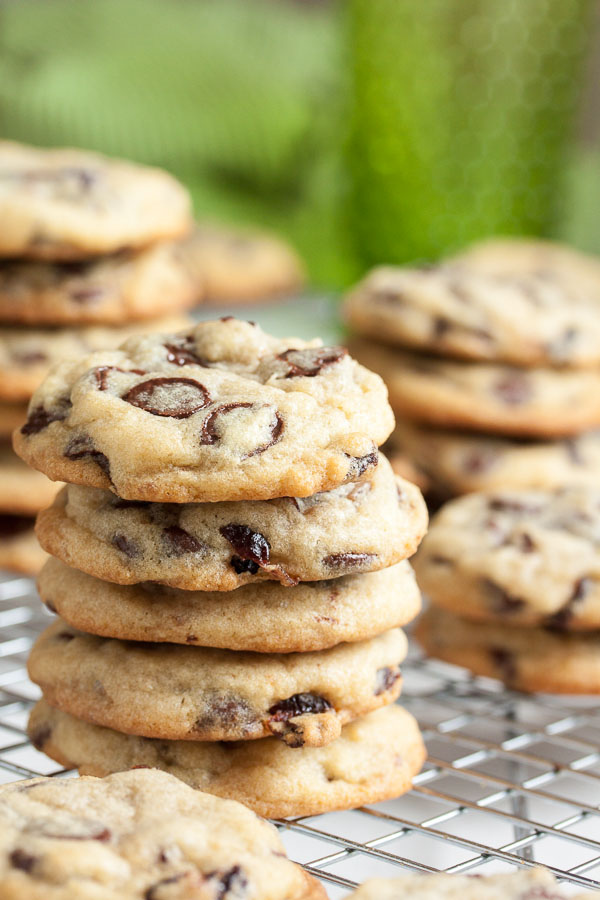 There is a lot of stuff in these cookies. It's another one of those cookies where there's more stuff than cookie, with a full three cups of chocolate chips, there's not a chance of getting a chocolate-free bite. Just look at that cookie I took a bite out of!
And it's definitely worth mentioning, whenever I'm baking cookies and get down to the last of the cookie dough, there's always one last scoop that ends up being almost entirely cookie. And with this recipe, even that one was delicious, with just the perfect blend of white and brown sugars in the dough. So to be clear, it's not just all those chocolate chips and cherries that make this a good cookie (although they certainly don't hurt).
These cookies come out of the oven when they're just starting to colour around the edges and the centre is still pretty pale looking. But believe it or not, they will continue to colour out of the oven. So don't be worried that they're undercooked – they're not.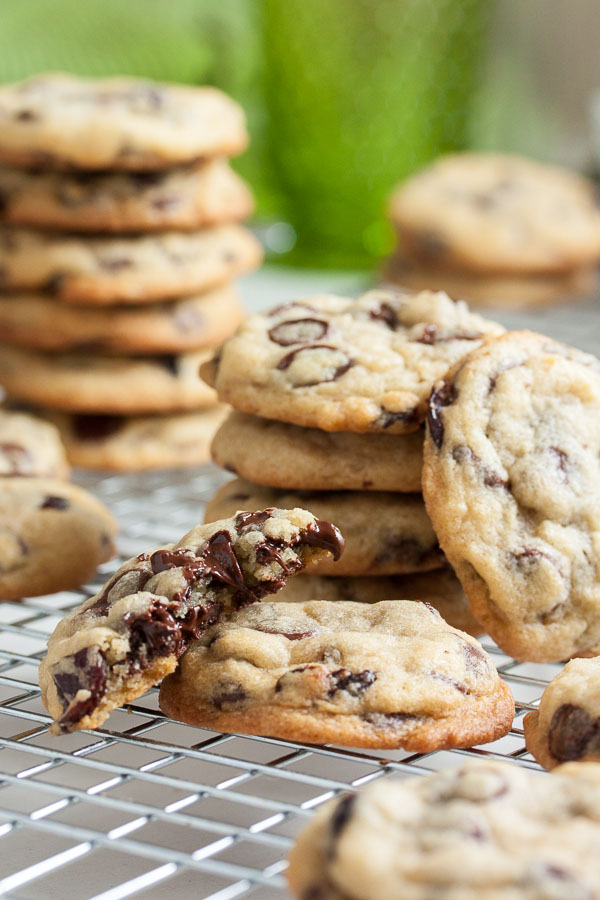 cherry chocolate chip cookies
ingredients
2-1/2 cups (312g) all-purpose flour
2 teaspoons baking soda
1 teaspoon salt
1 cup (227g) unsalted butter, at room temperature
2/3 cup (133g) granulated sugar
1/2 cup (110g) packed light brown sugar
2 large eggs
2 teaspoons pure vanilla extract
1-1/4 cups (188g) dried cherries, coarsely chopped
3 cups (525g) semisweet chocolate chunks or chips
Preheat oven to 350°F (177°C).
In a medium bowl, whisk together the flour, baking soda, and salt. Set aside.
In the bowl of a stand mixer fitted with the paddle attachment, beat the butter and sugars together on medium speed until light and fluffy, about 3 or 4 minutes. Scrape down the sides of the bowl and add the eggs, one at a time, beating well after each. Add the vanilla and beat to incorporate.
Turn the mixer down to low and add the dry ingredients, mixing until just barely combined. Remove from the mixer and add in the chocolate and cherries, either with a spatula or by hand. I prefer to knead inclusions in by hand to ensure they're distributed evenly. I definitely used my hands with this one since there was so much stuff to mix in.
Using a small cookie dough scoop or a tablespoon, portion the dough onto the baking sheets about 2 inches apart to allow for spreading.
Bake for about 8-10 minutes, until lightly golden brown around the edges but still pale on top, rotating the baking sheet halfway through the baking time. Allow to cool on a wire rack for a few minutes before removing the cookies from the pan and allowing them to cool completely.