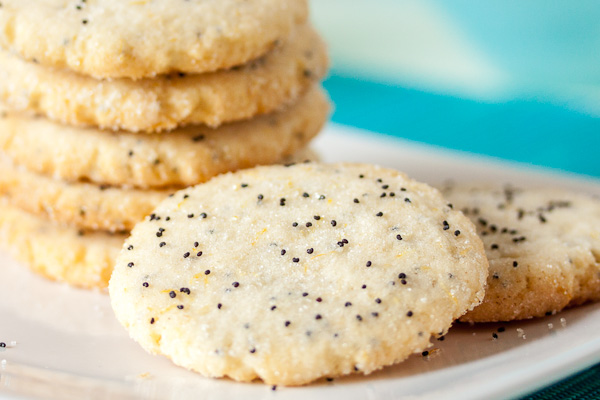 I love citrus, especially in the summer. Lemon tarts and homemade sorbet, fresh squeezed lemonade, lime mojitos and margaritas. So of course I've had to compile a list of citrus cookies too. I've had my eye on this recipe for a little while now and I was really hoping it wouldn't be too warm to bake this week (note: this post is actually from a few weeks ago, before the hard disk/water glass incident). I bought my lemons and poppy seeds and was all ready to go. But I had the ingredients for some no-bakes waiting in the wings just in case.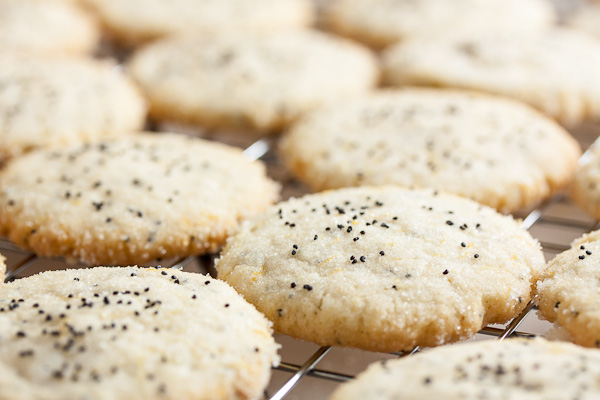 Most of the citrus cookie recipes I've made get their flavour from zest, like these lime cookies and this lemon biscotti. This recipe uses both zest and fresh squeezed juice that's been reduced to concentrate the flavour. It really adds another dimension of lemon flavour. And the leftover juice? Quickly became a sparkling lemonade to enjoy while I baked.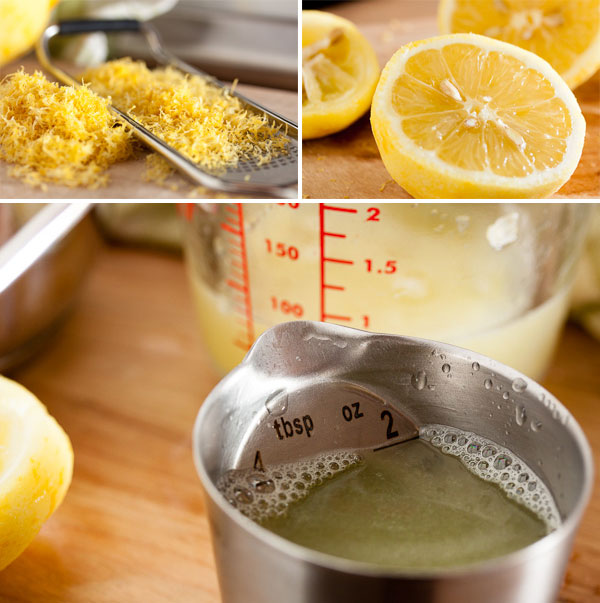 The finished dough was the consistency of buttercream frosting and way too soft to roll into balls. I can't say I was surprised considering all the liquid that was added in the form of the melted butter and lemon juice. In a cooler kitchen, it might have been ok as-is, but I opted to put the dough in the fridge for about half an hour to firm it up a bit. Even after chilling, the dough was pretty sticky, but I had no real trouble working with it.
Anyone who's read one of my recipes before will know that I always make my cookies on the small side. They're not tiny. Just small enough that there are more to go around. Plus I find that when I make larger cookies, often people will break them up and only take a half or a quarter. And then they're not pretty anymore. This time I made one at the size specified in the recipe to show a comparison. See? Still a perfectly respectable cookie size!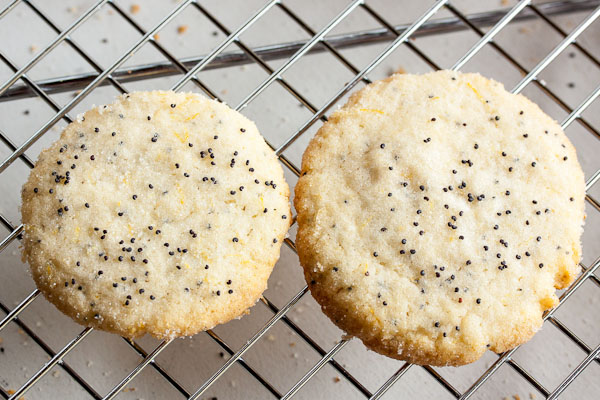 These cookies puff up in the oven as they bake, but then flatten out and crisp up as they cool. When I opened the oven to take out the first batch, an incredibly strong lemon aroma wafted out to fill the entire kitchen. And first bite? Oh em gee, these are intensely lemony. Seriously, it's like all the flavour of a lemon tart crammed into a delicately crispy little cookie. So good!
I love this cookie!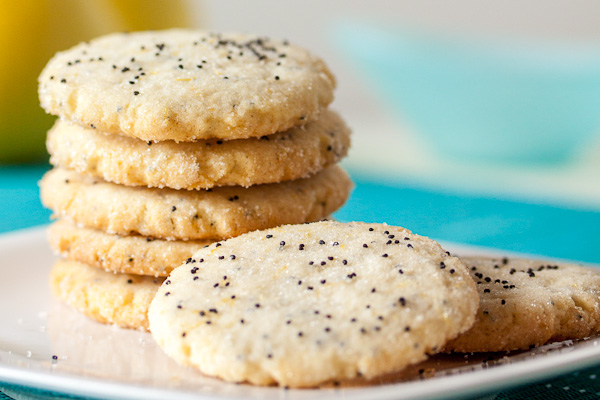 Adapted from Martha Stewart's Cookies. This exact same recipe is also on the Martha Stewart site, but the baking temperature is listed as 375°F instead of the 350°F as printed in the book. I tried both temperatures and didn't notice a big difference; the ones baked at the higher temperature browned slightly faster. The recipe says it makes 2-1/2 dozen cookies when you roll 1-1/4" balls, but I rolled them about 1" and got over 50 cookies.
ingredients
1/4 cup fresh lemon juice (about 1-1/2 lemons)
3-1/2 teaspoons finely grated lemon zest (about 1-1/2 or 2 lemons)
1 cup unsalted butter, at room temperature
1-1/2 cups sugar
1 large egg
2 teaspoons pure vanilla extract
2 cups all-purpose flour
1 teaspoon baking powder
1/2 teaspoon coarse salt
1 tablespoon poppy seeds, plus more for sprinkling
Preheat oven to 350°F.
In a small saucepan, bring the lemon juice to a simmer over medium heat and cook until reduced by half (I meant to time this but I forgot – sorry!). Add 1/2 cup butter and stir until completely melted. Remove from heat and set aside.
In a small bowl, whisk together the flour, baking powder, salt and poppy seeds. Set aside.
In the bowl of a stand mixer fitted with the paddle attachment, combine 1 cup of sugar and 2 teaspoons of the lemon zest, rubbing the zest and sugar together with your fingers until the zest is distributed and the sugar is fragrant (the original recipe called for the zest to be added later, but I learned this method from Dorie Greenspan and prefer it for avoiding clumps of zest). Add remaining 1/2 cup of butter and beat on medium speed until light and fluffy, about 3 minutes.
Add the egg and the butter/juice mixture. Continue to beat until pale, about another 3 minutes. Mix in the vanilla.
Reduce speed to low and add the dry ingredients, mixing just until combined. At this point, I found the dough a bit soft to work with; the recipe didn't specify this, but I opted to put it in the fridge for about half an hour to make it a little easier to handle.
In a small bowl, combine the remaining 1/2 cup of sugar and 1-1/2 teaspoons of lemon zest. Form dough into small balls, about 1" to 1-1/4" diameter. Roll each in the sugar/zest mixture and place about 2" apart on baking sheet. Gently flatten each ball to about 1/4" thick with the bottom of a glass that's been dipped in the sugar mixture. I found the first few that I pressed down stuck to the glass, but then the rest released really easily. Dip the bottom of the glass in the sugar again after pressing down each cookie.
Bake for about 12-13 minutes, rotating the pan halfway through, until the cookies just begin to brown around the edges. Allow to cool on a wire rack for a couple minutes before removing from the cookie sheet to cool completely.