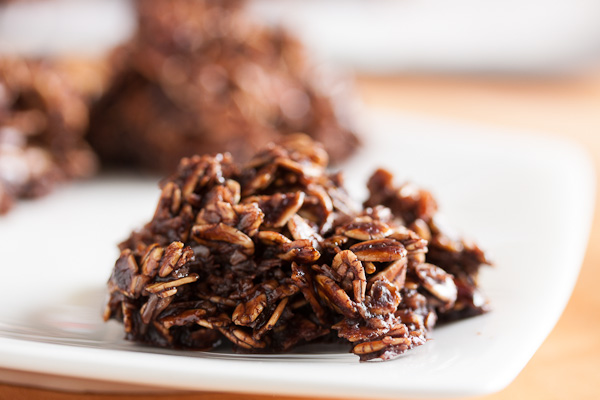 It's still too hot to be using the oven, so I'm continuing on with the trip down memory lane and my mom's no-bake cookie recipes. This is probably the one my mom made more than any other. It's not my absolute favourite – that one's still to come – but it was definitely one of my favourites and I was always happy to see them when I came home from school. Oddly, I'm just realizing that I've never actually made these myself before.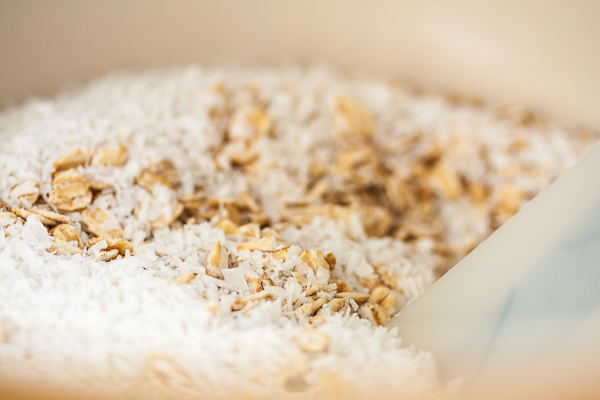 I didn't have her exact recipe – she hasn't made these in years and she couldn't find it anymore – so I googled and found something that sounded like what I remember. There are a lot of subtle variations on this recipe online. Just slight differences in quantities really, but otherwise they all have the same ingredients and are very close to each other.
Because I grew up with this cookie, I always assume that this is a childhood staple and everyone else has had them too. A lot of my coworkers are saying that their moms made these all the time too! But if you've never tried them? You should know they're dense and fudgy and loaded with chewy oats and coconut. They're almost more like candy than cookie.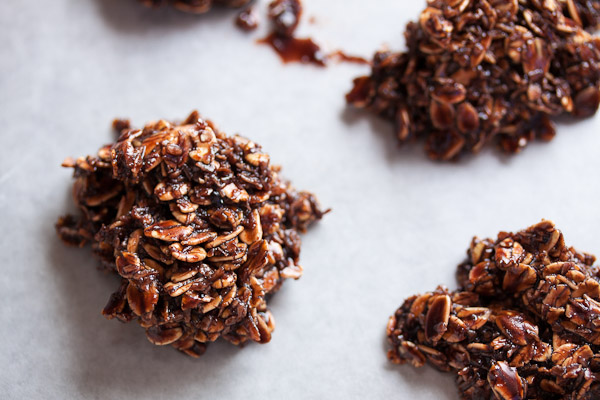 A lot of the recipes I found online either said to just bring the sugar and dairy to a boil and add the dry ingredients right away, or to boil for just 2 minutes before adding the dry. I find this is way too little time and the cookies won't set up properly, or at least not quickly. Yes, I tried a batch at 2 minutes, and they stayed soft – delicious, but gooey – for at least a couple days. By the third day they were no longer sticking to things, but were still quite pliable. Boiling for 4-5 minutes turns that chocolate syrup into something more like fudge that will hold its shape and is much easier to handle. Some of my coworkers said they preferred the gooey version, but by the end of the first day, the softer cookies had melded together into one big lump that people were kind of tearing pieces off of.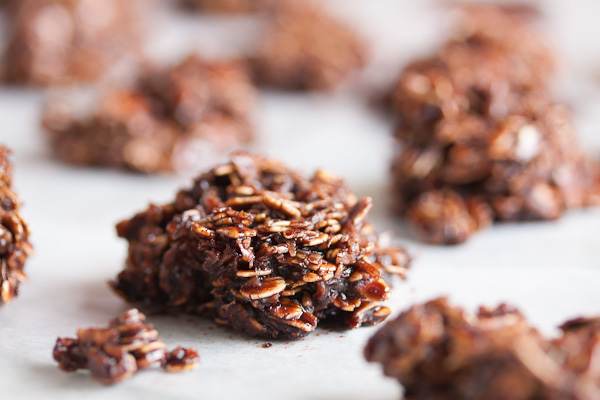 A lot of the recipes also said to refrigerate these cookies until they set – I tried half of them in the fridge and half on the counter. The ones in the fridge, even after as long as 2 days, stayed gooey and were hard to pull off the wax paper. The ones that I left sitting out on the counter overnight were set up perfectly by morning – at least the ones that I boiled for 4 minutes anyway. The 2 minute ones were set up by the second day. Which is weird because I distinctly remember my mom keeping them in the fridge. Maybe she kept them on the counter until they set and then stored them in the fridge…?
Everyone is going crazy for these. I love how the simplest cookies to make are the most popular with my coworkers.
All the recipes I found called these cookies either chocolate macaroons or haystacks. I'm pretty sure we used to call them bear turds when we were kids (heh).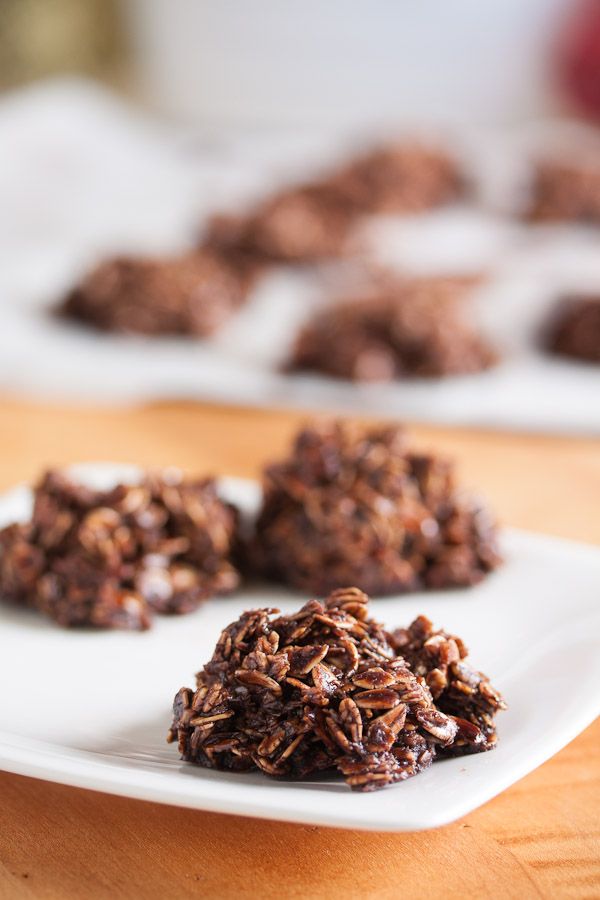 no-bake chocolate macaroons
ingredients
1/2 cup butter
1/2 cup milk
1-1/2 cups sugar
6 tablespoons cocoa powder, sifted
1 teaspoon vanilla
3 cups old-fashioned rolled oats
1 cup shredded coconut
Combine the butter, milk, sugar and cocoa powder in a saucepan and melt ingredients together over medium heat, stirring occasionally. Bring to a boil. Once a rolling boil has been reached, continue to cook for approximately 4-5 minutes, stirring often.
Remove from heat and add the vanilla. It will steam and bubble up a lot when you add it, so be careful. Then add the rolled oats and coconut and stir until completely moistened. Spoon out onto sheets of wax paper or parchment paper and allow to set.