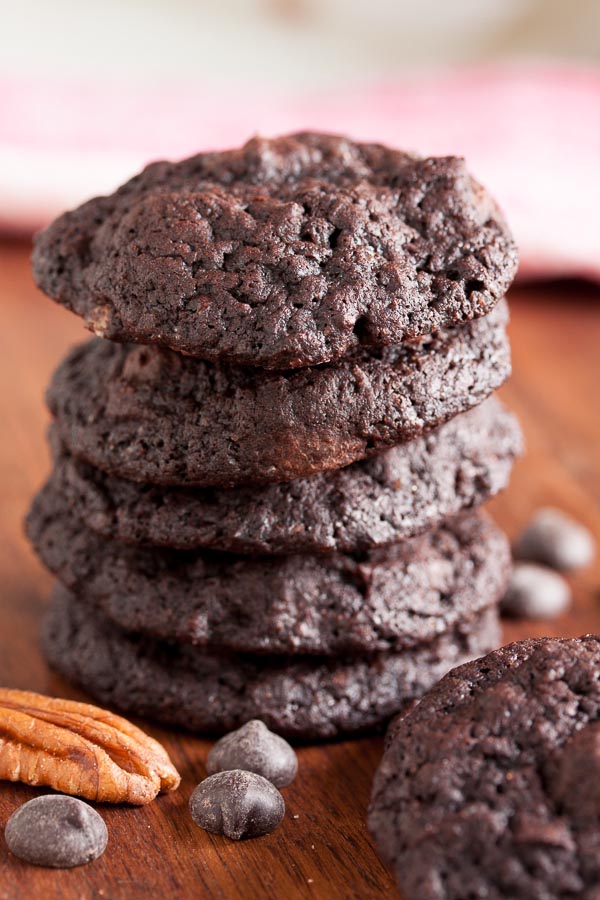 Yes, you read that right. These cookies are called chocolate knobs. What a name, right? But that was the original name in the cookbook, and I wasn't sure what else to call them. Chocolate cookies doesn't do them justice – they are incredibly chocolate-y, especially considering they're made with cocoa powder and not melted chocolate. But yes, they are chocolate-y. And dense, and gooey like a slightly under-baked brownie. I just couldn't think of anything more descriptive for this cookie, and honestly, the name makes me giggle. Because apparently I'm 12. So chocolate knobs it is. (heh)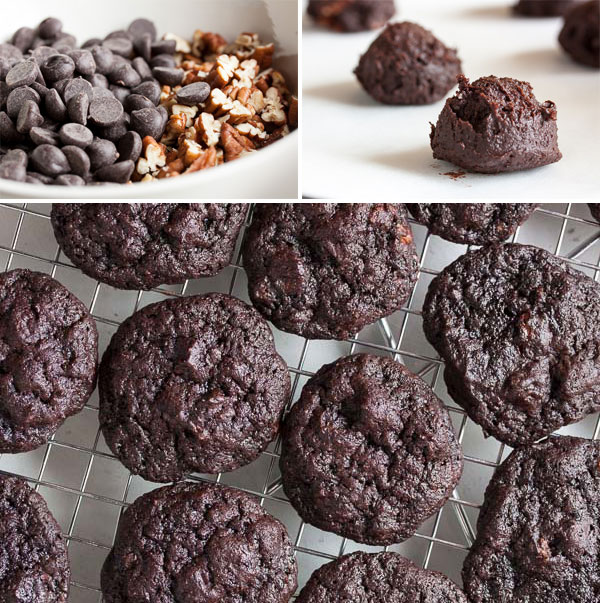 I was (once again) going to try to make that special requested cookie for my friend this week. But I had to make an emergency unplanned visit to the vet for my old kitty. She's an oooooold lady of 17 now and she's starting to show it. Apparently what ails her may not be treatable, but the vet is confident it's manageable. So with proper care, she could still have a few years left (phew). Fingers crossed – it's still a work in progress.
I was actually looking at buying a new computer this year, but when it came down to the choice – new computer vs old kitty? Old kitty will win every time. No question.
Once we got home and I was no longer completely freaking out, I was ready to make cookies. But it was late in the day and I didn't have anything prepped, so I was mainly looking for something quick & easy. I flipped through my books, looking just at the recipes I'd already flagged, and had one picked out in no time.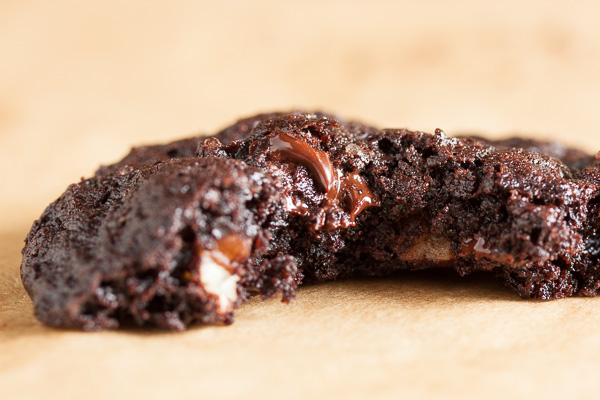 The first time I came across this recipe, I thought it sounded amazing (hence the post-it note reminder). A dense, chocolate-y cookie that's "more like chocolate candy"? Oooh, yes please.
I'm so glad I tried this one. This is a really good cookie. See how black they look in the photos? Yeah, they really are that dark. Not surprising, since there's more cocoa powder than flour in this recipe. And as if that weren't enough chocolate, there's also a lot of chocolate chips. If there's someone in your life who loves chocolate (maybe you?), show them you love them with this cookie. And then give them a hug. (I may be feeling a bit emotional today)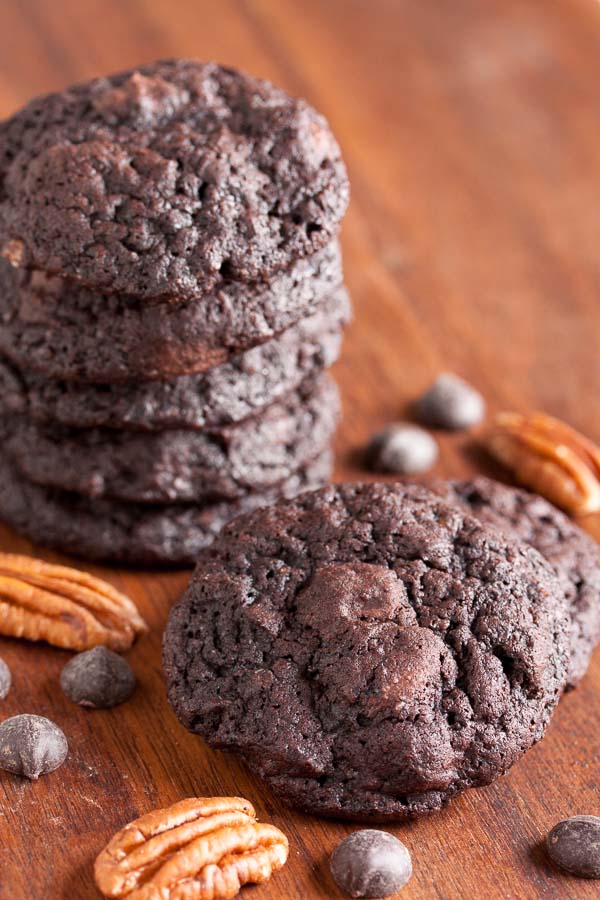 Adapted from Tracey Zabar's One Sweet Cookie, recipe by Isra Gordon. The recipe says it will make about 60 small cookies, but I got 48 using a slightly larger than tablespoon-sized cookie scoop.
ingredients
3/4 cup (94g) all-purpose flour
1 cup (120g) Dutch process cocoa powder
1/8 teaspoon baking soda
pinch of ground cinnamon
pinch of salt
1/2 cup (113g) butter, at room temperature
3/4 cup (75g) granulated sugar
1 cup (200g) turbinado sugar
1 large egg, lightly beaten
1/4 cup (60mL) water
1/2 teaspoon pure vanilla extract
3/4 cup (131g) dark chocolate chunks or chips
1/2 cup (60g) pecans, coarsely chopped
Preheat oven to 350°F (177°C).
In a medium bowl, whisk together the flour, cocoa powder, baking soda, cinnamon, and salt. Set aside.
In the bowl of a stand mixer fitted with the paddle attachment, beat the butter and sugars together on medium speed until light and fluffy, about 3 or 4 minutes. Scrape down the sides of the bowl and add the egg, water, and vanilla extract, beating well to incorporate.
Turn the mixer down to low and add the dry ingredients, mixing until just barely combined. Remove from the mixer and add in the chocolate and pecans, either with a spatula or by hand. I prefer to knead inclusions in by hand to ensure they're distributed evenly.
Using a small cookie dough scoop or a tablespoon, portion the dough onto the baking sheets about 2 inches apart to allow for spreading.
Bake for about 10-12 minutes, rotating the baking sheet halfway through the baking time. Allow to cool on a wire rack for a few minutes before removing the cookies from the pan and allowing them to cool completely.