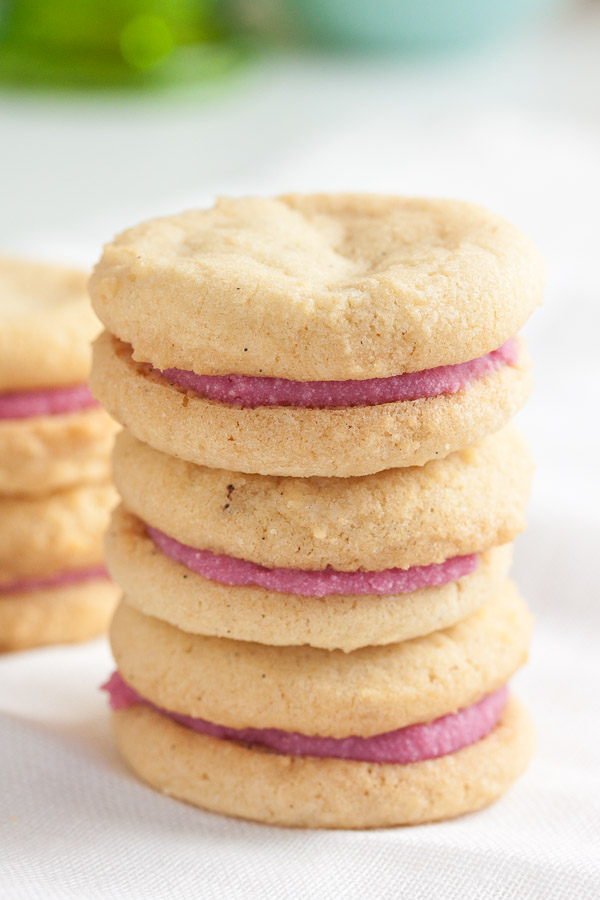 I don't know about where you are, but here? It's berry season. It's also farmer's market season, and I am hitting the market every single weekend. Love it! Right now, I can pretty much guarantee I'm filling my shopping bags each week with early season blueberries (still slightly tart), English peas (lots – I could live on fresh peas!), young carrots, cucumbers, patty pan squash, plus anything else that catches my eye. Last weekend one of the farmers was selling hand-carved chopsticks. They were so gorgeous, I had to buy a couple pair. And right now, there are also tons of beautiful plump raspberries. Which reminded me, I'd flagged a recipe for some raspberry sandwich cookies awhile back. Time to make those, yes?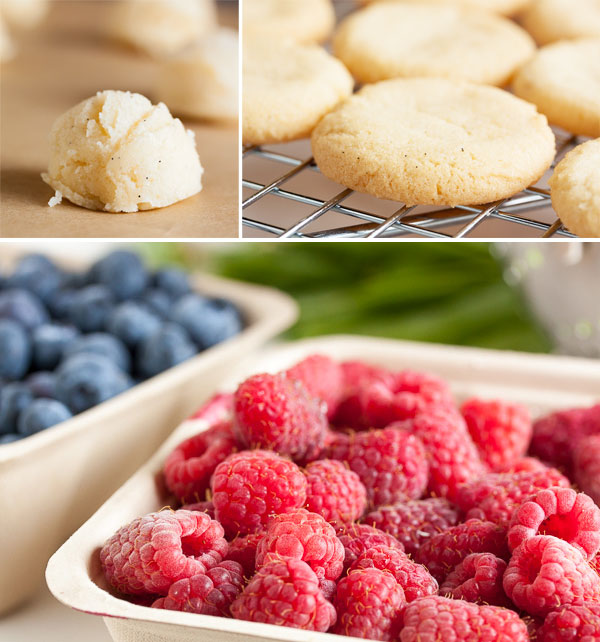 This may look like a super fancy cookie, but it's so simple to make. The most complicated thing about the cookie itself is the inclusion of vanilla bean seeds – and look how pretty those little flecks look in the cookie! I happened to have a vanilla bean on hand, and since I was already splurging with fresh raspberries for the filling, I figured I'd go all out and use fresh vanilla bean as well. But there's a shortcut available if you don't want to use a fresh one. This stuff is so convenient and I use it all the time. Cheaper than vanilla beans, too.
If you do decide to use fresh vanilla, don't throw away the pod after you've scraped out the seeds! You can use it to make vanilla sugar, vanilla vodka, or you can dry it and grind it to add to your baking for enhanced vanilla flavour. You can even make your own vanilla extract. There are some good instructions on how to use a fresh vanilla bean pod here.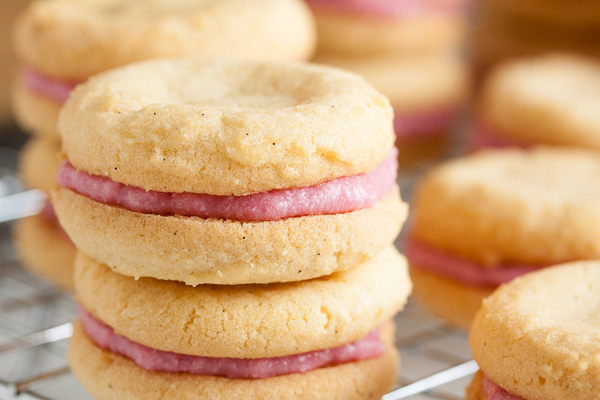 The dough ends up being silky smooth and really easy to work with. And those tiny little dollops of dough (seriously tiny – I used my smallest cookie scoop) spread out and puffed up considerably. After removing from the oven, they deflate and sink back down, and the cookie is incredibly light and airy – the texture almost reminds me of a meringue. Crispy on the outside, melt-in-your-mouth on the inside.
The filling is basically a white chocolate ganache with puréed raspberries whisked in. Also very simple to make. Just white chocolate, cream, raspberries & a bit of sugar. The most complicated part of the filling is that you need to strain the raspberries – you definitely don't want all those seeds messing up that lovely cream filling. You can either purée them and then press them through a fine mesh sieve, or you can use a food mill if you have one. I've mentioned my food mill before – I totally splurged and got a really good one, and I absolutely love it. Honestly, I hardly ever use it (once or twice a year maybe?), but when I need it? I'm so glad I have one. But seriously, puréeing and then straining will work just as well (just slower).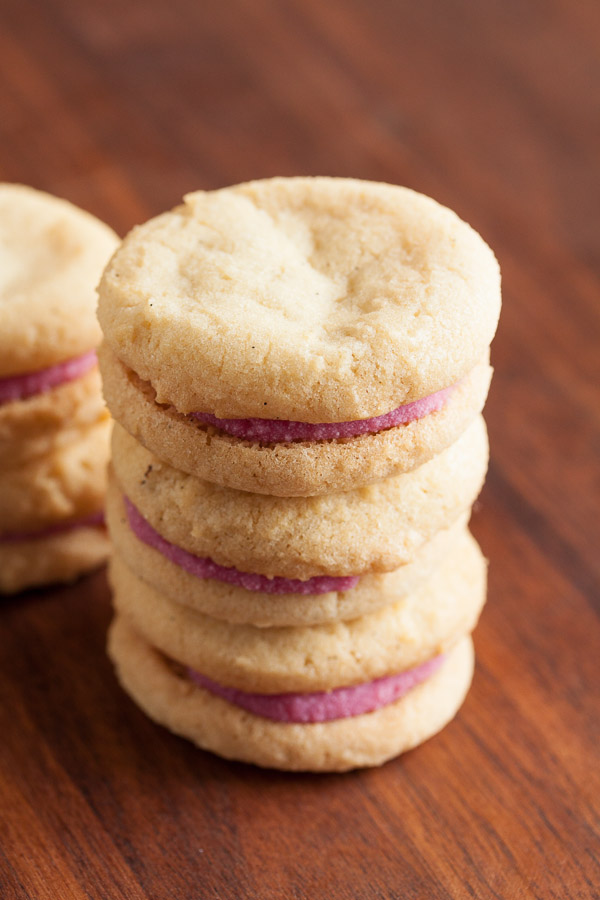 Sadly, my filling ended up a bit… lumpy. It was silky smooth before refrigerating. After 1/2 hour in the fridge, however, the top 1/2″ or so and along the sides of the container had solidified, while the centre stayed fairly liquid. I think maybe my fridge is too cold. I stirred it all back together, but it didn't smooth back out. I'm sure an immersion blender would have fixed that right up, but it still tasted good, so I just carried on.
I always pack my cookies into a large tupperware container to take to work the next day. But after being in that airtight container overnight, they lost their lovely crispiness and turned very soft and crumbly. Strangely, I think I actually prefer these cookies soft (and I've heard no complaints about texture), but if you'd like to keep them crunchy, they'll probably be better off stored in something not quite that airtight.
These cookies got lots of compliments from my coworkers, lots of "this is my favourite", including an email saying "THOSE ARE THE BEST YET". Yes, all caps. And they were all gone within 2 days. I think it's safe to say this cookie is a winner.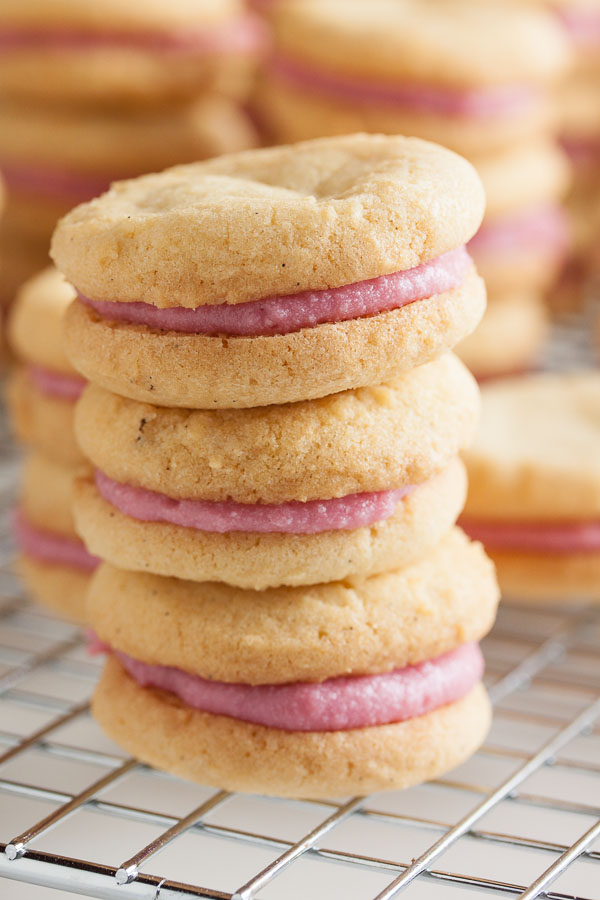 raspberry cream sandwich cookies
Adapted from Martha Stewart's Cookies. The original recipe says you'll get about 36 sandwich cookies using a 1" scoop. That's the size I used, but I ended up with 52 sandwiches.
ingredients
1-3/4 cups (220g) all-purpose flour
1 teaspoon baking soda
1/2 teaspoon coarse salt
10 tablespoons unsalted butter (1-1/4 sticks / 140g), at room temperature
1-1/2 cups (300g) sugar
1 large egg
2 teaspoons pure vanilla extract
seeds from 1 vanilla bean
for the filling
1-1/3 cups (167g) fresh raspberries
2 teaspoons sugar
7-1/2 ounces (213g) white chocolate, coarsely chopped
1/3 cup (80g) heavy cream
Preheat oven to 350°F (177°C).
In a medium bowl, whisk together the flour, baking soda, and salt. Set aside.
In the bowl of a stand mixer fitted with the paddle attachment, beat the butter and sugar together on medium speed until light and fluffy, about 3 or 4 minutes. Scrape down the sides of the bowl and add the egg, vanilla extract, and vanilla seeds, beating well. Keep an eye on those vanilla seeds once you add them to the batter – they have a tendency to clump up, and you may need to spread them out a bit with a spatula.
Turn the mixer down to low and add the dry ingredients, mixing until just barely combined.
Using a 1" cookie dough scoop, portion the dough onto the baking sheets about 2 inches apart to allow for spreading.
Bake for about 8-10 minutes, until lightly golden brown around the edges, rotating the baking sheet halfway through the baking time. The cookies will spread out and puff up quite a bit, but they'll deflate again and flatten out – don't worry about that. Allow to cool on a wire rack for a few minutes before removing the cookies from the pan and allowing them to cool completely.
for the filling
Purée the raspberries and sugar together in your blender or food processor, and then press through a fine mesh sieve to get rid of the seeds. Or you can run them through a food mill (I love my food mill).
Gently melt the white chocolate. You can do this in a microwave-safe bowl and heating in the microwave 10-15 seconds at a time, stirring well after each burst of heat until smooth. Or in the top of a double-boiler or in a heat-proof bowl set over a pot of simmering water.
Once melted, add the cream gradually, whisking constantly. Add the raspberry purée and continue to whisk until pale in colour, about 3 minutes. Refrigerate for 30 minutes. Note that when I refrigerated it, it cooled unevenly and I ended up with a grainy texture. You may want to check it every 5-10 minutes and give it a stir.
assembling the cookies
Once the cookies have cooled completely, use a butter knife to spread some of the filling onto half of the cookies. The recipe says to use 1 tablespoon of filling per cookie, but that seemed really excessive for the size of the cookies, so I used a generous teaspoon (maybe 1-1/2), and ended up having hardly any filling left over (maybe a couple more teaspoons). Sandwich together with the other half of the cookies.