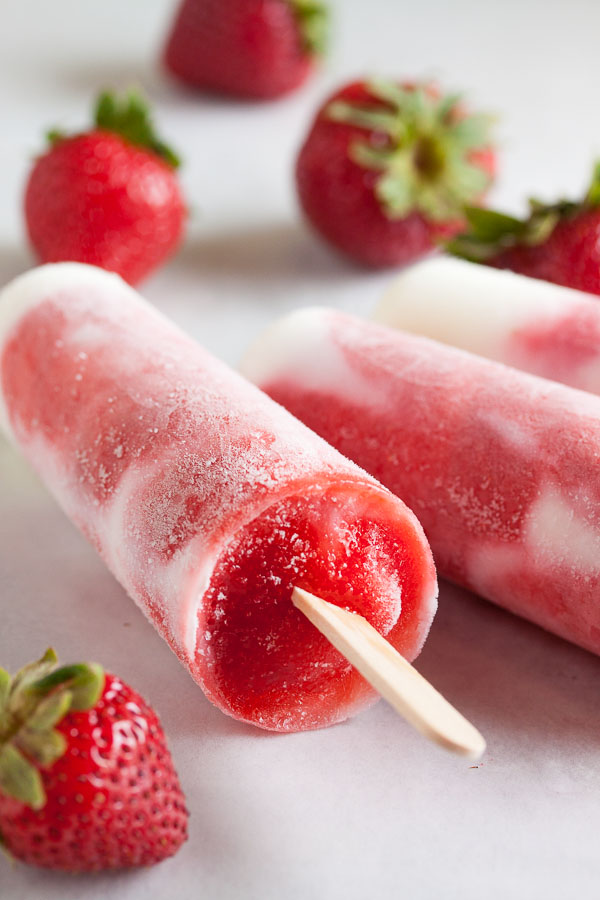 Strawberries are at their peak right now. Every time I walk into a grocery store, there are baskets of beautiful, plump, juicy strawberries everywhere. They're one of the few fruits that I actually enjoy eating as-is (I know, weird, right? who doesn't like fruit? me apparently), so my biggest problem was not eating them all before I had a chance to make popsicles! Trust me, more than once, I've bought strawberries specifically for making popsicles, and then had to go buy more because I suddenly didn't have enough for the recipe anymore. Oops.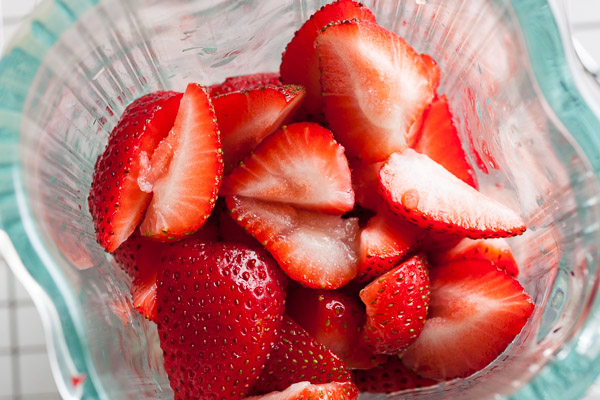 All of the popsicles I've made so far have been really popular, but I think everyone loves the strawberry ones best. And I've made a lot of strawberry popsicles – strawberries with bitters, strawberries with mint, and strawberries with balsamic – yum! I thought I'd add a creamy one to the line-up just to mix things up a bit.
I actually have a few creamy strawberry popsicle recipes picked out, but I decided to start with something sorta healthy. Hey, look at that – with a combination like strawberries and yogurt, you could practically have these for breakfast! Actually, go ahead and sprinkle a bit of granola into the moulds before you freeze them, and you're all set.
I'm kinda wishing I'd swirled these a bit more. The vanilla yogurt is okay on its own, but the strawberry is absolutely outstanding, with all the bright fresh flavour you'd expect. You're going to want to get some of that strawberry in every mouthful.
strawberry-swirl vanilla yogurt popsicles
Adapted from "Strawberry-Vanilla Swirl Ice Pops" from Ice Pops by Shelly Kaldunski. Makes about twelve 3-ounce popsicles. Note: you can use granulated sugar if that's all you've got. Superfine sugar will just dissolve more quickly since the crystals are smaller.
ingredients
2-1/2 cups (315g) strawberries, hulled
2 tablespoons superfine sugar (also called castor or berry sugar)
1 teaspoon freshly squeezed lemon juice
pinch of salt
1-1/2 cups (375g) vanilla yogurt
Combine the strawberries, sugar, lemon juice, and salt in your blender and purée until smooth. If you want a super smooth popsicle, you can then strain the liquid through a sieve, but it's really not necessary. The strawberry seeds are tiny and pretty much unnoticeable in the finished popsicle.
Spoon the yogurt and strawberries into your popsicle moulds, layering them by alternating a couple tablespoons of each at a time. Then use a butter knife or a bamboo skewer to swirl the two flavours together – you can swirl as much or as little as you like.
Freeze for about 5 hours. Enjoy!