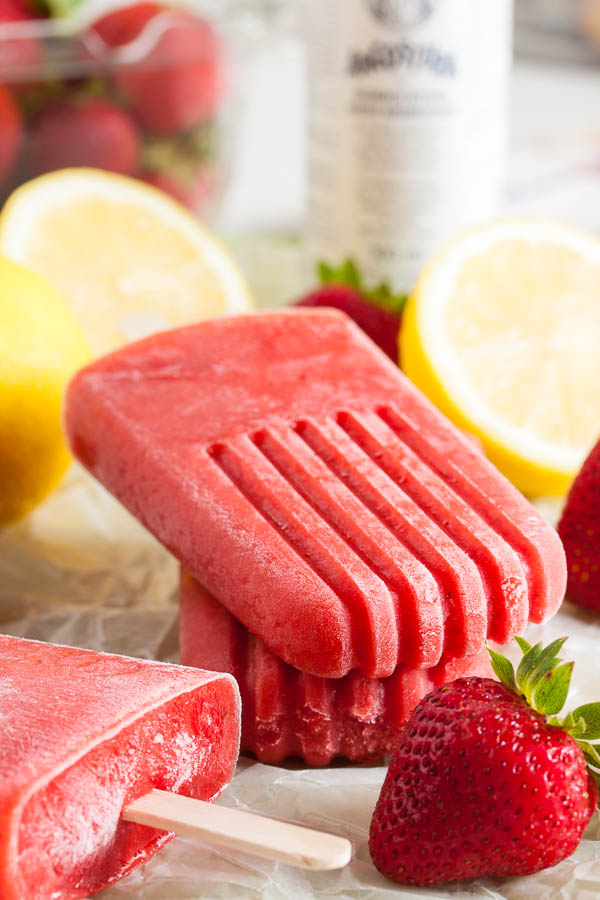 Have you ever tasted Angostura bitters? It's that ubiquitous bottle of bitters that seems to be in every grocery store, gathering dust on its over-sized label. I've always thought it was pretty unpleasant on its own. I have it on-hand to add to cocktails (along with waaaaaaay too many other types of bitters), but I couldn't imagine it as a major component of anything enjoyable. And then one day I was given a cocktail to drink – a very delicious cocktail, I might add – and told to guess what was in it. Yup. A full ounce of Angostura bitters. Whaaaat?? Almost a full third of that cocktail was Angostura bitters! So when I saw this recipe that pairs strawberries and bitters? I thought it just might work. Spoiler alert – it totally does!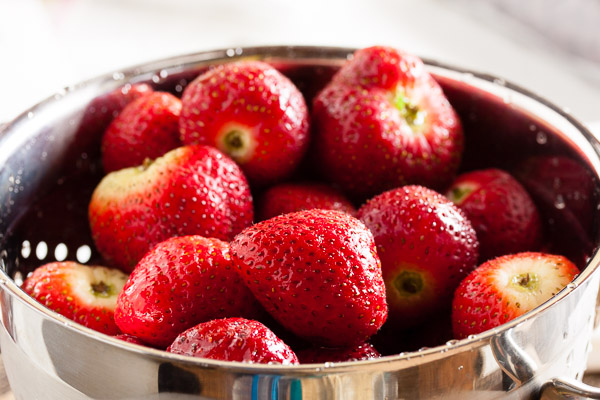 This is the first recipe I'm trying from yet another new cookbook. Admitting I have a problem is the first step, right? Anyway, it's called People's Pops (love it!), and it's a collection of recipes from an ice pop shop in Brooklyn. I've never heard of them personally, but it sounds like they're a pretty big deal out east. And after trying this popsicle? I can see why. The book is full of unique pairings like this one, and divided into sections based on what's in season when. I'm really looking forward to tasting my way through this book!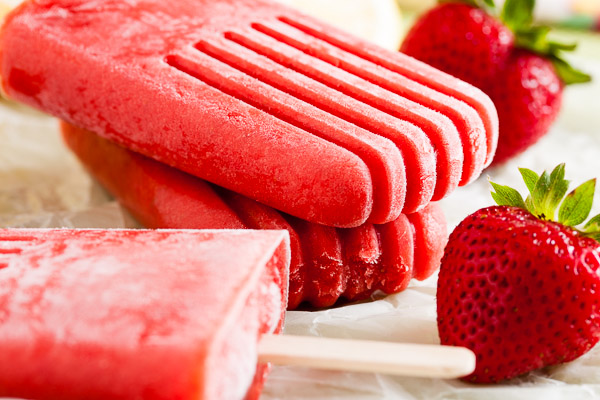 It's amazing how combining just a few simple flavours can result in something so uniquely delicious. Just strawberries (and lots of them), a bit of lemon juice, bitters, and a simple syrup. The strawberries are bright and fresh, with a bit of lemon to brighten the flavour even more. And then the bitters to counteract some of that sweetness and add spices and flavour of their own. Right now the cucumber lime mint and the key lime pie popsicles are the big favourites at work, but I'll be really surprised if this one isn't a contender! I've got several more recipes in this book earmarked to make within the next week or so, and I can't wait to taste them!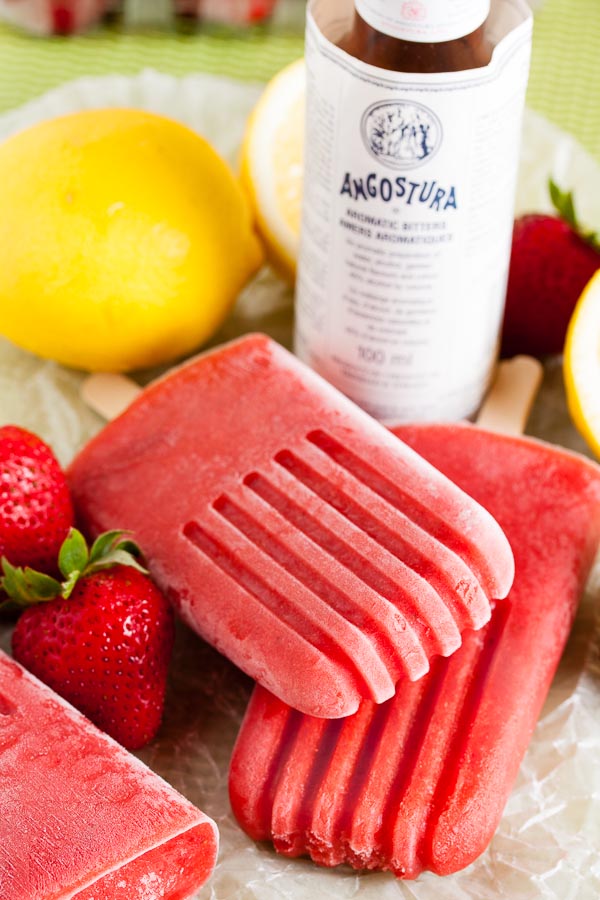 strawberry and bitters popsicles
Adapted from People's Pops by Nathalie Jordi, David Carrell & Joel Horowitz. Makes just over six 3-ounce popsicles. I think I got 7-1/2 out of this recipe.
ingredients
1/2 cup water
1/2 cup sugar
4-1/2 cups hulled strawberries (a bit more than a pound, about 2 cups once puréed)
2 tablespoons fresh lemon juice (1 lemon)
1-1/2 to 2 tablespoons Angostura bitters (feel free to experiment with other types of bitters too!)
Combine the water and sugar in a small saucepan and stir over low heat until the sugar has completely dissolved and the liquid is clear. This will just take a few minutes. Remove from the heat and allow to cool. You'd think 1/2 cup sugar + 1/2 cup water would give you 1 cup of syrup, right? Nope. You should actually have about 3/4 cup.
Combine the strawberries and lemon juice in your blender and purée until smooth. If you want a super smooth popsicle, you can then strain the liquid through a sieve, but it's really not necessary. The strawberry seeds are pretty much unnoticeable in the finished popsicle.
Pour the puréed mixture into a large measuring cup or a bowl with a pour spout. Add the sugar syrup and stir well to blend. Add the bitters gradually, tasting as you go. You want to be able to definitely taste them, but not have them completely overpower the strawberries and make the entire popsicle bitter. Since not all strawberries are created equal, and some will have stronger flavour than others, it's not really possible to give a definite measure here. Once the popsicles are frozen, the bitters are a lot less apparent, so don't be shy.
Pour the liquid into your popsicle moulds and freeze for about 5 hours. Enjoy!