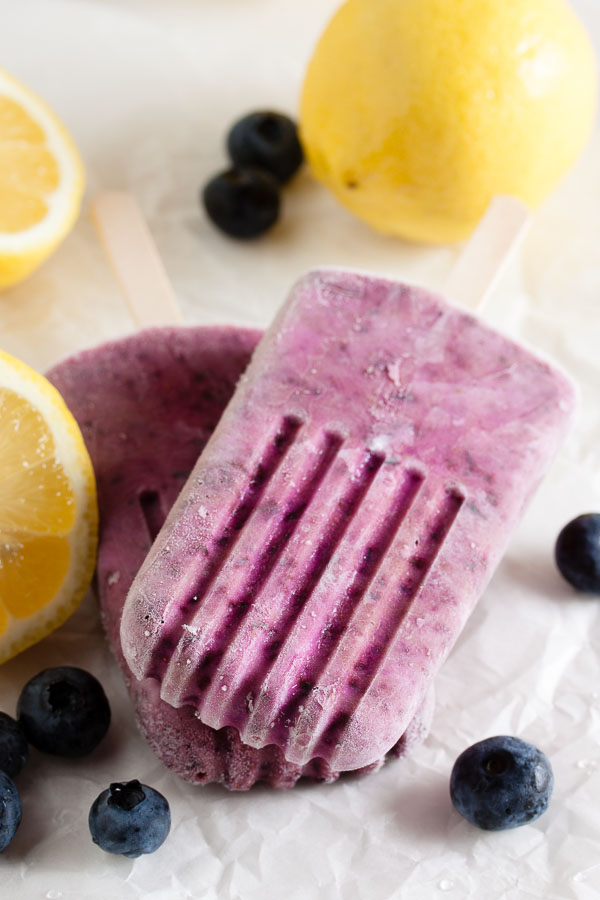 Blueberries and lemon are a perfect combination. Who hasn't had a blueberry lemon muffin? Or blueberry lemon bars? Or blueberry lemon tart? You get the idea. These two flavours were made for each other. Well blueberries are in season right now, and I always have lemon on-hand (have I mentioned that I love lemon?), so it seems the stars have aligned and the fates have decided that I need to make some blueberry lemon popsicles. Right? Right. (was that overly dramatic?)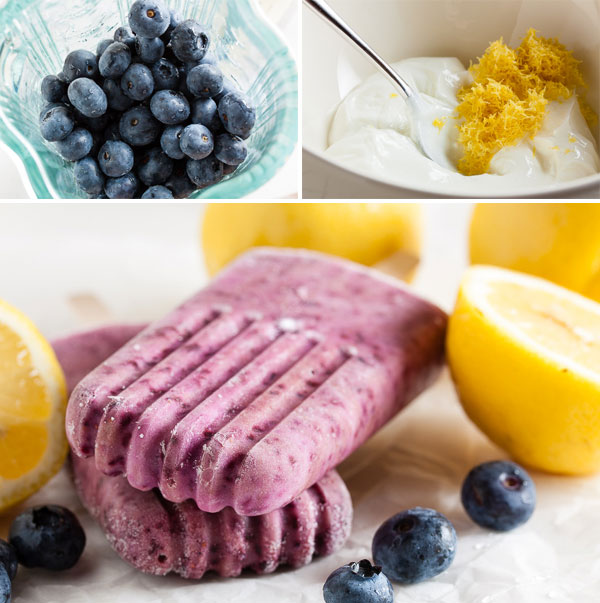 I hope you guys don't think any less of me after this confession: I'm not a big fan of most fruit. I know!! But if you put a plate of fresh fruit and a plate of fresh vegetables in front of me, I'm much more likely to snack on the veggies. I could eat an entire bag of fresh peas in a single sitting. YUM. And whenever I need to blanch some green beans or steam some cauliflower for a recipe? I have to make extra because I'll nibble at it so much.
Fruit? I much prefer it as an ingredient in something else, like the aforementioned muffins. And popsicles. I have to remind myself to eat it otherwise. I usually get my daily serving in the form of a breakfast smoothie.
I don't dis-like fruit. It's just not my first choice.
That said, there are some fruits that I will happily snack on if they're handy. Cantaloupe? Yup. Fresh juicy strawberries? Oh yes. And early-season blueberries – when they're still tart, before they get plump and too sweet.
Well we're heading into that too-sweet territory now, so this is the perfect time to use up these blueberries in some popsicles (since I'm not likely to be eating them as-is). And pairing them with some tart lemon sounds perfect.
blueberry lemon yogurt popsicles
Adapted from Food Done Light. Note: I didn't think to strain the blueberries after puréeing them, and I didn't really like the texture with the skins in there. Especially for what should be a smooth, creamy popsicle.
ingredients
3 cups blueberries (preferably fresh)
5 tablespoons sugar
3/4 cup plain yogurt (I used Greek)
1 lemon, zested and juiced
Wash and rinse the blueberries, ensuring all stems are removed. Combine the blueberries, 1 tablespoon of the lemon juice, and 4 tablespoons (1/4 cup) of sugar in a blender and purée until smooth. If you're using frozen blueberries, you can stir them with the sugar and allow them to thaw first.
You don't have to, but I would recommend running the blueberries through a sieve or a food mill to remove the bits of skin for a smoother texture. Totally personal preference, but I wish I'd taken the time to do that when I made these.
In a medium bowl, combine the yogurt, lemon zest & juice, and 1 tablespoon of sugar.
You can assemble the popsicles in two ways. You can keep the blueberry mixture and the yogurt mixture separate, and spoon them into your moulds one at a time to create a layered or marbled effect. Or you can stir them together for a smoother popsicle.
I opted to stir them together, but just gently, so there are still some swirls of blueberry and yogurt throughout.
Freeze for about 5 hours. Enjoy!