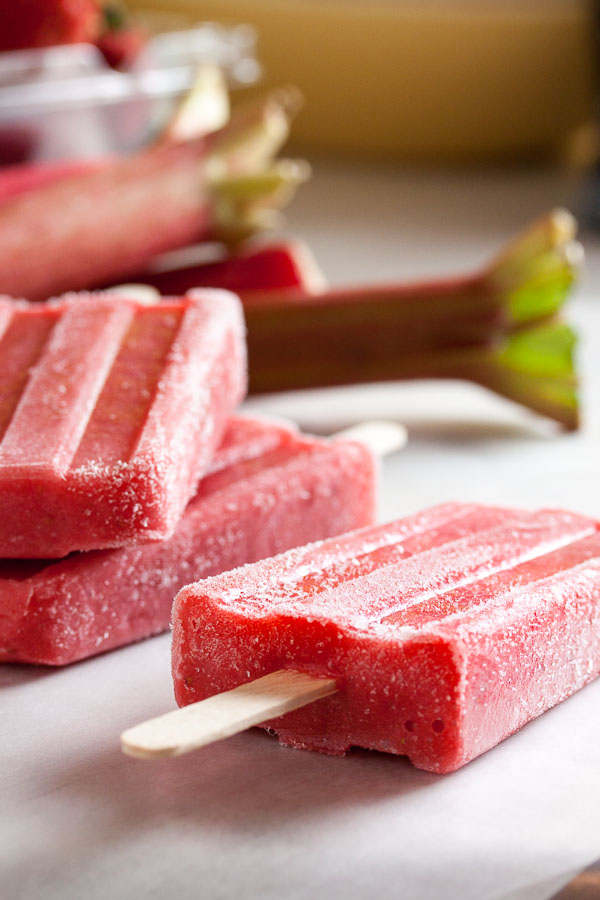 It's another scorcher in Vancouver, so instead of going to the farmer's market, I'm dipping into my supply of frozen fruit again for this week's popsicle. As I mentioned last week, I like to make fruit smoothies to take to work with me for breakfast, so I keep my freezer stocked with the basics – bananas, blueberries, cranberries, and strawberries. Plus whatever looks good at the market each week. Right now I've also got a lot of blackberries, raspberries, and rhubarb. I have no plans to add rhubarb to my smoothies (I'm sure it would be stringy and unpleasant…), but I do use it occasionally in baking, like these amazing rhubarb almond muffins I made last year. I've also added it to apple crisp, along with cranberries. And sometimes I'll add it to my oatmeal while it's cooking. Man, I can't wait for the weather to cool down a bit so I can get baking again. I really miss it, and I don't even have any more of my stash of frozen muffins in the freezer. Sadness.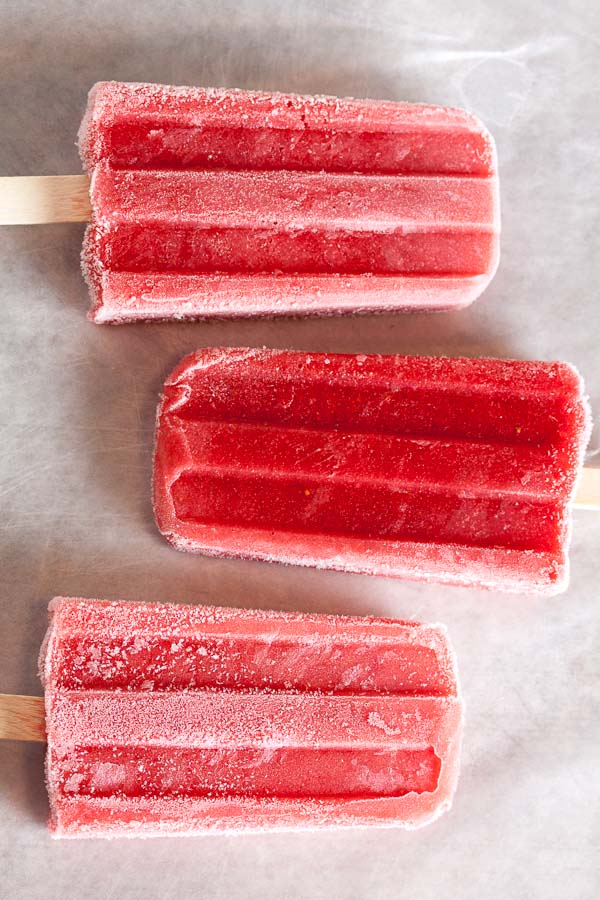 I have plans for those blackberries I mentioned, but for this week I'm using up some of that rhubarb. And I think we all know what pairs well with rhubarb – who hasn't had strawberry-rhubarb pie? It's like they were made for each other. Sweet fresh strawberries plus tangy sour rhubarb. I love that sweet-sour combination (in fact, see last week's cranberry orange popsicles – delicious!).
I've mentioned before that I'm not usually a big fan of fruit, and that when I was a kid, while my best friend would be climbing the cherry tree, I'd be raiding the garden for fresh peas and baby carrots. Even when it came to "sweets", I headed for a vegetable. Our neighbours had a huge rhubarb plant in their back yard. This thing was humongous (or at least it seemed that way to tiny me). Normally I'm sure any neighbour wouldn't be thrilled to have little kids helping themselves like this, but honestly we didn't even make a dent in this thing, it was so big. We'd go over with a bowl of sugar, break off a stalk, and dip it into the sugar and just eat it raw. It was a real treat.
While most produce seems to be available year-round these days, I only ever see rhubarb in the stores here in the summer. And it's definitely at its best early in the season, so I stock up when I can so I have it on-hand later. Future-me will thank me.
strawberry rhubarb popsicles
Adapted from The Perfect Scoop by David Lebovitz. The original recipe includes instructions for processing in an ice cream maker. I got ten 3-ounce popsicles from this recipe.
ingredients
2/3 cup water
3/4 cup (150g) sugar
3-4 stalks (12 ounces / 325g) rhubarb, trimmed and cut into 1-inch pieces
2 to 2-1/2 cups (10 ounces / 280g) fresh strawberries, hulled
2 tablespoons fresh lemon juice (about 1 lemon)
Combine the rhubarb, sugar, and water in a small non-reactive saucepan and heat to a boil. Reduce the heat to a simmer, cover, and continue to cook for about 5 minutes – until the rhubarb is tender.
Remove from the heat and allow to cool.
Combine the cooled rhubarb and sugar syrup in your blender with the strawberries and lemon juice. Purée until smooth. If you want a super smooth popsicle, you can then strain the liquid through a sieve or a food mill, but it's really not necessary. The strawberry seeds are tiny and pretty much unnoticeable in the finished popsicle. I left it as-is.
Pour the liquid into your popsicle moulds and freeze for about 5 hours. Enjoy!