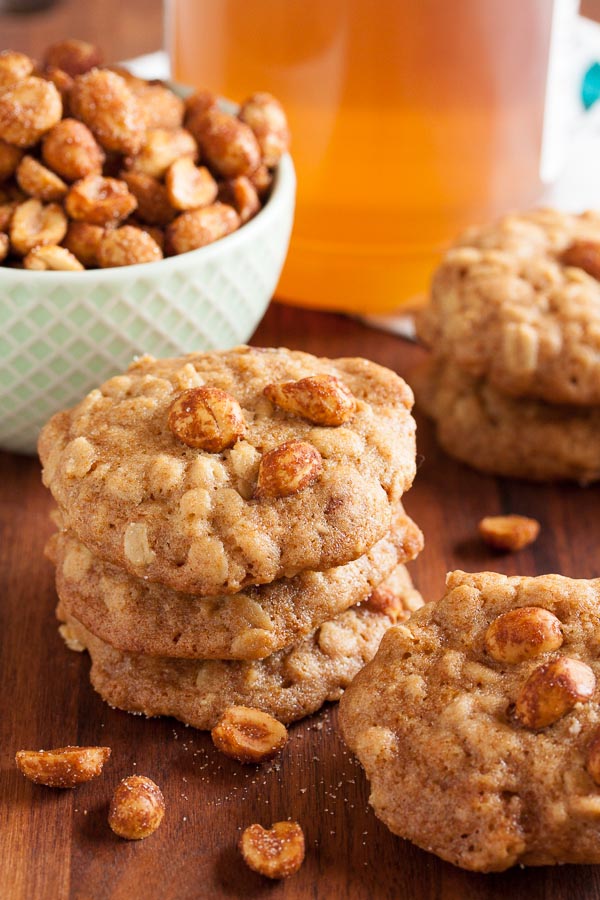 This recipe really caught my eye – chewy oatmeal, honey roasted peanuts, and honey. Doesn't that sound delicious? Oatmeal cookies are always a big hit at my office, and so are peanut butter cookies. Combine the two, and we're already bound to have a winner. But the addition of all that honey flavour, and the twist of using honey roasted peanuts instead of just plain peanuts, boosted this already good cookie to another level.
If you read last week's post, you know that I had some problems with the ingredients for this recipe. I couldn't find Planter's honey roasted peanuts anywhere – which is unfortunate, because I could happily eat a jar of those all by myself (delicious sweet & salty goodness!). All the stores around here seem to have their own in-store brands these days. Have you noticed that too? Normally that's fine – I buy the store brand nuts all the time. But trust me, when it comes to honey roasted peanuts? Keep looking. I bought the store brand, and as I was getting ready to bake these last week, I opened the bag of nuts and popped a couple in my mouth. And promptly popped them right back out again. So gross. I don't like wasting food, but I ended up throwing these away. I don't know what was wrong with them, but they tasted like neither honey nor peanuts.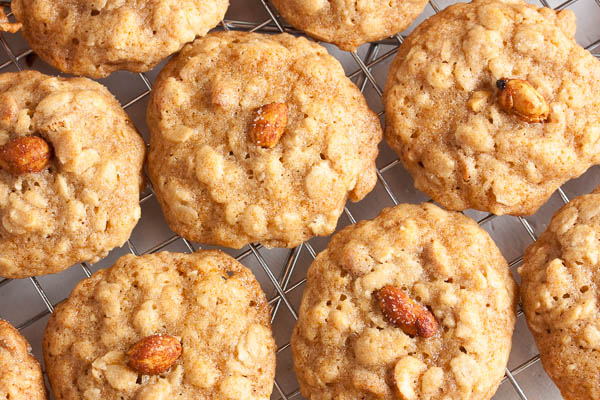 So last week I made some amazing Coconut, Cranberry, Chocolate Chip Oatmeal Cookies instead (omg they were so good!) and I kept looking for honey roasted peanuts in the meantime. I still couldn't find any Planter's, but I did find a comparable brand. They're not quite as good (that's probably for the best, because I would totally eat them all otherwise), but they at least tasted like honey roasted peanuts. Good enough to bake with, for sure. Remember, your ingredients should taste good on their own, because that's where the flavour of the end product comes from.
The dough for this cookie was really soft and sticky, and after working the chopped peanuts in with my hands, my hands were so soft from all the honey in there (check out how awesome honey is for your skin!). And after baking, the cookies remained really soft and moist – again, from all the honey in there. They definitely taste of honey, and slightly of peanuts too, with a great chewy oatmeal cookie texture.
I have another recipe bookmarked for honey roasted peanut butter cookies. I may be trying that one soon, since I still have quite a few nuts leftover! Although as we're heading into hotter summer weather, it may get bumped until things cool off a bit.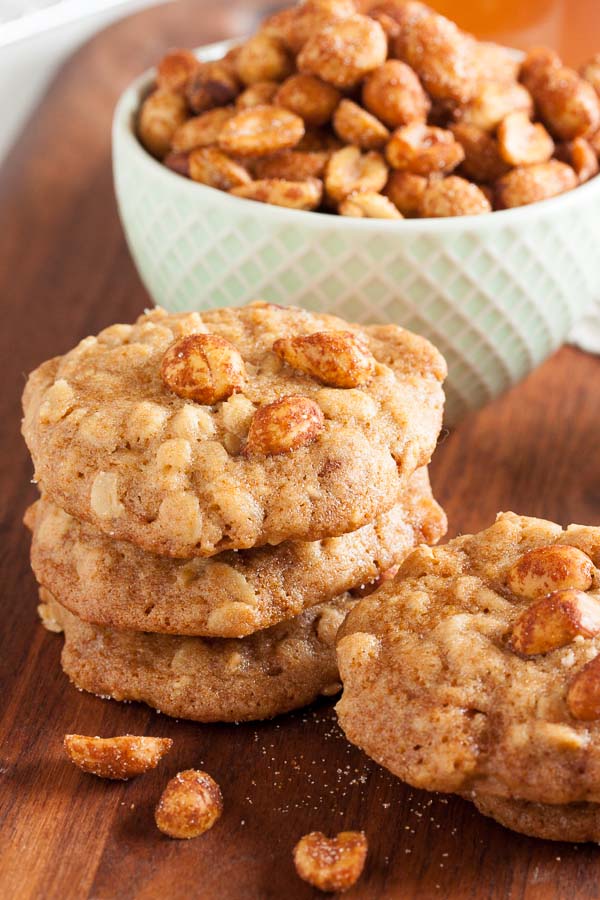 honey-nut oatmeal cookies
Adapted from "Honey-Nut Oatmeal Drops" from Better Homes & Gardens The Ultimate Cookie Book. The original recipe says it will make 48 cookies, but I got 60 using my usual slightly larger than tablespoon-sized cookie scoop.
ingredients
2-1/4 cups (281g) all-purpose flour
2-1/2 cups (250g) quick-cooking rolled oats (not instant)
1 teaspoon baking soda
1/2 teaspoon salt
1 cup (227g) butter, softened
1 cup (220g) packed brown sugar
1/2 cup (170g) honey
2 large eggs
2 teaspoons pure vanilla extract
3/4 cup (94g) chopped honey roasted peanuts
for the topping
granulated sugar
additional honey-roasted peanuts (optional)
Preheat oven to 350°F (177°C).
In a medium bowl, whisk together the flour, oats, baking soda, and salt. Set aside.
In the bowl of a stand mixer fitted with the paddle attachment, beat the butter and brown sugar together on medium speed until light and fluffy, about 3 or 4 minutes. Scrape down the sides of the bowl and add the honey, and the eggs, one at a time, beating well after each. Add the vanilla and beat to incorporate.
Turn the mixer down to low and add the dry ingredients, mixing until just barely combined. Remove from the mixer and add in the chopped peanuts either with a spatula or by hand. I prefer to knead inclusions in by hand to ensure they're distributed evenly.
Using a small cookie dough scoop or a tablespoon, portion the dough onto the baking sheets about 2 inches apart to allow for spreading. Sprinkle the top of each with a bit of granulated sugar, and top with an additional peanut (if desired).
Bake for about 8-12 minutes, until lightly golden brown around the edges, rotating the baking sheet halfway through the baking time. Because of the honey in here, once these cookies start to brown, they brown really quickly, so keep an eye on them. Allow to cool on a wire rack for a few minutes before removing the cookies from the pan and allowing them to cool completely.