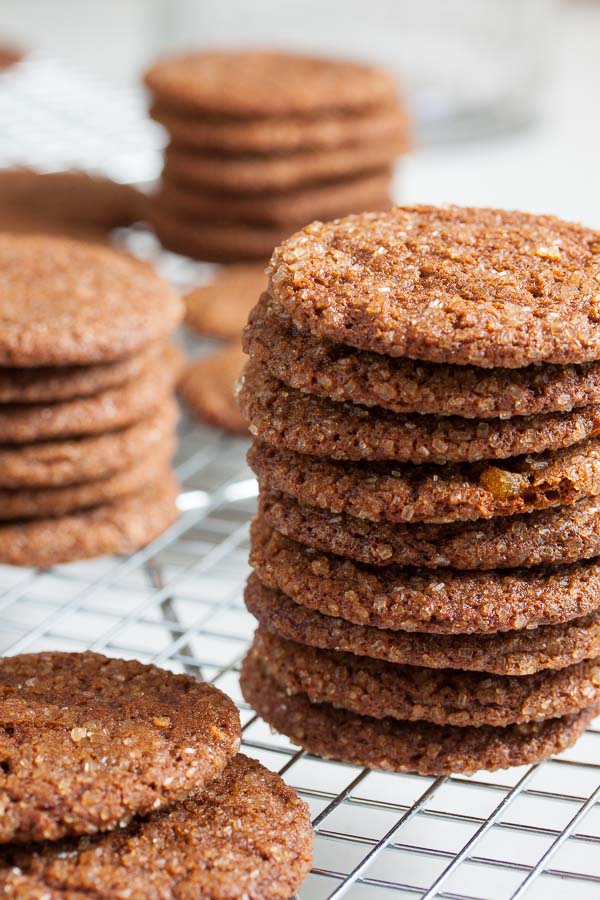 If you've been reading this blog for awhile, you'll know how much I adore Dorie Greenspan – I have several of her books, and her Baking From My Home to Yours is so well-used that half the pages are stuck together from various spatters and spills. Well she just came out with a new book, called Dorie's Cookies. OMG, it's like she wrote this book just for me! I actually pre-ordered it months ago, and it was just delivered last week. I spent a lot of time over the past week, curled up and flipping through the pages. I want to try everything. Seriously. But to start, this gingersnap recipe sounded absolutely perfect for the season. And with an introduction like this cookie? I have no doubt this book will be another favourite.
This cookie has a lot of flavour, which is no surprise considering it contains three types of ginger – fresh, candied, and powdered. Plus a generous measure of both cinnamon and cloves.
The original recipe says to just coat the cookies with granulated sugar, but I played around a bit and did half like that and half with demerara sugar. You can see the difference in the photo below. Both are good, but my preference is definitely the demerara – it gives the cookie a more rustic appearance, and a definite crunchy finish. But there's absolutely nothing wrong with the regular granulated sugar ones. Use whichever you prefer – I'm sure you'll love them either way.
The original recipe also instructs to mix the ingredients with a food processor. Well, mine is still in a box somewhere (no, I'm not finished unpacking – why do you ask?), so I just used a mixer as usual and everything worked out just fine.
After last week's surprise success with my oven, I didn't expect to have any issues with this cookie. The recipe gives a generous range of baking times so you can choose whether they're soft and chewy or crispy and crunchy. I chose a time around the middle of the range, thinking that was safe, and they came out pretty crunchy. I tried another tray at the low end of the range, and they were a perfect balance of crunchy and chewy. So. I'm still figuring out this oven.
But no worries, I'm perfectly fine with the crunchy cookies – as far as I'm concerned, gingersnaps should snap. And my coworkers seem to agree. I noticed a few people who kept coming back again and again. And while I always flag favourite recipes so I can come back to them again later, this is the first time I've actually wanted to make more of a cookie *immediately*. No lie, I'm making them again this week to fill my personal cookie jar. No regrets.
Note added November 26: I baked these again, as promised, and this time they were soft at 14 minutes, crispy/soft at 16, and crispy at 18. I have no idea what's going on with my oven…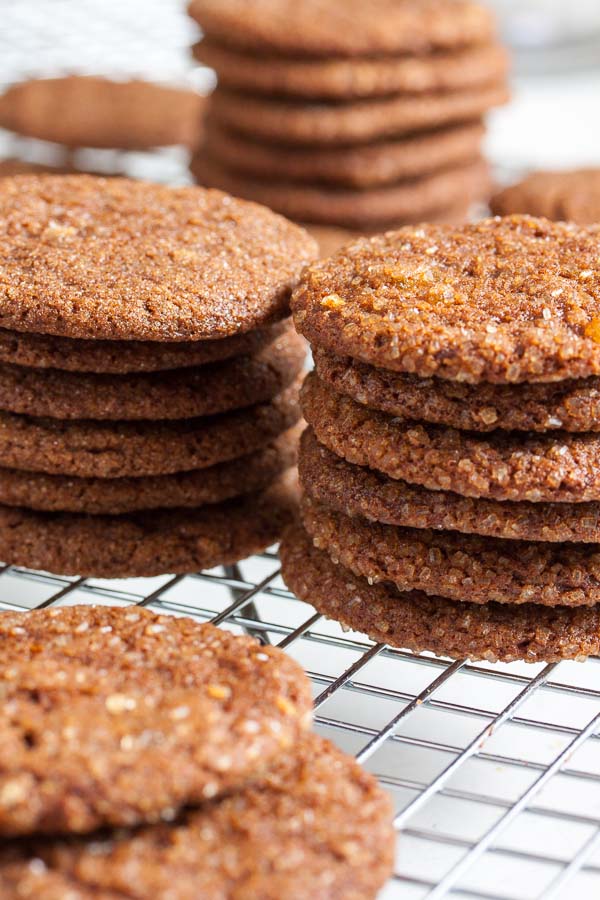 Adapted from Dorie Greenspan's Dorie's Cookies. The original recipe says it will make about 60 cookies, but I got 48. Maybe I rolled the balls a little larger. The original recipe also instructs to mix the ingredients using a food processor, but I used my stand mixer (because my food processor is still buried in a box somewhere).
ingredients
2 tablespoons finely chopped peeled fresh ginger
1 tablespoon finely chopped soft crystallized (candied) ginger
2 cups (272g) all-purpose flour
2 teaspoons baking soda
1 teaspoon ground cinnamon
1 teaspoon ground cloves
1 teaspoon ground ginger
3/4 teaspoon fine sea salt
3/4 cup (170g) unsalted butter, at room temperature
1 cup (200g) plus 2 teaspoons granulated sugar
1/4 cup (85g) unsulfured molasses
1 large egg, lightly beaten
1 teaspoon pure vanilla extract
for coating
demerara or granulated sugar
Finely chop your fresh and candied gingers. I find when I'm chopping sticky items, it helps to have a bit of granulated sugar on the cutting board to help coat the edges as I work so they don't all stick together (just a small amount – less than a teaspoon). When done, toss it all together in a small bowl with the 2 teaspoons of granulated sugar and allow to rest for about 10 minutes while you prepare the rest of the ingredients – this will help draw out some of the moisture from the gingers to create a bit of a syrup to help distribute the flavour throughout the dough. Dorie knows what she's talking about.
In a medium bowl, whisk together the flour, baking soda, cinnamon, cloves, ginger, and salt. Set aside.
In the bowl of a stand mixer fitted with the paddle attachment, beat the butter, sugar, and molasses together on medium speed until light and fluffy, about 3 or 4 minutes. Add the chopped ginger and mix until combined. Scrape down the sides of the bowl and add the egg, beating well. Add the vanilla and beat to incorporate.
Turn the mixer down to low and add the dry ingredients, mixing until just barely combined. Remove from the mixer, cover with plastic wrap, and refrigerate for about 2 hours.
When ready to bake, preheat oven to 350°F (177°C).
Form dough into small balls, about 1-1/4" diameter, and roll each in the granulated or demerara sugar, coating completely. Place them onto the baking sheets about 2 inches apart to allow for spreading. There's no need to press these down at all.
Bake for between 14-19 minutes, depending on how soft or crunchy you prefer your gingersnaps, rotating the baking sheet halfway through the baking time. Allow to cool on a wire rack for a few minutes before removing the cookies from the pan and allowing them to cool completely.