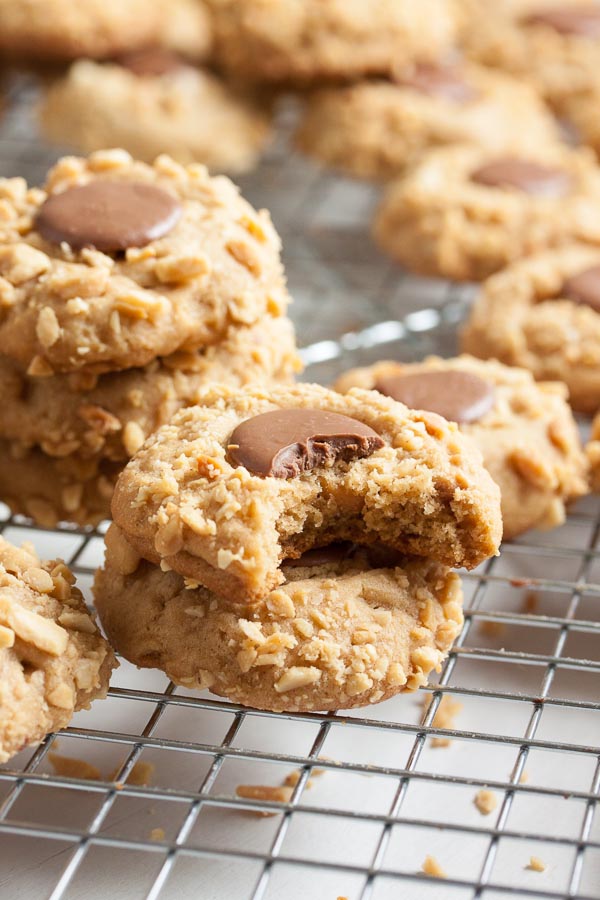 I really try to make a variety of cookies and flavours each week (if it's left up to me, I'd probably make nothing but chocolate cookies). My coworkers are always happy with any variation of chocolate chip and oatmeal, but the one that seems to make everyone happy is peanut butter. My coworkers would be thrilled if I made peanut butter cookies week after week. Well, the last couple of weeks, they got their wish. I've said before that I don't make the same recipe more than once (except in specific circumstances, like these peanut butter butterscotch chip cookies that I needed to re-make to test the recipe again). But a couple weeks ago, I made a peanut butter cookie that didn't turn out quite right. Some experimenting was in order. So we had peanut butter cookies two weeks in a row. My coworkers were thrilled.
When I first read the ingredients list for this recipe, I thought "that… that doesn't sound right". But I've made several cookies from this book and they've all been great, so I decided to give them the benefit of the doubt. But no, I think there's a typo in there. And to be honest, there are other typos in the book – specifically in the quantity of cookies. They almost all say they'll make 2 dozen cookies, and I regularly get 70+ cookies from each recipe. But this is the first time I've encountered a mistake in the ingredients. At least that I'm aware of…
The original recipe called for 1 cup of peanut butter, plus a whopping 1-1/2 cups of butter. And only 1-1/2 cups of flour. That sounds like way too much fat for that amount of flour, right? But I gamely gave it a shot – maybe they know something I don't. I refrigerated the dough for the specified amount of time, and I was still stuck with a bowl of something with the consistency of frosting. It just wasn't possible to roll it in balls. So I just spooned it out on the baking sheet and baked them up. They were so crumbly, I didn't even bother trying to transfer them from the tupperware to the cookie jar. As it was, the tupperware was full of broken cookies, and I even saw the cookies crumble when people bit into them. Everyone loved them though and they were all eaten. They were soft and peanut-y and delicious. And buttery. Way too buttery. I knew they could be better.
So I re-made the recipe, and this time I cut the amount of butter in half (maybe they meant to say 1-1/2 sticks of butter?). I also increased the flour slightly for good measure. And this, this was a good cookie. I had my co-workers critique and compare with the previous week's cookie, and everyone loved this one best. There were no complaints about the previous batch, but when I asked people to compare, they agreed that these have better texture and flavour. These cookies are definitely firmer than the last batch, but still soft and creamy and peanut-y. I'm giving this one a favourite tag.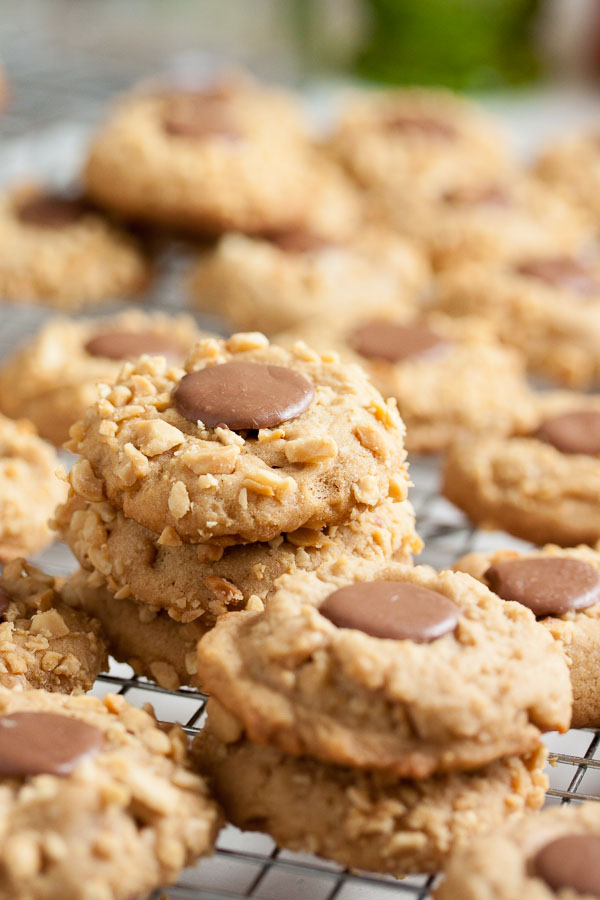 peanut butter chocolate blossoms
Adapted from "Peanut Butter Milk Chocolate Bites" from Milk & Cookies by Tina Casaceli. I got 64 cookies from this recipe when rolling the dough into approximately 1" balls.
ingredients
2 cups (250g) all-purpose flour
1/2 teaspoon baking soda
1/2 teaspoon baking powder
1/4 teaspoon salt
3/4 cup (170g) unsalted butter, at room temperature
1 cup (220g) packed light brown sugar
1 cup (250g) smooth peanut butter
2 large eggs
1 teaspoon pure vanilla extract
2 cups (350g) peanut butter chips
for topping
1 cup (125g) coarsely chopped roasted, salted peanuts
about 64 milk chocolate chunks or pistoles (buttons) or miniature kisses
In a medium bowl, whisk together the flour, baking soda, baking powder, and salt. Set aside.
In the bowl of a stand mixer fitted with the paddle attachment, beat the butter and sugar together on medium speed until light and fluffy, about 3 or 4 minutes. Scrape down the sides of the bowl and add the peanut butter, beating until smooth. Scrape down the sides again and add the eggs, one at a time, beating well after each. Add the vanilla and beat to incorporate.
Turn the mixer down to low and add the dry ingredients, mixing until just barely combined. Remove from the mixer and add in the peanut butter chips either with a spatula or by hand. I prefer to knead inclusions in by hand to ensure they're distributed evenly.
Cover the bowl with plastic wrap and refrigerate for about an hour, until firm enough to roll the dough into balls.
When ready to bake, preheat the oven to 350°F (177°C).
Form the dough into small balls and dip the tops in the chopped nuts. Place the balls about 2" apart on a baking sheet. Press a milk chocolate piece on top of each ball, pressing it down slightly.
Bake for about 12-14 minutes, until lightly golden brown around the edges, rotating the baking sheet halfway through the baking time. Allow to cool on a wire rack for a few minutes before removing the cookies from the pan and allowing them to cool completely.