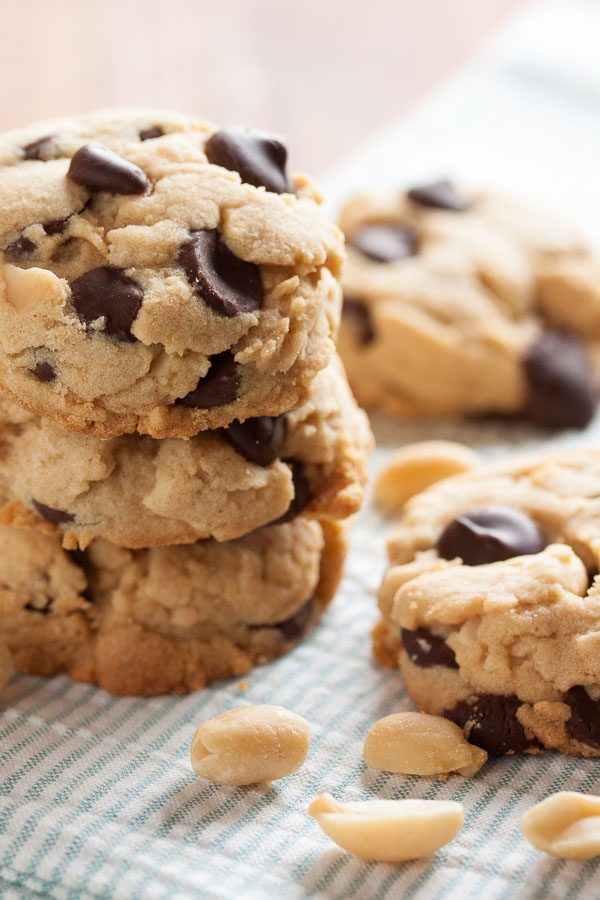 I was feeling lazy this weekend (again – it's a problem, I know!) and just wanted a nice simple cookie to make. And honestly, I was kinda craving something nutty. I've made a lot of peanut butter cookies over the years – with and without nuts, with and without chocolate chips – but this one simply called for "nut butter", not specifically "peanut butter". I really would have liked to try them with something different like almond butter or cashew butter, but it was Sunday afternoon and the only nut butter I had on hand was good old peanut butter. Oh well. Not as exciting as I was hoping, but I promise I'll try these again with a different type of nut at some point in the future, because I really would like to see how they turn out. Because with peanut butter? They turned out great.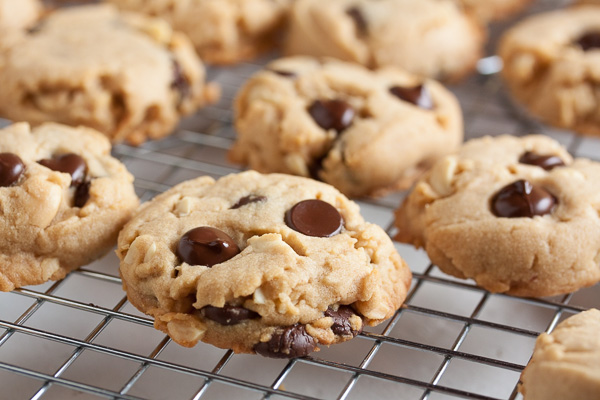 At first I thought the combination of butter, vegetable shortening, and a whole lotta nut butter in this recipe would make for a pretty soft dough, but there's enough flour to offset that, and once you add in the dry ingredients the dough thickens up to something pretty normal.
These cookies don't really spread much at all in the oven – the first batch I put in came out looking pretty much the same as they did when they went in – little round domes. So for the next trays I flattened them slightly with the palm of my hand first, and they came out looking more like normal cookies. Still quite small though.
But the texture? These cookies melt in your mouth. Amazing! And of course great nutty flavour, lots of crunch, and lots of chocolate chips. Just look at those photos. So many chocolate chips.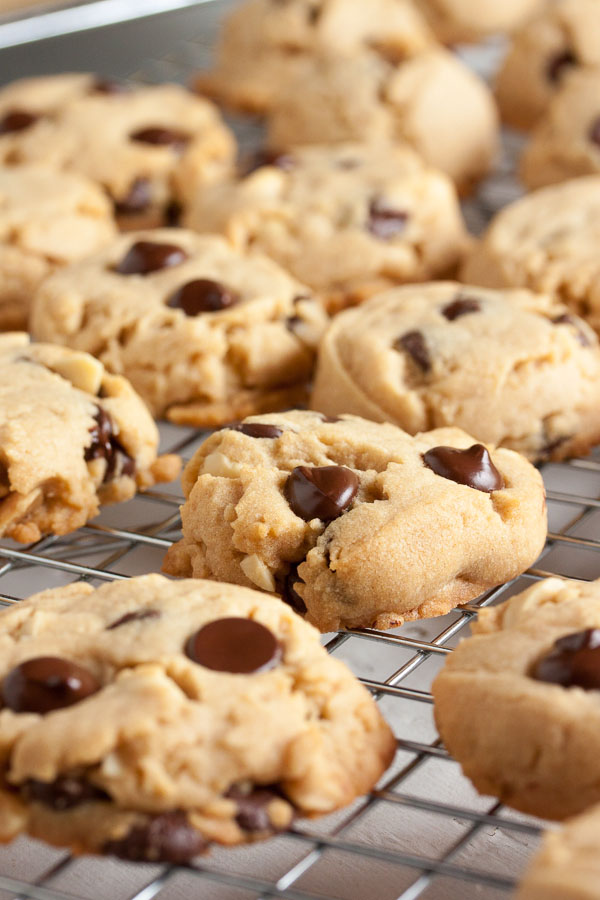 chocolate chip nut butter cookies
Adapted from "Nut Butter Chippers" from The King Arthur Flour Cookie Companion. The original recipe says it will make about 30 cookies, but I got 70 using my usual slightly larger than tablespoon-sized scoop.
ingredients
3 cups (375g) unbleached all-purpose flour
1/4 teaspoon baking powder
1/2 teaspoon baking soda
1/2 teaspoon salt
1/2 cup (113g) vegetable shortening
1/2 cup (113g) unsalted butter, at room temperature
1 cup (250g) nut butter
1-1/4 cups (275g) light brown sugar
2 large eggs
1 teaspoon pure vanilla extract
1 cup (175g) chocolate chips
1 cup (approx 150g) chopped nuts (any type)
Preheat oven to 350°F (177°C).
In a medium bowl, whisk together the flour, baking powder, baking soda, and salt. Set aside.
In the bowl of a stand mixer fitted with the paddle attachment, beat the vegetable shortening, butter, sugar, and nut butter together on medium speed until light and fluffy, about 3 or 4 minutes. Scrape down the sides of the bowl and add the eggs, one at a time, beating well after each. Add the vanilla and beat again to incorporate.
Turn the mixer down to low and add the dry ingredients, mixing until just barely combined. Remove from the mixer and add in the chocolate chips and chopped nuts, either with a spatula or by hand. I prefer to knead inclusions in by hand to ensure they're distributed evenly.
Using a small cookie dough scoop or a tablespoon, portion the dough onto the baking sheets about 2 inches apart to allow for spreading. Press each down slightly with the palm of your hand.
Bake for about 10-12 minutes, until they just begin to brown around the edges, rotating the baking sheet halfway through the baking time. Allow to cool on a wire rack for a few minutes before removing the cookies from the pan and allowing them to cool completely.