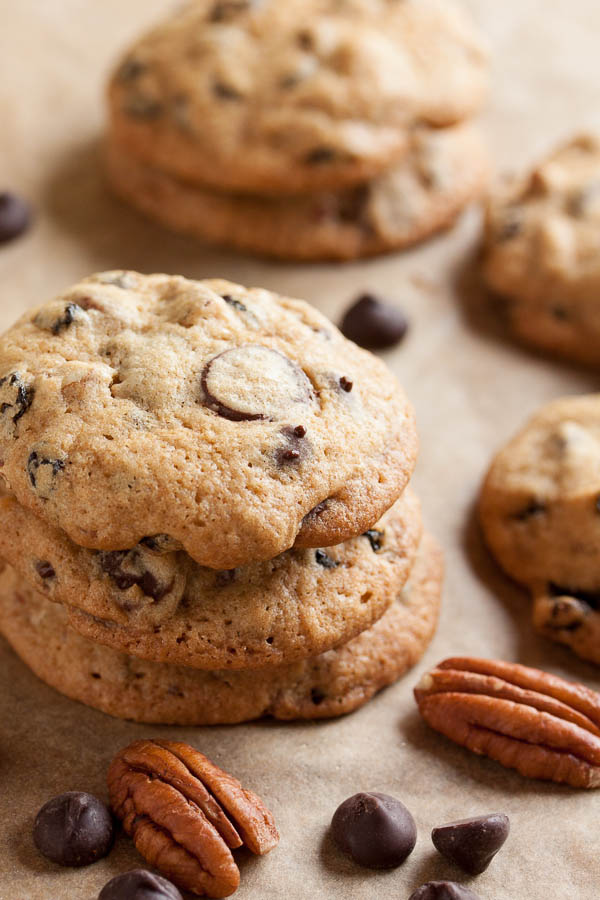 Okay I'll confess, I'm not a huge fan of raisins in cookies (gasp!!). I know, I know. Who is, right? It's definitely not just me – I've seen people getting excited at the thought of chocolate chip cookies only to immediately hang their heads and wander away when they realize they're actually raisin. Raisins get a bad rap. I can remember getting the little boxes of them for halloween when I was a kid and being so disappointed. While I do bake with raisins occasionally, usually when I see them called for in a recipe I'll substitute dried cranberries instead. Because cranberries are delicious. But this time I saw a recipe that called for raisins and I decided to force myself to try it as-is. Why? Because this is actually Martha Stewart's famous Ne Plus Ultra Cookies recipe. And I've heard amazing things about this cookie.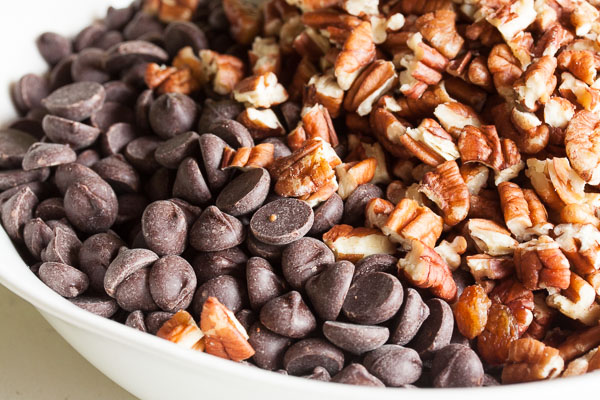 So despite all my good intentions about baking with raisins this week, while I had raisins they looked… let's say questionable. I think I bought them for when I made the rum raisin chocolate chip cookies I made almost 2 years ago (yikes! just a wee bit old then). So instead I ended up substituting currants instead – unlike dried cranberries, they're similar enough in flavour that it shouldn't change the outcome drastically, and I really didn't feel like going shopping for just one ingredient. So for the purposes of this recipe, just pretend I used raisins. Okay? Okay.
So after all that fretting, the raisins ended up not having a lot of prominence in this cookie. It's definitely primarily a chocolate chip pecan cookie. Chocolate-y with a buttery crunch. The raisins just add a little extra chewiness and sweetness. The true test, however, was whether my coworkers would go for them. And yes, they gobbled them up happily. Yay! Success! Maybe if I can keep sneaking them in gradually, people will warm up to the idea of raisin cookies…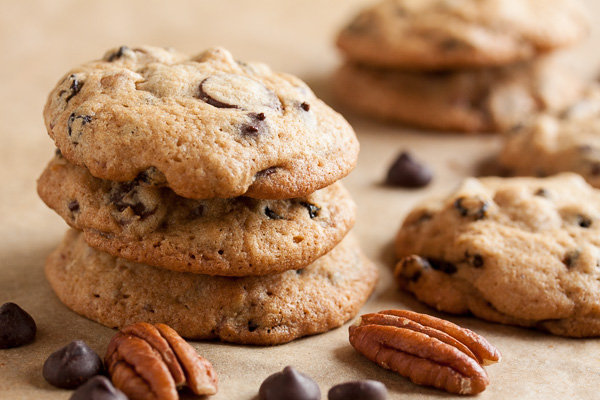 pecan raisin chocolate chip cookies
Adapted from "Ne Plus Ultra Cookies" from Martha Stewart's Cookies. The original recipe says it will make about 1 dozen large cookies, but I doubled the recipe and made them smaller, ending up with 78 three-inch cookies using my usual slightly larger than tablespoon-sized scoop.
ingredients
2-1/2 cups (312g) all-purpose flour
1 teaspoon salt
1 teaspoon baking soda
1 cup (227g) unsalted butter, at room temperature
1-1/3 cups (294g) packed dark brown sugar
1/2 cup (100g) granulated sugar
4 large eggs
2 teaspoons pure vanilla extract
2 cups (350g) semisweet chocolate chips
2 cups (300g) raisins (or currants)
2 cups (240g) pecans, coarsely chopped
Preheat oven to 350°F (177°C).
In a medium bowl, whisk together the flour, salt, and baking soda. Set aside.
In the bowl of a stand mixer fitted with the paddle attachment, beat the butter and sugars together on medium speed until light and fluffy, about 3 or 4 minutes. Scrape down the sides of the bowl and add the eggs, one at a time, beating well after each. Add the vanilla and beat again to incorporate.
Turn the mixer down to low and add the dry ingredients, mixing until just barely combined. Remove from the mixer and add in the chocolate chips, raisins, and pecans, either with a spatula or by hand. I prefer to knead inclusions in by hand to ensure they're distributed evenly.
Using a small cookie dough scoop or by rolling the dough into small balls, portion the dough onto the baking sheets about 2 inches apart to allow for spreading. Press down slightly with the palm of your hand.
Bake for about 15-20 minutes (depending on the size of your cookies), until lightly golden brown, rotating the baking sheet halfway through the baking time. Allow to cool on a wire rack for a few minutes before removing the cookies from the pan and allowing them to cool completely.