The other day one of my coworkers was snacking on pistachios (sooooo many pistachios), and I found myself wondering why don't I bake with them more often? They're so delicious, and I could seriously eat an entire batch of these lemon pistachio biscotti all by myself (I can and I have). I'm not the only one who loves them, right? Well as I was flipping through my cookbooks trying to decide what to make, I stumbled upon this recipe for milk chocolate pistachio cookies. And that's all I could think about. Luckily, I knew I bought a couple bags of pistachios the last time I stocked up on baking ingredients, and I always have lots of chocolate (all kinds – seriously, so much chocolate), so I was ready to go.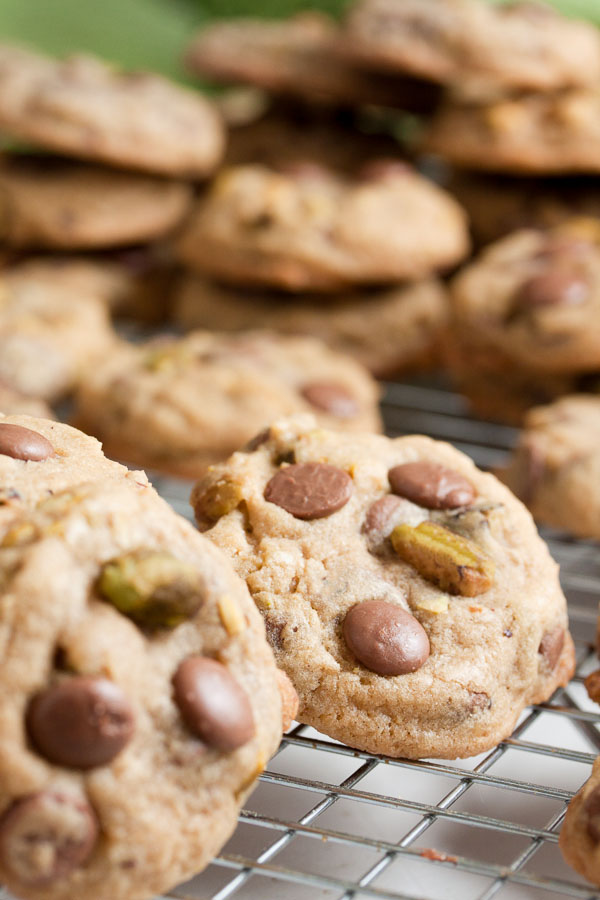 Man, I love this cookie. Add this one to the "I could eat them all myself" list. Sadly, my coworkers really enjoyed them too, so I didn't actually get them all (boo). There's a lot of chocolate in these cookies, and they are definitely chocolate-y, but the pistachio flavour is what really shines through. And they work so well with the milder flavour of milk chocolate. It turns out it's a really good combination.
And you'll note I gave this cookie a favourite tag. Seriously, this is a good cookie!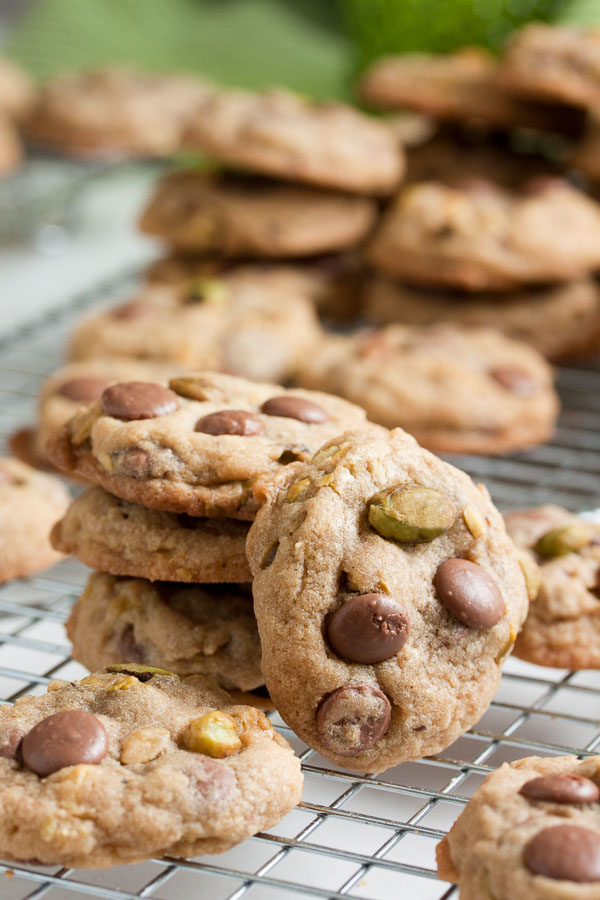 milk chocolate pistachio cookies
Adapted from "Jumbo Pistachio and Milk Chocolate Chunk Cookies" from Better Homes & Gardens The Ultimate Cookie Book. The original recipe says it will make about 22 cookies using a 1/4-cup measure (those are huge cookies!), but I got 68 cookies using my usual slightly larger than tablespoon-sized cookie scoop.
ingredients
2-1/2 cups (312g) all-purpose flour
1 teaspoon baking soda
1 teaspoon salt
1 cup (227g) unsalted butter at room temperature
1 cup (220g) packed brown sugar
1/4 cup (50g) granulated sugar
1 large egg plus 1 egg yolk
1 tablespoon milk
2 teaspoons pure vanilla extract
2 cups (350g) good quality milk chocolate chips or chunks
1-1/2 cups (225g) pistachios, coarsely chopped
optional
additional whole pistachios to top each cookie
Preheat oven to 350°F (177°C).
In a medium bowl, whisk together the flour, baking soda, and salt. Set aside.
In the bowl of a stand mixer fitted with the paddle attachment, beat the butter and sugars together on medium speed until light and fluffy, about 3 or 4 minutes. Scrape down the sides of the bowl and add the egg and egg yolk, one at a time, beating well after each. Add the milk and the vanilla and beat to incorporate.
Turn the mixer down to low and add the dry ingredients, mixing until just barely combined. Remove from the mixer and add in the chocolate chips and pistachios, either with a spatula or by hand. I prefer to knead inclusions in by hand to ensure they're distributed evenly.
Using a small cookie dough scoop or a tablespoon, portion the dough onto the baking sheets about 2 inches apart to allow for spreading. Press each down slightly with the palm of your hand, and top with a whole pistachio (optional).
Bake for about 10-12 minutes, until lightly golden brown around the edges, rotating the baking sheet halfway through the baking time. Allow to cool on a wire rack for a few minutes before removing the cookies from the pan and allowing them to cool completely.