Well. Almost.
I really didn't mean to take such a long hiatus – it just kinda happened. Sorry!
First, sadly, my old kitty took a turn for the worse. Her health had been failing for awhile, but this time I knew we were heading to the end, so I set baking and blogging aside to focus all my time and attention on her. She needed a lot of care, but mostly I wanted to be with her while I still could. I had to say goodbye in early July.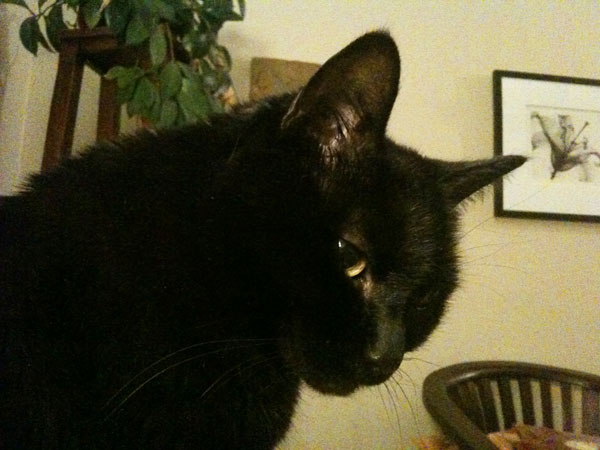 And then summer came, and my apartment got HOT. As if it wasn't bad enough that the apartment is south-facing and gets sun all day long, for some reason the building manager had the heat going year-round. Yes, even when it was well above 85°F (in the 30sC) in my apartment, the heat was still coming on. There was one day when it got up to 98°F (37°C). And yes, the heat was still on. And no, I had no control over it – there's a central control and timer for the entire building. And unbelievably, he said no one else was complaining. I can only assume no one else noticed the heat pouring out of the baseboards.
Ugh.
There were a number of things I didn't like about the apartment after living in it for awhile, so I was already looking for a new place, but that? That was the final straw. I was determined to find something new. And I'd saved my pennies and was going to make the leap from renting to owning. Yikes, right? But after that sudden upheaval last year when I got unexpectedly evicted, I wanted to protect myself from it happening again. So much stress.
And with prices being completely insane in the Vancouver market, that also meant that I was going to have to move away from the neighbourhood that I've called home for 20+ years, because there's no way I could afford to buy anything in that area. Have you seen Vancouver real estate prices? Not a chance.
But I found another area I liked that wasn't so far away that I couldn't commute to work, and looked. And looked. And looked. And bid on a few places and got OUTbid on all of them. It was disheartening. And then I found a place that was way bigger than I needed, but man, what a kitchen. Not fancy, not at all, but with cupboards and counterspace that you just don't find in apartments. So I bid on it. I went as high as I could and didn't think I had a snowflake's chance of getting it. Spoiler – I got it!
My first reaction? OMG what have I done!?? But then I started to really look forward to it.
I'm going from having just a single lower cabinet (not counting the under-sink space) and a few upper cabinets, to having FIVE lower cabinets plus all the corresponding upper cabinets. That may not sound like a lot to those of you in houses, but trust me, it's more than I ever hoped to find in an apartment. And my counterspace has almost tripled. And I could say goodbye to those tiny apartment-sized appliances that I hated so much. I'm so excited.
Excited and overwhelmed and EXHAUSTED. I'm so tired of packing and moving. But hopefully this will be the last for a long time. I gave myself one week to pack and clean, and another week to settle in and get unpacked. That was a couple weeks ago now. I'm in the apartment, but still getting things organized. I got all the boxes unpacked as soon as possible so I could see what I was working with, but I'm still figuring out where things should go, and learning all the little quirks and things that I'll need to update in the future (starting with the bathroom – I don't think it's been touched since it was built in the 70s).
The apartment is partially south-facing, so I'll be investing in an air conditioner for the summer. And some thermal drapes. But I have my very own thermostat, so it's only the sun's heat I'll have to worry about. And I will put up with it for this kitchen. I've baked a few things and – good news! – the oven works just fine. I'm hoping to be back to posting regularly next week.
And I'm happy to be back. I've missed this.