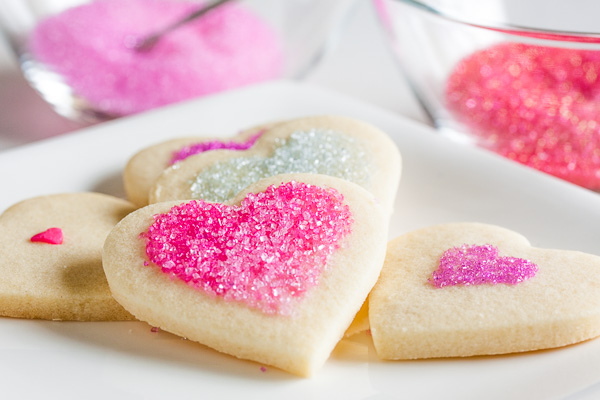 I wanted to make some heart cookies this week (yes, I'm a sap), so my first thought was to look at sugar cookies again. They're a classic all-purpose cookie, right? Does everyone love sugar cookies? Everyone I know does, but I've seen some things online about people thinking they're boring. What!? Blasphemy! I have a lot of recipes to choose from, but narrowed it down to a couple recipes from books that I haven't baked much from yet. They're almost identical in terms of ingredients and quantities, except for the butter. One calls for 1/2 cup of butter, while the other uses three times as much. Guess which one I decided to go with…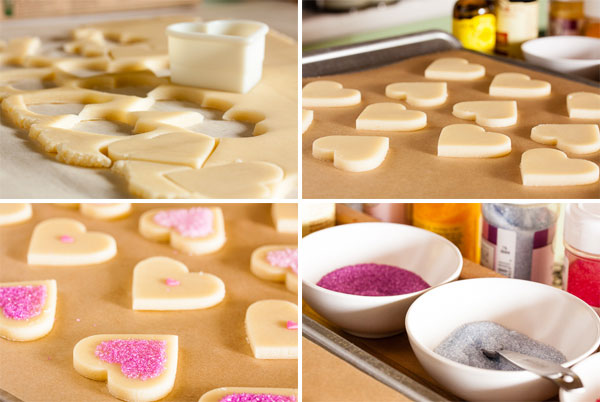 This isn't the largest recipe I've ever made in my mixer, but once all the flour was added it got a real workout. Seriously, it was struggling a bit. And it's not that the dough was too dry or anything, because it all came together and rolled out beautifully. I'm wondering if it's because my kitchen is fairly cold in the winter and the butter wasn't super soft. So the final dough, while moist and workable, was also really really thick.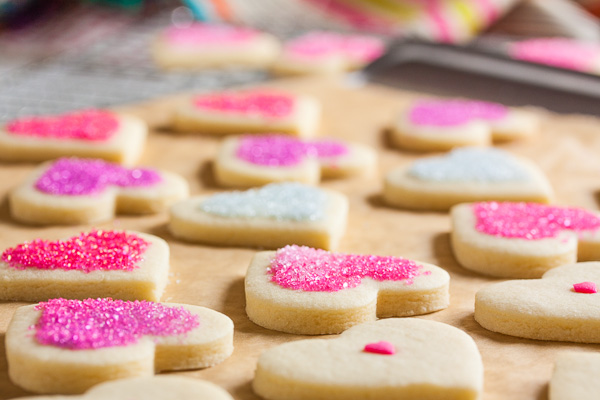 A lot of cookie doughs, this one included, give an instruction to refrigerate for a while before baking. This isn't just to chill the butter to help prevent the cookie from spreading too much (although it does do that), but also to give the gluten a chance to rest and the flour to hydrate completely. It's possible to skip this step, but it will change the texture of the final cookie somewhat. One of the things I like about this recipe is that it instructs to roll the dough out immediately, while it's still soft and pliable, and then refrigerate it – so you're not struggling to roll out super cold dough later. Love this idea!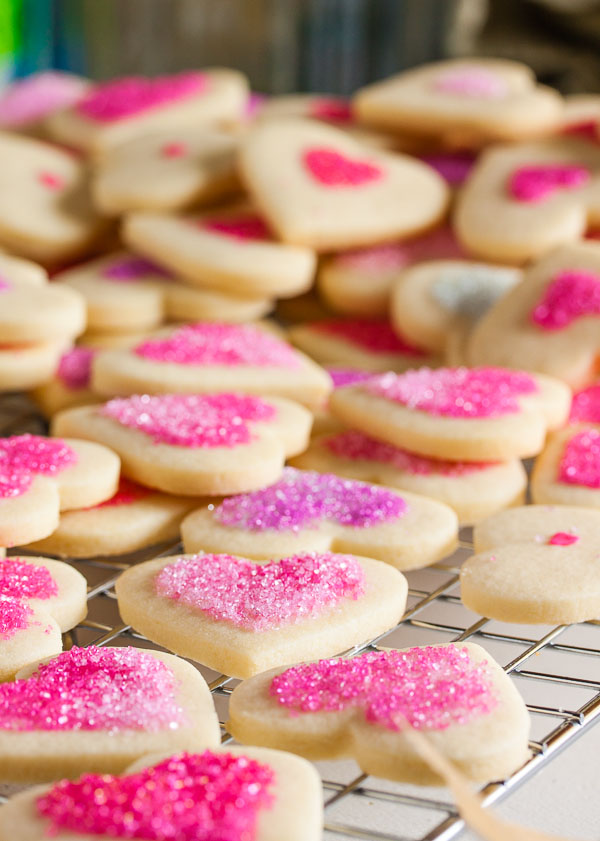 If you stick around, you'll see that I rarely do any fancy icing on my cookies. A big part of it is that when I bake cookies, I tend to make a lot of tiny cookies rather than a few large ones. So if I were to ice them all? Ugh, too daunting. The rare time that I do decide to decorate my cookies with icing, it usually takes so much time that I end up spreading it out over several days. So I'm always looking for other ways to make rolled cookies fancy. I love using textured cookie cutters, and I experimented with using a texture sheet just before xmas (those turned out great – both the pattern and the cookie itself).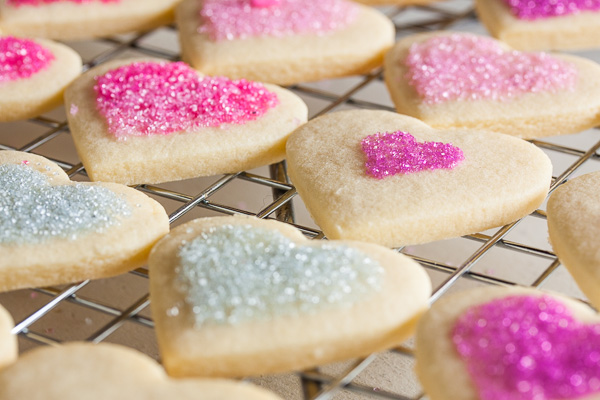 This time around, I pulled out some of my sanding sugars. I have a lot of sanding sugars. Bright colours, pastel colours, and different sized crystals too. Such a simple thing can make a plain cookie so much prettier. You can just cover the entire cookie with sugar, but I opted to make a smaller inset heart shape. I've tried using flat plastic stencils in the past, and they work okay, but what I find works best is just to use a smaller cookie cutter as a guide to apply your sugar into. Since all the sugar is contained within that shape, there's less mess and spillage. And those little cookie cutters are cheap, so it's easy to build up a collection of different shapes to play with. I used my tiniest measuring spoon to apply the sugar.
This dough isn't wet enough for the sugar to stick to, so you need to be a bit careful about not jostling it or smudging your pattern. But once the cookies are baked, it stays put.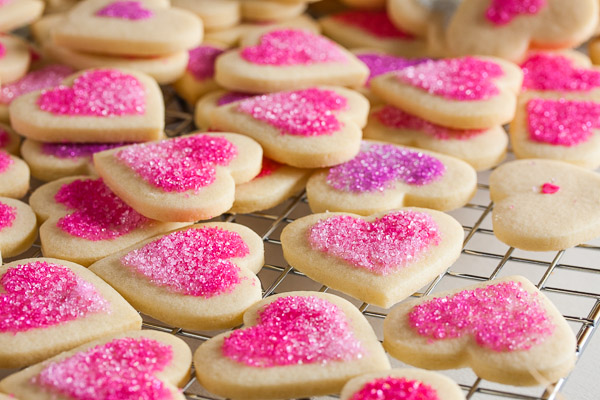 This dough held its shape really well once baked. The edges are sharp and clean and they don't seem to have distorted at all. A perfect cookie cutter dough. And while the cookie is firm, and there's the tiniest bit of crunch when you bite into it, the texture is very tender.
The last sugar cookie recipe I tried surprised me by being really crunchy. It was a good cookie, but not the texture I prefer when I make sugar cookies. I had a conversation with one of my coworkers about this (yes, we actually do stand around talking about cookies – nerds), and she liked the crunchy version best. So it's totally personal preference. Both recipes have that classic sugar cookie flavour, but this is the one that I've favourited.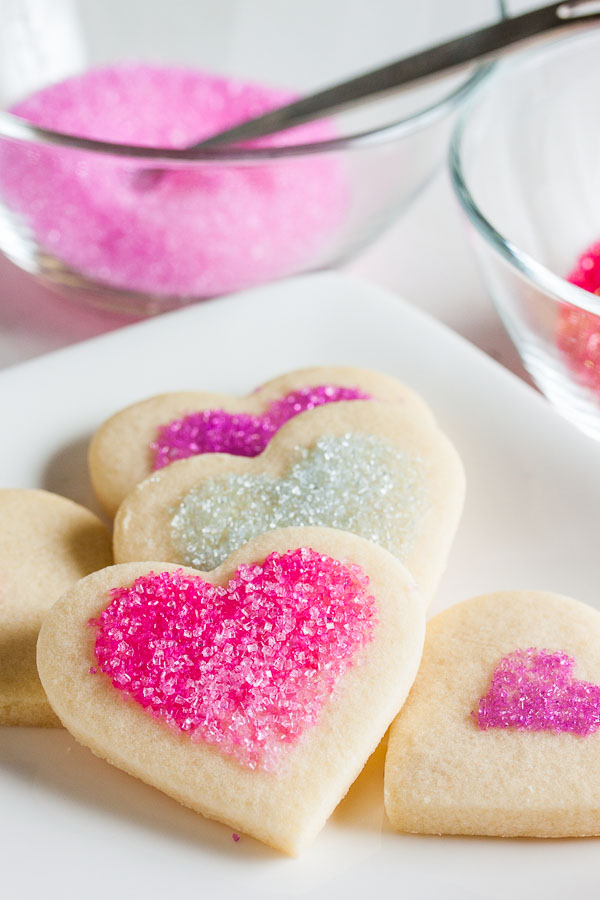 Adapted from "Good and Easy Rolled Sugar Cookies" from Simply Sensational Cookies by Nancy Baggett. The number of cookies this recipe will yield will depend on how thick you roll the dough and the size of the cutter you use.
ingredients
1-1/2 cups unsalted butter, at room temperature
1-2/3 cups granulated sugar
1 teaspoon baking powder
1/2 teaspoon salt
2 large eggs, at room temperature
1 tablespoon vanilla extract
1/4 teaspoon almond extract or lemon extract (optional – I used lemon and it added a nice subtle flavour)
4-1/4 cups unbleached all-purpose flour (plus more if needed)
for finishing
sanding sugars, sprinkles, or other decorations (optional)
Measure the flour into a medium bowl and set aside.
In the bowl of a stand mixer fitted with the paddle attachment, beat the butter, sugar, baking powder, and salt together on medium speed until light and fluffy, about 3 or 4 minutes. Scrape down the sides of the bowl and add the eggs, one at a time, beating well after each. Add the vanilla and lemon or almond extract (if using) and beat again to incorporate.
Turn the mixer down to low and add about half of the flour, mixing until just barely combined. Add the rest of the flour and continue mixing until just combined. If the dough still seems too soft, you can add a bit more flour until it's a better consistency for rolling.
Divide the dough into 3 equal portions. Roll each portion out onto a piece of parchment or wax paper to just shy of 1/4" thickness (I used a 3/16" guide). Stack the three pieces (paper included) onto a baking sheet and refrigerate for about 45 minutes.
When ready to bake, preheat the oven to 350°F.
Remove one of the dough pieces from the fridge at a time and cut shapes with whatever cookie cutter you've chosen. Transfer the cut pieces to your prepared baking sheets. Re-roll the remaining dough and continue cutting until finished.
Before baking, you can apply sanding sugar or other decorations – in addition to the sanding sugar, I also did some with a teeny tiny sugar heart in the centre. I think they're adorable. If you're planning to ice them instead, or you just want to keep them plain (they'll still taste great!) skip this step. There's a recipe for royal icing here if you like.
Bake for about 8-11 minutes, until very lightly coloured on top and around the edges, rotating the baking sheet halfway through. Allow to cool on a wire rack for a few minutes before removing the cookies from the pan and allowing them to cool completely.