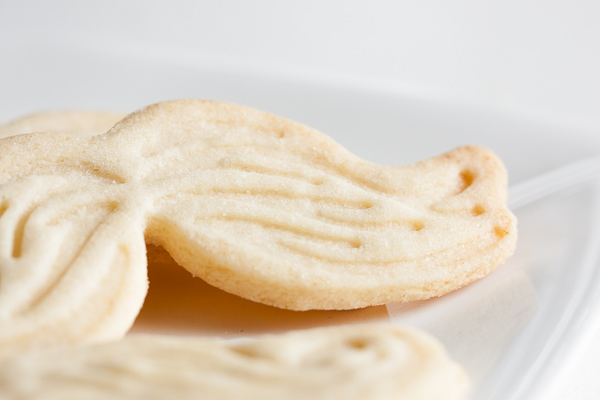 I love these cookie cutters! But I feel like moustaches have been done to death. When I first bought them, they were unique and cute and quirky. And now there are moustaches everywhere. Like every store I go into now has a moustache section. What do you think? Jumped the shark? Yeah. But it's Movember, so they seemed appropriate. And did I mention I love them? I'm hoping if I hang onto them long enough, eventually they'll be unique again (does that sound totally hipster-ish? I swear I'm not…).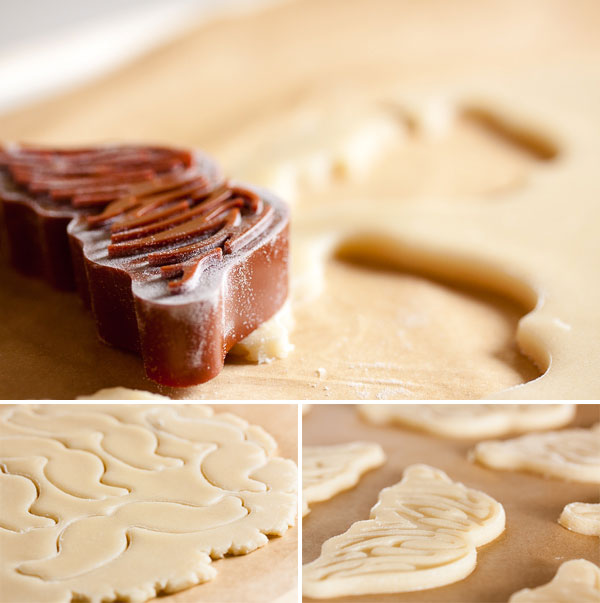 I knew I was going to be making a rolled cookie this week (because Movember), and I decided it needed to be sugar cookies because it's one of my coworkers' favourites. There are a lot of sugar cookie recipes out there, so I just picked one at random. I always have good luck with Martha Stewart's recipes.
When this dough first comes out of the mixer, it's really crumbly, much like my gingerbread. But a little kneading brings it all together into a cohesive shape.
The dough was really good to work with in terms of rolling out – no breaking or cracking – and it held its shape really well once baked. I rolled this to about 3/16″ to accommodate the impression. I give a more in-depth explanation of how I like to roll out cookie dough on my gingerbread post, or you can check out this video. I do it just like that, except I use plastic wrap on top rather than parchment or wax paper. And my rolling pin is wide enough to reach the wooden guides.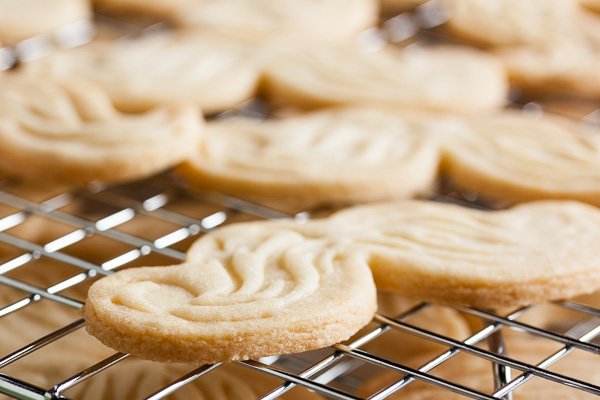 When I think of sugar cookies, I think of soft, tender cookies. This? This is not a soft cookie. I didn't notice texture mentioned in the recipe at all, so I was actually really surprised when they turned out so crisp. Which is why I've made a point to include "crunchy" in the title. On second look, though, I notice the introduction to the recipe says this cookie has "a nice crunch." Well, there you go.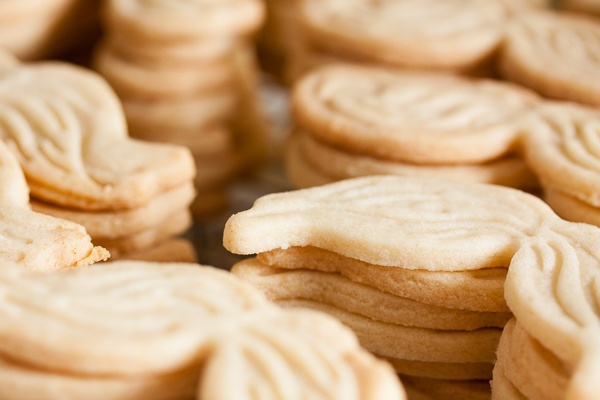 Regardless of texture, these cookies have that perfect sugar cookie flavour. Oddly, when I googled for recipes earlier, I found a lot of people who think sugar cookies are bland. I don't get that. Who doesn't love sugar cookies?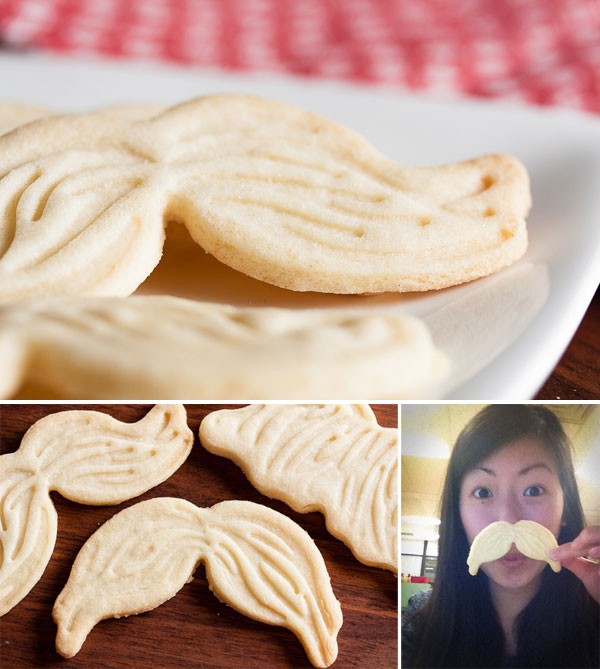 Oh, and if anyone's wondering? That's one of my coworkers playing with her food…
Adapted from "Sugar Cookie Cutouts" from Martha Stewart's Cookies. The number of cookies this recipe will yield will depend on how thick you choose to roll the dough and the size of the cutter you use. These taste great on their own, but if you'd like to decorate them I have a recipe for royal icing here, or you could just sprinkle them with some coarse sanding sugar before baking to give them a bit of sparkle.
ingredients
4 cups sifted all-purpose flour
1 teaspoon baking powder
1/2 teaspoon salt
1 cup unsalted butter, at room temperature
2 cups sugar
2 large eggs
2 teaspoons pure vanilla extract
In a medium bowl, whisk together the flour, baking powder, and salt. Set aside.
In the bowl of a stand mixer fitted with the paddle attachment, beat the butter and sugar together on medium speed until light and fluffy, about 3 or 4 minutes. Scrape down the sides of the bowl and add the eggs, one at a time, beating well after each. Add the vanilla and beat again to incorporate.
Turn the mixer down to low and gradually add the dry ingredients, mixing until just barely combined. Remove from the mixer. At this point, the dough will be pretty crumbly. Just knead it by hand for a minute, and it will come together.
Divide the dough into 2 equal portions. Flatten each piece to about 1/2" and wrap each in plastic. Refrigerate for at least 1 hour or overnight.
When ready to bake, preheat oven to 325°F.
Remove one of the dough pieces from the fridge. Many people recommend rolling the dough out cold, but I find it easier to work with when it's warmed up a bit. On a lightly floured surface, a silpat sheet, or a sheet of wax or parchment paper (whatever your preference), roll the dough out to 1/8" to 3/16" thickness.
Cut the dough into desired shapes and transfer the cut pieces to your cookie sheet. I find that dipping the cookie cutter in flour after each cut helps prevent sticking. Once you have a sheet full, bake the cookies for about 15-18 minutes, rotating the baking sheet halfway through, until they just begin to turn golden at the edges. Allow to cool on a wire rack for a few minutes before removing the cookies from the pan and allowing them to cool completely before icing (if desired).