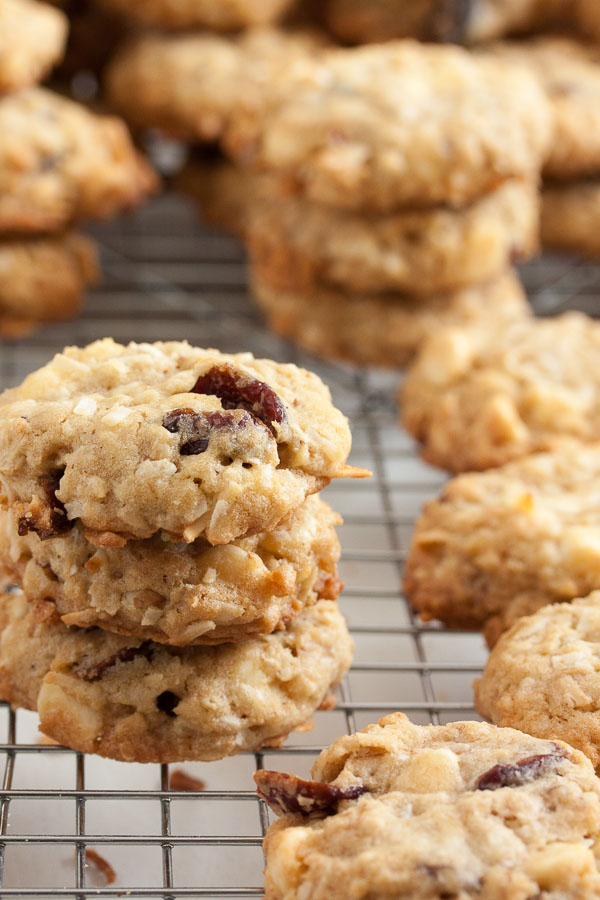 Are we ready for take two with my new oven? This is the cookie that I wanted to make last time but didn't have the ingredients for. I made sure to stock up on both oatmeal and dried cranberries (I can't believe I'd managed to run out of either of those!). I really need to set up some sort of inventory of baking supplies. My organization pretty much consists of one big bin full of various chocolate chips, and another full of everything else. Sometimes it takes a bit of digging to find what I'm looking for (or find that I don't have it, as the case may be). Anyway, all the ingredients were sorted out, so I got to make the cookie I wanted to. I'm not usually a fan of white chocolate, but the combination of flavours in this cookie sounded really great (and it totally is).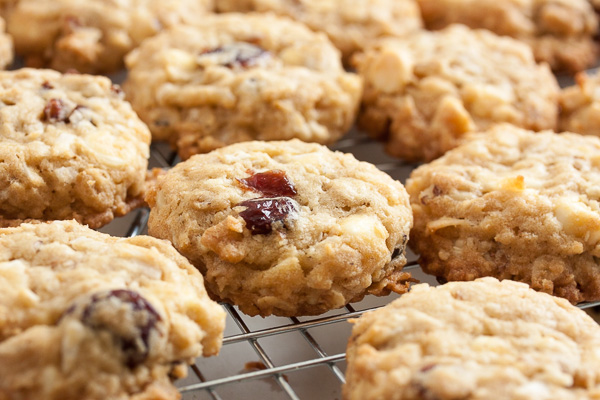 The original recipe actually called for raisins instead of cranberries, but I find white chocolate to be pretty sweet, and I thought raisins would push the cookie over the edge into way-too-sweet territory. Especially since this cookie also contains sweetened coconut. So I substituted tart dried cranberries to offset the sweet, and it totally works. It's a lovely contrast.
As for my oven, I'm still having issues. This recipe says to bake for 16-18 minutes. I figured I'd check on them at about 15 minutes and then keep an eye on them, and they were already way too dark. Oops! So the first tray was for me. They still tasted great, they were just a bit crunchier than they should be. Ah well. The second tray I kept a closer eye on and ended up taking out of the oven at just 12 minutes. I think I probably could have taken them out even a bit earlier!
As I mentioned above, the combination of flavours and textures in this cookie is great – oatmeal and coconut are always great together, plus sweet white chocolate, crunchy walnuts, and offset with tart dried cranberries. I really enjoyed my tray of too-crunchy cookies, and my coworkers really enjoyed all the rest. There wasn't a crumb left over.
Oddly, while this is only the second batch of cookies I've made here, I have baked several batches of muffins and they've all turned out just fine. Weird, right?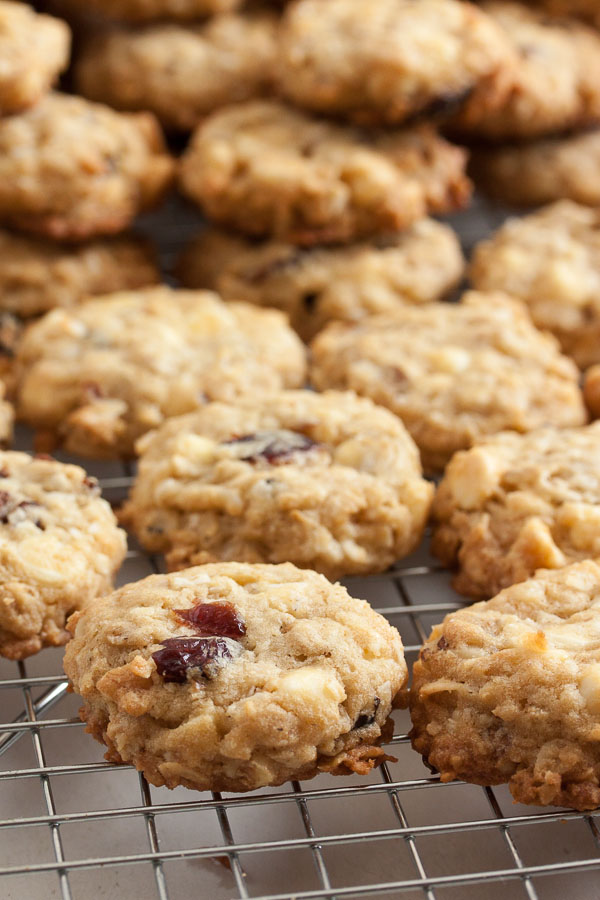 white chocolate cranberry oatmeal cookies
Adapted from "White Chocolate-Chunk Cookies" from Martha Stewart's Cookies. The original recipe says it will make about 48 cookies when portioned out by heaping tablespoons, and I got about 72 cookies with my usual slightly larger than tablespoon-sized cookie scoop.
ingredients
2 cups (250g) all-purpose flour
1 teaspoon baking soda
1/2 teaspoon baking powder
1/2 teaspoon salt
2 cups (200g) old-fashioned rolled oats
1 cup (75g) sweetened flaked coconut
1 cup (227g) unsalted butter, at room temperature
1/2 cup (100g) granulated sugar
1/2 cup (110g) packed light brown sugar
2 large eggs
1 teaspoon pure vanilla extract
2 cups (350g) white chocolate chunks or chips
1 cup (120g) dried cranberries (or raisins)
1 cup (120g) coarsely chopped walnuts
Preheat oven to 350°F (177°C).
In a medium bowl, whisk together the flour, baking soda, baking powder, salt, rolled oats, and coconut. Set aside.
In the bowl of a stand mixer fitted with the paddle attachment, beat the butter and sugars together on medium speed until light and fluffy, about 3 or 4 minutes. Scrape down the sides of the bowl and add the eggs, one at a time, beating well after each. Add the vanilla and beat to incorporate.
Turn the mixer down to low and add the dry ingredients, mixing until just barely combined. Remove from the mixer and add in the white chocolate, cranberries, and walnuts, either with a spatula or by hand. I prefer to knead inclusions in by hand to ensure they're distributed evenly.
Using a small cookie dough scoop or a tablespoon, portion the dough onto the baking sheets about 2 inches apart to allow for spreading.
Bake for about 11-13 minutes, until lightly golden brown around the edges, rotating the baking sheet halfway through the baking time. The original recipe said to bake 16-18 minutes, but I found that way too long. Check on them and decide on doneness based on the colour. Allow to cool on a wire rack for a few minutes before removing the cookies from the pan and allowing them to cool completely.