In the past few weeks, I've been on a bit of a caramel kick. And apparently a coconut kick too – in addition to these chocolate espresso caramels, I also made both coconut caramels and chocolate coconut caramels. And this week, once again, I was having a craving for something coconut-y. Last time I wanted to make coconut-y cookies, I went for the coconut-citrus combo, with these coconut orange cookies (so good!). This time, I was thinking something more chocolatey would be good. Or maybe coconut + chocolate + white chocolate + walnuts? Yum!
Most often, I find myself using unsweetened coconut when I'm baking. I actually had to go out and buy some sweetened coconut for this one! Now I need to find recipes that use sweetened coconut so I can use that up. I'm open to suggestions… And in the end, I found the cookie fairly sweet overall, so you could probably get away with using unsweetened if that's all you have.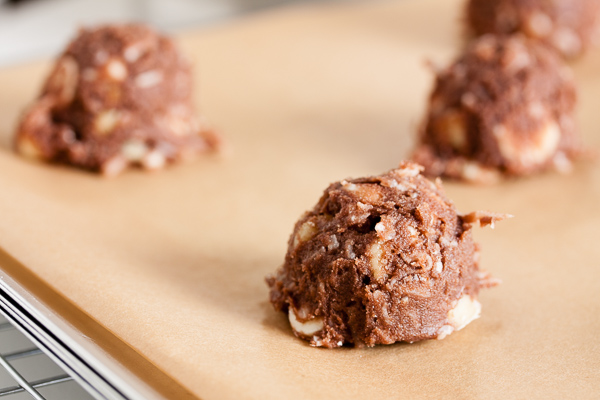 There's a lot of stuff in this cookie – slightly more than cookie itself. But a lot of that is coconut and it almost becomes-one with the dough. The cookie puffs up and spreads out in the oven, and comes out still quite puffy, but it flattens out a bit as it cools. It's a very soft, tender cookie, loaded with flavour. I'm not a big white chocolate fan, so my first impression is that I think these would be even better with dark chocolate chips instead of white – or even a mix of dark and white. Maybe with sweetened coconut it should be dark chocolate chips, but unsweetened coconut with white chocolate? If you do any experimenting, please let me know about it in the comments – I'd love to hear how they turn out.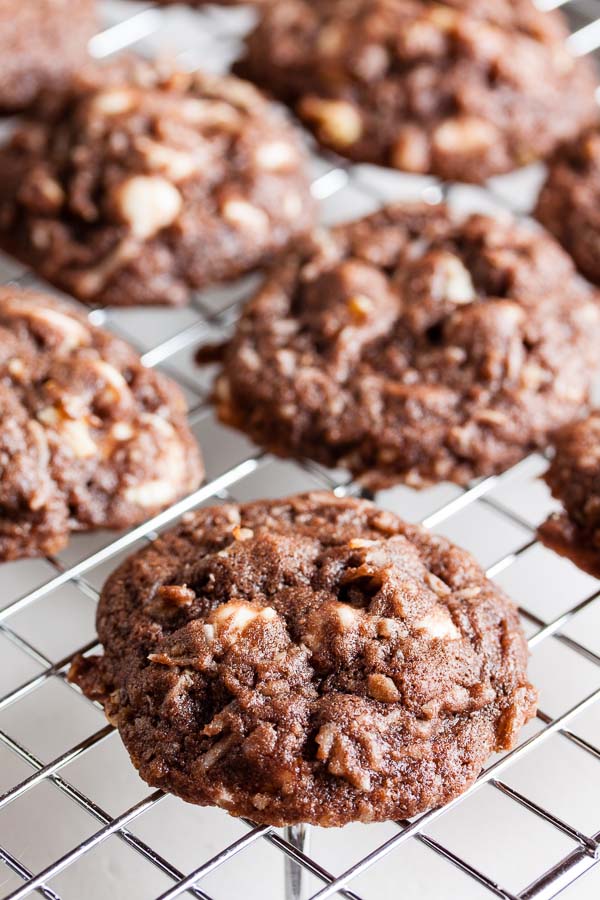 I'm not hearing any complaints about sweetness from my coworkers though. It seems like everyone loves the chocolate-coconut combo.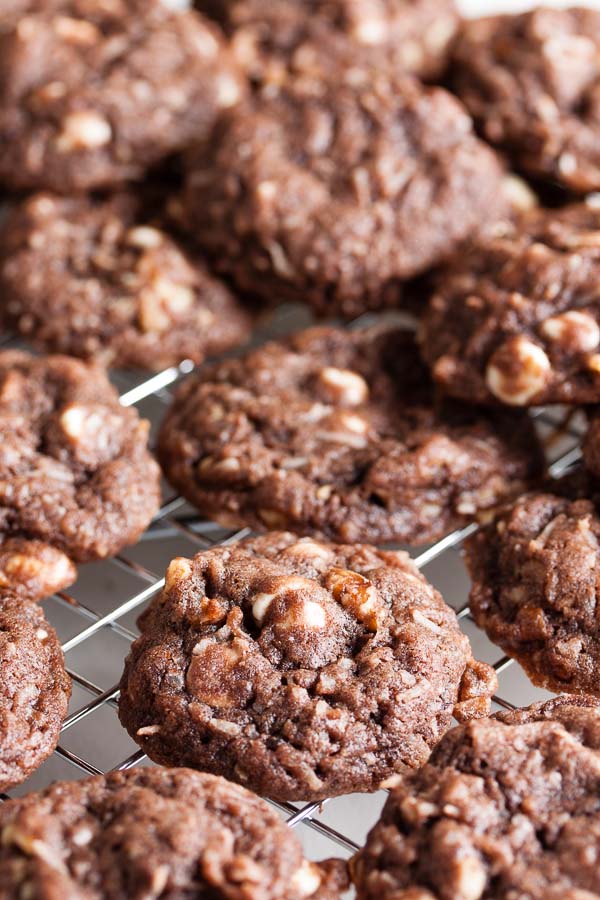 double chocolate coconut cookies
Adapted from Martha Stewart's Cookies. The recipe states it will make about 60 cookies; I got 72 cookies.
ingredients
1 cup unsalted butter, at room temperature
1/2 cup granulated sugar
3/4 cup packed light brown sugar
2 large eggs
1 teaspoon pure vanilla extract
1-3/4 cups all purpose flour
1/4 cup unsweetened Dutch process cocoa powder
1 teaspoon baking soda
1/2 teaspoon baking powder
1/2 teaspoon coarse salt
2 cups white chocolate chips or chunks
1-3/4 cups sweetened flaked coconut
1-3/4 cups coarsely chopped walnuts
Preheat oven to 350°F.
In a medium bowl, whisk together the flour, cocoa powder, baking soda, baking powder, and salt. Set aside.
In the bowl of a stand mixer fitted with the paddle attachment, beat the butter and sugars together on medium speed until light and fluffy, about 3 or 4 minutes. Scrape down the sides of the bowl and add the eggs, one at a time, beating well after each. Add the vanilla and beat again to incorporate.
Turn the mixer down to low and add the dry ingredients, mixing until just barely combined. Remove from the mixer and add in the white chocolate, coconut, and walnuts, either with a spatula or by hand. I prefer to knead inclusions in by hand to ensure they're distributed evenly.
Using a small cookie dough scoop or a tablespoon, portion the dough onto the baking sheets about 2 inches apart to allow for spreading.
Bake for about 10-12 minutes, until set in the middle, rotating the baking sheet halfway through the baking time. Allow to cool on a wire rack for a few minutes before removing the cookies from the pan and allowing them to cool completely.