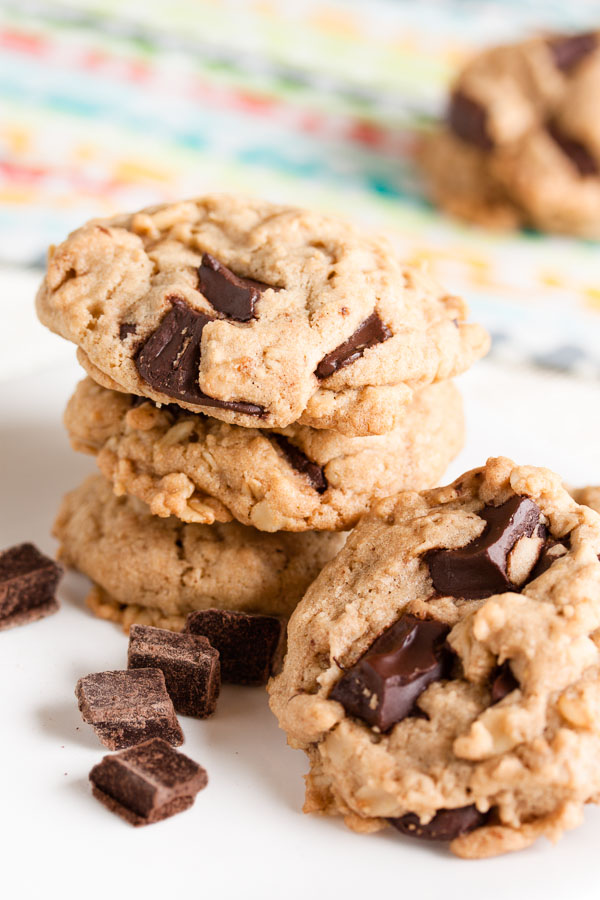 I've been seeing a lot of articles recently about baking with coconut oil instead of butter. Why? Some people say it's supposed to be healthier, but according to this article, the jury is still out on that one. I suspect this is just the latest "health" fad. I'm not saying it's bad for you (or at least not any worse than anything else we eat), but it's probably not as good as everyone is making it out to be. That said, I've mentioned before that I love coconut, so baking with it sounds delicious.
When I first read about it, I imagined that the coconut oil would add a lovely coconut flavour to whatever you're baking and I really wanted to try it with some brownies (chocolate and coconut! mmmmmmm!). So I mentally added it to my list of things to bake. Unfortunately, that list is reeeeeally long, so I haven't quite gotten around to it yet.
Well a few weeks ago, one of my friends at work came up to me to talk baking (yes, we do that – nerds). She'd just made her first recipe using coconut oil and wasn't really happy with the way they turned out. I tried one, and it had kind of a weird aftertaste – almost chemically. Neither of us having any experience with baking with coconut oil before, we weren't sure whether it was the coconut oil that was the culprit or something else with the recipe or maybe just that one of her ingredients was off.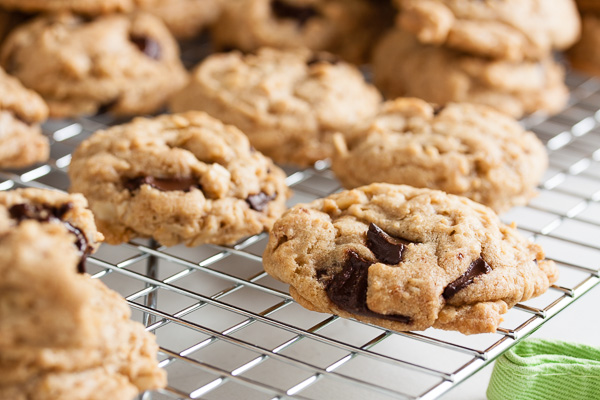 So we decided I should try making them and see if I had any better luck. But then it was too hot to bake, and then she went on holiday… and finally several weeks later, I got around to trying the recipe.
At first glance, it seems like a very standard oatmeal chocolate chip cookie recipe – other than the coconut oil, there's absolutely nothing weird in there that could account for that strange flavour. But whatever that taste was, it didn't taste anything like coconut. So of course, I turned to google and read up everything I could on what to expect when baking with coconut oil.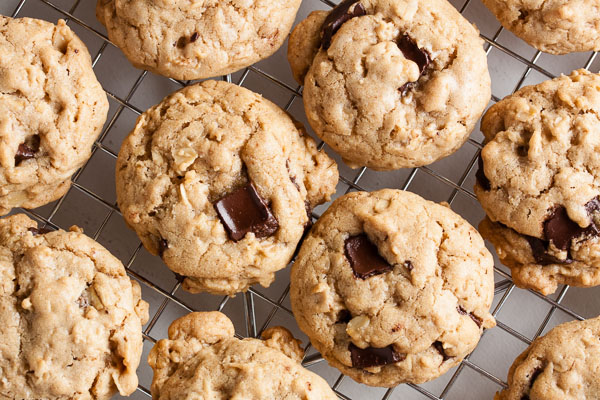 I've learned that there are two different types – virgin coconut oil (which actually smells like coconut), and refined coconut oil (which has been bleached and deodorized). Some people say that using virgin coconut oil will impart a bit of coconut flavour to your baking, others say it's unnoticeable no matter which kind you use.
My friend had used the refined oil, but the only coconut oil I had on-hand is virgin – I use it occasionally in cooking, but it also makes a lovely moisturizer or hair conditioner (yes! it really does!), with a bonus of smelling good. So that's what I used when I baked these cookies. I didn't end up with any weird aftertaste, so I'm feeling like the refined oil was the culprit here – maybe it was just a bad brand? Or maybe it was off? From what I've read, it should have been essentially flavourless.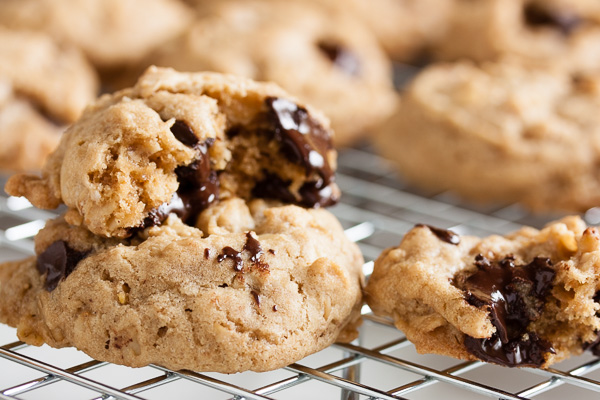 The original instructions are to just put all the ingredients in a bowl all at once and mix them together. Easy! But I had concerns about things not blending properly. So while I didn't change the ingredients at all, I decided to follow a more traditional cookie-mixing technique – beating the fat and sugars together first, then adding the eggs and vanilla, and then all the dry ingredients (which had been whisked together already). And while the original recipe said you'd have to squeeze balls of dough together by hand and that it may be crumbly, my dough came out soft and almost fudgy, and I was able to use my usual cookie scoop. Maybe my mixing technique made the difference?
By mixing the oil and sugars together first, the sugars have a chance to partially melt, so essentially the sugar is switching from a "dry" ingredient to at least partially a "wet" one, which means more liquid for the entire recipe. Which made it easier to work with. This has probably also changed the texture of the final cookie, but I'm not hearing any complaints, so I'm going to recommend my version.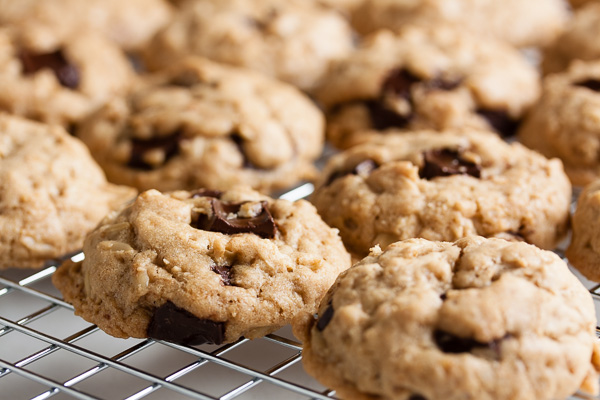 I'm happy with the way the dough came out, and also the way the cookies baked up. They're dense and moist and chewy, with lots of oatmeal, and a lovely oat-y and brown sugar flavour. And yes, a hint of coconut. But I find that oatmeal cookies always remind me of coconut anyway, so it may just be my imagination.
The original recipe says it's the best ever chocolate chip cookie. It's definitely good, but I'm not sure I'd say it's the best I've ever had. Some of my coworkers would disagree – the cookie jar is emptying quickly and I'm hearing a lot of "omg, these are the best!" So you're just going to have to make them and judge for yourself.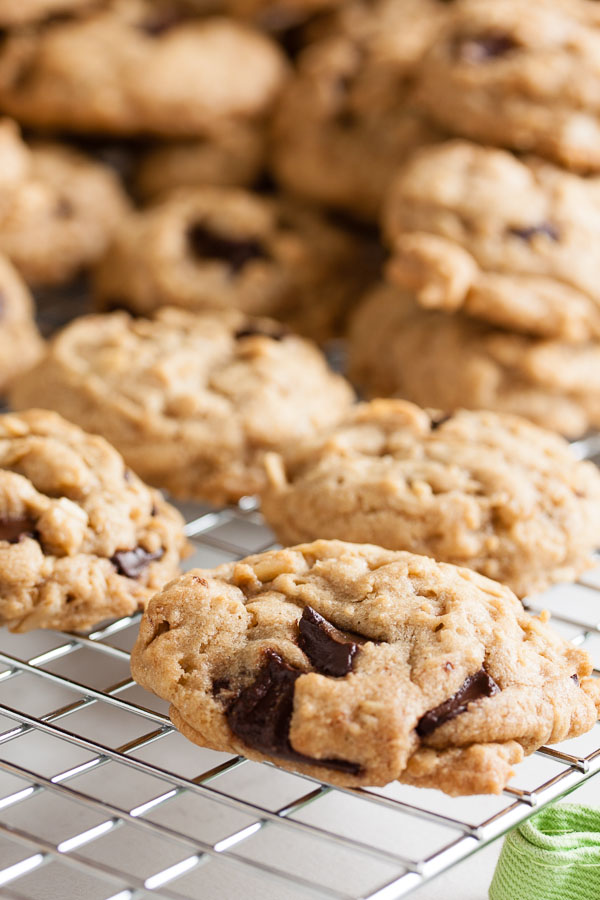 coconut oil oatmeal chocolate chip cookies
Adapted from "Mom's Simple Oatmeal Chocolate Chip Cookies… Best Oatmeal Chocolate Cookies" from Half Baked Harvest. The recipe says it makes 24-28 cookies when measured by tablespoonfuls, but I got 60 when using my usual cookie scoop (slightly larger than a tablespoon). As I mentioned above, the original recipe also stated to just mix all the ingredients together in a bowl all at once. If you choose to make them that way, you may need to form the cookie dough into balls by hand rather than using a scoop.
ingredients
2 cups all purpose flour
2-1/2 cups old fashioned oats
1 teaspoon baking soda
1 teaspoon salt
1 cup melted coconut oil
1/2 cup granulated sugar
1 cup brown sugar
2 large eggs
4 teaspoons vanilla extract
2 cups semisweet chocolate chips or chunks
Preheat oven to 350°F.
In a medium bowl, whisk together the flour, oats, baking soda, and salt. Set aside.
Gently melt the coconut oil in a small saucepan over low heat. It melts at a really low temperature, so keep an eye on it and don't be tempted to turn the burner up.
In the bowl of a stand mixer fitted with the paddle attachment, beat the melted coconut oil and sugars together until smooth. Scrape down the sides of the bowl and add the eggs, one at a time, beating well after each. Add the vanilla and beat again to incorporate.
Turn the mixer down to low and add the dry ingredients, mixing until just barely combined. Remove from the mixer and add in the chocolate chunks either with a spatula or by hand. I prefer to knead inclusions in by hand to ensure they're distributed evenly.
Using a small cookie dough scoop or by rolling the dough into small balls with your hands, portion the dough onto the baking sheets about 2 inches apart to allow for spreading.
Bake for about 10-12 minutes, until lightly golden brown, rotating the baking sheet halfway through the baking time. Allow to cool on a wire rack for a few minutes before removing the cookies from the pan and allowing them to cool completely.