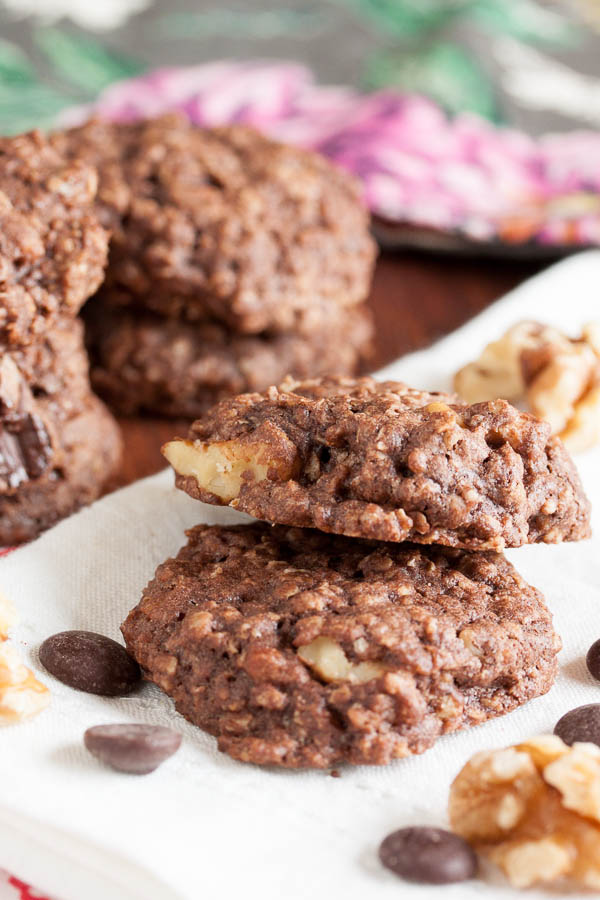 I was thinking a good old-fashioned oatmeal cookie would be good this week. Maybe with some dried cranberries or chocolate chips or something? So that's what I started out looking for. But then I found this recipe and got a bit sidetracked. Yes, it's an oatmeal cookie, but with a twist. First off, it's chocolate oatmeal. Yum! I've made chocolate oatmeal cookies before, and they were delicious (which is one of the reasons this recipe caught my eye). Secondly, there's a hint of coffee added to boost that chocolate flavour. And? Chocolate chips and nuts. Lots of nuts. Two kinds! But that's only because I ran out of walnuts and had to make up the difference with some pecans (oops). But feel free to use two kinds of nuts, too! Or one. Whatevs. They're cookies, not rocket science. Use whatever you want!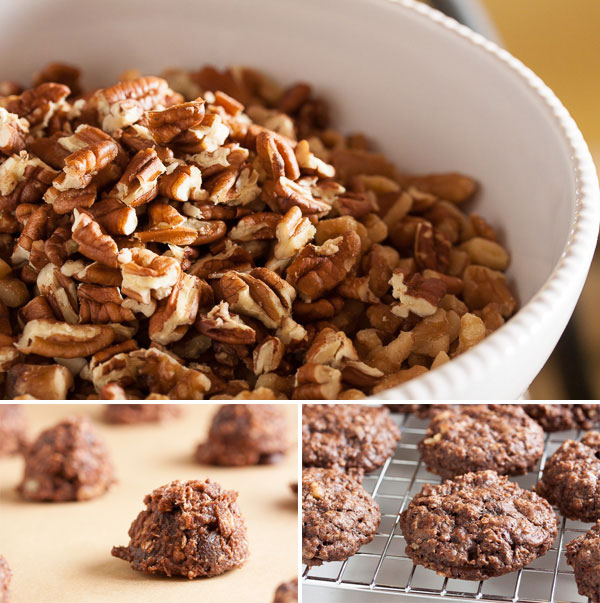 I'm gonna be honest, I'm not entirely sure how I feel about the coffee flavour in this cookie. Generally, coffee and chocolate go really well together. But combined with all the other ingredients? Mmmmm, not so sure. I don't hate it, but I think if I made these cookies again, I might skip the coffee. However, my coworkers loved them – they practically flew out of the cookie jar. So it may just be me. Give it a shot and make your own decision.
This is one of those great cookie jar cookies that everyone enjoys. You can't really go wrong with oatmeal and chocolate, and this is definitely one of those cookies that will let you play around with a bunch of different inclusions too.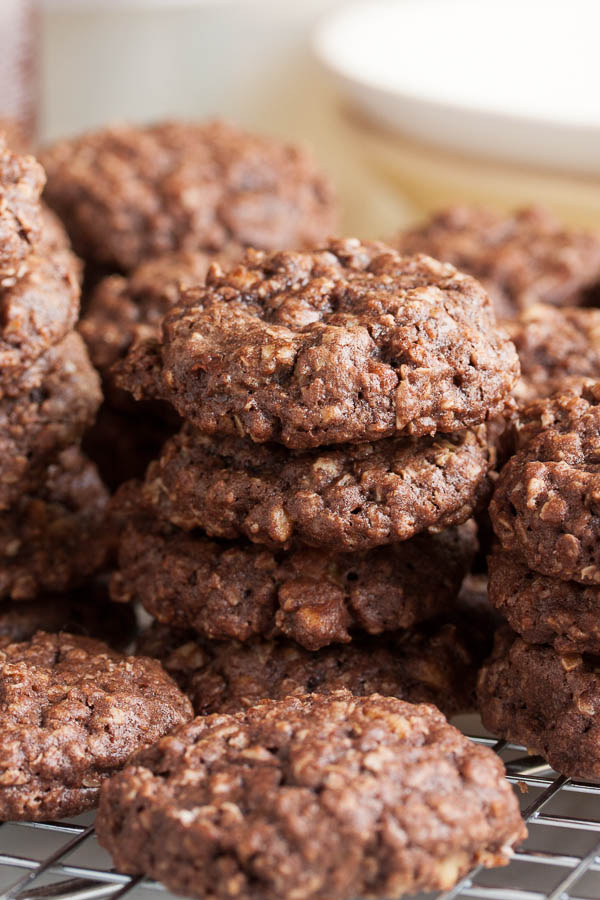 chocolate chip chocolate oatmeal cookies
Adapted from Maida Heatter's Cookies. The recipe says it makes about 46 cookies, but I got 78 using my usual slightly larger than tablespoon-sized cookie scoop.
ingredients
1-1/4 cups (156g) unbleached all-purpose flour
1/2 teaspoon baking soda
1/2 teaspoon salt
1/3 cup (40g) Dutch process cocoa powder
3 cups (300g) quick cooking (not instant) rolled oats
2 teaspoons instant coffee
1/4 cup (60mL) hot water
1 cup (227g) unsalted butter, at room temperature
1 teaspoon pure vanilla extract
1/4 teaspoon almond extract
1-1/2 cups (300g) granulated sugar
1 egg
1 cup (175g) semisweet chocolate chips
2-1/2 (275g) cups walnuts, broken into medium-sized pieces
Preheat oven to 350°F (177°C).
In a medium bowl, whisk together the flour, baking soda, salt, cocoa powder (sifted to remove any lumps), and rolled oats. Set aside.
Dissolve the instant coffee in the hot water. Set aside.
In the bowl of a stand mixer fitted with the paddle attachment, beat the butter, vanilla, almond extract, and sugar together on medium speed until light and fluffy, about 3 or 4 minutes. Scrape down the sides of the bowl and add the egg, beating well. Add the coffee and beat again to incorporate.
Turn the mixer down to low and add the dry ingredients, mixing until just barely combined. Remove from the mixer and add in the chocolate chips and walnuts, either with a spatula or by hand. I prefer to knead inclusions in by hand to ensure they're distributed evenly.
Using a small cookie dough scoop or a tablespoon, portion the dough onto the baking sheets about 2 inches apart to allow for spreading. Flatten each slightly with the palm of your hand.
Bake for about 14-16 minutes, rotating the baking sheet halfway through the baking time. Allow to cool on a wire rack for a few minutes before removing the cookies from the pan and allowing them to cool completely.