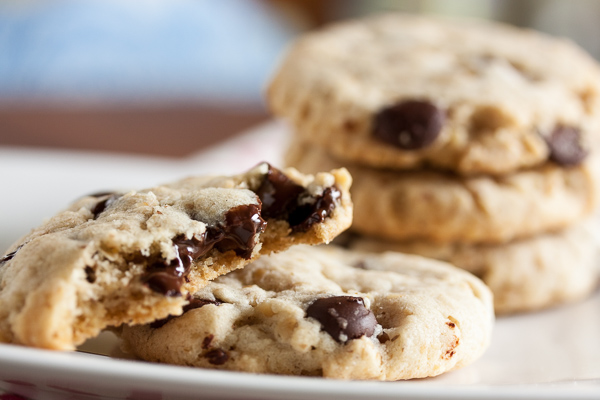 One of my coworkers just came back from a trip to San Francisco and was raving about a little bakery she found there, Miette. I have their cookbook! I've made a few things from it – including lemon shortbread and thumbprint cookies as part of my xmas baking last year (both amazingly good!) – but none since I started this blog. I took this as a sign.
It's a beautiful book, with gorgeous photography throughout and scalloped edging on the pages. The photos on Amazon really don't do it justice. This was one of those instances where I bought the book without knowing anything about the bakery or the recipes – I just had to have it. So far I've loved everything I've made from it.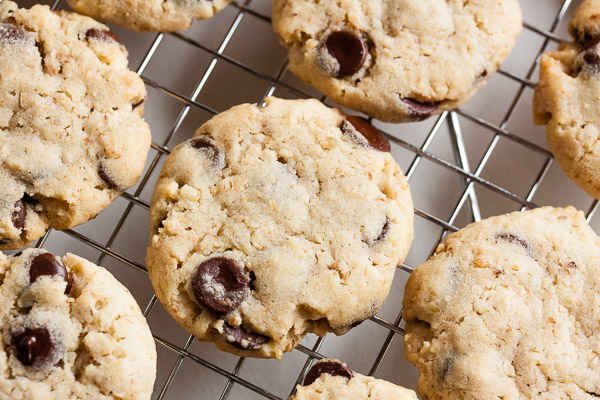 These are not your traditional gooey chewy chocolate chip cookies. The dough contains both ground oatmeal and ground nuts, giving them more of a crispy and crumbly texture. The cookie itself isn't very sweet which makes the flavour from the chocolate chips the real star of this cookie, although you can definitely taste the nuts and oatmeal too. And the abundance of ground oats and nuts, coupled with a lack of brown sugar makes for a fairly pale cookie (especially compared to the rich golden colour of my previous chocolate chip cookie). Don't let that turn you off though. Paleness doesn't mean lack of flavour.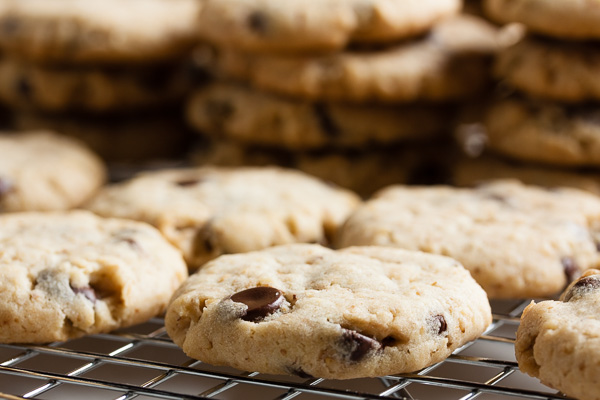 This probably wouldn't be my first choice for a chocolate chip cookie – my preference would be the gooey ones – but that's not saying it's not a good cookie or that I don't like it. And my coworkers loved them. I made them fairly small, but given their texture, I think they'd be even better small enough to just pop in your mouth.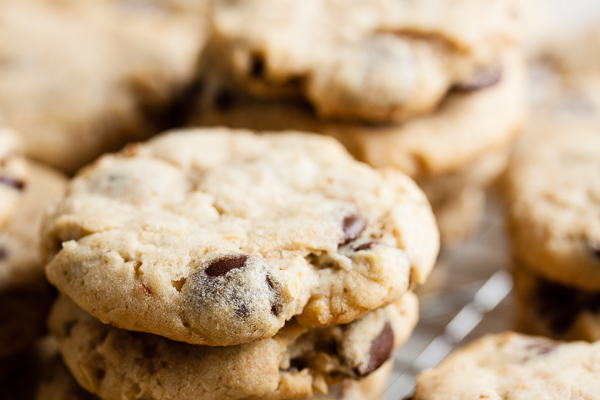 ingredients
2 cups all-purpose flour
1-1/4 teaspoons baking soda
1 teaspoon baking powder
1/4 teaspoon salt
1-2/3 cups rolled oats
3/4 cup walnuts, toasted and cooled
1 cup unsalted butter, at room temperature
1-1/2 cups sugar
1 large egg
1-1/2 tablespoons milk
2-1/2 teaspoons pure vanilla extract
2 cups semi-sweet chocolate chips (mini if you want to make the tiny cookies)
Preheat oven to 350°F.
To toast the walnuts, spread them in a single layer on a baking sheet and toast them in the oven for approximately 10 minutes, turning the nuts every few minutes or so to cook evenly. They'll start to smell fragrant when they're ready. You can do this step and then set them aside to cool while you prepare the rest of the ingredients.
In a medium bowl, whisk together the flour, baking powder, baking soda, and salt.
Put the oats in the bowl of a food processor and process until coarsely ground. Add to the flour mixture. Combine the nuts and 2 tablespoons of the flour mixture together into the food processor and process in about 5-second pulses, 3 or 4 times, until the nuts are also coarsely ground (the flour prevents it from turning into nut butter). Add back to the bowl with the rest of the dry ingredients. Whisk together and set aside.
In the bowl of a stand mixer fitted with the paddle attachment, beat the butter and sugar together on medium speed until light and fluffy, about 3 or 4 minutes. Scrape down the sides of the bowl, add the egg and beat well. Add the milk and vanilla and beat again to incorporate.
Turn the mixer down to low and add the dry ingredients, mixing until just barely combined. Remove from the mixer and add in the chocolate chips, either with a spatula or by hand. I prefer to knead inclusions in by hand to ensure they're distributed evenly. Especially for a recipe like this where you're going to have your hands in there anyway to roll it into balls.
Form the dough into small balls (2" for 5-inch cookies, 1" for 3-inch cookies, 3/4" for 2-inch cookies) and place about 2" apart on a baking sheet – these cookies will spread out as they bake. Press the balls down slightly with the palm of your hand. Bake for about 10 minutes or until lightly brown around the edges, rotating the pan halfway through. Allow to cool on a wire rack for a few minutes before removing the cookies from the pan and allowing them to cool completely.