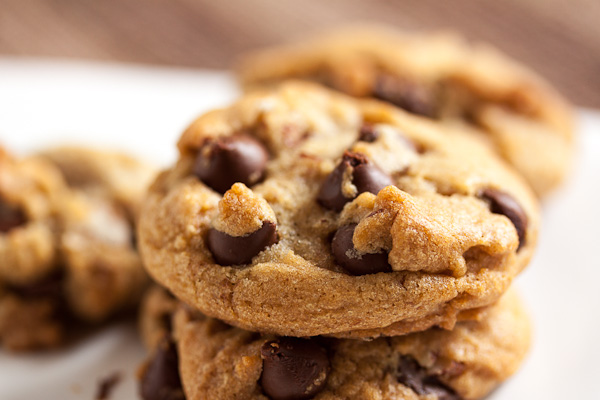 I decided to get back to basics this week with a chocolate chip cookie. I had a lot of different recipes to choose from, so I opted to go with one from a book I haven't baked anything from yet – Chewy Gooey Crispy Crunchy Melt-in-Your-Mouth Cookies by Alice Medrich. What a mouthful, eh? What I love about this book is that the cookie recipes are organized by texture. In addition to those in the title, there are also Chunky and Flaky recipes. This one falls into the Chunky category. And it definitely lives up to that name. Just look at it.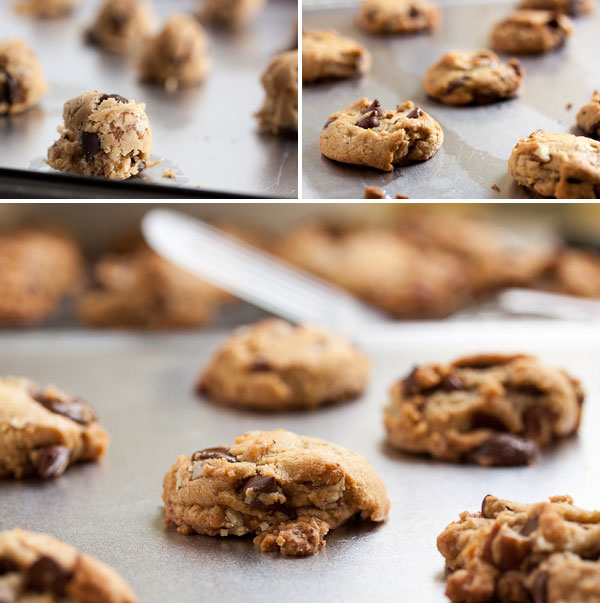 Unlike the cookie recipes I'm used to, where the butter is creamed with the sugar, and then the eggs and dry ingredients are added, this recipe calls for the butter to be melted first. I did a bit of googling and discovered that this is a thing – melting vs creaming butter in cookies. Who knew? There's an interesting article over at Fine Cooking that goes into detail about the differences between the two techniques. Basically, melting the butter is supposed to give a more tender, less chewy cookie. And according to Joy the Baker, who tested the melted butter method back in 2008, they're less likely to go flat in the oven.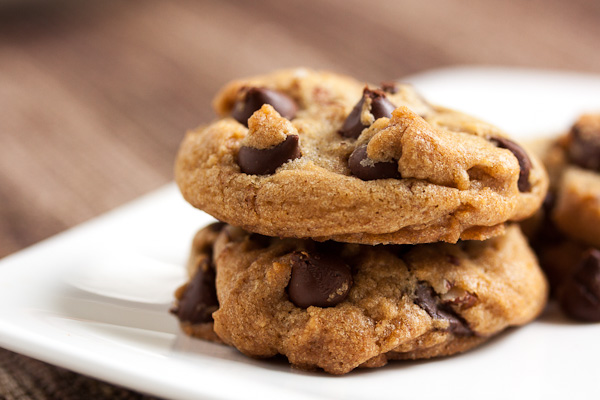 I'll admit, it does make a nice cookie. Is it nicer than the creamed butter version? Eh. Not so sure. I'd have to try them side-by-side to compare. This cookie has a nice crispy edge and it is tender rather than chewy. It also seems more dense, because the sugar is almost melted into the butter rather than creamed together and aerated. Does that make it a better cookie? Tender is good. Chewy cookies are good too. I guess it comes down to personal preference.
What I will say is that I don't really like the dough for working with. After refrigerating overnight, it's solid and really hard to scoop. Even after allowing to sit out at room temperature for awhile to soften up. You might want to try just letting it refrigerate for a couple hours instead. Although according to this article at the NYTimes, there is a benefit to letting the dough rest for up to 36 hours before baking, both in richer colour and flavour – and you can see this cookie has a gorgeous golden caramel colour.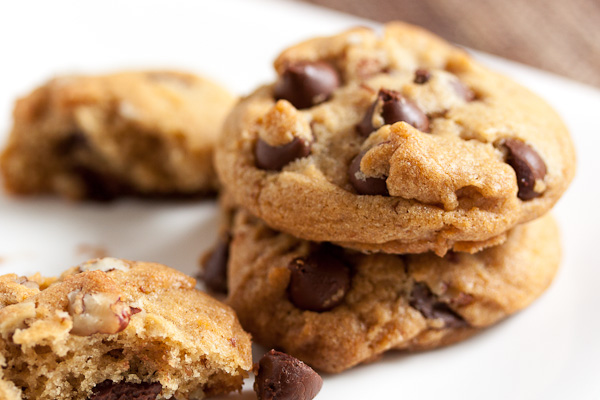 The ratio of chocolate and nuts to cookie dough is really good – enough cookie for them to hold their shape and not fall apart, but absolutely no chance of getting a bite without chocolate in it. I used pecans in mine, only because that's what I happened to have (need to remember to buy more walnuts). I didn't have quite enough chocolate chips (need to remember to buy more chocolate chips too), so I made up the difference with some chopped couverture. So in the end the chocolate in my cookies is a combination of chips that are holding their shapes, and random chunks that are all melty and soft. I kinda like it. I may do this on purpose in the future.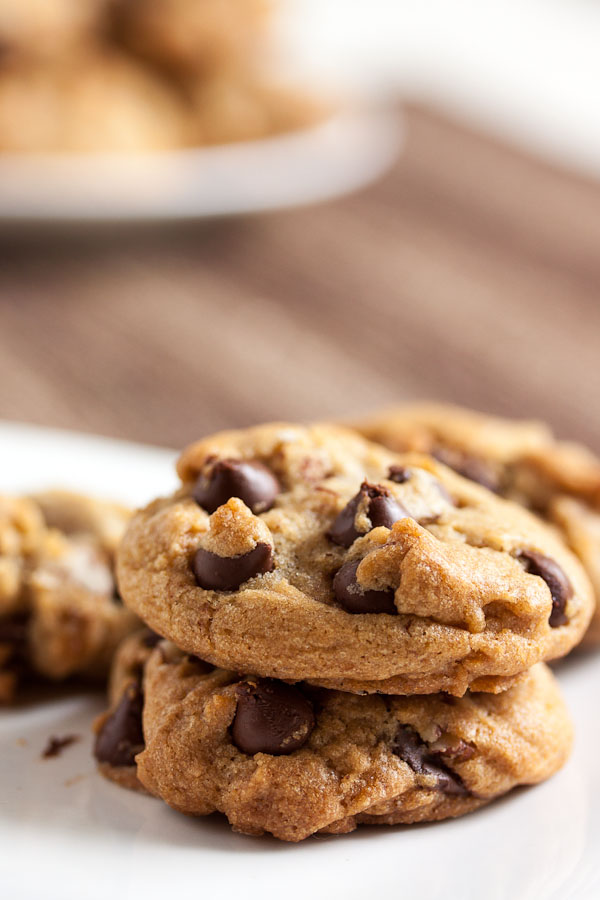 ingredients
2-1/4 cups unbleached all-purpose flour
1 teaspoon baking soda
1 cup unsalted butter, melted and still warm
3/4 cup granulated sugar
3/4 cup packed brown sugar
1 teaspoon pure vanilla extract
1 teaspoon salt
2 large eggs
2 cups chocolate chips or chopped chocolate
1 cup coarsely chopped walnuts or pecans
In a small bowl, whisk together the flour and baking soda and set aside.
In a large mixing bowl, combine the sugars, salt, vanilla and melted butter and stir well. The resulting mixture will be thick and syrupy. Beat in the eggs. Stir in the flour mixture until just combined. Then add the chocolate chips and chopped nuts – at this point I found it easier to just knead them in by hand rather than use a spoon.
Cover and refrigerate for at least an hour or two, preferably overnight.
When ready to bake, preheat oven to 375°F.
Remove dough from the fridge to allow to soften if necessary (I found this very necessary). Using a small cookie dough scoop or a tablespoon, scoop the dough out onto your baking sheets, leaving at least 2" between to allow for spreading. Bake for 9-11 minutes, rotating the pan halfway through. The cookies should be golden brown at the edges and no longer look wet on top. Allow to cool on a wire rack for a couple minutes before removing from the baking sheet and allowing to cool completely.