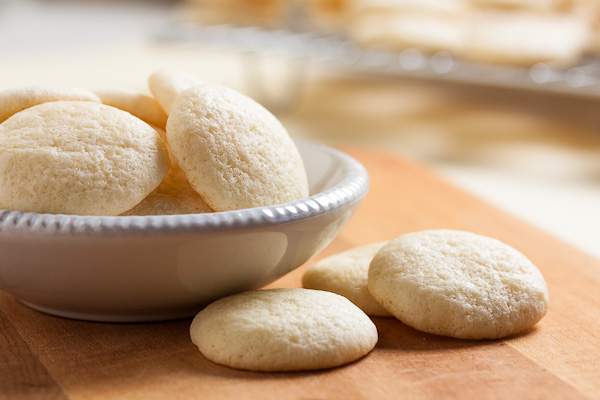 I decided to venture out of my comfort zone this week. I was initially leaning towards a chocolate chip oatmeal cookie, but I can too easily see myself falling into the habit of baking nothing but variations on the types of cookies I'm personally drawn to. This blog is supposed to be about trying new recipes, including those that I might not otherwise choose if I were just baking for myself.
I've had anise cookies before, so this isn't a complete departure from the familiar. Anise is a flavour very similar to licorice (or liquorice, if you prefer). I'm not a big fan of black licorice – I don't hate it, but I won't go out of my way for it. Anise has a more delicate flavour. I like it. People who really hate licorice might not like these cookies though.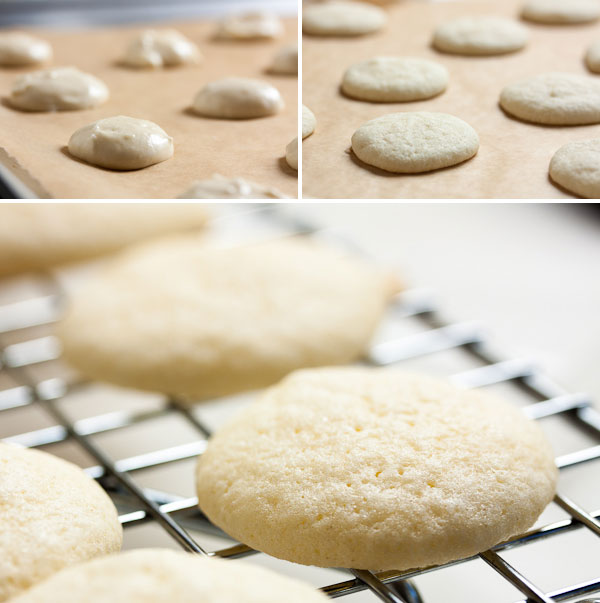 There is no butter in this recipe. The dough gets its structure from 3 eggs that are whipped for several minutes before the other ingredients are added. It ends up like a really fluffy cake batter that holds its shape somewhat. When baked, straight from the oven, the cookies are crisp and wafer-like on the outside and chewy on the inside. But I found that they softened after just a few hours. Granted, the humidity is always really high here in Vancouver, so that may have something to do with it. If anyone else tries this recipe, please let me know whether they stayed crispy for you or not.
My coworkers, however, don't know that they're supposed to be crisp, and I'm not hearing any complaints. These aren't as popular as other cookies I've made – I think a combination of people who just don't like licorice and a slight fear of something unfamiliar – but the level in the cookie jar is steadily going down.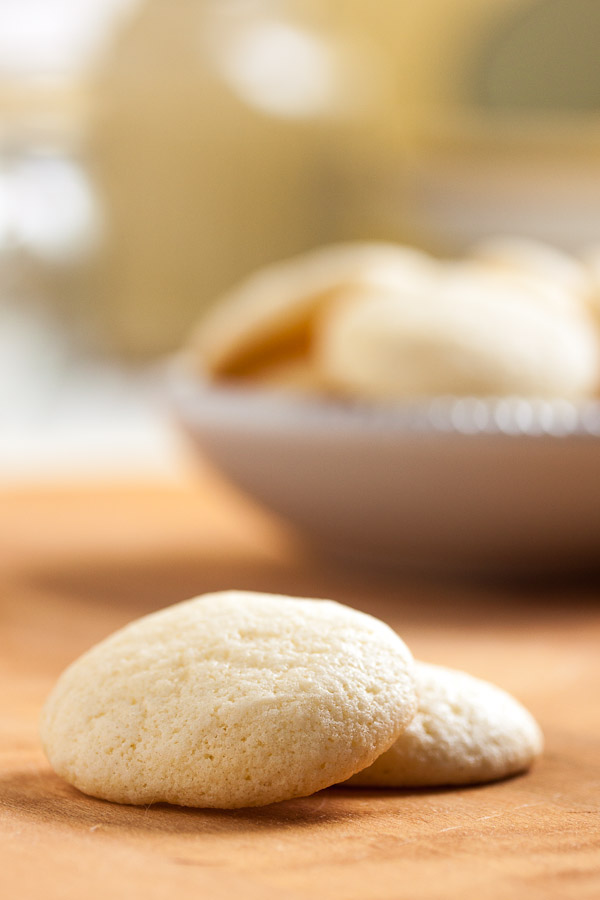 In stark contrast with last week, this is such a pretty cookie. So delicate. Like a fluffy little white cloud.
Will I make this cookie again? Not for myself, no. But perhaps for certain occasions – they'd probably be really nice for an afternoon tea. Especially if I have the time to bake them just before so they retain their crispness. And I can think of at least one friend who would happily eat the entire batch by himself. So they might make a reappearance some day.
Update: After being on offer for a couple days, I can definitely say these cookies are not the crowd pleasers that many of the other recipes I've made have been. However, they have a definite following. There's a core group of people who keep returning for more. Also, they got some of their crispness back the 2nd day.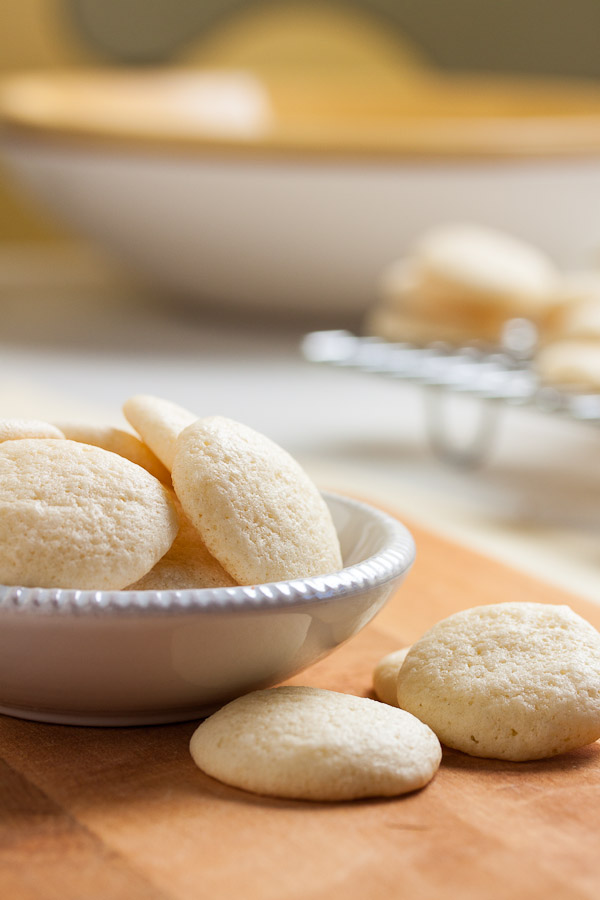 Adapted from Martha Stewart's Cookies. The recipe says it makes about 4 dozen, but I ended up with about 80 tiny cookies.
ingredients
1-1/2 cups all-purpose flour
1/2 teaspoon baking powder
1/2 teaspoon salt
3 large eggs
1-1/4 cups sugar
1 teaspoon anise extract
Preheat oven to 350°F.
In a small bowl, sift or whisk together the flour, baking powder and salt.
In the bowl of a stand mixer fitted with the whisk attachment, beat the eggs on medium speed for about 3 minutes, until light and fluffy. Gradually add the sugar, continuing to beat for another 3 minutes. Add anise extract.
Turn mixer down to low and gradually add the dry ingredients. Mix until just combined.
At this point, the recipe said to put the batter into a pastry bag with a plain 1/2" tip and pipe out 1-1/4 inch rounds. I didn't have any large bags, so I just used my smallest cookie scoop instead. These cookies don't spread a lot, so it's safe to just leave about 1" between. Bake for about 8-9 minutes until the tops begin to crack, rotating the pan halfway. The cookies will stay very pale. Allow to cool on a wire rack before removing from the baking sheet.