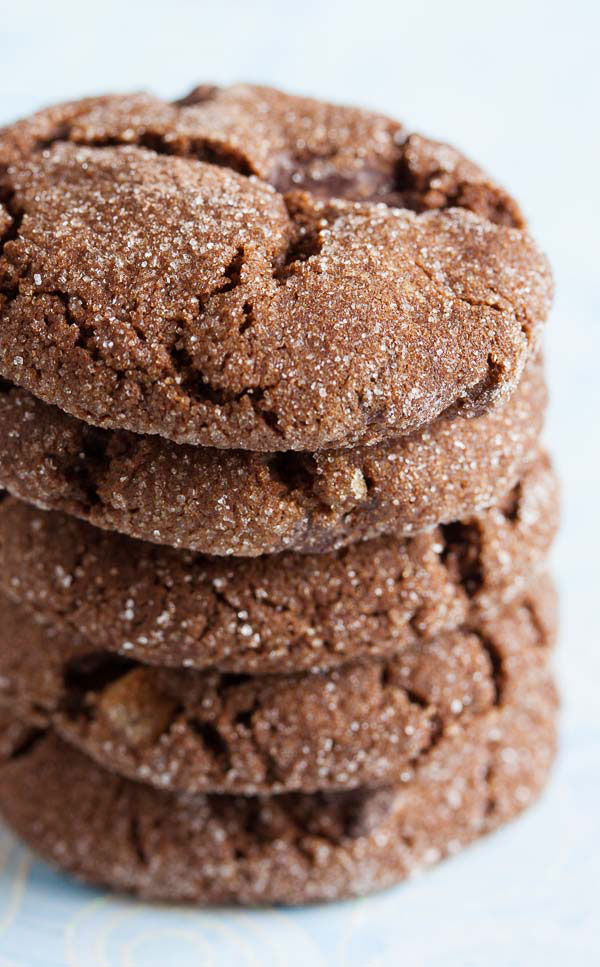 I made this cookie for xmas several years ago, and it instantly became not only one of my favourites, but among my friends and coworkers too. And it's been a big part of my xmas tradition ever since. One year I brought them in to work and one of my coworkers actually hid them so no one else could have any. Seriously! This year, I had so many other recipes to try that this one got left out. But I had to promise to make it soon after the holidays. So here we are.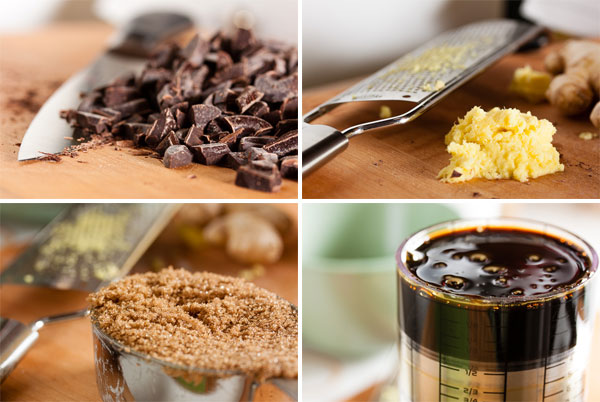 I don't even remember where I first found this recipe. I have a feeling it was torn from a magazine (probably Martha Stewart Living), but I distinctly remember having lost it at one point and needing to google it – I couldn't remember what it was called, and Martha has more than one chocolate-ginger cookie, so it took a bit of sleuthing. Luckily, now I can always find it in my Martha Stewart Cookies book where I have it clearly marked with a big red heart. ♥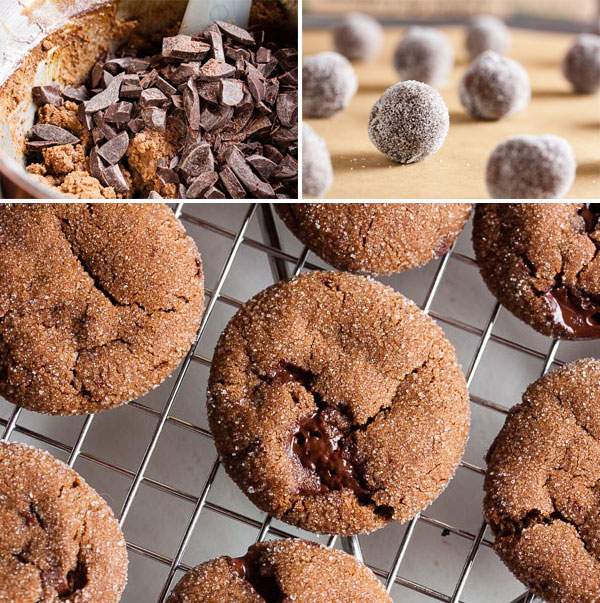 When I made the chocolate ginger leaf cookies back in November, I mentioned that I was hoping for more of a punch of flavour. I want to be clear that that isn't a bad cookie, but when I saw chocolate + ginger, my tastebuds were expecting something more. That's because I was already spoiled by this one. This cookie is the flavour I was expecting.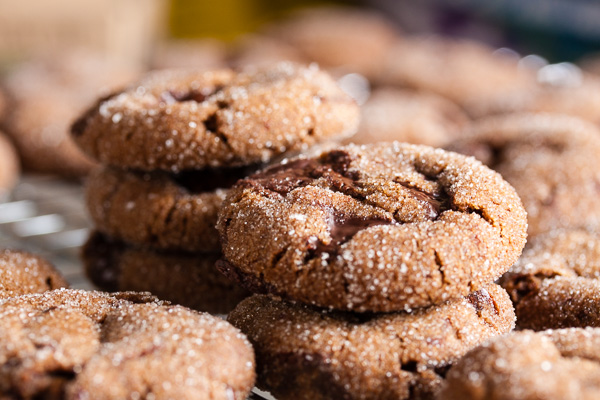 All of the flavours in this cookie are very bold. If you prefer more subtle flavour, this is not the recipe for you. It has all the components of a good gingerbread – the spices and brown sugar and molasses – plus not only cocoa powder, but also a generous helping of chopped dark chocolate. Seriously, lots of dark chocolate chunks. And as if that's not enough, there's fresh grated ginger too.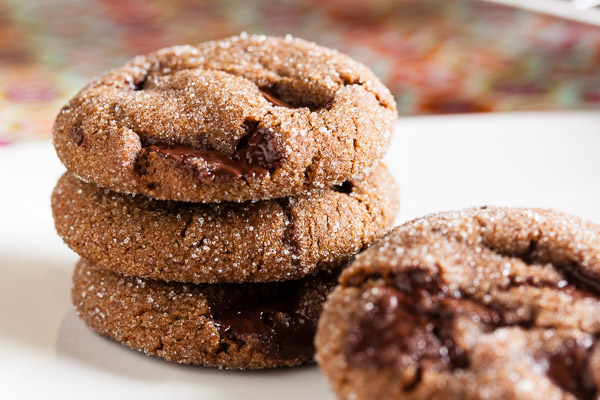 This is a soft and chewy cookie – fresh from the oven, however, the outer shell has a nice crunch while the inside is still soft and gooey. Rolling them in sugar gives them a bit of sparkle (pretty!) and adds just a bit more sweetness (the cookie itself isn't that sweet). And contrasted with the heat from the fresh ginger, the chunks of chocolate feel almost icy cold. There's so much going on in this cookie, and it all works.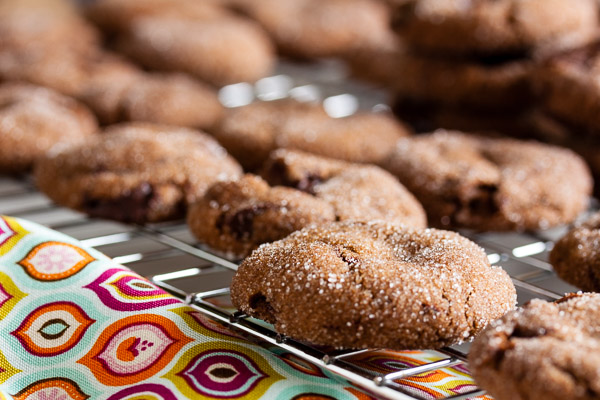 chewy chocolate gingerbread cookies
Adapted from Martha Stewart's Cookies. The recipe states it makes about 2 dozen when rolled in 1-1/2" balls. I rolled them a bit smaller and got over 3 dozen cookies.
ingredients
1-1/2 cups plus 1 tablespoon all-purpose flour
1-1/4 teaspoons ground ginger
1 teaspoon ground cinnamon
1/4 teaspoon ground cloves
1/4 teaspoon ground nutmeg
1 tablespoon unsweetened Dutch-process cocoa powder
1/2 cup unsalted butter, at room temperature
1 tablespoon freshly grated ginger
1/2 cup packed dark brown sugar
1/4 cup unsulfured molasses
1 teaspoon baking soda
1-1/2 teaspoons boiling water
7 ounces good quality semisweet chocolate, chopped into 1/4" chunks (I totally splurged and went with Valrhona)
for coating
1/4 cup granulated sugar
In a medium bowl, whisk together the flour, ground ginger, cinnamon, cloves, nutmeg, and cocoa powder. Set aside.
In the bowl of a stand mixer fitted with the paddle attachment, beat the butter and grated ginger together on medium speed until light and fluffy, about 3 or 4 minutes. Scrape down the sides of the bowl and add the brown sugar, beating until combined. Add the molasses and beat again until combined.
In a small bowl, dissolve the baking soda in the boiling water.
Turn the mixer to low and blend in half the flour mixture, then the water-baking soda mixture, then the remaining flour mixture. Mix until just incorporated. Remove from the mixer and add in the chopped chocolate either with a spatula or by hand. I prefer to knead inclusions in by hand to ensure they're distributed evenly.
Transfer the dough to a sheet of plastic wrap. Pat out to about 1-1/2" thickness, wrap well and refrigerate for at least 2 hours (or overnight).
When ready to bake, preheat oven to 325°F.
Form the dough into small balls (1" to 1-1/2") and roll each in the granulated sugar. Place about 2" apart on a baking sheet to allow for spreading. Bake for about 10-12 minutes, until the tops begin to crack, rotating the pan halfway through. Allow to cool on a wire rack for a few minutes before removing the cookies from the pan and allowing them to cool completely.