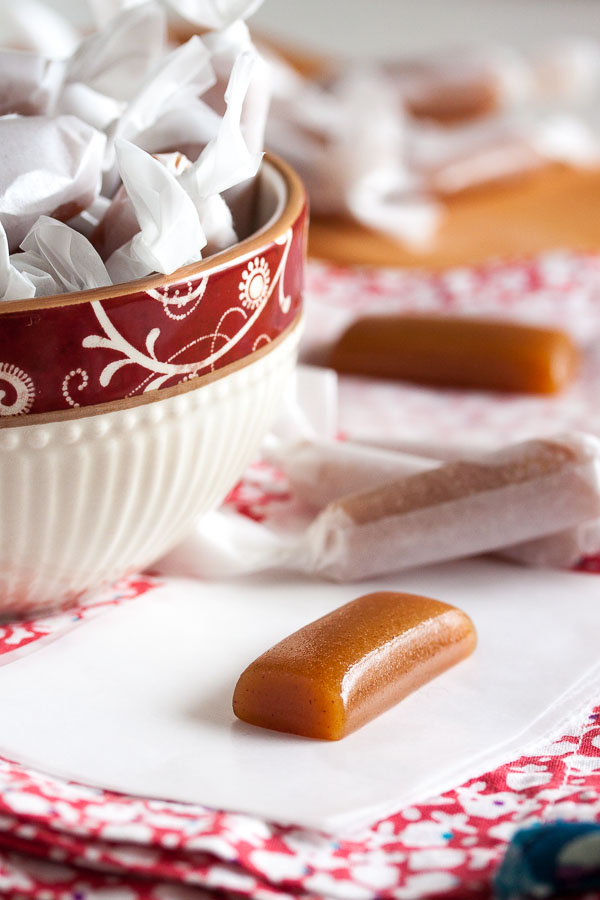 In most parts of Canada (at least in my experience), if you ask for an apple cider in any bar or restaurant, you're going to get a carbonated alcoholic beverage. Possibly in a bottle, possibly on tap, possibly with a wedge of lime (mmmm). That's the default "cider" here (what does that say about us?). So imagine my surprise when I was in Minnesota years ago, went into a bar with some friends, and received a steaming hot mug of cider with a cinnamon stick. Um, what? I mean, it was delicious and all, but I was not expecting a "hot apple cider". Especially since it wasn't even winter at the time.

Even though I grew up in a big apple growing region, and this province in general is known for its apples, fresh apple cider has never really taken off here like it has in some areas of the states. Oh, it's here if you look for it – I always see big jugs of it at the farmer's markets in the fall – but the only apple cider I could find in-store was in a jar, not the fresh stuff.
According to Deb at Smitten Kitchen (yes, this is a Smitten recipe!) jarred apple cider doesn't compare to the fresh stuff found in the refrigerated section, but I just didn't have the option this time around. I'll keep an eye out for it for next time. I thought the jarred stuff produced a fantastic caramel – I can't imagine how they could possibly be better than this.

I'm a big fan of Smitten Kitchen, but I didn't find out about this particular recipe through her site or book (of course I have her book – so awesome!). I first tried them after a friend of mine made them last year. And I immediately put this recipe on my to-do list; but since this is more of a fall-type flavour, I kept putting it off, waiting for the right season. In the meantime, another one of my friends made them as well.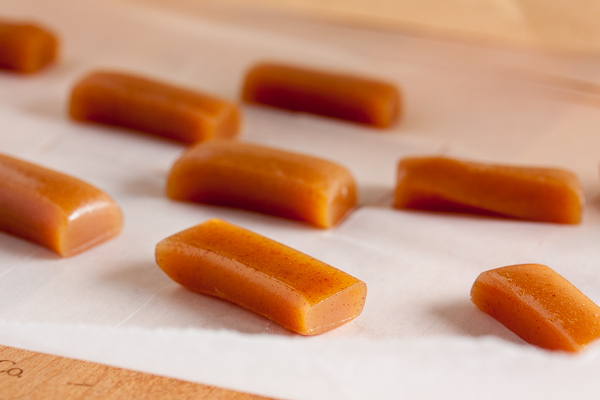 Both of them had the same complaint – the finished caramels were too soft and didn't hold their shape well. Please note this is not a complaint about the recipe! At all! It's usually pretty humid here in Vancouver and that always plays havoc with sugary treats. I'm sure it played a big part in this issue. Knowing that, though, when I made them I cooked them a couple degrees higher than the 252°F called for in the recipe, and I think they came out looking very similar to Deb's pictures. They're still soft, but they're no longer melting all over everything.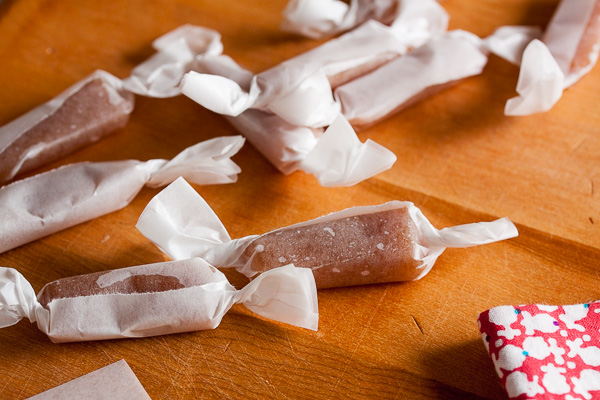 So yes, while mine held their shape a lot better than the ones my friends made, they are still on the soft side. Next time I make them (oh yes, there will be a next time), I'll cook them just a bit more.
These caramels are amazingly good. Seriously, I could eat them every day. By cooking the apple cider down to a thick syrup, the apple flavour is deeply concentrated. And the addition of coarse sea salt cuts that sweetness back a bit. The day I tried a salted caramel for the first time was a revelation. They're the best thing ever.
Deb calls this recipe her "love letter to autumn", and it really shows. One of my coworkers commented that they totally taste like apple pie and should be served with ice cream. Think about that – cooking this recipe a little less to turn it into a sauce instead of a firm caramel and serving it over vanilla ice cream? Hoo boy.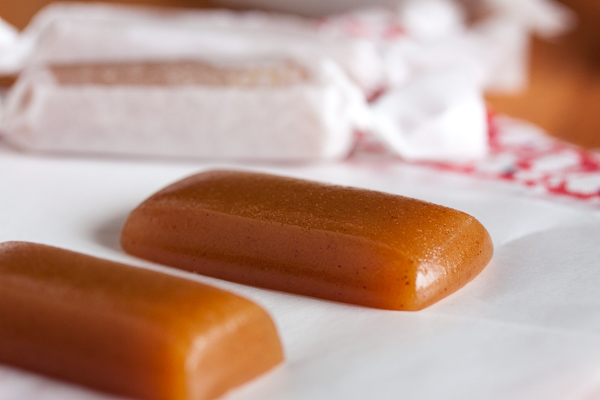 Adapted from Smitten Kitchen. This recipe will make one 8" x 8" pan of caramels. Note: when cooking sugar, subtract 2°F from the target temperature for every 1000 ft above sea level.
ingredients
4 cups apple cider
1/2 teaspoon ground cinnamon
2 teaspoons flaky sea salt, such as Maldon, or less of a finer one
1/2 cup unsalted butter, cut into chunks
1 cup granulated sugar
1/2 cup packed light brown sugar
1/3 cup heavy cream
Line an 8" square pan with parchment paper. If you don't have one, a 9" square will work, but the caramels will be a bit flatter. There's no need to oil the parchment as the caramels shouldn't stick. Set aside.
Pre-measure all your ingredients and have them ready to go. Combine the cinnamon and salt together in a small bowl and stir together.
Choose a large (3 to 4 quart) heavy-weight saucepan to cook your caramel in – it needs to be large enough to accommodate the bubbling up that will happen (it will bubble up a lot), but deep is better than wide so your thermometer will be covered by enough volume to register an accurate temperature (most digital thermometers have a guideline indicating minimum depth).
Start by bringing the cider to a boil over high heat, and keep it boiling, stirring occasionally, for about 30-40 minutes until the liquid has reduced to about 1/3 or 1/2 cup. It will be thick, syrupy, and a deep amber colour.
Remove from the heat, add the butter, sugars, and cream, and add your thermometer to the pot. Cook over medium-high heat until the temperature reaches 252°F (although as I mentioned earlier, I had to cook it to about 254°F because our humidity is quite high). Deb mentioned this should only take about 5 minutes, but for me it took a few more minutes to return to a boil first.
Once it reaches temperature, you need to work quickly as the temperature will continue to rise.
Remove from the heat, add the cinnamon-salt mixture, and stir well. Pour the mixture into your pan – carefully, it's very hot. Don't scrape the bottom or sides of the pot in case there are some hard bits (I scraped this stuff off onto a separate piece of parchment for myself).
Allow to sit for at least a couple hours, preferably overnight. Once the caramel has set, you can cut it into squares or rectangles and wrap in pieces of parchment paper or wax paper. If you're lazy like me, you can buy them pre-cut.