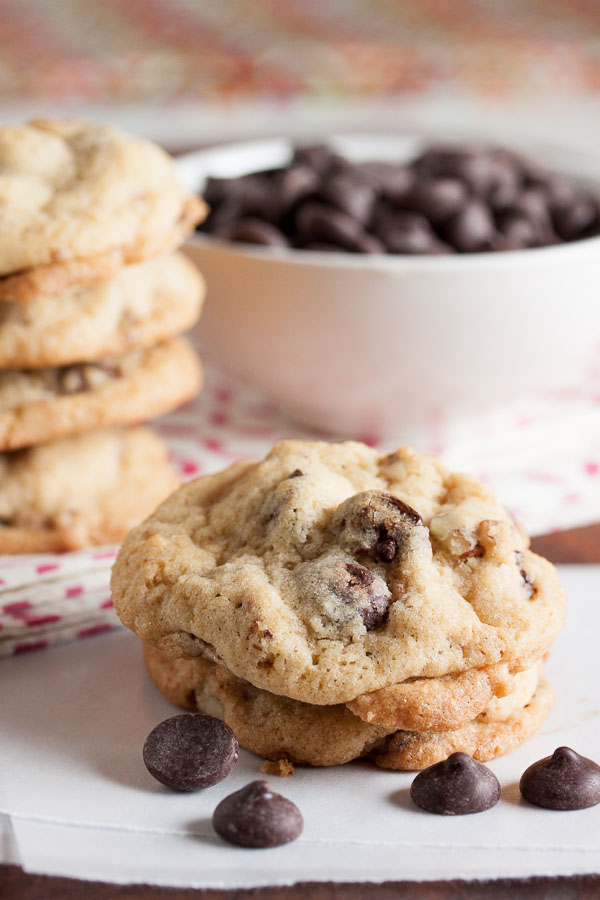 Once again I'm falling back to a basic chocolate chip cookie recipe this week. Everybody loves chocolate chip cookies, right? But really, a chocolate chip cookie is anything but "basic". There are so many variations – crunchy or chewy, thick or thin, with or without nuts – do I need to go on? It may be an old stand-by, but it never gets old. I'm turning yet again to my favourite baking book for this one. Dorie Greenspan calls it her "Best Chocolate Chip Cookie", and I can believe it. This is one good cookie.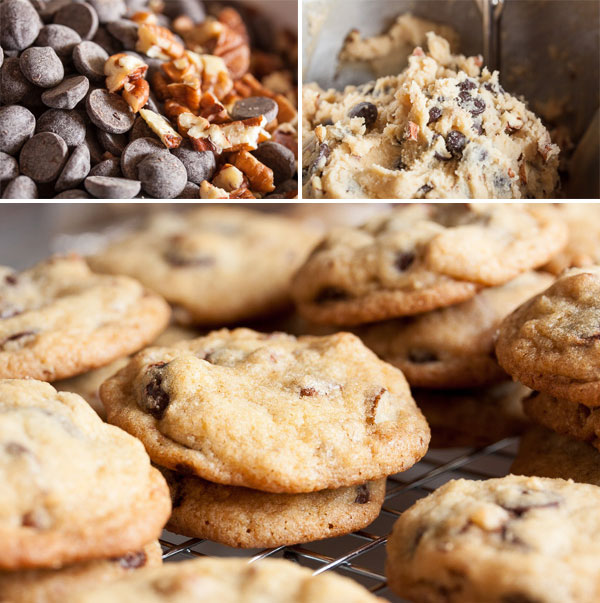 This is a chewy cookie, full of dark chocolate, plus both the flavour and crunch of pecans (or walnuts, your choice). One is oh-so-satisfying, but it's also easy (way too easy) to eat more. So many more. This is yet another cookie that didn't last long at all.
On the page facing this recipe, Dorie debates the benefits of using chopped chocolate vs chocolate chips – I think what it all boils down to is quality of chocolate. While using chips certainly saves you a step in preparation, grocery store chocolate chips aren't usually the best quality of chocolate; while if you buy a good quality chocolate bar and chop it yourself, you know exactly what you'll be getting. But if you have access to good chocolate chips, you should be fine.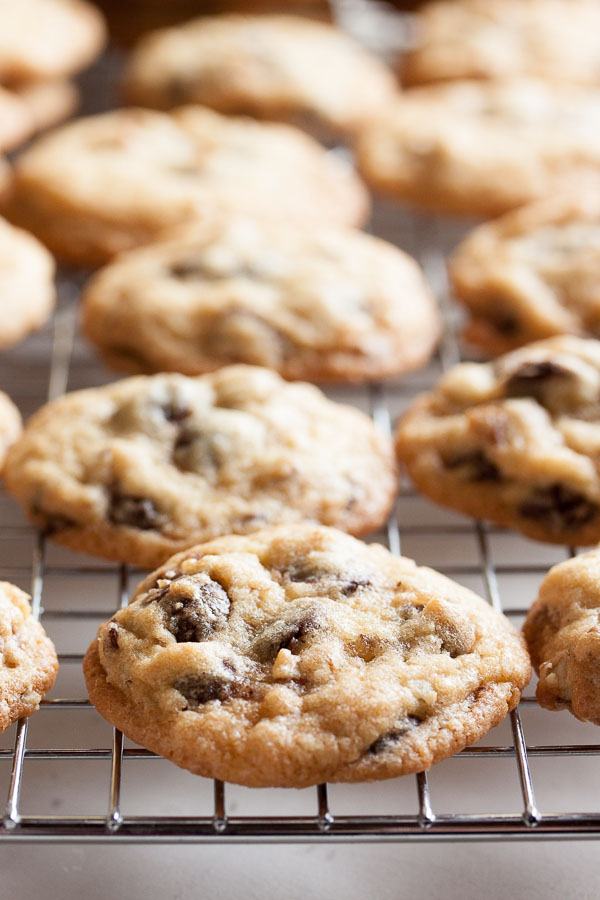 In this case, I used chocolate chips. But as I've recently discovered, the "chips" I buy are actually couverture callets. So I'm kinda getting the best of both worlds here – the quality of chocolate in couverture plus the convenience of chips. Yay me! (I had no idea when I bought them – it was just a happy accident)
Whether you decide to buy chips or chop your own chocolate, keep in mind that this is where all the chocolate flavour in this cookie is going to be coming from, so be sure to choose a good one.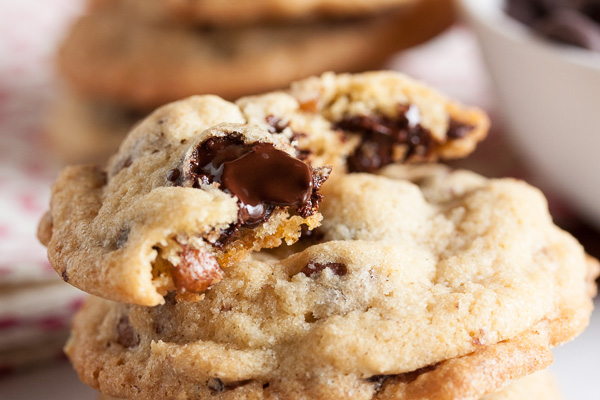 chocolate chip cookies with nuts
Adapted from Dorie Greenspan's "My Best Chocolate Chip Cookies" from Baking: From My Home to Yours. The recipe states it makes 45 cookies; I got 65 using my usual tablespoon-sized cookie scoop.
ingredients
2 cups all-purpose flour
3/4 teaspoon baking soda
1 teaspoon salt
1 cup unsalted butter, at room temperature
1 cup sugar
2/3 cup packed light brown sugar
2 large eggs
2 teaspoons pure vanilla extract
12 ounces bittersweet chocolate, chopped into chips, or 2 cups store-bought chocolate chips or chunks
1 cup finely chopped walnuts or pecans (optional)
Preheat oven to 375°F.
In a medium bowl, whisk together the flour, baking soda, and salt. Set aside.
In the bowl of a stand mixer fitted with the paddle attachment, beat the butter and sugars together on medium speed until light and fluffy, about 3 or 4 minutes. Scrape down the sides of the bowl and add the eggs, one at a time, beating well after each. Add the vanilla and beat again to incorporate.
Turn the mixer down to low and add the dry ingredients, mixing until just barely combined. Remove from the mixer and add in the chocolate and chopped nuts either with a spatula or by hand. I prefer to knead inclusions in by hand to ensure they're distributed evenly.
Using a small cookie dough scoop or a tablespoon, portion the dough onto the baking sheets about 2 inches apart to allow for spreading.
Bake for about 10-12 minutes, until lightly golden brown around the edges, rotating the baking sheet halfway through the baking time. Allow to cool on a wire rack for a few minutes before removing the cookies from the pan and allowing them to cool completely.