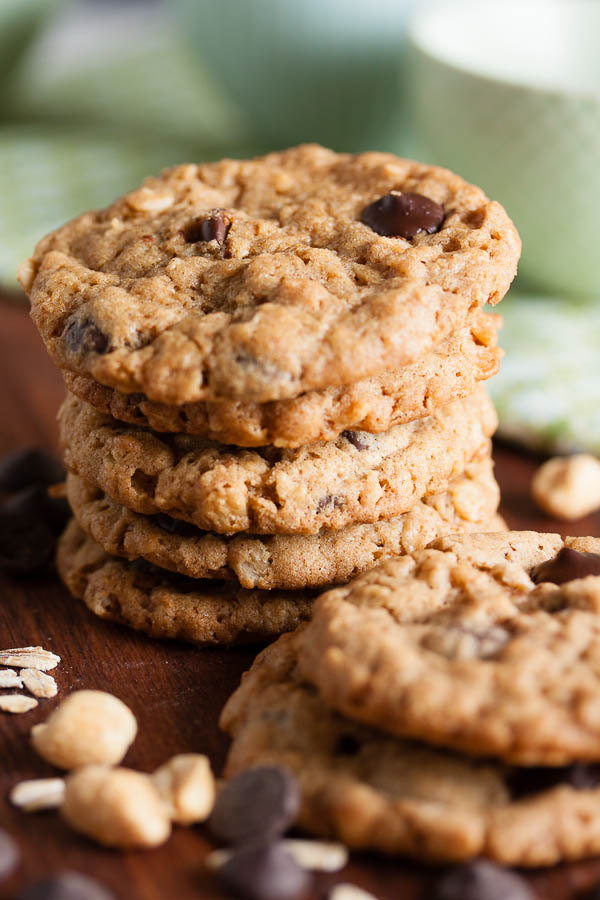 I feel like the last several recipes I've made have all been "fancy" cookies. They've almost all been roll-out cookies (anything involving a rolling pin is "fancy" as far as I'm concerned), and a couple weeks ago I went a little nuts with the cookie shot glasses. So I really wanted to get back to basics this week with a simple drop cookie. It's been forever since I've done something like that, right? A cookie-jar type cookie. Total comfort food.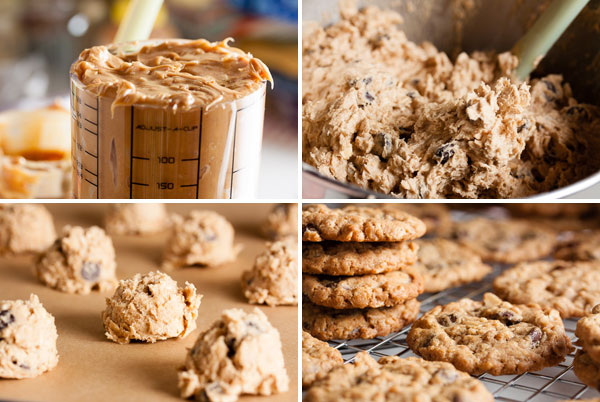 When you think of comfort-food-type cookies, what do you imagine? Oatmeal cookies? Peanut butter? Chocolate chip? This recipe covers all the bases. Oatmeal + peanut butter + chocolate chips = the perfect comfort food cookie. This is the kind of cookie you want to fill your cookie jar with (I know I've said that about another of Dorie Greenspan's recipes – this is my favourite baking cookbook for a reason!).
After several weeks of rolling out cookie dough and cutting shapes, this cookie seemed to come together ridiculously fast. I'm not used to this anymore! One minute I'm measuring ingredients, and next thing I know there are cookies cooling on the rack. Love.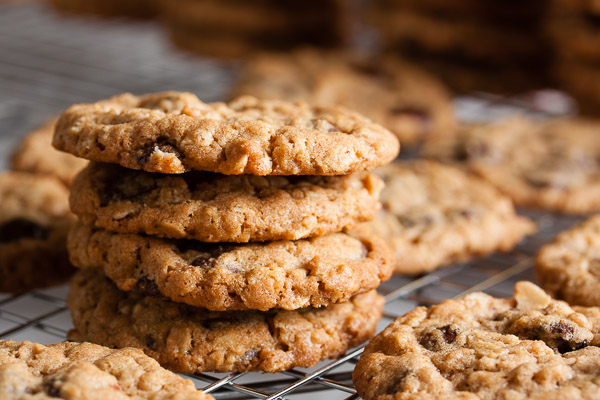 Once again I'm almost out of chocolate chips (must buy more), and this recipe used up the last of my rolled oats (must go shopping, definitely), and I actually didn't have quite enough light brown sugar for the recipe, so I used what I had and made up the difference with a blend of dark brown and granulated sugar (wow, I go through a lot of baking ingredients!).
They puff up and spread out quite a bit in the oven (make sure you don't crowd them together on the baking sheet), but flatten out again as they cool.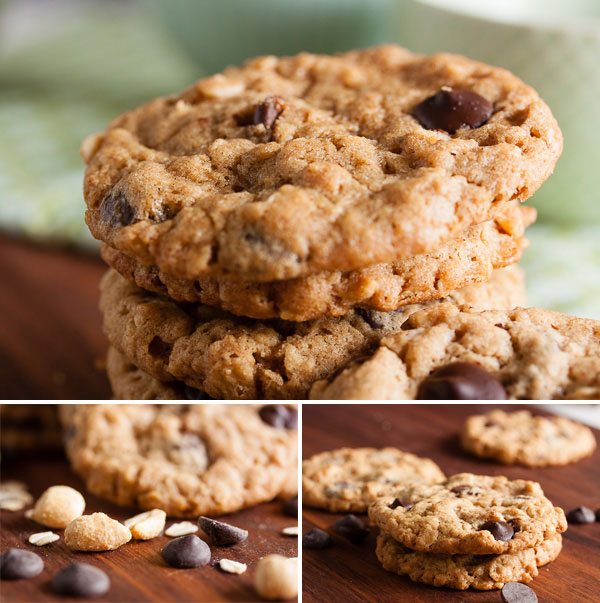 The finished cookie is crispy on the outside, but still nice and chewy on the inside, both fresh from the oven and even days later. The combination of oatmeal, peanut butter and chocolate is amazing, and there's just a hint of cinnamon and nutmeg too. I'm hearing a lot of yummy noises from my coworkers, and a couple of "these are my favourites!" We're joking that it's a great breakfast cookie, because oatmeal! And peanut butter! (but seriously, people are having them for breakfast)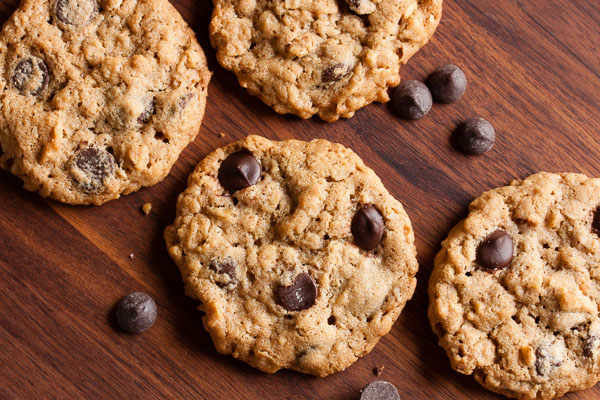 I'm not sure whether my coworkers were in withdrawal because there weren't cookies last week, or this cookie is just that good, but even though this recipe made over 70 good-sized cookies, they were all gone by Wednesday morning. That's the fastest I've seen yet.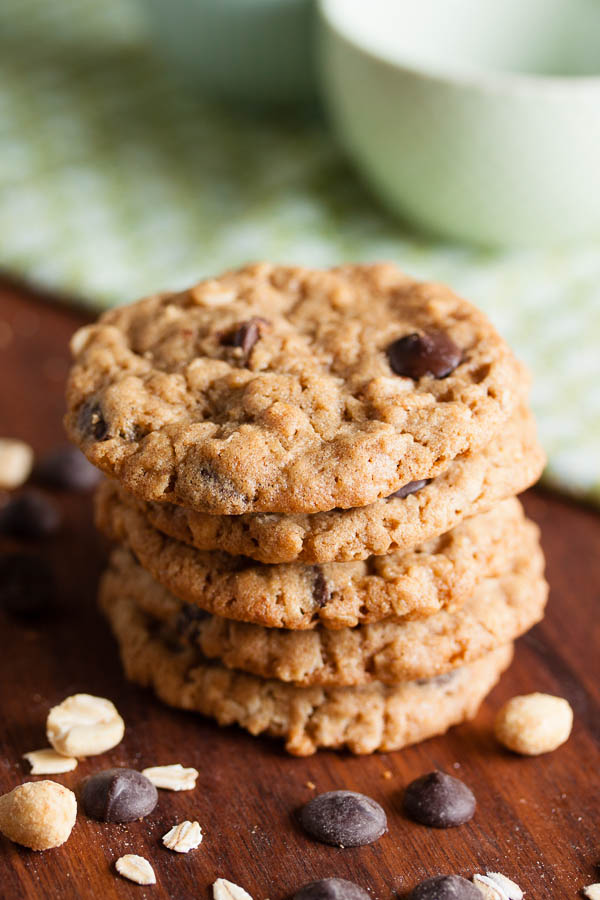 peanut butter oatmeal chocolate chip cookies
Adapted from Dorie Greenspan's "Chunky Peanut Butter and Oatmeal Chocolate Chipsters" from Baking: From My Home to Yours. The recipe states it makes about 60 cookies; I got 73 cookies using a scoop slightly larger than 1 tablespoon.
ingredients
3 cups old-fashioned oats
1 cup all-purpose flour
1 teaspoon baking soda
2 teaspoons ground cinnamon
1/4 teaspoon salt
1 cup unsalted butter, at room temperature
1 cup peanut butter (chunky or smooth, but not natural)
1 cup sugar
1 cup packed light brown sugar
2 large eggs
1 teaspoon pure vanilla extract
9 ounces bittersweet chocolate, chopped into chunks, or 1-1/2 cups chocolate chips
1/4 to 1/2 cup chopped peanuts (salted or unsalted) (optional)
Preheat oven to 350°F.
In a medium bowl, whisk together the oats, flour, baking soda, spices, and salt. Set aside.
In the bowl of a stand mixer fitted with the paddle attachment, beat the butter, peanut butter, sugar, and brown sugar together on medium speed until light and fluffy, about 3 or 4 minutes. Scrape down the sides of the bowl and add the eggs, one at a time, beating well after each. Add the vanilla and beat again to incorporate.
Turn the mixer down to low and add the dry ingredients, mixing until just barely combined. Remove from the mixer and add in the chocolate chunks or chips (and optional chopped peanuts, if you're adding them), either with a spatula or by hand. I prefer to knead inclusions in by hand to ensure they're distributed evenly.
If you have time, cover the dough with plastic wrap and chill for a couple hours – chilling the dough will help produce more evenly shaped cookies (I skipped this step).
If the dough has not been chilled, use a small cookie dough scoop or a tablespoon to portion the dough onto the baking sheets about 2 inches apart to allow for spreading. If the dough has been chilled, form the dough into small balls and press gently with the heel of your hand until they're about 1/2" thick.
Bake for about 13-15 minutes, until golden coloured and firm around the edges, rotating the baking sheet halfway through. Allow to cool on a wire rack for a few minutes before removing the cookies from the pan and allowing them to cool completely.