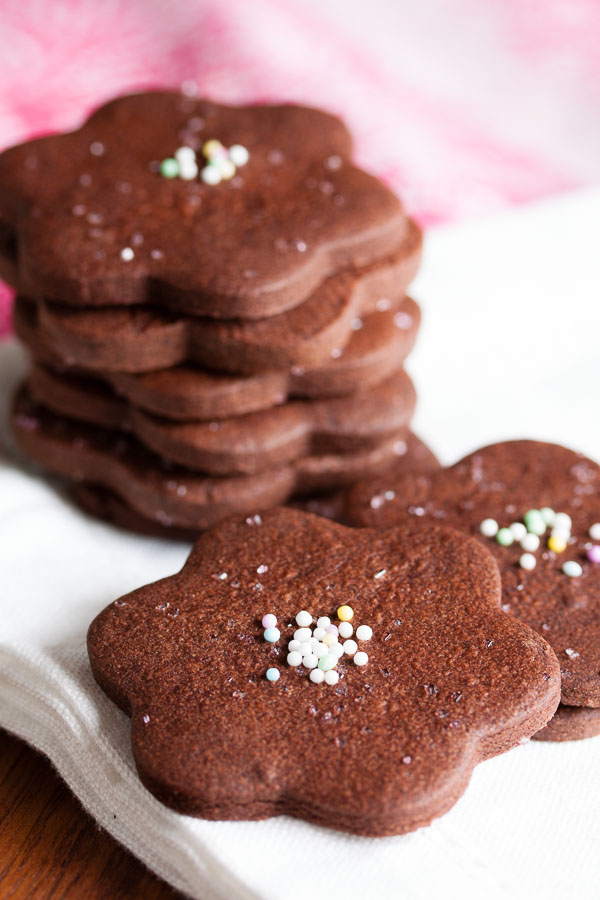 I finally succumbed to that cold that's been plaguing all my coworkers (ugh), so there were no cookies for awhile. I got a lot of complaints. No sympathy, just a lot of complaints (*sigh*). Okay, just kidding. Everyone was very understanding. I only heard complaints about the lack of cookies from one person (he knows who he is). But since I made extra cookies a couple weeks ago, I still have a post to make. When I made the roll-out chocolate chip cookies, my main reason for trying that recipe was to attempt making some cookie shot glasses. I wasn't sure how many actual cookies I'd end up with, so just to be sure I had enough for the week, I decided to make an additional recipe. I was initially thinking maybe I'd try making shot glasses with the second recipe too, so I chose another roll-out cookie. But the chocolate chip ones turned out great, so the second recipe just became regular cookies.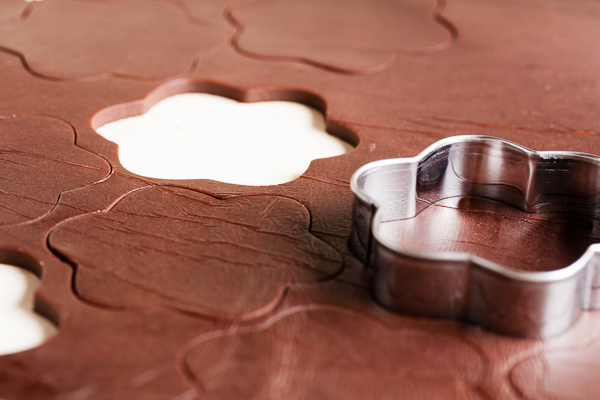 I've had my eye on this recipe for awhile (I've had my eye on a number of recipes, let's be honest). The only reason I hadn't made it yet is that I feel like I've made a lot of cookies from this book already, and I'm trying to spread the love among all my baking books. My cookbooks are looking so colourful these days – I have post-it notes flagging all the recipes I want to try as well as the ones I've made. I had to go to the stationery store and stock up on post-its. And this book has a lot of flags in it.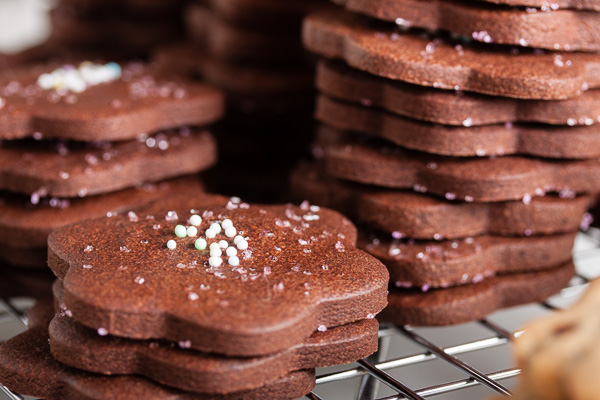 This is another incredibly chocolatey cookie that is surprisingly made with cocoa powder only. It has the rich flavour that I'd expect from a cookie made with melted chocolate – but no, just cocoa powder!
The dough is dense and fudgy, and reminded me of a really thick frosting. But it rolls out easily – it's soft and pliable and not sticky at all. The recipe instructs to roll it quite thin – to just 1/8″ – so I was expecting a fairly crisp cookie. But it stays quite soft. And dense and fudgy.
I've been pretty lucky with all of the roll-out cookies I've made so far – they've all held their shape really well. And this is another good one; it didn't seem to distort at all as it baked. Granted, I used a straightforward cutter, so I'm not sure how it would hold a pattern impression, but I suspect it would be fine.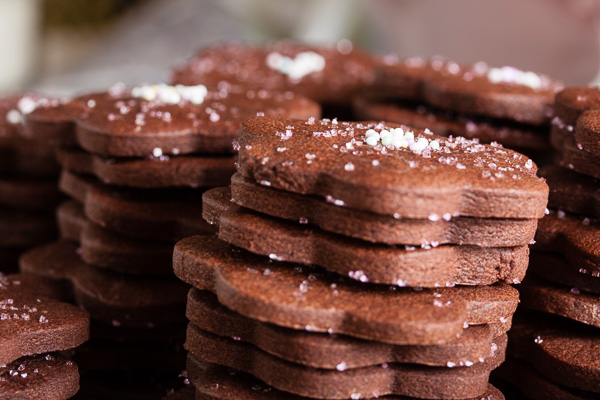 Adapted from Martha Stewart's Cookies. The number of cookies this recipe will yield will depend on how thick you choose to roll the dough and the size of the cutter you use.
ingredients
1-1/2 cups all-purpose flour
1/2 cup plus 2 tablespoons unsweetened Dutch-process cocoa powder
1/8 teaspoon salt
1/4 teaspoon ground cinnamon
3/4 cup unsalted butter, at room temperature
1-1/2 cups sifted confectioners' sugar
1 large egg, lightly beaten
1/2 teaspoon pure vanilla extract
for finishing (optional)
sanding sugars and/or small nonpareils
In a medium bowl, whisk together the flour, cocoa powder, salt, and cinnamon. Set aside.
In the bowl of a stand mixer fitted with the paddle attachment, beat the butter and confectioners' sugar together on medium speed until light and fluffy, about 3 or 4 minutes. Scrape down the sides of the bowl and add the egg and vanilla, and beat again to incorporate.
Turn the mixer down to low and add the dry ingredients, mixing until just barely combined.
Remove from the mixer and divide the dough into two portions. Flatten each into a disk and wrap in plastic. Refrigerate for about an hour (or overnight).
When ready to bake, preheat oven to 350°F.
Remove one piece of dough from the fridge (many people recommend rolling the dough out cold, but I find it easier to work with when it's warmed up a bit). On a lightly floured surface, a silpat sheet, or a sheet of wax or parchment paper (whatever your preference), roll the dough out to 1/8" thickness. There's a video here that shows my preferred method, except I use a piece of plastic on top of the dough rather than parchment or wax paper.
Cut the dough into desired shapes and transfer the cut pieces to your cookie sheet. If you find the dough is sticking to your cookie cutter, try dipping the cutter in flour after each cut. Decorate the cookies with sanding sugar or nonpareils if desired. Once you have a sheet full, refrigerate the dough for about 15 minutes. I don't have a large fridge, so I just left each tray in the fridge until I had another tray of cookies cut and ready to go and then swapped them out.
Bake the cookies for about 8 minutes, rotating the baking sheet halfway through, until they're firm. Allow to cool on a wire rack for a few minutes before removing the cookies from the pan and allowing them to cool completely.