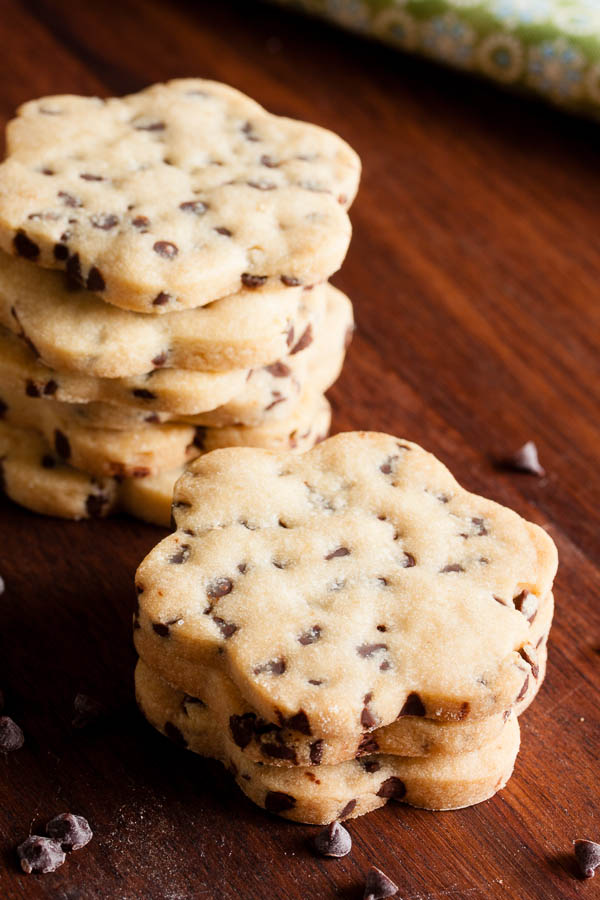 One of my friends twisted my arm and convinced me to try making those cookie shot glasses that are in the news right now (check it out!). In the interests of authenticity, I wanted to use a chocolate chip cookie dough just like Dominique Ansel did. I'd never seen a roll-out chocolate chip cookie recipe before though. I checked all my books – no luck. So then I checked google. And look at that, SweetSugarBelle posted a recipe in 2011.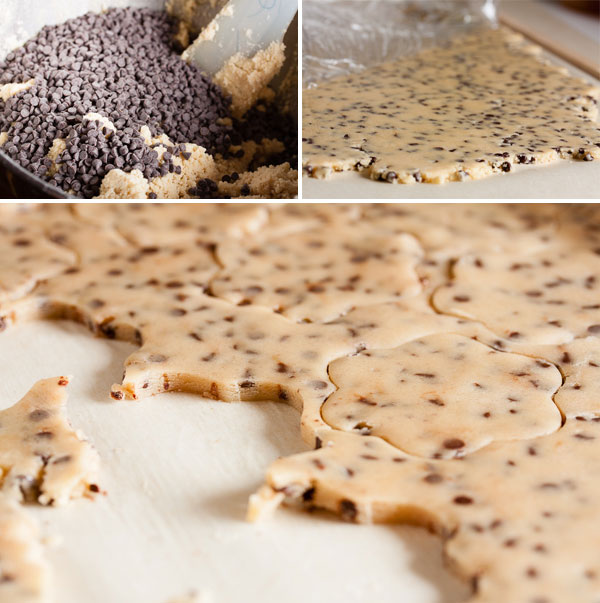 I'm a big fan of SweetSugarBelle's cookies – they're all so gorgeous. But this is the first time I've tried a recipe from her site. She says this one is originally from a book called Sugarbakers Cookie Cutter Cookbook and that every recipe she's tried from it so far has been a winner. Guess what I just added to my shopping cart (ahem).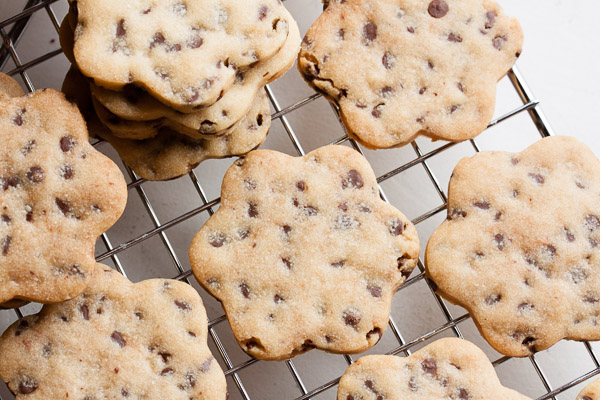 The dough is great to work with. It's a little dry and crumbly, but overall rolls out easily. I definitely recommend using mini chocolate chips – I can't imagine trying to use a cookie cutter with full-sized chips in the dough. The recipe calls for 1-1/2 cups of chips, but after adding just 1 cup, I decided that was enough. You can tell from the photos that there's no shortage of chocolate chips here! Keeping in mind my main goal in trying this recipe was to duplicate those cookie shot glasses, I was worried that more would make the cookie too delicate. For regular roll-out cookies, though, the full 1-1/2 cups should be great!
In the end, I only made a few of the shot glasses, and baked up the rest as regular cookies.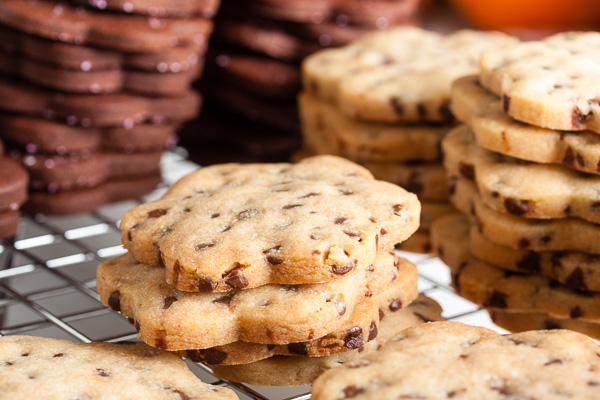 As you can see, this dough holds its shape really well as it bakes. It puffs up a tiny bit, but doesn't really spread at all. Perfect cookie cutter dough!
Once baked, these cookies are a bit crunchy and crumbly, but still soft – almost like a shortbread studded with tiny chocolate chips. If you're looking for a chewy gooey chocolate chip cookie? This isn't the one for you. But this is a perfect cookie to dunk in milk, or fill with milk!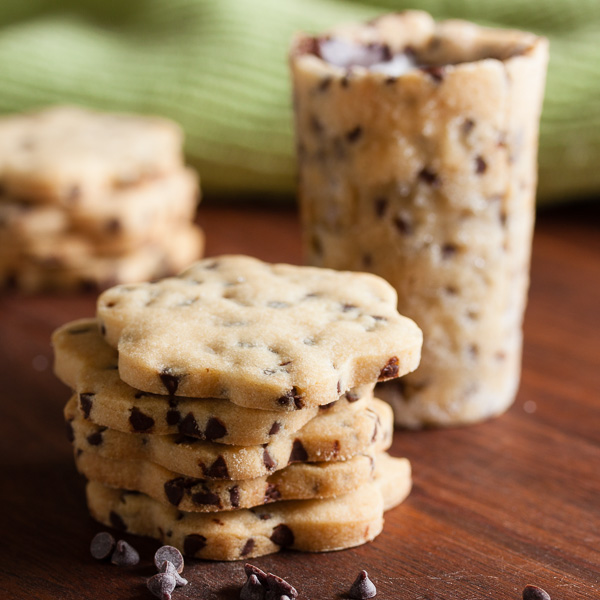 roll-out chocolate chip cookies
Adapted from SweetSugarBelle, recipe originally from Sugarbakers Cookie Cutter Cookbook by Diana Collingwood Butts and Carol V. Wright. The number of cookies this recipe will yield will depend on how thick you choose to roll the dough and the size of the cutter you use.
ingredients
1 cup unsalted butter, at room temperature
1/3 cup granulated sugar
1/2 cup light brown sugar
1 large egg yolk
2 teaspoons pure vanilla extract
2-1/2 cups all-purpose flour
1/2 teaspoon salt
1-1/2 cups semi-sweet mini chocolate chips (I thought this was too much for the shot glasses and just used 1 cup – still plenty of chocolate chips in there!)
In a medium bowl, whisk together the flour and salt. Set aside.
In the bowl of a stand mixer fitted with the paddle attachment, beat the butter and sugars together on medium speed until light and fluffy, about 3 or 4 minutes. Scrape down the sides of the bowl and add the egg yolk and vanilla and beat to incorporate.
Turn the mixer down to low and add the dry ingredients, mixing until just barely combined. Remove from the mixer and knead in the mini chocolate chips by hand to ensure they're distributed evenly.
Divide the dough into 2 portions. Roll each portion out onto a piece of parchment or wax paper to just shy of 1/4" thickness (I used a 3/16" guide). Stack the 2 pieces (paper included) onto a baking sheet and refrigerate for at least 30 minutes (I let them chill overnight).
When ready to bake, preheat the oven to 350°F.
Remove one of the dough pieces from the fridge at a time and cut shapes with whatever cookie cutter you've chosen. Transfer the cut pieces to your prepared baking sheets. Re-roll the remaining dough and continue cutting until finished.
Bake for about 10-12 minutes, rotating the baking sheet halfway through, until they're lightly golden brown around the edges. Allow to cool on a wire rack for a few minutes before removing the cookies from the pan and allowing them to cool completely.