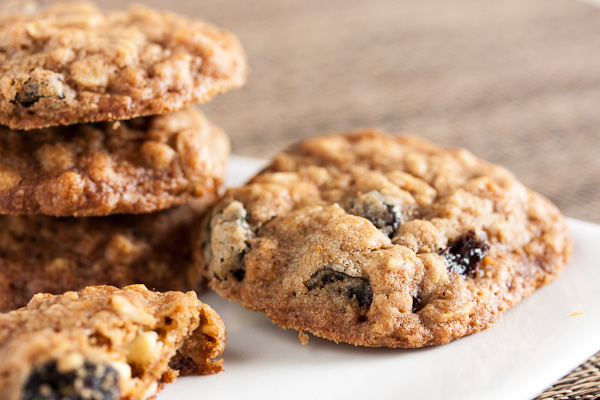 I decided to revisit the oatmeal cookies I made a couple months ago. Everyone loved that version, and I've been wanting to try the white chocolate cherry variation ever since.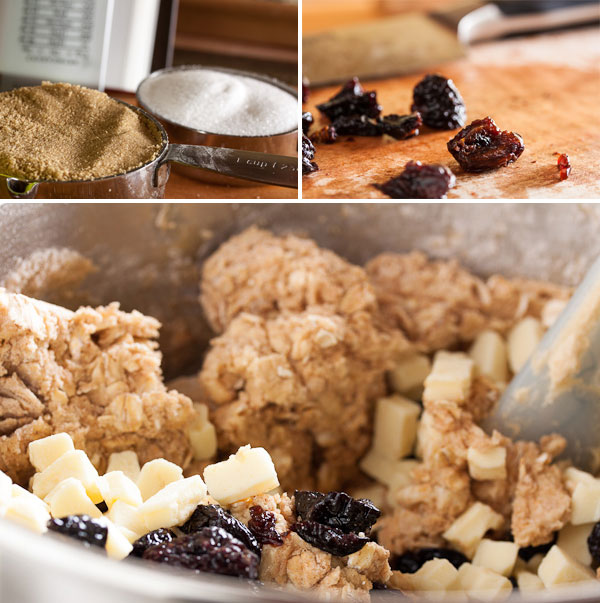 The last time I made these, I had some issues because it was too warm in my kitchen and the dough was really soft. Well, guess what? Once again, it was way too warm in my kitchen (26°C/79°F in the evening). I tried starting with butter that had just barely softened for about 15 minutes, but once I'd finished creaming the butter and adding the other ingredients, I was back to very warm soft dough. The first tray I made with the dough as-is, and they spread out quite a bit as they baked. Then I tried putting the dough in the fridge before I made the rest, and that did help as long as I just prepared one tray at a time and kept the dough in the fridge until I was ready to bake it.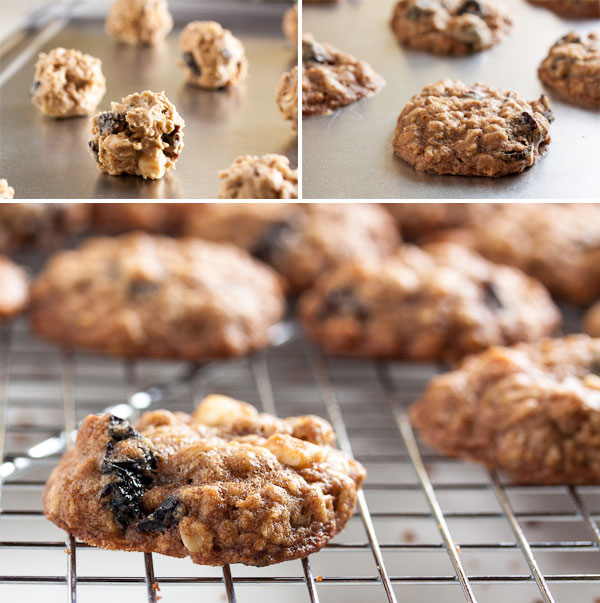 Regardless of how much they've spread out, this is still a nice cookie. I really liked the flavour last time around when I made them with dark chocolate chunks, and they're fantastic with the white chocolate and dried cherries. The cherries are soaked in orange juice to reconstitute them first, and it adds a fresh citrus flavour to the mix. The combination of sweet white chocolate, juicy cherries and orange, in a chewy oatmeal cookie is a winner. Much as I love chocolate, I like this variation even better. The next version I want to try will be with orange zest & milk chocolate.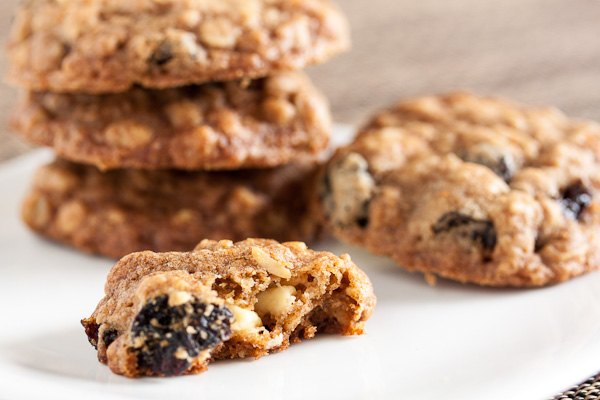 Be sure to use old-fashioned oats and not quick oats. Quick oats tend to turn mushy when you bake them, while the old-fashioned oats hold their shape and add a nice chewy texture to the cookie. Although feel free to ignore me if you want the oat flavour without the texture. I won't judge.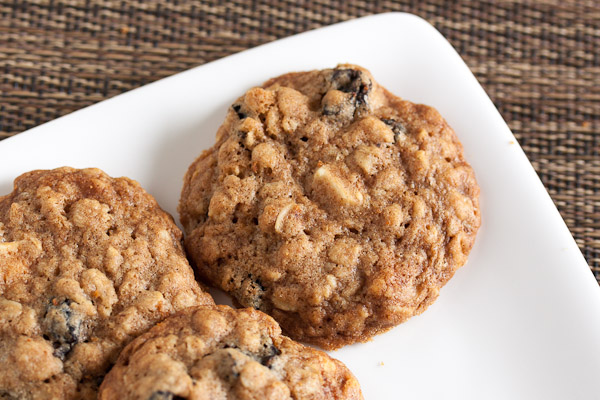 white chocolate cherry oatmeal cookies
Adapted from Milk & Cookies by Tina Casaceli. The recipe says it makes about 2 dozen cookies, but I ended up with around 80 when I rolled them about 1" diameter.
ingredients
1-1/2 cups all-purpose flour
1 tablespoon ground cinnamon
1 teaspoon baking soda
1/2 teaspoon salt
3 cups old-fashioned rolled oats
1-1/2 cups unsalted butter, at room temperature
1 cup light brown sugar, firmly packed
1/2 cup granulated sugar
2 large eggs, at room temperature
1 tablespoon vanilla extract
1-1/2 cups white chocolate chunks
2 cups dried cherries
1 cup fresh orange juice
Put the cherries in a heat proof bowl – I used a pyrex measuring cup. Bring the orange juice to a boil in a non-reactive saucepan, then pour the juice over the cherries and set aside for about half an hour, until plump. Drain the cherries with a fine sieve. The recipe didn't specify this, but I thought the cherries would be too large as-is, so I chose to chop them coarsely before adding to the dough. I basically just cut them in half.
Preheat oven to 350°F.
Whisk together the flour, cinnamon, baking soda and salt. At this point, I added the oats as well and whisked to combine.
In the bowl of a stand mixer with the paddle attachment, beat the butter and sugars together on medium speed until light and fluffy, about 4 minutes. Scrape down the sides of the bowl and add the eggs, one at a time, beating well after each. Add the vanilla and beat again to incorporate.
Turn the mixer down to low and add the dry ingredients, mixing until just barely combined, but still streaked with flour. Remove from the mixer and finish kneading gently by hand. Mix in the white chocolate chunks and cherries by hand as well.
Form the dough into small balls and place about 2" apart on a baking sheet – these cookies will spread out as they bake. Press the balls down slightly with the palm of your hand. Bake for about 15 minutes, rotating the pan halfway through.
Allow to cool on a wire rack for a couple minutes before removing the cookies from the baking sheet.