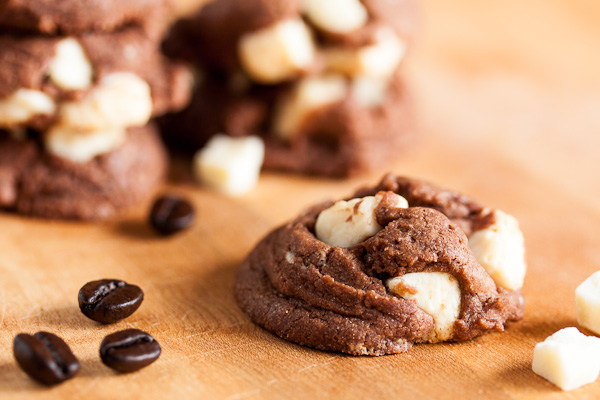 Will I start getting hate mail if I say I hate summer? Okay, I don't really hate summer, but I'm really getting tired of this hot weather. Seriously, would a cloudy day be too much to ask for? Maybe a little rain? Just a wee shower? A cool breeze?
My kitchen is just not a happy place to be right now.
I decided to be brave (crazy?) and actually bake something this week though. I waited until things cooled down a bit in the evening. I made sure the outside door off the kitchen was open and set up my fan by my oven, and it actually wasn't too bad. Of course it helped that this wasn't a particularly large recipe and the cookies baked quick, so the oven wasn't on that long.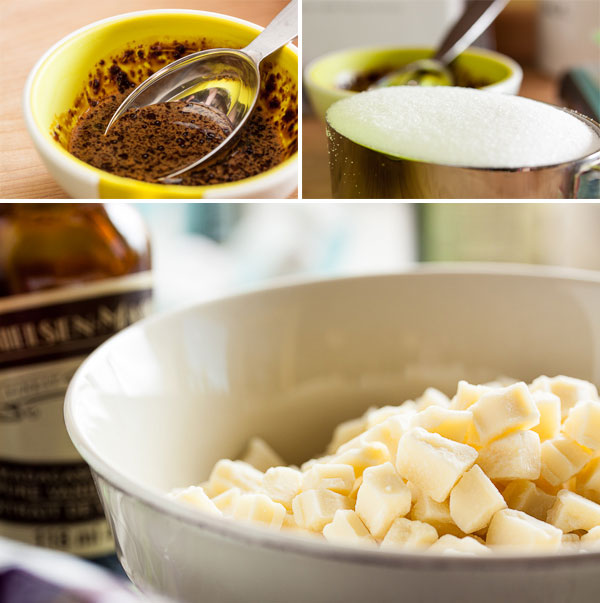 This is only the second recipe I've made from this book, Simply Sensational Cookies. The first recipe, Brown Sugar Butterscotch Cookies, was a hit, but I found the mixing instructions a bit weird in that the butter was softened in the microwave, but not melted, before blending with the other ingredients. I'm used to cookie recipes where the butter and sugar are creamed together in a mixer.
This is another weird one. It's a one-bowl recipe, and the butter is melted with the chocolate, and then the rest of the ingredients are added in. It reminds me very much of a brownie recipe technique-wise, but the cookies baked up much firmer and didn't have that cracked top so particular to brownies. If you're looking for something like that, check out these Double Chocolate Cookies.
These cookies live up to the name "mocha" with the mix of chocolate and espresso, and the white chocolate gives them a nice burst of sweetness. It's a really good combination and I have no complaints, but I think they'd be amazing with dark and milk chocolate chunks, and maybe pecans.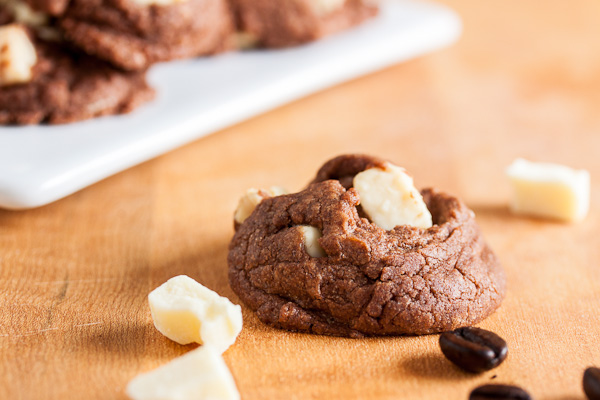 white chocolate mocha cookies
Adapted from "One-Bowl Mocha-White Chocolate Chip Cookies" from Simply Sensational Cookies by Nancy Baggett. The recipe says it makes about thirty 2-1/2 to 3 inch cookies – I got close to fifty 2 inch cookies.
ingredients
3/4 cup unsalted butter, cut into chunks
2-1/2 ounces unsweetened chocolate, coarsely broken up or chopped
1 cup granulated sugar
1 tablespoon instant espresso dissolved in 1 tablespoon warm water
1 large egg, at room temperature
2 teaspoons vanilla extract
1 teaspoon baking powder
1/2 teaspoon salt
1-1/2 cups unbleached all-purpose white flour
1-1/2 to 2 cups white chocolate chips or chunks
Preheat oven to 350°F.
In a large microwave safe bowl, melt together the butter and unsweetened chocolate on half power, stopping and stirring every 30 seconds. Or in a medium sized saucepan over low heat, gently melt them while stirring regularly. Once only a few small chunks remain, remove from heat and stir vigorously until they're completely melted. Add the sugar and the espresso/water mixture and stir again until completely combined. Set aside and let cool until just warm.
Stir in the egg, vanilla, baking powder and salt until blended and smooth. Then stir in the flour and white chocolate until just combined. I found the batter to be firm enough to work with, but soft and fudge-like. If you find it too soft, allow to rest for 5-10 minutes to firm up a bit.
Using a small cookie dough scoop or a tablespoon, portion the dough onto the baking sheets about 2 inches apart to allow for spreading. I made the cookies quite small and found they didn't spread much, but they should spread more if you make normal-sized cookies.
Bake for about 9-12 minutes, until cookies are not quite firm when pressed in the middle, rotating the baking sheet halfway through. Allow to cool on a wire rack for a couple minutes before removing from the pan.