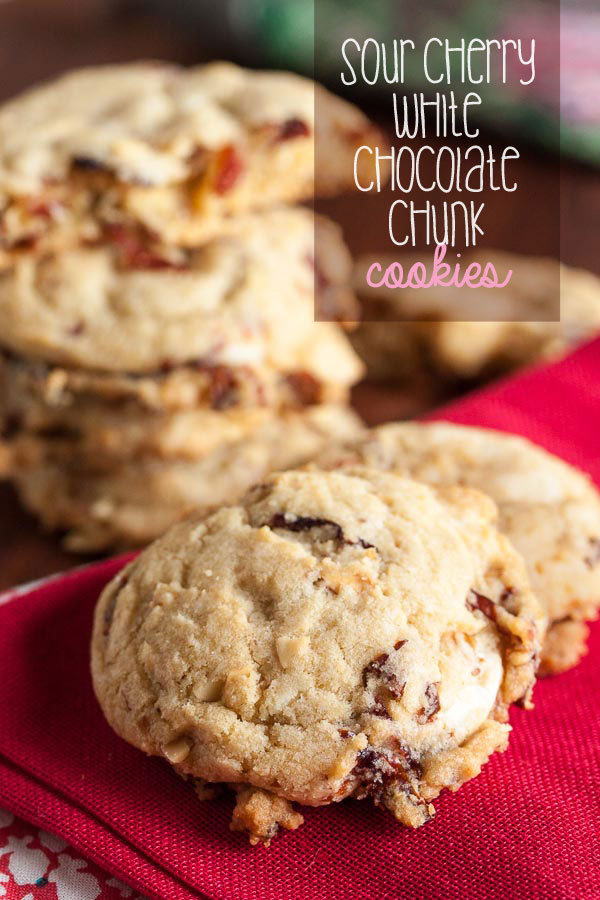 This is it, y'all. The cookie I made for The Great Food Blogger Cookie Swap. As I mentioned a few weeks ago, this is my first year participating in this swap, but the 4th year they've done it. It's kind've a big deal! This year they had 566 bloggers participating from 7 countries, baking and mailing over 20,000 cookies. Wow, right? It bears repeating that the organizers, Lindsay at Love & Olive Oil and Julie at The Little Kitchen, deserve serious kudos for coming up with the whole idea and also for all their hard work organizing everything. Seriously, thank you both!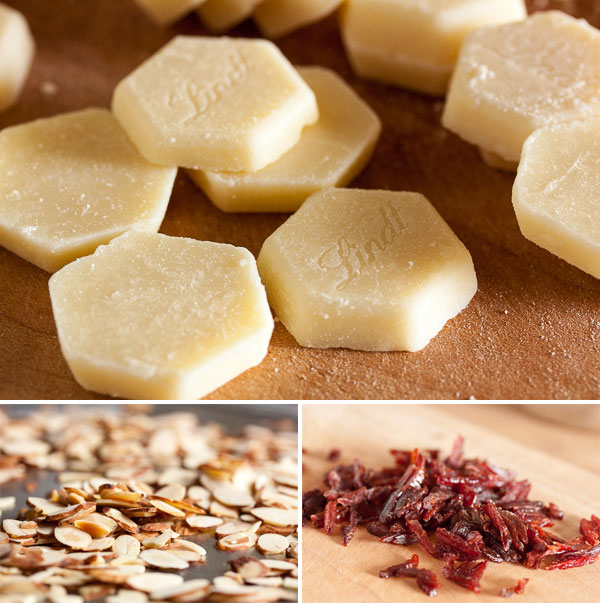 AND it's all for a good cause! Yes, that's right, it's not just about the cookies. Between the bloggers' contributions and the brand partners (Oxo, Dixie Crystals, California Olive Ranch, and Sheila G's Brownie Brittle), they've raised over $12,000 this year for Cookies for Kids' Cancer!
I've gotta say, I had a really hard time choosing what to make. For weeks I was thinking about maybe doing a sandwich cookie, but then I worried about how it would hold up to shipping – one of the bloggers I had to send cookies to is clear across the country. I didn't want the recipients to get a soggy mess at their end. Of course, it turns out that some of the other participants were much braver than I and did make sandwich cookies, and they travelled fine. So I guess I know for next year, eh?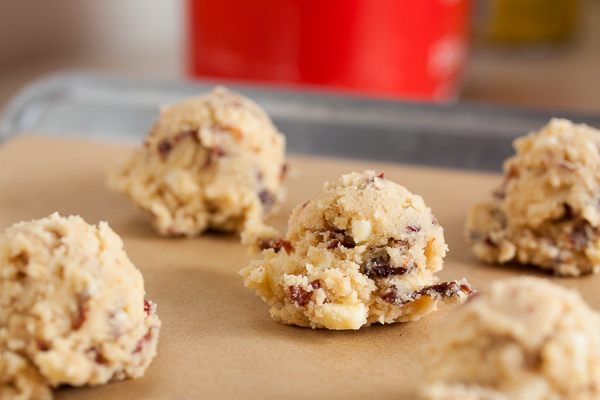 But finally, literally the day before I had to bake these, I sat down with all my baking books and flipped through and flagged all the contenders. I actually ran out of post-its! And then I came across a recipe that I'd been wanting to make for quite awhile now, but was always missing one ingredient for. Well, it just so happens that I'd finally bought that particular ingredient the week before, so it was like fate, right? Right!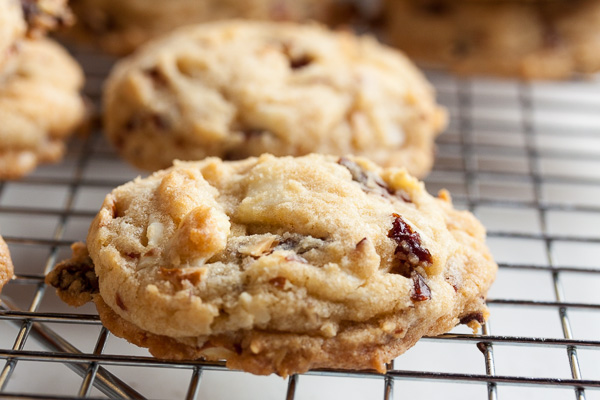 I thought these cookies sounded amazing. I generally find white chocolate to be too sweet, but it certainly has its place. I've made and loved a few cookies that use white chocolate – it all depends what it's paired with. In this case, that sweetness is cut by tart dried cherries. And this is the ingredient I was having trouble sourcing. Most of the stores in my area that carry dried cherries only have the sweet cherries (like bing). I knew where to get the sour ones, but it's not a store I shop at often. And then, of course, I kept forgetting to get them. Oops. But I finally got my act together.
In addition to the cherries and white chocolate, there's also toasted almonds and almond extract. And almonds and cherries are amazing together. There's a reason why we see them paired together so often. Do you see why I've been wanting to make this recipe for so long?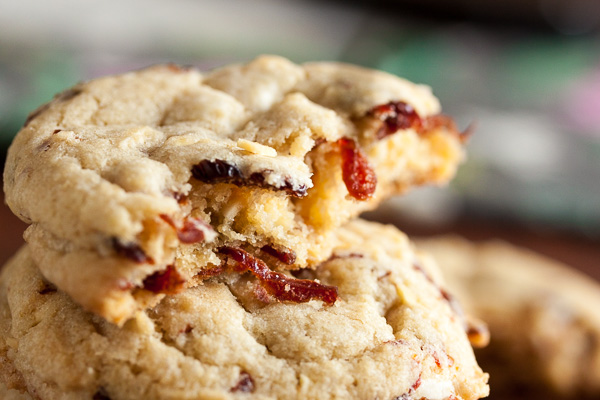 For this recipe, it's recommended that the cherries be sliced really finely so the flavour is distributed throughout the cookie, rather than getting overwhelming bursts of cherry. This? Takes a really reeeeally long time. Seriously. But in the end, I think it's totally worth it. Every bite of this cookie has just enough of that tart cherry flavour to counteract the sweetness of the white chocolate. And the texture of the cookie is fantastic. They're that perfect blend of slightly crispy while still being chewy.
I ended up with not only enough cookies to send to each of my cookie recipients, but had a handful left over for myself and a few friends.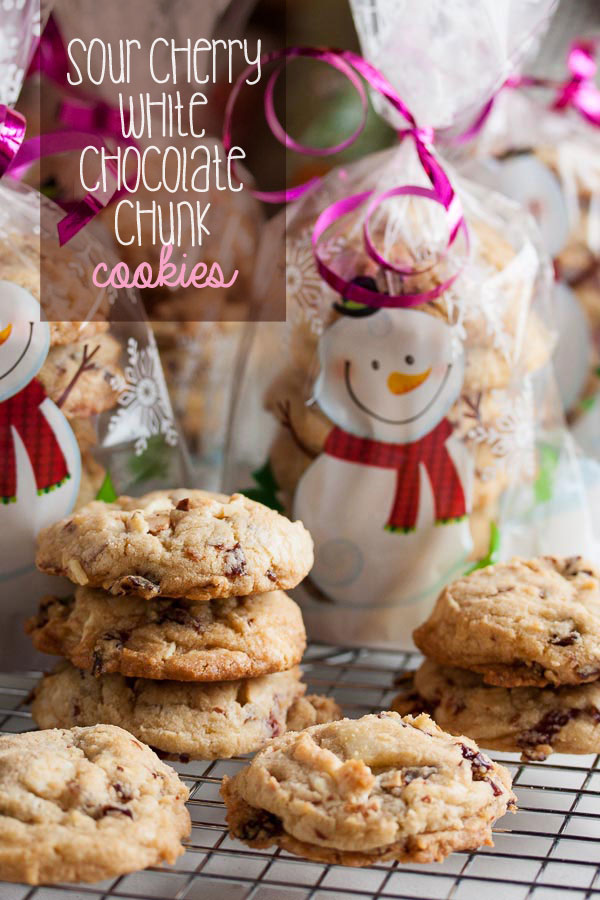 And now can I tell you about the cookies I got?? This is the best part! Oh my god, such amazing cookies.
First off, I got Dorie Greenspan's (YES!) Beurre and Sel Jammers with Brown Sugar Cinnamon Streusel Topping (wow!) from Rhonda at Olive and Ruby. Before I even saw the cookies, as soon as I read that it was a Dorie Greenspan recipe I knew I'd be happy even if these were the only cookies I got! And not only did I get a box of delicious delicious cookies (so delicious!), but she included a lovely personal note with it. As if I wasn't already excited to be a part of this cookie swap, this was an amazing introduction to the awesomeness of the other bloggers involved. I may have had cookies for dinner the day I got these. And FYI? I totally kept these all to myself.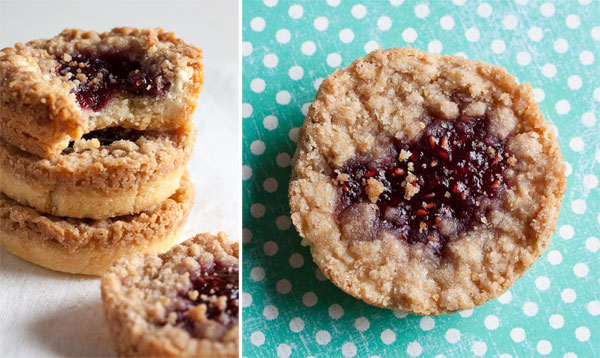 My next batch of cookies came from Jenny at The Brunette Baker. I don't even know her and I already have a love-hate relationship with her. My first impression was when the package was delivered with the sweetest wrapping ever! I didn't even want to open it until I took some pictures. Look how cute! It wasn't until I started to unwrap it that I discovered that it was not pretty wrapping paper, but actually patterned duct tape. Lots and lots of duct tape. So. Much. Tape. Argh. And then? Oh look, a lovely card sitting right on top of the box!! But what's this?? Full of confetti! And for her final trick, the card itself has a recipe for Double Chocolate Drizzle Sticks. Yum! I couldn't wait to try one. Imagine my surprise when I opened the box to find these absolutely adorable sugar cookies instead. Look at that lovely pattern in the coating! Swoon!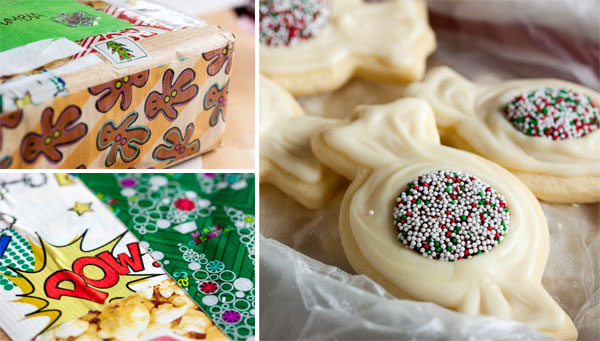 And finally, after a week of worrying that maybe someone had absconded with my last package, I received a wonderful surprise. You see, for years, I've been making these chewy chocolate gingerbread cookies as part of my Christmas baking. They're a big favourite and get requested a lot. However, because of my goal to try new recipes for this blog, this is the first year I haven't made them. Guess what the lovely Katie of Katie's Plate sent me. Yup! Trust me when I say these cookies didn't even last a day.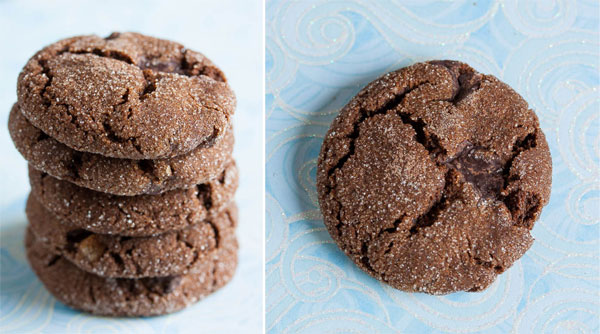 I had so much fun doing this cookie swap – choosing my recipe, planning and fretting over the packaging, and putting it all together – not to mention checking out what everyone else got on Instagram at #fbcookieswap (/stalker). There are a lot of super talented and friendly bakers out there. I love this community. And I totally can't wait to do this again next year!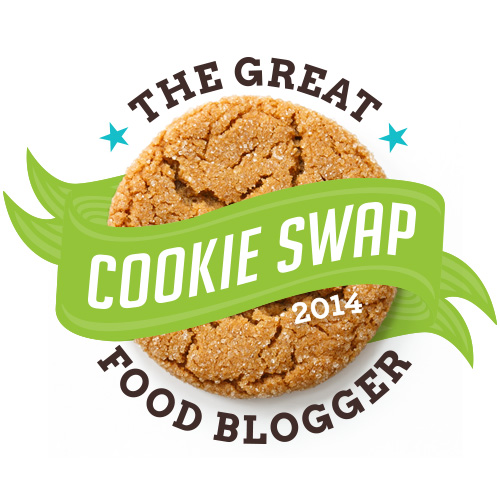 sour cherry white chocolate chunk cookies
Adapted from The Good Cookie by Tish Boyle. The original recipe recommends slicing the cherries into thin slivers so the flavour is distributed throughout the cookie. It takes a reeeeally reeeeeally long time, but it's totally worth it. The recipe says it makes about 65 cookies. I made these slightly larger than I normally would (because they were for a gift) and got about 50 cookies.
ingredients
2-1/2 cups all-purpose flour
1 teaspoon baking soda
1/4 teaspoon salt
1 cup unsalted butter, softened
3/4 cup granulated sugar
3/4 cup firmly packed light brown sugar
2 large eggs
1 teaspoon pure vanilla extract
1/4 teaspoon almond extract
3/4 cup dried sour cherries, cut into thin slivers
1 cup slivered almonds, toasted and coarsely chopped
6 ounces good-quality white chocolate, cut into 1/4-inch chunks
Preheat oven to 350°F.
To toast the almonds, spread them in a single layer on a baking sheet and toast them in the oven for approximately 10-15 minutes, tossing them every few minutes or so to cook evenly. Don't just go by time – trust your senses. They'll start to smell fragrant and be lightly golden coloured when they're ready. Once they begin to brown, keep an eye on them – they can begin to burn quickly. Set them aside to cool while you prepare the rest of the ingredients, and chop them coarsely before adding them to the dough.
In a medium bowl, whisk together the flour, baking soda, and salt. The original recipe didn't state to do this, but since the cherries are so sticky and I didn't want them to clump up, I opted to add them to the dry ingredients and work the pieces apart with my fingers. Once they're coated with flour, they should no longer stick together. Set aside.
In the bowl of a stand mixer fitted with the paddle attachment, beat the butter and sugars together on medium speed until light and fluffy, about 3 or 4 minutes. Scrape down the sides of the bowl and add the eggs, one at a time, beating well after each. Add the vanilla and almond extract and beat again to incorporate.
Turn the mixer down to low and add the dry ingredients, mixing until just barely combined. Remove from the mixer and add in the almonds and white chocolate either with a spatula or by hand. I prefer to knead inclusions in by hand to ensure they're distributed evenly.
Using a small cookie dough scoop or a tablespoon, portion the dough onto the baking sheets about 2 inches apart to allow for spreading.
Bake for about 11-13 minutes, until lightly golden brown around the edges, rotating the baking sheet halfway through the baking time. Allow to cool on a wire rack for a few minutes before removing the cookies from the pan and allowing them to cool completely.