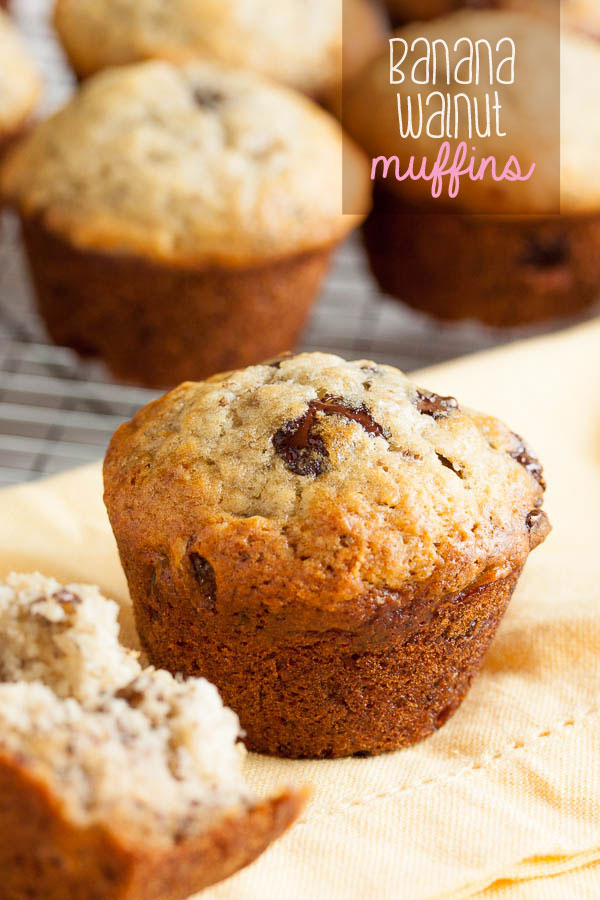 When I made the banana loaf a few weeks ago I mentioned that I still had some bananas left over in the freezer to make muffins with. Well, ta-da! This week we have banana muffins. I wasn't particularly planning to make banana muffins this week, but I wanted to make something from the Williams-Sonoma Muffins cookbook, which I haven't baked from for awhile. And after flipping through the pages, this is the one that I found myself craving.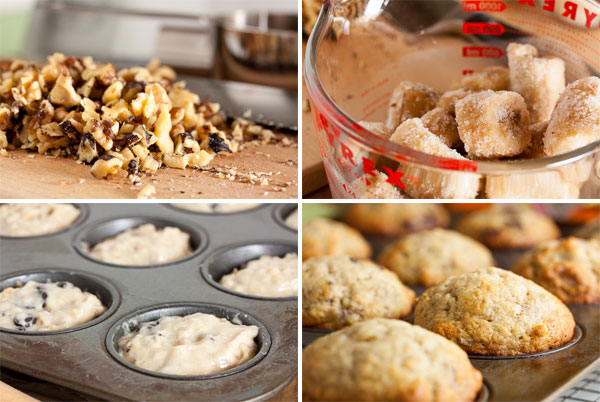 I've made quite a few recipes from this book over the years and I've been happy with all of them. Flavour-wise, anyway. My only complaint about this book? The quantities are wildly inconsistent. One recipe will make a dozen muffins, and the next will make seven. Why on earth only seven muffins? Who knows!? Some recipes only make eleven muffins. Why eleven? You're so close to a full pan, why stop there?? I have no idea how or why they went with these quantities. It all just seems so random, it probably bothers me more than it should.
If all you care about is a tasty muffin? I'd definitely recommend this book. If making an even dozen is important to you? Well… you'll need to play around with the ingredients, but it's do-able. I definitely fall into the latter category here (grumble grumble).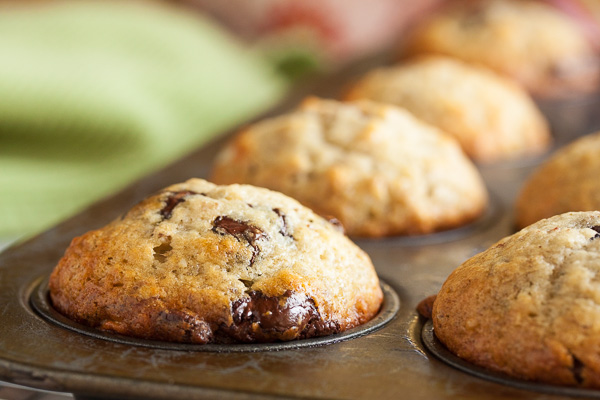 This particular recipe was originally for 10 muffins (sigh), but I spent a bit of time tweaking it to make an even dozen (phew!). It's not exactly the same proportions as the original recipe, but I'm happy with the result. It's moist and banana-y, with a lovely crunch from the nuts. I also added chocolate chips to some of them, which of course made them even better (and we've already discussed my feelings on dark chocolate being a healthy part of any breakfast, right?). So to recap – fruit + nuts + dark chocolate = healthy breakfast! Yay!
I felt like I had too many muffins (can you have too many muffins?), so I shared some of these with my coworkers, and there wasn't a crumb left over. Now I'm wishing I'd kept more for myself.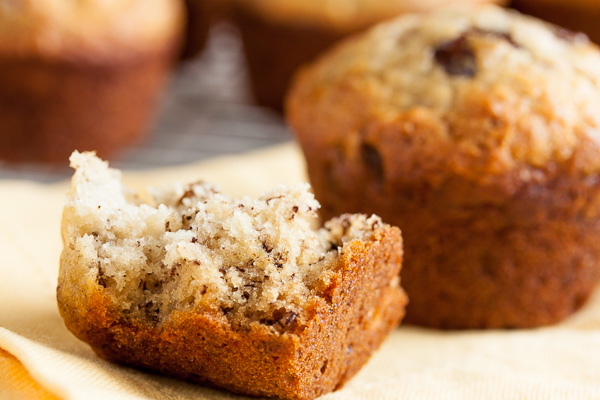 ingredients
2 cups all-purpose flour
1 cup sugar
1 cup walnuts, coarsely chopped
2 teaspoons baking soda
1/4 teaspoon salt
2/3 cup walnut oil or canola oil
1 large egg
1-1/2 cups mashed ripe bananas (about 2 or 3 large)
1/4 cup buttermilk
optional
1 cup chocolate chips
Preheat oven to 375°F.
Lightly grease your muffin tin, both inside and along the top edge. I usually use a silicone pastry brush and a bit of vegetable shortening. It just takes a few seconds.
In a large mixing bowl, combine the flour, sugar, walnuts, baking soda, salt, and chocolate chips (if you're using them). Whisk together well and set aside.
In another bowl or a large measuring cup, lightly beat together the oil, egg, mashed banana, and buttermilk.
Pour the wet ingredients over the dry, and gently stir together until just blended. It's okay if there are still some streaks of flour – with muffins, undermixing is always better than overmixing.
Using a large spoon or ice cream scoop, portion the batter into the muffin tin. Bake for about 20-25 minutes, rotating the pan halfway through, until a toothpick inserted in the centre of a muffin comes out clean. Allow to cool on a wire rack for about 5-10 minutes before removing from the muffin tin.